If you are in the market for a sturdy pair of protective boots, both work boots, and logger boots hold a certain appeal.
But because their appearance is quite different, you may be wondering exactly how different these boots are from one another and exactly how diverse their specific characteristics are.
If you are looking to buy boots for a work environment, it's important to evaluate what you need in footwear. Welders will look for features that will differ from agricultural professionals.
Consider the risks that your specific work exposes you to, and apart from what you feel you need for your safety on the job, you need to verify if your work environment or employer indicates specific safety characteristics required by federal or state regulations for safety in the workplace.
| Features | Logger Boots | Work Boots |
| --- | --- | --- |
| Boot material | Leather | Leather |
| Boot Height | 8 to 10 inches | 6 or 8 inches |
| Heels | Elevated higher heels | 1.25 inches max generally |
| Weight | Approximately 3 lbs. | Less than 2-lbs. |
| Outer soles | Vibram, rubber outsoles, Lugged | Rubber, polyurethane, synthetics |
| Professionals | Logging, ranching, farming | Available for all professions |
| Boot Closure | Lace-up | Lace-up, pull-on |
| Safety | Steel shafts, safety toe caps are available, slip-resistant | Steel or nylon shafts, Steel, composite, or alloy toes, EH, oil resistance, slip resistance, abrasion resistance, Metatarsal guards available |
| Extras | Waterproof, some insulation, waterproof membranes, ankle support | Water-resistance, waterproofing, |
What Are Logger Boots?
The boots known as Loggers are a specific kind of work boot. They are, so to speak, a subcategory of work boots with a distinctive appearance that sets them apart from generic work boots.
Logger boots are designed for work in the great outdoors where climate conditions can be harsh and the terrain exceptionally difficult.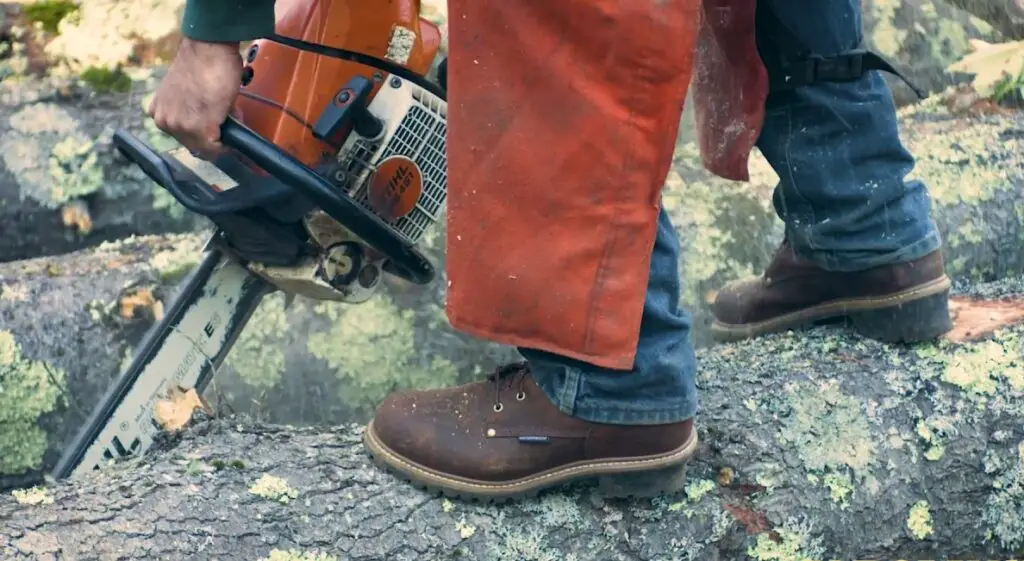 These boots are designed for professionals in the logging industry. They perform well on land that features brush, muck, and undergrowth, as well as on hilly terrain that involves climbing.
The iconic raised heels facilitate the stability of feet when climbing.
Are Logger Boots Good for Things Other than Logging?
Even if logger boots were created with the needs of the logging industry front and center, they can be beneficial for workers from other professions like ranching, road crews, and even farmers.
They are not perfectly suited or indicated for workers in urban settings. While they do offer great traction, they are not as flexible as some other work boot designs.
When working on concrete or smooth surfaces an outsole like a crepe or wedge sole designed for increased comfort may be a better choice.
Logger Boots or Work Boots: A Look at Boot Design and Construction
The Logger Boot
A defining characteristic that differentiates work boots from logger boots is that loggers are equipped with an elevated heel and will generally have outer soles that are thicker.
Logger boots also feature leather boot uppers. These uppers will be tough and heavier to protect from environmental hazards and are generally inappropriate for wear outside of the work environment.
Most logger boots will be completely waterproof because loggers often work in wet environments like swamps and forests.
Logger boots feature a design with a high shaft as they need to protect not only your feet but also your legs from brush, vegetation, insects, snakes, and various creatures found on forest floors. 6-inch shafts are available for loggers, but the majority will start at 8-inches.
Loggers are produced with a heel that can measure more than 1.5-inches. This heel design is to improve traction and stability on uneven terrain, and especially to afford support when treading downhill.
Soles will be completely waterproofed, and most logger boots specifically utilize welt construction to prevent liquids or water from seeping through seams. Logger boots also feature very deep lugs contributing to high-performance traction.
The Work Boot
Work boots are principally designed to protect feet and aid movement which is necessary for a variety of professions. They will be lighter in weight (most will weigh less than 2 pounds) to contrast foot fatigue and enable flexibility.
Most work boots have boot uppers produced in leather because it is durable and supple. Many work boot styles can be worn both on-site and in the office.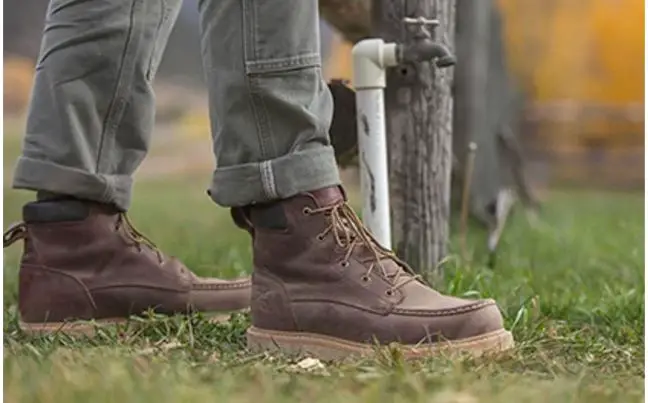 Work boots come with several choices of shaft lengths measuring from the arch upward with 6-inch shafts probably the most popular. Some may even be a bit shorter, and there are 8-inch shafts available.
Outer soles are an important component of any type of work boot, and some do feature heels. Heel heights will generally not measure any higher than 1.25 inches although the occasional heel may measure 1.5-inches.
The tread, tread design, and presence of lugs will depend on what the work boot is designed for.
Logger Boots or Work Boots: Safety
If you are looking for a dangerous profession, the logging industry certainly appears in this category. They work with massive weights and huge chainsaws while facing falling trees and sliding logs even in the most inclement weather.
As such, when it comes to safety, loggers will usually integrate more safety features than a generic work boot. While both work boots and loggers will have boot uppers made with leather, loggers will use thick heavy leather for all-day protection in the most challenging conditions.
The toe area of a logger will be reinforced with heavy leather so that even if a safety toe box is not integrated a certain amount of protection is built in.   
Steel toe caps or composite toe caps are available for most work boots and logger boots to protect toes from impact injury due to falling machinery, materials, or debris.
Both work boots and loggers can feature integrated steel shafts for increased protection, although some may only use a nylon shank which will not be as strong as a steel one. These protective shafts protect from tears, the bruising of feet, and the development of calluses.
Many work boots offer electrical hazard protection and some even anti-static protection. Loggers usually do not include these because logging does not generally involve working around electricity.
Logger Boots or Work Boots: Inside the Boots
Logger boots can include some insulation, breathable linings, and moisture-wicking capabilities to keep feet dry. They generally do not protect in extreme cold with freezing temperatures, and outsoles may be at risk of slipping in freezing weather.
Work boots can be found with cushioned foam footbeds, increased arch support, Gore-Tex waterproof linings, varying levels of insulation, moisture-wicking capabilities, and antimicrobial treatments to cater to the needs of workers that do heavy manual labor in varying environmental situations for extended periods. 
Logger Boots or Work Boots: The Pros and Cons
Here we list some of the great things and drawbacks of these two kinds of boots.
Logger Boots
Pros
Comfortable in the roughest conditions

Waterproof

Anti-slip soles

Heavy-duty leather uppers

Good protection for feet and legs

Increased ankle support

Can generally be resoled
Cons
Not insulated for freezing weather

Pricier than work boots
Work Boots
Pros
Less expensive in many cases

Lots of impact protection

Many styles and colors to choose from

Types are available for specific industries

Most will offer slip and oil resistance
Cons
May offer less durability

Not all types can be resoled

Not all work boots are waterproof 
FAQs
Why are the heels on logger boots higher?
Higher heels assist in increasing traction and aid in maintaining stability on uneven terrain.
Do Steel toes increase the boot weight a lot?
Steel toes in boots can increase the weight to as much as 4.5 to 5 lbs.
Is there an advantage for a worker in a different industry to wear logger boots?
If the worker has a lot of climbing to do, for example on ladders, yes, as elevated heels give a better grip.
Are steel toes necessary in Logger boots?
Not as much as in other industries such as construction. Logger boots are produced to deal above all with muck, mud, and wet uneven terrain.
Some logger boots feature a fringe, why?
Also known as a "kiltie", this fringe in the front is to protect the tongue of the boot from dust, dirt, and other debris entering.
A Final Thought
Choosing proper work boots, whether logger boots or some other kind, increases your safety while on the job.
When deciding, look for boots that are marked as safety tested or compliant with safety requirements in specific work environments, whether this is for impact injury, electrical hazards, or chemical resistance. Your health and productivity depend on it. 
Logger boots are a type of work boot specifically designed for the needs of the logging industry and the environmental challenges they face. If Loggers are appropriate for your profession and meet your necessities, they are heavy-duty, durable footwear.