Being in the military is not an easy task. A military personnel is going to need the right work gears. This tough job requires standing and walking and that's why wearing a good pair of tough quality boots becomes a necessity.
Working in harsh conditions, a person in the military must wear the right footwear which can cope up with the demand of their daily tasks. And that's where the combat boots walk in. While combat boots are just perfect for the military, are they any good when it comes to other workplaces?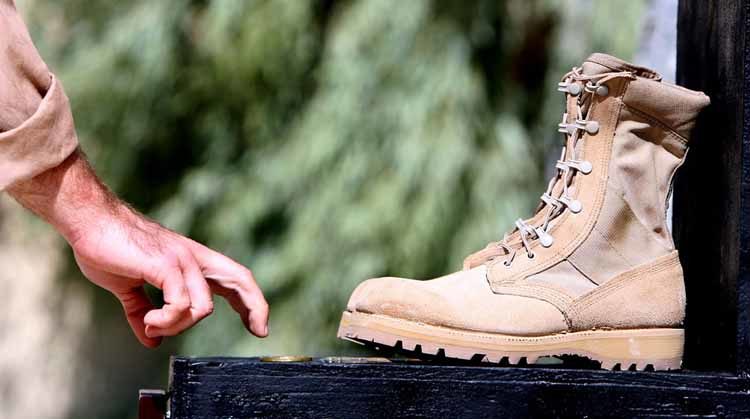 Originally created for soldiers, the combat boots have come a long way. The boots are so comfortable that these are not only favorites among the military personnels but also among the people working in different outdoor work.
Despite being super sturdy, the army boots are way too comfortable. They are built in such a way that they are ready to face any sort of external impact without causing harm to your feet. Not only these boots are waterproof but also provide great traction to maintain a good grip.
The military boots are great choice for several jobs. These boots include all the core functions of traditional army boots which save your feet from the different hazards present in the work environment. They feature all the factors which ensure quality and environment adaptation.
Let's have a look at our complete guide which will tell you in detail about the combat boots, their types and their uses. We will also see the difference between traditional work boots and combat boots and what are some of the best combat boots available in the market.
Pro and Cons of wearing military boots to work 
While there are many advantages of wearing military boots to work, there are some disadvantages as well. Let's have a look at both of them one by one.
Advantages of wearing military boots to work
1.) The boots provide proper protection
Since the combat boots are designed especially to sustain tough environments, the boots provide a good amount of safety. Most of them have steel toe plating on the front which can save your feet from different hazards at the work site. The plating takes all the impact thus saving your feet.
2.) Adequate Foot Comfort
The boots are designed to be worn for prolonged periods and that's the reason they are very comfortable from inside. They support the foot arch, the ankle and the toes very well so that you can work easily all day long. Not just this, the boots are waterproof and also highly water resistant which means you can comfortably work in wet environments without getting worried about your feet getting soaked
3.) Durability 
Designed to withstand all the weather conditions, the boots are suitable for different types of terrains. The boots are durable and provide ample traction so that you can walk freely on all those groovy surfaces. Also, the boots are all set for heavy-duty work.
Cons of wearing military boots to work
The disadvantages associated with military boots are:
The boots are stiff and have got inflexible soles which at times make them unbearable.

The boots have got very little internal support in comparison to basic work boots.

They can be heavy when compared to many work boots which can cause fatigue.
What are the different types of combat boots?
Depending on their usage, there are a variety of combat boots available in the market. Let's have a look at some of the combat boots which can be used in different work areas.
1. Steel Toe 
If you work in a hazardous environment then these are a great option for you. The boots have got sturdy steel plating which covers your toes and saves them from falling objects. These boots can even hold situations like acid spills quite well.
2. Composite Toe
Unlike steel toes, composite toes are lighter in weight and are designed to provide great resistance against electrical currents. These boots can be a perfect choice for engineers and electricians. The boots are ideal if your work demands to be on your feet throughout the day. The boots have got great impact resistance.
3. Hot Weather Combat boots
As the name suggests, these combat boots are designed to be worn during hot and humid weather. The boots have got breathable and airy mesh lining that enhances proper circulation of air and proper ventilation which helps in soaking the sweat and keeping your feet fresh and dry.
4. Cold Weather Combat boots
Just opposite of hot weather combat boots, these are constructed using thick material and warm inner linings which helps to keep your feet warm. The boots are perfect for workers who work in wet and cold weather.
Features of high quality combat boots
Certain specific features of combat boots are:
1.) The boots are made of hardened and often waterproof leather.
2.) The combat boots come with added internal panels made of high tech material to improve the breathability and comfort.
3.) There are four main parts of combat boots, the nylon mesh upper, the comfort insole, the soft midsole and the hard outsole. 
4.) The boots have got shock absorbing properties which come from the soft rubber insole  present beneath the specialized midsole.
5.) With the hazards faced by military personnels, the boots meet ASTM standards for safety purposes.
Things to consider while choosing combat work boots
While purchasing combat work boots, there are few things to be kept in mind. To get their advantages to the fullest read on the points mentioned below.
1. Use
Most of the jobs demand lightweight work boots. With all the whistles and bells, most of the combat boots exceed the desired weight. Therefore it becomes essential to choose a pair that is lighter and durable.
2. Material
The material used in construction greatly affects the comfort and durability of the boot. While genuine leather is great for tough terrain and weather conditions, the boots made of rubber sole offer superior water resistance. Therefore the choice depends solely on the requirement and nature of your job.
3. Comfort and fit
Comfort is a main factor while selecting a pair of work boot and definitely can't be ignored. If your work demands to be on your foot all day then it's better to go for a pair that has got padding on the collar area to protect your skin from chaffing.
Fit is also equally important and significantly affect the level of comfort. Ill fitted boots lead to painful blisters and take time to break in. To experience a proper fit make sure that the boot must feel natural and not curl your toes. Your heels should also fit at place without sliding. And there should be enough room for your toes.
4. Toe Style/Protection
The nature of your job demands the type of toe style in combat boots. Steel toe is quite synonymous to combat boots but it is not always necessary to choose them.
If your workplace is full of hazards then go for steel toe combat boots but if you are not at a risk of injuries and want to stay away from bulky and heavy boots then you should go for soft toe style.
5. Boot Height
Boot height determines the level of support it will provide to your feet. If you are working outdoors then choose a boot with higher height which will protect your ankles from rolling and will add an extra layer of security and stability.
However if you are mostly indoors and don't plan to involve in physically-intense activities then go for shorter combat boots.
Top Combat Boots in the Market
If you are ready to invest in a pair of combat boots then try one of these top boots available in the market. I am sure you won't be disappointed
1.  5.11 Men's Speed 3.0 Jungle Tactical Boot
Made of 100% full grain leather, these ATAC Jungle Boots are combined with an 840D nylon upper.  The boot features an Ortholite insole, brass hardware and a synthetic sole and provides a highly durable profile so that you can keep up with almost any kind of weather.
The boots are comfortable and provide superior protection no matter wherever you wear them. Fitted with an Ortholite X25 bottom layer, the boots are equipped with a dual density and full length insole that can provide a maximum rebound and cushioning so that you can walk effortlessly.
Their high cut design offers remarkable ankle support which makes them appropriate for outdoor use. Moreover, the recovery foam present in these boots offers satisfactory comfort and better fit. Not just this, the boots have got a breathable tongue for proper circulation of air so as to prevent moisture  and heat build up inside the boots.
Pros:
The boots offer superior durability and protection against elements and workplace hazards.

The high cut design give remarkable ankle support.

Ortholite foam layers provide comfortable cushioning fitted on the insole and top layers.
Cons:
The boots might lack proper insulation against cold weather.
Check Price and Reviews on Amazon
---
2. Under Armour Men's Valsetz Military & Tactical Boot 
The Under Armour Valsetz Military boots are constructed with synthetic leather and a modern textile upper which gives the boot a lightweight yet durable profile. One of the many interesting features of this boot is the availability of 4E sizing that can fit even in extra wide feet.
The boots are protected with welded PU film that not only offers great resistance but also increases the durability of the footwear. Additionally, the antimicrobial, molded Ortholite sock liner saves your feet from moisture build up followed by certain infections.
If we talk about stability then the rubber lug outsole has gots superior traction to keep you stable and protected especially in slippery conditions. The shaft measures approx 6.5 inches from the boot arch.
The TPU toe cap provide extra protection against heavy falling objects. Furthermore, the boots come with ultra-lightweight Micro G EVA midsole to ensure that you can wear these boots for long hours during your work day.
Pros:
The 4E sizing can accommodate all the sizes.

The UA ClutchFit ankle support system guarantees supportive fit.

The TPU toe cap and welded PU film enhances superior protection and abrasion resistance.
Cons:
The boots might take time to break in.
Check Price and Reviews on Amazon
---
3. Bates Men's 8″ Ultra Lite Tactical Sport Side Zip Military Boot 
Constructed using 100% leather and ballistic nylon fabric, these boots have everything you need. Featuring a rubber sole to give maximum grip and traction in various terrains, the boots provide additional stability to your feet.
The main feature of this boot is an angled size-zip style that makes the boot easier to put and take off. The boots come with slip resistant and durable outsoles to make your feet adaptable even on the challenging terrains. The cement welt construction offers remarkable durability and flexibility without hindering your movement. 
The shock absorbing pads of these boots enhance feet comfort and prevent strain so that you can work with ease. Finally, the breathable lining encourages air flow inside the boots preventing moisture and odor build up.
Pros:
Non metallic shanks offer superb stability and support.

The cushioned inserts enhance comfort.

The boots have got great grip and are slip resistant.
Cons:
The boots might lack a pull tab to help pull the boot over the heel.
Check Price and Reviews on Amazon
Final thoughts
While each variety of combat boots serve their purpose well, these versatile boots are great even for different work sites. The inbuilt features in these boots make them suitable for everyone no matter wherever you work.
With the pros outnumbering the cons, the combat work boots have come a long way and are working really hard to gain your trust. So are you ready to wear them at your workplace?