Not all job profiles need the same type of foot protection. There is a wide range of varied safety boots available for you. Which one would you choose! Will it be the steel toe boots or the soft toe ones, the composite boots, the lineman or the logger boots? Confused!… Worry not!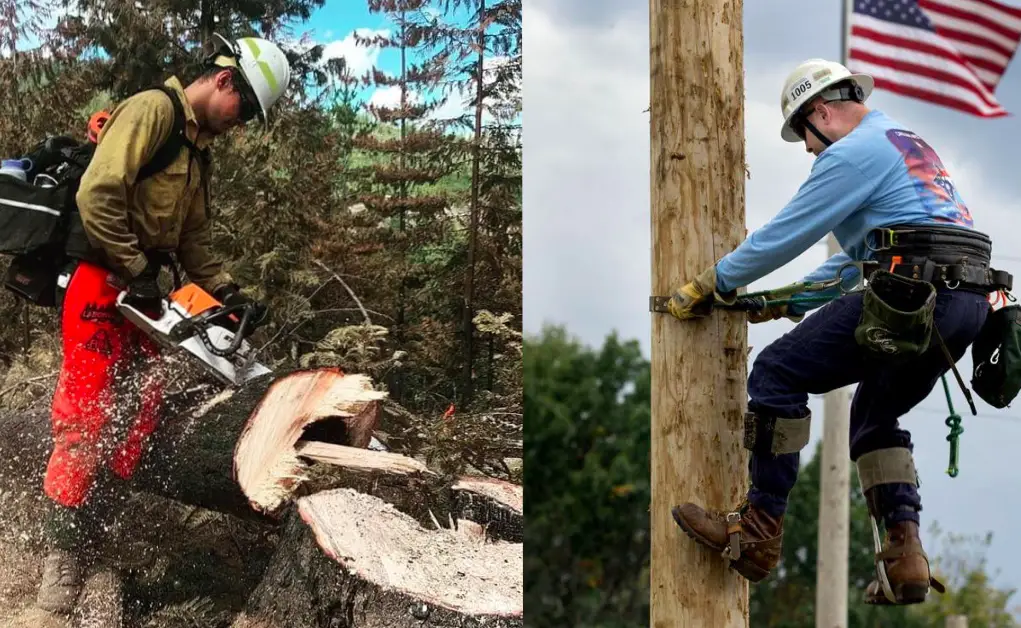 A logger boot has different characteristics from a lineman boot. Logger boots are more flexible, have higher heels, low height, and lightweight as compared to lineman boots, as most of the loggers have to walk through uneven wet terrains. On the other hand, lineman boots are rigid to prevent your feet from twisting while you're climbing poles or towers. 
In this guide, you'll discover the proper differentiation between the Logger Boots and the Lineman Boots. Go through this piece of writing. It will certainly help you to take a proper decision.
Let us first define them.
What are Lineman Boots?
Lineman boots are made up of leather. They can be marked as one of the best foot protection for linemen and people involved in cable installation, tree service works, climbing poles, etc.
They are a bit heavy which makes them more supportive and stable. The traditional ones consist of lace-support from the toe to the top in a crisscross pattern. The height of these boots ranges from 12 inches-20 inches.
Check out the top lineman boots in the video below
5 Best Lineman Boots to Work Safely
What are Logger Boots?
These boots are made up of leather, steel, composite materials carbon fiber, etc. Logger boot is the other name of a premium, heavy-duty comfortable work boot. Users of these boots are mainly workers of logging industries and sometimes bikers, hunters, land surveyors, etc.
These boots are also a bit heavy because of its raised heels and steel shanks, but they provide utmost support and comfort. The lace pattern of these boots are from lace-to-toe. They are generally 8-10 inches tall.
Check out the top logger boots in the video below
8 Best Logger Boots For Men
Comparison Table Between Lineman and Logger Boots
| | | |
| --- | --- | --- |
| Features | Linemen Boots | Logger Boots |
| Made of | Leather | Leather, steel, carbon fiber, etc. |
| Height | 14-20 inches | 8-10 inches. |
| Heel size | Lower heels | Higher heels. |
| Side plates | Have sturdy side plates of steel | Lacks steel plate. |
| Weight | Heavier | Lighter. |
| Soles | Rigid soles | Flexible sturdy soles. |
| Width | Have broader interiors | Have narrower interiors. |
| Users | Mainly linemen and people climbing poles, etc. | Mostly loggers, bikers, land surveyors, etc. |
| Color | Usually black, few are redwood and brown | Black, redwood brown and brown. |
| Style | Quite eye-catchy | Up to the mark. |
Size of the Heels
Lineman Boots have small heels
They have smaller heels in comparison to the logger boots. The reason behind is that these boots are used in activities like climbing poles and trees, which don't require high heels.
Logger Boots have higher heels
They have higher heels. These high heels prevent workers from slipping while walking on wet logs. The high heels also help you while you are walking on top of forest debris, with full comfort and confidence. If you want to maneuver the rough forest terrain easily, high heeled logger boots is a must.
---
Side Plates
Lineman Boots have steel side plates
These boots are designed with sturdy steel side plates. While you are climbing trees or poles, these side plates will protect your footwear from getting damaged. These plates also reduce the friction between the shoes and the poles or trees. As a result, mechanical wear and tear are prohibited. These plates also offer a firmer grip to the users.
Logger Boots have no side plates
These boots lacks the presence of such steel side plates. On the contrary, these boots are attached to their sole with double-layered stitching, making them sturdy and durable.
They provide lace ankle support to your feet on uneven terrain. The Kiltie in these boots prevents them from getting damaged. The steel shank in these boots gives immense comfort.
---
Weight of Boots
Lineman Boots are heavy
These boots are heavier in weight. They are designed with heavyweight and tougher materials, keeping the users' purposes in view. The place of linemen during their working hours, is, either on electric poles or towers. Hence this type of heavyweight boot is the only option for them.
Logger Boots are Lightweight
These boots are much light-weighted. They are designed with lightweight and sturdy materials. Their users spend most of their time on ground, while working. They need footwear that can protect their feet from friction, abrasion, hard impacts or falling objects and for such situations, logger boots are perfect.
---
Soles
Lineman Boots soles are rigid
They have rigid soles to prevent your feet from flexing or twisting while climbing poles, trees or ladders.
Logger Boots have flexible soles
They have flexible and sturdy soles to make your feet comfortable while walking and also to provide mechanical protection.
---
Width
Lineman Boots have wide foot space
They are crafted with wider interiors. This broader inner area of the boots distributes your bodyweight, evenly, among the soles and the boots. This even weight distribution can provide maximum stability when you are climbing or working on top of poles. As your weight gets spread-out in such boots, ultimately your overall balance gets confirmed.
Logger Boots have snug fit
The inner space of these boots is narrower. These boots are mainly used by people working on grounds, for long hours. These workers don't consider stability as a very crucial part.
---
Pros and Cons of Lineman and Logger Boots
Pros of Lineman Boots
They are supportive.

They provide good comfort level.

They are durable.

They have a stylish look.

They provide great traction and grip.

These boots are versatile.

They can provide adequate protection top users.

They are light-weighted and flexible.

They are resistant to water, mud and sudden weather conditions.

They are of ergonomic design.

These boots have insulating capacity.

Lineman boots are quite secure and stable.
Cons of Lineman Boots
They run a bit large and are sometimes quite expensive.

Some of these boots don't have EH protection.

Few types of these boots are not at all great for extreme temperatures.
Pros of Logger Boots
These boots are very comfortable even if you are walking on rough and tough land.

The alloy protection in these boots provides unrivaled safety.

They have Vibram outsoles with breathable and waterproof prowess.

They offer unparalleled traction while you are working on ice.

These boots can withstand any type of rough conditions.

They have a good slip resistant outsole.

They are made of durable leather construction.

These boots are 100% abrasion free.

These boots need low maintenance and are easy to clean.

They are quite affordable and need no break-in period.

Logger boots provide an excellent cushion-like feeling to your feet on the foot beds.
Cons of Logger Boots
Few logger boots have poor temperature control ability and are not insulated.

They are a bit pricey to afford.

Some users may face sizing issues, initially.
FAQs:
Why are Lineman Boots so tall?
These boots are generally 12 inches tall. They give you ankle support to protect your upper foot and lower leg. They offer a more stable foot-bed.
Why do Logger Boots have high heels?
These high heels provide traction to your feet on slimy logs, wet floors and muddy substratum, helping you to stand or walk steadily.
What are the best materials for making lineman boots?
Full-grain leather from cowhide, sheep hide and other dried skin from animals, make best lineman boots.
What are the tassels on logger boots for?
The tassels acts as a brush, guarding and protecting the tongue of your boots from dirt, dust or other debris.
Wrapping Up:
Choosing the right footwear always supplements your movement and safety.
Every safety footwear needs to comply with the requirements and specifications of the latest version of the American National Standard for Safety Footwear, Z41.1.
These above mentioned two types- the Logger and the Lineman Boots, are very much of the same pattern. Still, they have some distinguishing features, which are noticeable. Concentrate on those features. The detailed research of mine will guide you to choose your pair.
Put on your boots! Your work-place is waiting for you!
Till I come back for the next session!
Stay healthy!
Always put a smile on your face!
And be positive!