Being a lineman is not an easy job! You need to climb tall telephone poles in all weather and the most important thing you need is to be holding onto your grip of feet on any terrain.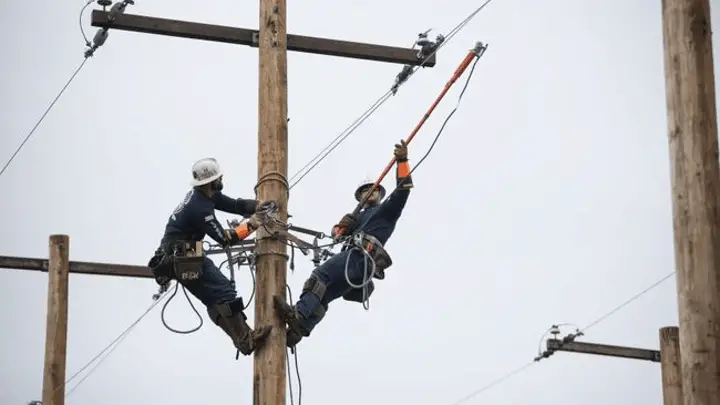 There are a couple of other things too which you need to be careful about being a lineman and they are: handling electricity, placing your feet on slippery or watery surfaces, and ankle support.
In our detailed search we found Irish setter Mesabi Steel Toe 83834 boot as the best lineman boots, made of 100% full grain leather, they are waterproof, provide insulation, have shanks to provide arch support, have steel toe caps, have anti-slip and heat resistant outsoles and are EH rated as well.
So, after looking for all these features in nearly 20 boots, I have come up with the list of best boots for lineman with all the details why I am impressed with them and want to recommend them for you!
So, let's get started:
Comparison Table of Top Lineman Boots
Features to Look for in Lineman Boots
So, according to my study the boots you are going to buy as a lineman should contain the following features:
1.) They should have shank protection. In other words, when you stand on ladders, not only your feet hurts, but it radiates pain to the ankles as well. So, you need boots that have shank support of at least 8".
2.) The second thing which you need to be careful about is traction. Standing on poles and ladders in rain or in the presence of slippery surfaces is very risky. So, your footwear must be slip-resistant.
3.) No doubt you need protection from water and therefore, the boots surely need to be waterproof.
4.) Constructing electric poles might end you up in electric hazards. Therefore, your boots must provide EH protection upto 18,000 volts.
5.) Safety toe is as much required because your feet might any time need to resist impact from heavy objects as you might lose grip of your tools standing on the poles.
6.) One last thing is having the heat-resistant feature as standing on poles in the hot weather on the iron or steel poles might create blisters on your feet.
Top 7 Lineman Boots Review
1. Danner Men's Quarry USA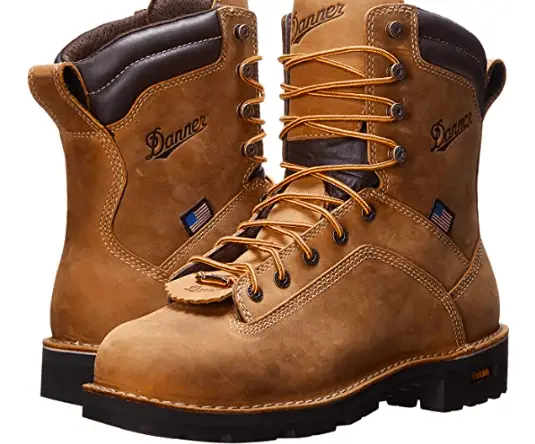 Why it's Perfect: Triple stitched with outsole which releases debris automatically!
The first thing which impressed me about these boots is the look which looks stylish and sturdy and they really are. They are comfortable from inside too when you put your feet in them.
They are spacious and will fit perfectly to your feet within a few days of wear and the laces add to the perfect fit and support.
Features:
Vibram Quarry outsole, 

Waterproof

Non-linear lug pattern on outsoles enable debris release

Triple stitched construction, 

Top grain leather
Build quality:
These Danner boots are made of top grain (one of the best types of leather), oiled nubuck leather in the USA. One of the best parts of these boots is their construction wherein the leather is triple stitched to ensure superior performance. 
Protection:
These boots will protect you from water as they are provided with breathable Gore-Tex lining. Another feature which I liked about these boots is the Vibram Quarry outsole which has a 90 degree heel and will save you from slippery and oily surfaces.
There is more to it with the non-linear lug pattern on the outsole which provides superior traction and releases debris by itself which otherwise is a headache for linemen I believe.
Check Price and Reviews on Amazon
---
2. Georgia Boot Men's Loggers G7313 Work Boot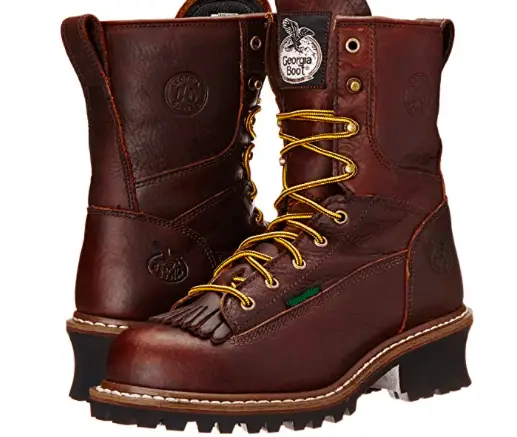 Why it's Perfect: Steel toe and lace up closure!
These Georgia boots are surely going to please you as a lineman as whether you stand in water for long hours or trudge through mud or snow, your feet will be completely dry and safe within these waterproof boots. 
Features:
Steel toe caps, 

Abrasion-resistant outsoles

Waterproof, 

Comfortable 
Build quality:
These ankle-length Georgia boots are made of 100% leather and are extremely comfortable. The lace-up closure provides a perfect fit to your feet.
Protection:
These steel toe boots are going to offer protection from any heavy falling or rolling objects and the main concern of great traction is served by the abrasion-resistant outsoles.
Check Price and Reviews on Amazon
---
3. La Sportiva Men's Makalu Mountaineering Boot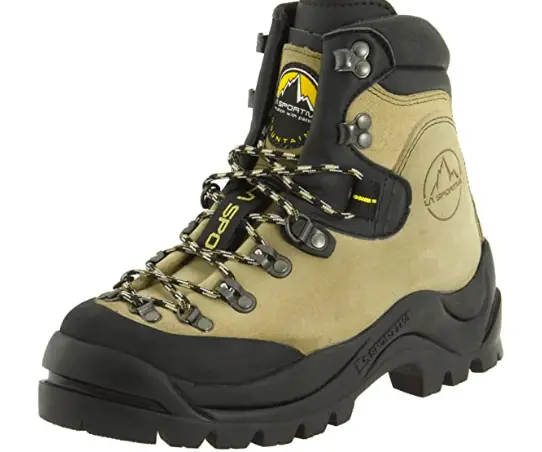 Why it's Perfect: MPE outsoles with self-cleaning lugs!
As a lineman you will surely love these boots because they are just apt for climbing as they hold the grip to uneven and slippery terrain very well. They will seem a bit stiff at first but within a week they are sure to break in and then comfort won't leave your way.
Features:
MPE outsoles, 

Self cleaning lugs

Waterproof, 

Dacromet-coated steel shank

SBR air-cushion
Build quality:
These La Sportiva boots are meant for climbing and are made of Idro-Perwanger leather which are durable and used in all mountaineering boots. They have Dacromet-coated steel shank for added support and features rollerball hardware with a locking D-ring that allows independent fit. 
Protection:
When you talk about protection for linemen, the very first concern is: do the boots provide good traction? In that line you can rest assured as these boots feature MPE sole where MPE stands for mountaineering performance evolution.
This particular type of sole has a dual-density SBR design, an SBR air-cushion, automatic crampon compatibility and self cleaning lugs. Now, this is pretty impressive, right?
This is not all protection that these boots would provide you, as the Dry-Best lining provides water-resistance too. Also, they have a rubber toe guard for protecting your toes from any injuries.
Check Price and Reviews on Amazon
---
4. Carolina Boots: Men's 8 Inch Waterproof Logger Boots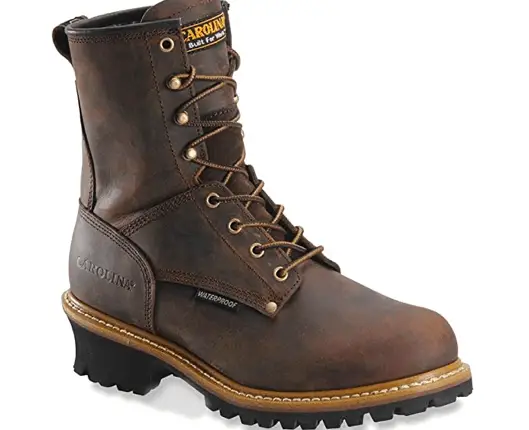 Why it's Perfect: Rubber lug outsoles and heel support!
The one thing you will like about these boots being a lineman is you can tread in any terrain without fearing of falling off from heights as they hold on to slippery and uneven surfaces tightly.
These ankle length boots allow you to withstand water as they are 100% waterproof. The stitching too makes the boots quite durable.
Features:
8" ankle length boots, 

Waterproof

Rubber lug outsole, 

Heel support
Build quality:
Carolina is widely known for their craftsmanship and the tough look of the boots signifies it very well. The boot upper is made of copper Crazyhorse leather which is sure to never back down.
The steel shank provides arch support and saves you from any foot ache from long wearing during work. They are 8" tall and are waterproof so you can stand in water without worrying about getting your feet drenched. 
Protection:
Something which really impressed me about these boots is that they offer electrical hazard protection.
When it comes to traction, the rubber lug sole not only provides non-slip traction, but also holds great grip in oily surfaces and are resistant to chemicals. The heel adds to the support and comfort as well.
Check Price and Reviews on Amazon
---
5. Irish Setter Work Men's Mesabi Steel Toe 83834 Boot
Why it's Perfect: steel toe, heat resistance and EH protection!
Whether you are in water or mud for 24*7, these Irish Setter boots will definitely blow your mind with its unique features and durability. They are light despite the tough built and can withstand any torturous environment. They look great fits great.
Features:
EH protection, 

Have steel toe caps

The outsoles are heat resistant

GORE-TEX waterproofing and the Ultra-dry waterproofing technologies
Build quality:
These boots are made of 100% full-grain leather that is considered best among their types. The 8" shaft provides added support to the ankle and as they are waterproof, you don't have to worry while standing in water by dipping your ankles. 
Protection:
Not one, but there are a number of out of the box features that have grabbed my attention towards these stylish boots. The GORE-TEX waterproofing and the Ultra-dry waterproofing technologies keep the feet dry in watery environments.
The steel toe caps in them provide protection from falling of heavy objects while at work. The outsoles not only holds grip in slippery terrains, but are also heat resistant and this is one thing very unique to these boots solely. Hold on, these boots offer electrical hazard protection too. 
Check Price and Reviews on Amazon
---
6. Thorogood Men's American Heritage 8″ Moc Toe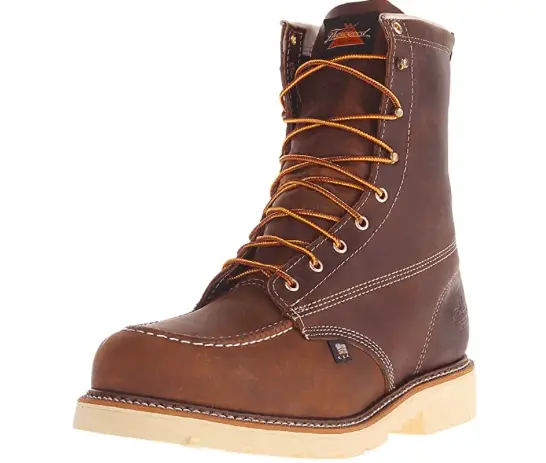 Why it's Perfect: steel toe, shock-absorption footbed and EH protection!
The impressive thing about these boots is their comfort, whether you climb stairs throughout the day or walk miles in them, you feet will feel the same after you open these boots after 20 hours wear!
The construction is very durable and you are not going to face any issues with soles coming out or the stitching.
Features:
EH protection, 

Waterproof

Steel toe, 

Shock absorption footbed

MAX-Wear 90 slip resistant outsoles
Build quality:
These made in USA boots uses tobacco oil-tanned full grain leather that is best in look and durability. The poron comfort cushion insoles provide ultimate comfort to your feet and the footbed absorbs shock too so that you won't get tired in them after daylong wear.
One good thing about these boots which I liked is they can be resoled as they are built with Goodyear welt construction. The 8" fiberglass shank provides support to the ankle and resists pain.
Protection:
When it comes to protection, these boots know what you need as a lineman. The steel toe caps can withstand an impact of 75 pounds and are class I/75 rated.
The MAX-Wear 90 slip resistant single-density outsoles are made of polyurethane and holds good traction while climbing ladders or uneven terrains. Also the outsole and heel resist electrical hazards upto a current application of 18,000 volts.
Check Price and Reviews on Amazon
---
7. Men's Georgia Boots Lace-to-Toe Gore-TEX Waterproof Insulated 
Why it's Perfect: 9.5" shaft length and heat resistant!
These Georgia boots will fit to any feet because of the presence of the lace-to-toe system which allows you to adjust the boots according to your feet shape.
Durability is one thing you can be assured about these boots and they are of tough built. Just a thing to note is that it might a few days to break-in the boots but that generally happens with all ankle-length boots.
Features:
Waterproof, 

Insulation, 

Slip-resistant outsoles

Ortholite insoles, 

Gore-Tex waterproofing

Shaft measures 9.5", 

Goodyear welt construction
Build quality:
They are made of full-grain leather that are best in terms of durability and the Goodyear welt construction assures you of the durability of the boots and that they can be resoled when needed.
The hooks and eyelets are set on steel washers so rest assured, they are not going to pull out easily no matter how much rough handling they have to bear.
The 9.5" steel shank provides support to the ankle and restrains pain. Also, the cushioned Ortholite insoles provides comfort all day long to your feet.
Protection:
There are a number of fields in which these boots offer protection from such as the breathable Gore-Tex construction resists water sipping inside the boots and the Vibram, rubber lug outsoles offer great resistance from oil, slip, abrasion and chemicals. The boots are also insulated to keep your feet warm as they offer a thermal barrier in cold temperatures. 
Check Price and Reviews on Amazon
---
Why are lineman boots so tall?
Linemen need to climb up high ladders which demands great strength from the feet as well as the calves. The lineman boots are generally not less than 8 inches tall and this gives extra support to the ankle and the calves' area while climbing the ladder. 
Also, while climbing the upper part of the leg might receive scratches from the ladder and the tall part of the boots prevents those scratches.
Lineman boots v/s logger:
Both the boots that is the lineman boots and the logger boots serve different purposes:
| | |
| --- | --- |
| Lineman boots | Logger boots |
| They are worn by the pole or the tower climbers | They are worn by the construction workers or the concrete workers r the loggers |
| They are heavier in weight | They are lighter than the lineman boots |
| They do not have high heels | They have high heels |
| They are taller than the logger boots | They are not so tall in height |
| The boots are stiff to provide support and prevent twists | They are more flexible |
| The interior is broader | They have narrow interiors |
Know more about the differences of logger and lineman boots and what the best is for you.
How to break in lineman boots?
You can break in your lineman boots by any of the following methods:
Condition the boots with a good conditioner or mink oil. This will loosen up the fibres and help in the breaking process of the boots.

You can apply direct heat to the boots using your hair dryer. This also helps the leather fibres to become soft and loosen up.

Wear them at home for a few days before wearing them to work.

Put ice bags inside the boots and keep the boots in the freezer overnight.

Wear the boots with thick socks for a few days.
Before we say Good Bye:
Hope you have gained a good amount of details regarding these 7 boots and will be able to make the best decision for your feet.
All the boots that I have selected are best for linemen as before making the list of these 7 boots I have made sure about the features required in the boots meant for the purpose.
That's all for today!
Have a good day..Take care and…
Work safely!