Cowboy boots at work do not just serve the function of enhancing fashion but also work as a protective gear for your feet. The organizations themselves recommend many certified cowboy boots to ensure the safety of the employees. They are comfortable to wear and walk.
Thus, nowadays, they are not just seen as a fashion statement but also safe work gears, especially on construction sites. You might often have to walk through damp places where regular shoes will make you sink a lot more into its depth and ruin your feet and clothes.
Due to their quality and durability, many people prefer cowboy boots as daily wear at the workplace. However, the life of your boots will depend on how you maintain and take care of your boots.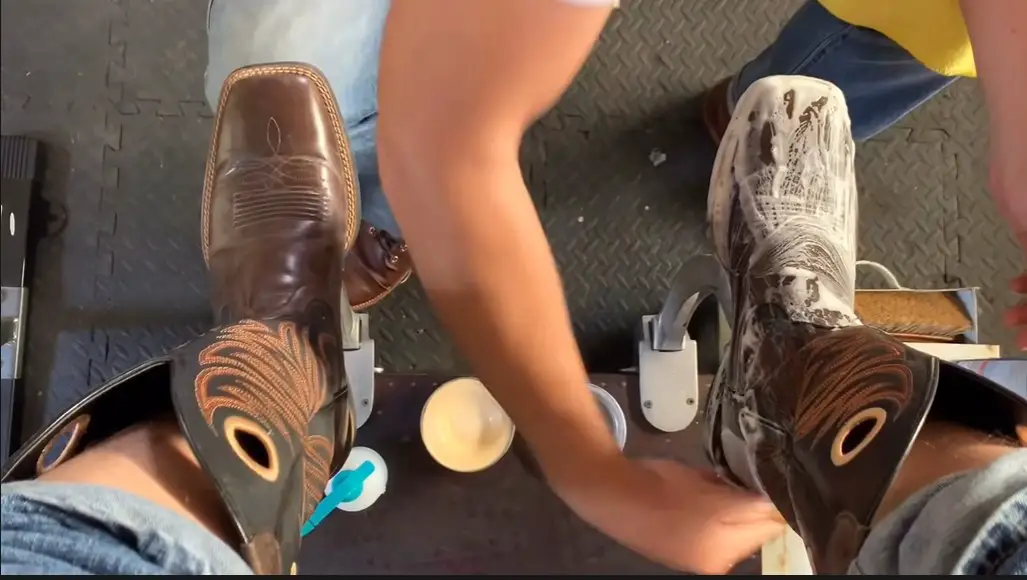 You should use the right polish and other products that are suitable for your cowboy boots specifically to keep them refined. There are various kinds of boots that you can use for your everyday needs and work purposes.
The categorization predominantly depends on the color, quality, material, design, and use. One such well-known and most preferred cowboy boot is the two-tone cowboy boots. 
What Are Two-Tone Cowboy Boots? 
Two-tone cowboy boots are the ones that are made of a mix of colors. They usually have two shades of design on their boots.
Because of the vibrant two combinations of colors, the boot becomes a unique piece and will give you a fantastic look. The two tones present on the boots are usually dark ones, and hence they are also not very difficult to clean.
However, given that both these colors have to be protected equally, you must take care of them prudently by using the right products so that they remain clean and colorful. Maintaining these tones is essential as these colors play a crucial role in keeping the shoe clean.
Even if they are only designs of different colors on your shoe, it is essential that you intricately take care of them to keep their shine. This article will help you understand some of the cleaning methods and how to take care of two-tone cowboy boots
Steps To Clean Your Two-Tone Cowboy Boots
Step 1: Wipe your boots with a damp cloth. This will help you eliminate all the dust and dirt on the shoes. Ensure that you don't dip the cloth in any harsh chemicals while wiping as it might affect the color of the boots.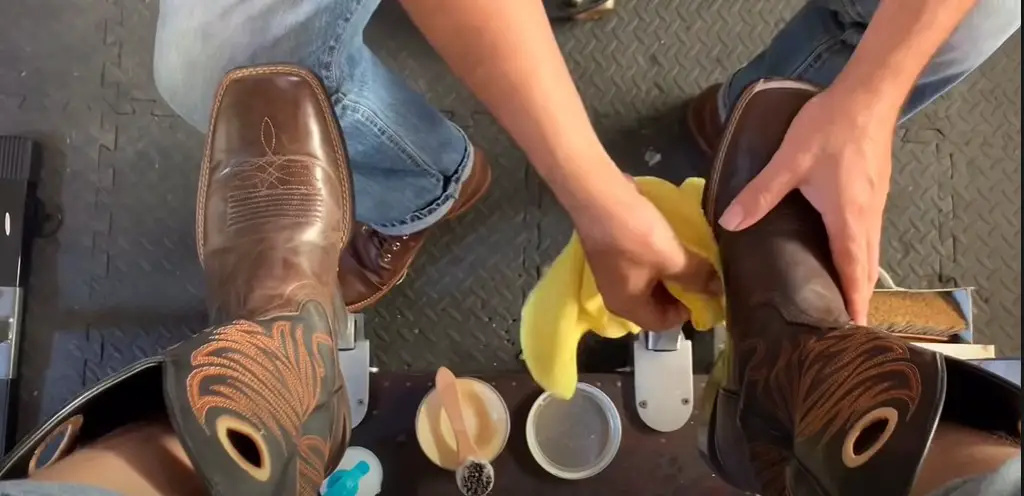 Step 2: Get rid of stubborn stains by dipping a piece of cloth in a cleaning solution that has an equal amount of water and white vinegar. Wipe the boots with that cloth to remove the deep stains of grease, alcohol, food, etc. 
Step 3: Remove minor marks and scuffs with a pencil eraser. Any other eraser is also acceptable. However, a pencil eraser can be more convenient to hold. You might have to do it a little harder depending on the kind of mark on your boots. 
Step 4: Apply a small amount of leather conditioner to your boots to maintain the shine and refrain the boots from getting dry. This also stops the water from getting absorbed into the leather and keeps it moisturized.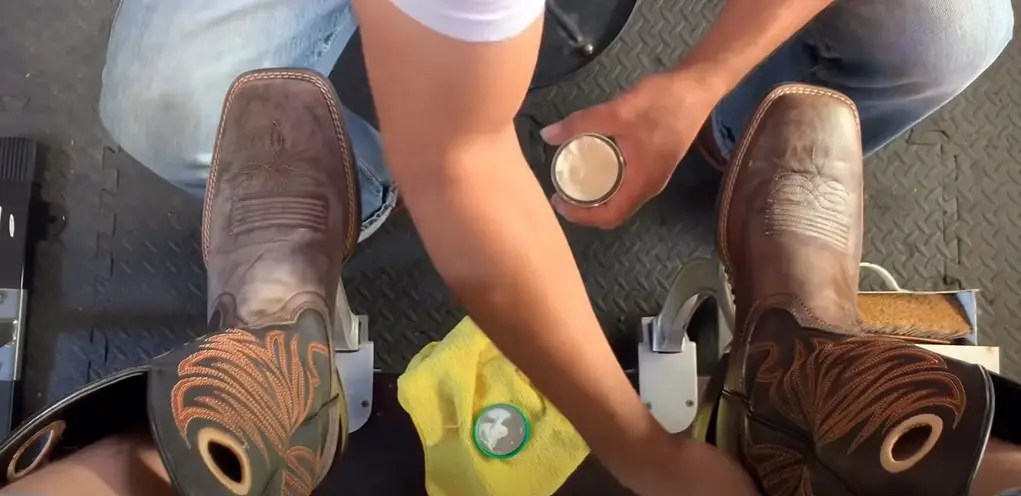 Step 5: Apply boot cream/polish: This also helps you maintain the shine and color of your boots. However, it is vital to use the right amount and product to make the boots look clean and good. 
What Shoe Polish To Use For Two-Tone Cowboy Boots? 
Make sure to choose a shoe polish for your two-tone boots that is colorless(mostly known as neutral) polishes. You cannot select any colored polishes as it will ruin the whole look at once as the colors might merge.
By using colorless shoe polish, you will be able to retain the original color while also giving it a unique shine. Remove the stains and dirt that might have accumulated while you were working by following the steps mentioned above before applying shoe polish. 
1.) Kelly's Shoe Cream (Neutral): It is made of natural waxes and is easy to apply as it is in a rich cream form. The focus of this cream is more on embellishing the color of your cowboy boots and retaining their look. 
2.) Red Moose Premium boot care cream and polish (Neutral): This polish is made of rich waxes and oils. They are available in different colors and can be used in any leather product to bring back or retain the shine and texture of the boots.
Make sure to choose the neutral or colorless one to polish your shoes. It comes with a brush and is also easy to apply. It is just a one-step method and can help your cowboy boots regain their shine. 
3.) Cadillac Select Cream Shoe polish (Neutral): These creams are also available in various colors and are one of the best options as they are made of rich waxes and color pigments. It is also known for improving the leather's durability. 
4.) Sof Sole mink oil: This product is mainly used to make the leather items more water-resistant, protecting them from deteriorating quality. It dries quickly and adds a bright shine and color to your boots. 
5.) Boot Guard Leather dressing cream: This cream is available only in one neutral color and can be used for leather products. It does not consist of any harsh chemicals and thus saves your boots from side effects or damage. It is well known for keeping the boots moisturized and preventing the boots from cracking dry open. 
How to Polish Two-Tone Cowboy Boots? 
1.) Take a small amount of polish and apply it to your whole boot. Use your index finger and middle finger to scoop out the polish. Start spreading it gently throughout the boot by applying it in circular motions. 
2.) Use the brush and start brushing them faster and continuously with small strokes. Continue the process and repeat it throughout the boot until you feel that the shine is being retained. You can add more layers of polish if required. 
3.) Keep the brush aside and take a soft cloth to wipe the excess polish. Rub it gently until you feel like the original shine of both the colors has been restored. 
4.) Use a dry cloth to buff your shoes to achieve some more gloss. 
Alternative Cleaning Methods: 
Apart from the traditional cleaning and polishing methods, there are some other home remedies that you can use if you do not have access to shoe polishes. Following are some of them: 
1.) Use Water and Saddle Soap: They are very effective and can be used as primary tools for cleaning and removing stains. They can also be used to clean the interiors of the shoes. 
2.) Use Toothpaste: Due to the basic nature of toothpaste, it can be used to clean the shoes very quickly. Apply toothpaste to the stain, and rub it with a hard-bristled wet brush for some time. Leave it for 15 minutes and then wipe it off. 
3.) Use a Solution of Water and Vinegar: These soft chemicals can help remove deeper stains without affecting the leather, quality, or color of the shoes. 
4.) Use a Tartar Cream and Lemon Juice Solution: This combination works as a potent cleaning agent. You can apply this solution to the stains and let it soak for 30 minutes, after which it can be washed or cleaned away using a soft cloth. 
Conclusion
Cowboy boots are outstanding options for workplaces as they ensure safety due to their quality and durability. To make it stylish simultaneously, you can use two-tone cowboy boots.
Taking care of them is as easy as taking care of any other leather product, as you don't have to mess with colors. Just one neutral polish or cream does all the work for you.
However, you must take care of the boots to persist for a long time without much damage and discoloring as they might start making you look dull.
Because of the kinds of work you might be engaged in, your boots might also get dirty every time you use them. Ensure that you don't let the dirt be accumulated, which can be unsafe for the shoes and you.
Thus, be careful while taking care of your two-tone cowboy boots to maintain their style and safety purposes.