There is no occasion that you cannot wear your UGGs to. Be it parties, work or a business meet, Uggs serve great for every occasion.
Also, there are UGG boots and slippers for every season. There are different models that are made of specific materials each suited to serve specific purposes.
Like there are UGG boots made of sheepskin, rubber, leather and there are UGG slippers made with modern synthetic materials.
But the most difficult decision while choosing a pair of UGG boots is their sizing because different models of Uggs offer different fit as it depends on the design of the specific model and the material of the concerned model.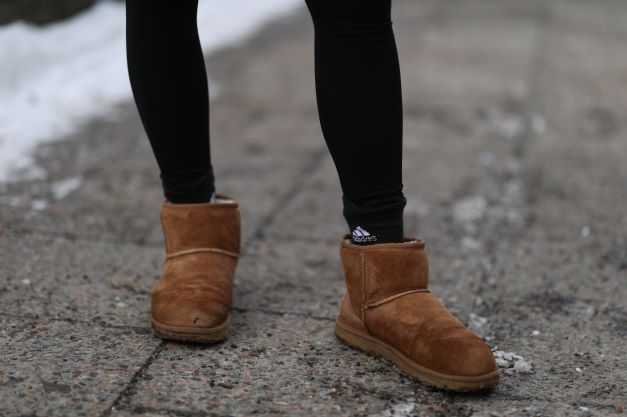 The classic Uggs are made with sheepskin and tend to stretch over time, so sizing down is the best option, the Uggs rain boots are made of rubber and do not stretch and so buying the exact size of your feet is recommended and lastly the slippers run a bit small, so sizing up in them is the best decision.
This article will help you to learn in detail about the different models of UGGs, their material and fit, so that you know what should be comfortable for your feet and make the right choice of UGGs boots!
Sizing of Different Models of UGGs:
As I have said before, the sizing of UGGs boots and slippers depends on the models you choose to buy. So, let's first learn about them before arriving at a particular decision:
The Classic Uggs:
The original model, that is the model that comes to your mind when anybody says the word "UGGS" before you, is the classic Uggs. This particular model of Uggs is made with the sheep skin and ship skin is known to stretch over time.
Still, the classic Uggs themselves offer a somewhat loose fit. So, if you are say a size 9 and feel that the size of Ugg 9 is fitting you snug, know that it will be very loose over time because the sheep skin will stretch more over time.
Therefore, it is always better to choose half size or 1 size down for this particular model of Uggs.
The Ugg Rain Boots:
The Ugg rain boots do not come in half sizes, meaning there are no 0.5 sizes in them. Also, they are made with rubber and rubber is a hard material that does not stretch at all.
So, if you are planning to buy them, it's always better to buy true to size if you like perfect fit or size up them than your regular shoe size if you enjoy snug fit.
Uggs Women Slippers:
The women's Ugg's slippers, the Ugg coquette slippers, the Ansley, the Dakota all of them tend to run a bit smaller and they come in half sizes. So, it's better to choose the half size larger or a full size up in them.
They are made of various materials and the material will depend on the model you choose. But slippers usually do not stretch.
What to look for while choosing the Size of UGGs?
While 90% of the sizing will depend on the model of Uggs you are choosing, there are a few other points as well to consider while deciding on the size number of UGGs:
1.) The Purpose of Use:
Now the purpose of use means various occasions like if you are going to use them for daily wear, go for true to your own size because wearing them daily will definitely stretch them over time. But if you want to wear them only occasionally, it's better to choose the size according to your comfort.
2.) The Material of the Boots:
Rubber boots will not stretch over time, whereas leather and sheepskin will definitely stretch once they are broken in. So, you can size up with rubber boots if the boots feel too tight in their true to size number.
But with leather boots go for a half size larger if your original size feels tight, and with sheepskin boots, you can blindly size down to a half to full size.
3.) Your Comfort Zone:
If you enjoy a snug fit, with sheepskin and leather go for the original size and if you like a perfect fit, choose a half size larger boot. With rubber sizing up and down will depend on the present fit of the boot because they are not going to stretch anyway.
The season you are going to wear them in:
Now you know how to select the sizing with the material of the boot.
But do you know how to select the perfect material for your boot?
Well, it depends on the season or the climate you are going to wear them in.
For rainy days and snowy weather, go for leather rubber boots. For Summers, go for leather. For winters go for sheepskin.
The accessories you are going to wear with them:
If you are going to wear your boots with socks, go for half size to a full size up. If you are planning to insert an extra insole as well, go for a size up.
The type of toe box used in them:
If your boots have steel toes, go for a snug fit that is half to a full size up. If the boots have pointed toes, do the same.
See also: Can You Wear Waterproof Uggs in the Snow?
Do UGGs fit true to size?
Generally UGG boots will fit true to their sizes, but the problem with sheepskin is that they will stretch over time and become quite loose.
But modern day UGGs made of leather and other synthetic materials will not stretch as much as sheepskin.
Still if you are confused, measure the size of your feet with a measuring tape and follow up with the chart below: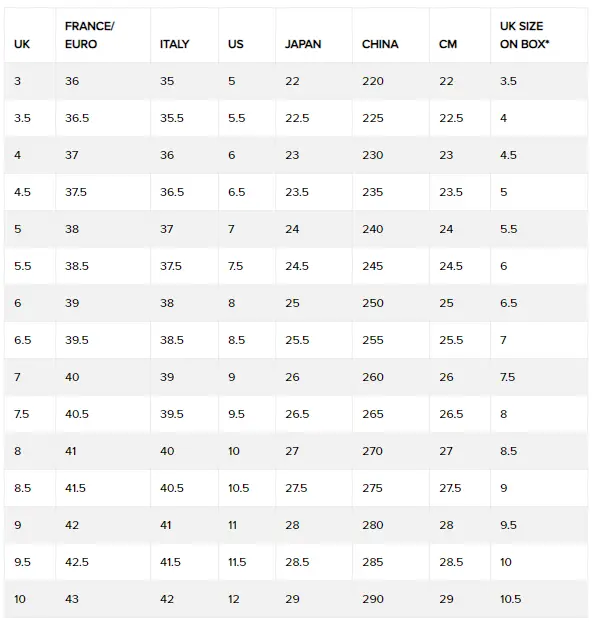 And It's A Wrap!
Not all UGG boots have the same sizing, some run big while the others run small. Now, it depends on the comfort of your feet that whether you enjoy a loose fit or a snug fit or a perfect fit!
Hope this guide will help you get the perfect size of your UGGs and make your feet happy and active!!!