Imagine it's a chilly winter day and your feet are freezing even though the fluffy socks aren't keeping them warm.
You search for a better solution and you come across two plush and warm-looking boots across the room- the Bearpaw and Ugg cold-weather boots, both of which are well-known for their comfort and warmth.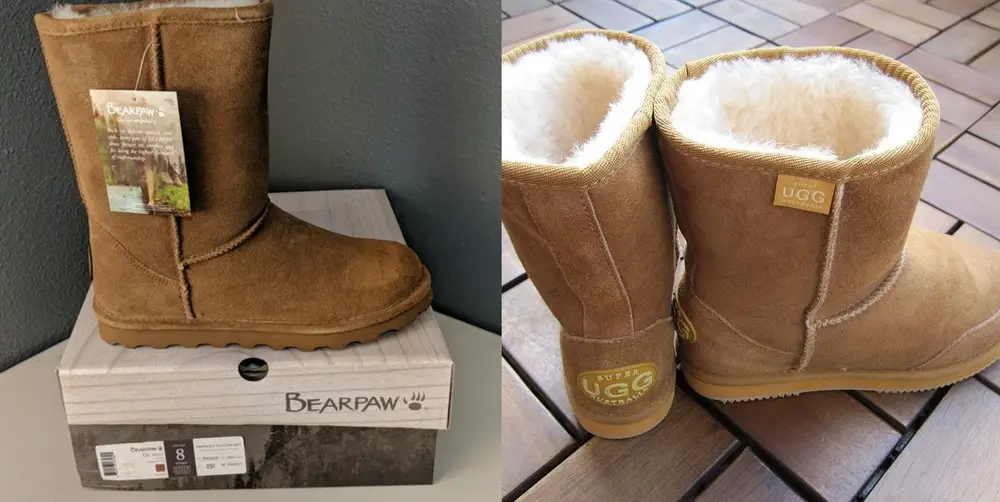 Let us look at a quick comparison chart: 
| | | |
| --- | --- | --- |
| Features | Bearpaw boots | Uggs |
| Material | Genuine cow or ship leather, with a wool inner and a sheepskin footbed.  | Sole is made of twin-shaped sheepskin with a wool or fur lining. |
| Durability | Bearpaw boots may last 1.5 to 2.5 years. They are not as long-lasting as Uggs.  | Uggs can last you upto 2 to 2.5 years with consistent use. |
| Comfort | Bearpaw shoes are quite durable, though not as comfortable as Uggs.  | Uggs are extremely comfy, warm, soft, and lightweight.  |
| Weight | Much heavier than Uggs.  | They are more lightweight. |
| Look | Uggs have flawless stitching, however they droop after a while.  | Visible stitching, yet they do not sag and instead maintain their erect posture. |
| Sole | Rubber | Rubberized foam |
| Fit | Purchase a size larger. | Uggs are true to their size.  |
| Colors | Dark brown, beige tan, white, black, pink, blue, and green are some of the colors used.  | Outer comes in a number of colors, with tan being the most traditional. |
| Cost | They are relatively cheaper.  | Uggs are quite expensive.  |
| Reviews | Heavier – rubber sole, robust sole, sheepskin upper doesn't last as long as leather, therefore no extra layer of fleece inside – less comfy.  | Lighter – foam sole, heel wears rapidly, sheepskin top lasts longer, warmer, additional layer of fleece adds comfort, worn with socks compacts the fleece. |
Here is a video of comparison between the two boots for your better understanding- 
UGG Boots vs. Bearpaw Boots
They almost look the same, and probably we've known Bearpaw boots as Uggs since we did not know the difference. 
Before we get into details about the differences, let us introduce you to the boots.
Bearpaw Boots
Bearpaw is a well-known American footwear company known for its low prices and good quality winter boots. It was started in 2001 by Tom Romeo. This company's main goal is to provide attractive and comfy sheepskin boots.
The Bearpaw boots are made of cow leather on the outside and lined with sheepskin on the inside. Later, the company began producing vegan boots made of vegan microsuede rather than sheepskin. Bearpaw makes these boots in a variety of shapes and colors. 
The stitching on the boots is excellent, however the threads are visible. The interior is warm and comfy thanks to the sheepskin fur. 
Bearpaws are relatively stronger since they do not slump. They retain their upright form even after several wears. This is most likely due to the outside material being leather.
Uggs
Ugg is a footwear, outerwear, and luggage company based in the United States and the interior of the Uggs has fleecy fibres that absorb moisture and enable air to flow. 
The method Uggs are sewn is notable since the threads aren't normally visible on the exterior. However, after a while of wearing them, the Uggs sag and droop. The ugg boots' originally straight and rigid leg loses stiffness and droops. 
Uggs are well-known for their extraordinary softness and lightweight nature. Their sole is made of rubberized foam, making shoes extremely comfy. Uggs are most commonly seen in tan, although they also come in black, pink, fuchsia, and other bright colors.
Bearpaw Vs Uggs- Similarities
1.) Materials- In general, both Ugg and Bearpaw boots are made of sheepskin. However, they may employ certain additional materials in their many boot types and designs. 
2.) Warmth- When it comes to warmth, both boots are quite toasty. And they are virtually tied in this characteristic. It's worth noting that they may be worn without socks. You may still wear socks for extra insulation.
3.) Comfort- Each Ugg and Bearpaw boot is meant to be comfortable to wear. Both boots include a plush wool or fleece interior for optimal comfort and warmth. In this scenario, each brand is nearly identical. However, some people believe that Uggs are much softer than Bearpaw versions. 
4.) Availability- Both types of boots are available in a wide range of colors, sizes, and for individuals of all ages. Bearpaw and Ugg make boots for men, women, and children. 
Bearpaw Vs Uggs- Differences
1.) Durability- Uggs outperforms Bearpaw in terms of durability. Both boots are made of high-quality sheepskin. However, Uggs won the award owing to its top grade Twinface sheepskin. 
However, some customers claim that Bearpaws keep their upright shape better than Uggs. Bearpaw boots typically last 1.5 to 2.5 years, whereas Uggs last almost 2 to 2.5 years. 
2.) Quality of Stitching- Ugg boots boast silky stitching throughout. Uggs are popular among customers because of their seamless look. This ensures both comfort and a decent appearance. 
Bearpaws footwear, on the other hand, has obvious and tight stitching. As a result, they are more resilient and may retain their shape for a longer amount of time.
3.) Weight- In comparison to Bearpaw brand boots, Uggs are lower in weight. Although the weight discrepancies are not large, even a tiny amount of weight matters when it comes to boot weight. 
4.) Waterproofing- The majority of Bearpaw boots include Never-Wet technology, which makes them waterproof. So, if you wear Bearpaw, you won't get wet if you walk on water or liquid. 
Alternatively, certain Ugg brands' boots are water-resistant, although they tend to stain, liquid, or dirt in boots.
See also: Can You Wear Waterproof Uggs in the Snow?
Pros and cons of Bearpaw Boots
Pros 
Cons

They provide excellent value for money. 

They are really warm. 

The boots are water resistant. 

They are not as long-lasting as Ugg boots. 

People may mistake these for faux Uggs. 
Pros and cons of Uggs
Pros 
Cons

For their footwear, they only employ high-quality materials. 

The stitches are soft and smooth. 

Ugg boots are long-lasting. 

Uggs are more expensive than other alternatives. 

Uggs do not have a vegan version.
FAQs-
Can I wear socks with Bearpaw and Ugg Boots? 
Both boots are soft and comfy, and they may be worn without socks. Even though they provide more insulation, you can wear socks for added warmth. (Do You Wear Socks With Uggs?)
Are Bearpaw Boots and Uggs appropriate for Snow?
Yes, Bearpaw boots and uggs are ideal for snow provided they are water-resistance. They keep feet dry and toasty while protecting them from snow.
What do we prefer? 
Based on the aforementioned comparison of Bearpaw boots versus Uggs, we can conclude that none is superior than the other in every way. Both boot brands have some advantages and disadvantages. 
Bearpaw boots are a more affordable option, although Uggs are more durable. However, both of these cold-weather boots are comfortable and toasty. 
According to customer reviews online, Bearpaw boots are heavier and have a thicker sole. According to several reviews, the sheepskin top does not last as long as Uggs. Others claim that Bearpaws lack an additional layer of fleece on the inside, making them less comfortable. 
However, numerous consumers claim that Bearpaws are just as comfy as Uggs.
Conclusion
Both Bearpaw and Uggs are comfortable and durable, but if brand is important to you, Uggs is the clear victor since the relationship they have with their customers is light years ahead of what Bearpaw has.
Plus, investing in an expensive yet durable and sturdy pair of Uggs is sure to last you for a very long time.