Do you know what are UGGs made of?
UGGs are originally made of genuine Australian sheep wool or better called the Merino wool, which have a number of unbelievable features to provide utmost comfort to the body.
You will definitely be awestruck once I discuss the various features of this Merino wool in this article and you will surely come to learn why or why not should you wear socks with UGGs made from this particular sheep wool.
Just as wearing a raincoat shields you from the rain by avoiding direct contact of your skin and water, similarly wearing socks will restrict the direct contact of your skin with the Merino wool and will not provide the deserved warmth to your feet.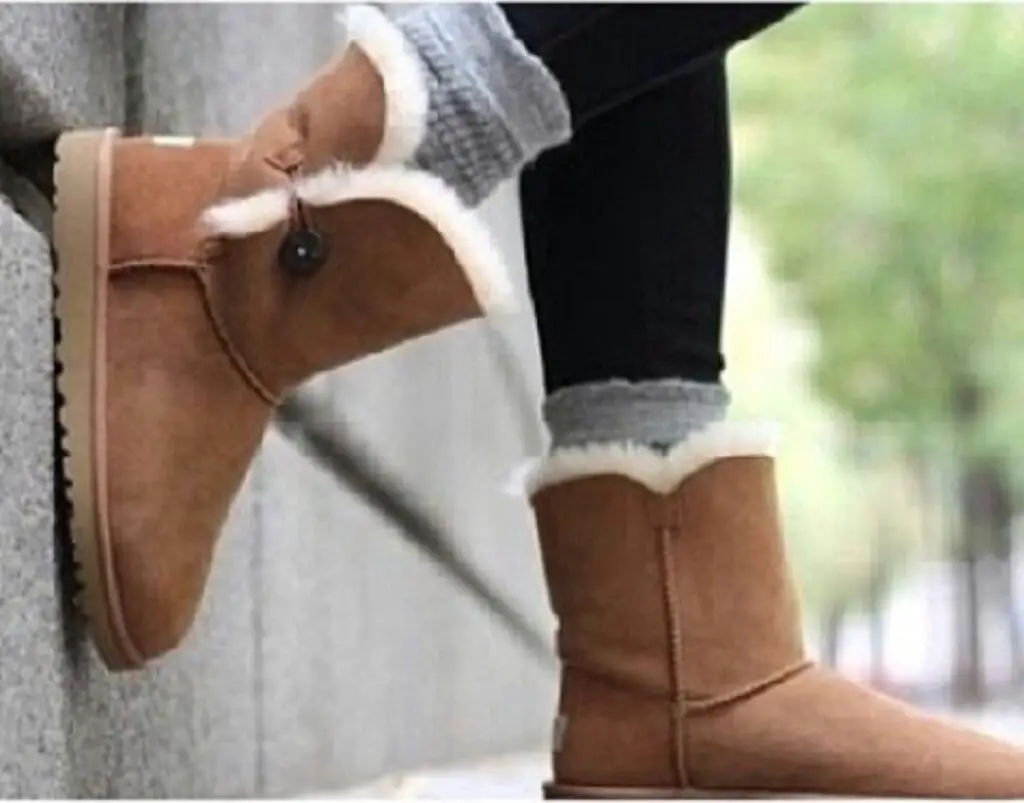 Let's read on to find out more about UGGs and it's related mostly queried topics…
Why shouldn't you wear socks with uggs?
Now that you know that wearing socks with UGGs isn't a cool idea at all, let's find out the reason behind it in details:
1.) The Merino sheepskin wool has got a unique feature of regulating the temperature of the feet with that of your body
2.) This fleece is breathable in nature that allows air flow within the boots and also wicks away moisture, hence keeping your feet all day dry. Wearing socks will block direct contact of your feet with the wool and hence you won't enjoy the benefits of it
3.) The wool provides a soft touch cushioned bed to your feet and gets moulded to the contours of your feet to support the arch, midsole, toes, heels, etc. Wearing socks will cut off this comfort as well
4.) UGGs are thermostatic in nature and therefore wearing socks will not allow direct contact of the feet with the wool and thus the temperature regulation will not be apt
5.) All in all, socks will hinder the cushioning and warmth of the fleece in UGG boots
Are you supposed to wear uggs barefoot?
Believe me, wearing UGGs barefooted will give you the best experience of comfort and warmth. 
The touch of the soft warm wool will make your feet enjoy like never before in the winters. 
Sheepskin is naturally thermostatic in nature. So, when you wear UGGs barefoot, it keeps the temperature of the feet close to your body temperature and that's why you don't feel the outside cold temperature anymore.
Even while keeping the feet warm, it completely wicks away the moisture in case your feet sweats as it allows the air to circulate within the boots.
And because of its ability to regulate the body heat naturally, this A grade woollen sheepskin can be worn throughout the year.
Do uggs keep feet warm?
Yes, though this particular type of fleece boots allow breathability to keep your feet all day dry, yet it is capable enough to trap the body heat within the boots and regulate it through the feet by keeping your feet warm to your body temperature.
Going by the numbers, it can keep your feet warm in temperatures upto -30° F and cool upto 80° F.
What do you wear ugg boots with?
You can simply wear your UGG boots barefooted as mentioned above as that will provide you the best comfort.
That said, if you want to make a good style statement with your UGGs, you should be wearing them with your fitted jeans or trousers because UGGs are supposed to give you a casual look rather than formal. So, wearing UGGs to work with your work pants won't be a great idea I guess.
But above all, comfort is the ultimate key to happiness. So, if the temperature around is freezing, and own a cozy pair of UGGs, do wear them to work and experience all day warmth and cushioning.
And it's a wrap!
To wrap it up, I would like to throw some light on a different topic and that's: " Is it cruel to wear UGGs?"
You know that UGGs are made of shearling? And for your knowledge shearling is the skin of the sheep with the fleece still attached to it. And for extracting this very material, nearly 3 million young lambs are slaughtered in the Australian wool factories.
So, if you already own a pair of UGGs, go ahead to wear them for your comfort. But in case you are thinking of buying a new pair, I think you have numbers of options of insulated boots instead for the very same feel, comfort and warmth.
That's all peeps for today!
See you soon in my next post!