Axes, saws, hammers, nails, heavy logs of wood and several other sharp objects are a part of the day to day of a carpenter. Agree?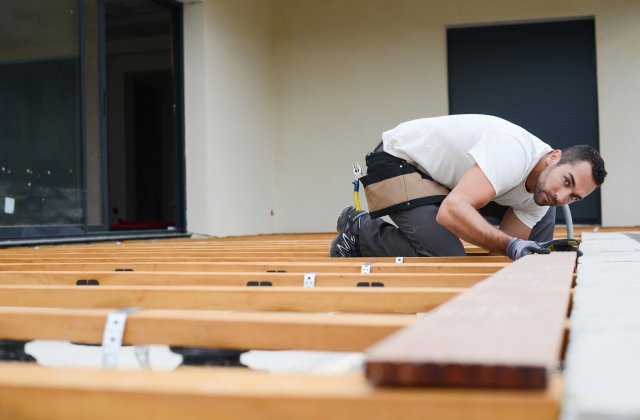 In such circumstances, there is always a risk of getting hit and cut by sharp objects especially on the feet because it might often happen that you drop a sharp tool or a heavy log of wood on your foot while handling them.
Therefore, feet and especially toe protection becomes utmost essential in carpentry.
Yes, steel toe boots offer the best protection for carpentry job from any sharp objects and heavy impacts. Steel being a heavy metal can withstand impact up to 6000 pounds without causing the slightest harm to your toes!
But before that let's have a look into the nature of work of a carpenter and the features that need to be present in boots for carpenters.
What is the job of a carpenter?
A carpenter is someone who changes wooden logs to beautiful doors, windows and furniture. In this process they make use of different tools like hammers, nails, knives, saws, axes, drilling machining, cutting machines, etc. handling all these tools isn't an easy job you know! 
Besides, they have to work in hazardous environments where they might have to deal with electric sparks while handling electric machinery and step over sharp objects here and there on the ground and lastly, the worst being falling of heavy and sharp objects on feet.
Top 10 Comfortable Steel Toe Work Boots to Stand ALL Day
What are the hazardous situations that carpenters face at work?
As mentioned above, the work of a carpenter is quite strenuous. Let's look at some of the hazardous situations that carpenters need to deal with daily:
There is always a possibility of stepping on sharp objects like sharp wood pieces, nails, sharp tools, etc.

Heavy tools and wood pieces might fall on the feet anytime.

Saw dust and debris might get accumulated in the boots.

While handling the electrical appliances, they might undergo electric shock.
Standing for long hours, kneeling, bending, etc are part and parcel of their job.
They might step on toxic chemicals, adhesives and resin that keep lying on the floor.
While working outdoors, they get exposed to various weather conditions like heat, cold, rain and wind.
What should you look for in boots for carpenters?
Looking at the potential hazards associated with the work of a carpenter, I have made a list of several factors that need to be considered while looking for a perfect boot for a carpenter. Let's have a look at them:
1.) Puncture resistant:
Dealing with sharp objects like wood pieces and nails are inevitable as a carpenter, so their boots need to definitely puncture resistant so that when they step on these sharp objects the boots don't suffer holes and punctures on the outsoles.
The outsole should be able to handle at least 1100N of penetration force.
2.) Slip resistant:
As mentioned above, carpenters often have to step on slippery surfaces such as chemicals, adhesives, resins, paints, etc. therefore, they need boots that are slip resistant and provide adequate traction to hold their feet in place whenever they step on such slippery substances in order to avoid falling or tripping or slipping.
3.) Water resistant:
While working outdoors, carpenters often have to deal with water or rain. So boots with water-resistant or water-proof features are advisable. Obviously, no one would like to work in wet boots in adverse weather conditions.
4.) Breathability:
Cutting logs of wood, sawing them, making intricate designs demands a lot of physical activity and that too standing on feet all day long which ultimately tends to heat up the feet and make them sweat heavily. Therefore, the boots need to be provided with breathable linings so that the feet can breathe from within by allowing air flow into the boots.
5.) Comfort:
When your entire day's work is on foot you cannot definitely compromise on comfort. Having a good cushioned insole is very necessary so that your feet don't ache after the day long's standing on feet. Better if the footbed is shock absorbing so that it can return the energy back to the feet and relieve fatigue.
6.) Toe protection:
This is in fact the most important factor to be considered while searching for a good boot for a carpenter. I have mentioned several times that carrying heavy loads, handling heavy and sharp objects and tools are a part and parcel of a carpenter's work.
In such situations, the most vulnerable part of the body is the feet and especially the toe area where there is the greatest chance of getting hit by sharp and heavy objects. Therefore, toe protection becomes utmost necessary and no one can beat the level of protection offered by a steel toe boot in this case.
Should carpenters wear steel toe boots?
Looking at the above features required for a perfect boot for a carpenter I can tell that a steel toe boot is capable of offering all the features and there is no denying the fact that steel toe boots would be the best choice if you work as a carpenter because obviously, you would not want to hurt your feet and especially toes with those sharp and heavy objects in the carpentry industry.
What are the other alternatives of steel toe boots for carpenters?
The only problem with the steel toe boots is that they are quite heavy in terms of weight. So, if weight is a disturbing factor for you there are certainly other options that you can consider without compromising on safety. Let's have a look at them:
Top 10 Lightweight Composite Toe Boots
These are the best and the safest alternative to steel toe boots which offer almost the same level of safety as their steel counterparts at the same time being the lightest and the most comfortable. They are made of materials such as Kevlar, fiber glass, plastic, etc which are not temperature sensitive and provide insulation from heat and cold and are also ideal for working outdoors.
2.) Aluminum toe boots:
Aluminum toes are definitely lighter than the steel toe boots because they are thinner and offer much more space within the toe box to your toes. They offer a good level of protection as well. But the only problem with the aluminum toe boots is that they are temperature sensitive and therefore might not be a great choice if you are to work outdoors.
It's time to bid Adieu!
Before taking leave, I would like give a piece of small advice that if weight isn't a factor for you, please go for the steel toe boots because they offer the best protection for your toes in any hazardous situations. Just choose the ones with a comfortable footbed, like the shock absorbing and the anti-fatigue ones.
That's all for today!
See you soon in our next article.
Till then…
Take care, stay safe and healthy and…
Have a great day head!