Not all boots have square toes. Some are designed with pointy toes and others may be styled with rounded toes. Then there are the boots that feature square toes. 
Square toed boots and pointy toed boots are common in cowboy boot designs and cowboy boots have been around for more than a century, so that's a long time for certain boot designs to last.
Yet, this is the case even though styles and construction techniques have changed and evolved in the decades during which boots have been worn.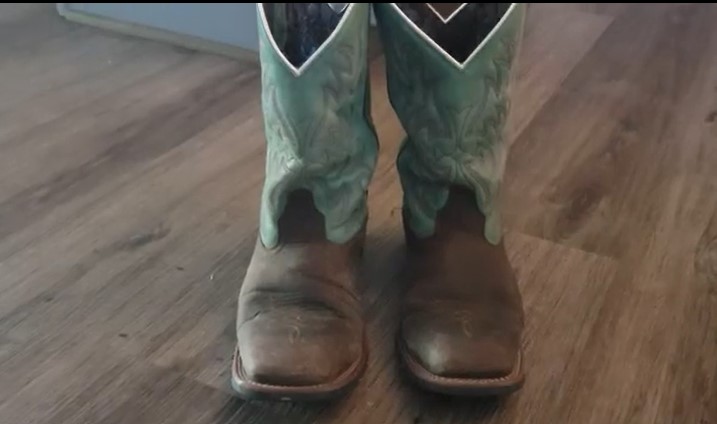 What Is a Square Toe on a Boot?
A square toe shape on a boot is similar to a round shape in that it affords more space for the wearer's toes to spread increasing comfort for wearers that spend a lot of time on their feet especially when working. It's a great choice for every day and for walking long distances because of the comfort factor.
Square toes designs will differ. Some will be wider with shorter lengths to resemble roper boots while others will be more elongated and then square off across the tip.
Are There Any Benefits to Selecting Square Toe Boots?
Absolutely! There are several benefits such as:
1.) These boots are extremely comfortable, so they are an appealing choice for those with unusually shaped feet or comfort issues.
2.) Boots with square toes are super for wide feet.
3.) These boots are a terrific choice for those that experience foot swelling or toe swelling, or conditions like bunions.
4.) They offer a classic design that never really goes out of style.
What Are Broad Squared Toe Boots?
Boots that feature so-called broad square toes offer a variation of the standard square toe boot. They are a bit wider, so for those that require some extra space, this style of boot is ideal and will afford a little more space if you work on your feet all day long.
Broad squared toe boots can be worn for long hours without a problem and are nice looking enough to be worn not only when dressed casually but also with a slightly more formal look.
If you wear an extra wide size such as an "EE" or "EEE", a broad square toe will be more comfortable. This design will also provide a bit more space for those that use cushioned foot bed inserts and allow toes to spread easily.
What Are Square Toe Boots Worn For?
Typically, square toe boots are used by ranchers that have to do a lot of work while standing, walking, or moving around. These boots are for those that spend all day on their feet or at least most of it.
The square toe style gives toes more room and are particularly appropriate for wide feet. They are designed to provide more comfort when walking than other toe shapes. If you are on your feet all day, and your feet swell as a result, this is the ideal shape.
Are Cutter Boots the Same as Square Toe Boots?
No, a cutter toe boot is a design that is wider than a pointed toe boot but still narrower than a square toe boot design. This design has a narrower tip than a true square toe boot. They are a good compromise if you prefer pointy boots but need more toe room.
How Do I Know Square Toe Boots Are Right for Me?
While everyone prefers a stylish boot that is also functional, when choosing a toe style on a pair of boots, the first thing to consider is your comfort.
Boots are an investment, and ideally, you'll want to get several years of wear out of a pair if not longer and you need them to be comfortable.

• Consider foot shape because you need a boot that offers a good fit. Will your feet need a narrow, regular, or wide size? Do your toes need more room to spread and wiggle?
• What activities will you wear your boots for? Do you want boots for formal occasions or for every day? If you are out and about all day, you may appreciate the extra room that a square toe boot design offers. What are the activities you intend to do with your boots on?
Selecting a toe design for boots is not merely a fashion statement. Your boots should be right for whatever you'll be doing while wearing them.
If a square toe design offers the most comfort for your foot shape and reflects your personal style, then these are good reasons to select this toe style.
Are Square Toe Boots Popular?
Some people actually prefer square toe boots to round toe or pointy boots both for the style and for the comfort.
Judging from the numerous square toe styles available in the marketplace, they are most certainly a popular choice otherwise manufacturers wouldn't produce so many. Still, they may not be the ideal footwear for everyone.
The Pros and Cons When Considering Square Toe Boots
When investing in a pair of boots, it's wise to consider the pros as well as the cons. What are the pros to selecting square toe boots?
√ They offer a unique style and wearers won't go unnoticed.
√ They are a great choice for wear during activities like hiking, riding, ranching, or working on your feet.
√ They are ideal for wide or unusually shaped feet.
√ They offer more toe box room thus increasing comfort.
Are there any real cons to square toe boots?
⊗ They may not be for everyone's taste in terms of style. If you want to purchase a western style cowboy boot, this might be a consideration. Many feel that square toe boots do not look sufficiently western.
⊗ Because the shank will fit a little differently, these boots may require some breaking in and this will mandate some patience on your part.
Conclusion: Why Do Boots Have Square Toes?
Boots that are designed with square toes are made to offer more room for toes and more comfort for those that work or stay on their feet most of the day.
When deciding if a square toe boot is your best option you'll need to evaluate your taste and your foot needs.
Square toe boots come in lots of styles and colors, so there are lots of available choices for you. Try on a variety of pairs to find your preferred style and the perfect fit for your feet.