Waterproof sturdy boots are something that everyone wishes for. Be it a busy day in a muddy field or a long trip hiking, these boots are definitely a necessity.
Wellington boots are one of my favorites and so are muck boots. I have used them both and I can help you decide which is better and which suits you more.
So let's start exploring…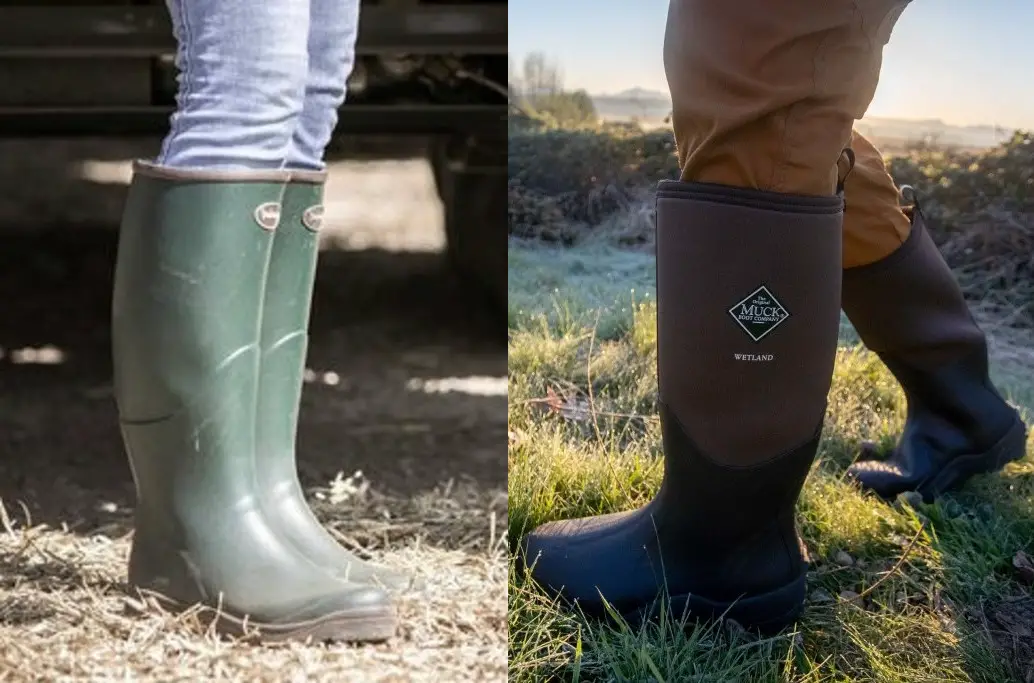 What Muck and Wellington boots made of?
Wellington boots are made of vulcanized rubber. They also come in polyurethane. As these boots are made for functional purposes rather than fashion, they are crafted to be flexible and robust.
Vulcanized rubber ensures both. Wellies, therefore, mold to your feet easily and keep them dry even when you are jumping in a puddle for hours. 
Muck boots are a finer version of wellies. Made from a material called neoprene, these boots are softer and more comfortable to wear.
Neoprene has a bunch of advantages apart from flexibility and softness that make it a good choice for boots that have to face harsh industrial conditions.
Is neoprene better than rubber?
Neoprene's chemical composition gives it the following features:
Highly resistant to flame

Cushioning texture 

Incredible robustness

Resistance to weathering

Resistance to electricity

Tear resistant
Which is More Breathable: Muck or Wellington?
If you are using these boots in warm conditions and are involved in stressful situations, you might have to have a pair of muck boots for the best comfort.
Yes, muck boots let air pass through the materials allowing your skin to breathe and sweat to evaporate. 
Wellington boots do not give the luxury because of how air-tight vulcanized rubber is. The sweat can stay inside the boots causing discomfort affecting your work or activity.
Moreover, it affects the user's hygiene. Perspiration lingering on to the skin inside the shelter of the thick-bodied boots can lead to the formation of germs that can irritate your feet. Airflow is necessary to avoid this. And vulcanized rubber is of least help here.
Wellington or Muck Boots: Which is Better for Winters?
Yes, that is a huge advantage of wearing these lace-less boots created to deal with difficult atmospheric circumstances. 
Both wellies and muck boots keep your legs warm. But wellington boots are not the best solution for extreme winters. They fail to give maximum warmth that you need in snowy conditions but neoprene-finished boots are much more effective here.
The robust exterior ensures that your feet are no way affected by any level of frostiness. And when your feet are warm and go with the temperature of the rest of the body, you feel at ease at all times.
Moreover, the lining and texture of these boots make them the ideal choice to walk in snow without the fear of tripping.
I always look into the anti-friction lining whenever I go to buy a pair because you are not gonna know when you might skid when you are engaged in activities that raise your adrenaline level.
Which is more affordable: Muck or Wellington?
Muck boots are costlier. They are not cheap due to the material they are made of. Neoprene is expensive as it gets into its final form after a lot of processes and is high in demand due to its umpteen number of advantages. Therefore, muck boots are not budget-friendly, unlike most other calf-length boots.
Wellies on the other hand are less costly. This makes them preferable for many although they do not offer the best comfort compared to muck boots.
Are they recyclable?
When I searched whether wellies and muck boots are recyclable, I got a mixed response. There are plenty of sources that say rubber and neoprene can be recycled but honestly, I am not sure.
The boots I use are still young and in good condition. It will be a long way before I can see how viable these boots are for getting recycled.
However, I am going to help you with certain links that I feel will throw a little light upon anything related to recycling your calf boots. These are the sources that came up with positive news!
https://www.conserve-energy-future.com/can-you-recycle-wellies.php
https://www.hunterboots.com/us/en_us/discover/Hunter-rubber-boot-recycling
https://baxterwood.com/pages/recycle-with-baxter
What about PVC wellingtons?
PVC-made wellingtons are the cheapest kind among wellies. These are not recyclable and are not high quality-wise. I recommend you not to buy these for they are not suitable and will definitely become a burden on the environment
The Conclusion
You can see how neoprene boots have scored better than wellies in all the criteria except price. If utility is your priority, muck boots is your better choice.
If you are ready to spend a little more, you will end up buying a much more comfortable pair of boots that last longer and has the same looks as a stylish wellington.
Wellington boots is always a hot topic. Want to know more about them? Check out https://workgearz.com/are-wellington-boots-bad-for-your-feet/ .
FAQ
Where can I find waterproof wellies on sale?
You can get wellies on sale at various boot companies. The most popular wellington boots manufacturers are Hunter, Dunlop and Muck boot company. 
Are muck boots the best boots?
It depends on your usage. There are other alternatives to muck boots. Each day new variants are coming up that are economical and long-lasting. For instance, snow boots are said to be better than muck boots to be used in snow.
Are wellington boots fashionable?
Yes, wellington boots are claimed by many fashion lovers to be a stylish accessory. They are paired with different get-ups that they have managed to keep up with the competition despite many modified versions hitting the market.
Can women wear these boots?
Yes, all the boots manufacturing companies produce boots suitable to be worn by women. There are also unisex wellies and muck boots. Check the links given under the first question to find some of the best women's boots.