When examining the differences and similarities between combat boots and hiking boots, their names immediately indicate their specific characteristics.
Combat boots are designed for use by members of the military while hiking boots have been created for hikers. However, the designs are not restrictive to these specific activities and can be enjoyed when involved in other activities where boots are appropriate.
Hiking boots can be a comfortable choice for daily walking needs and combat boots can be worn for hiking, depending on the kind and toughness of the terrain.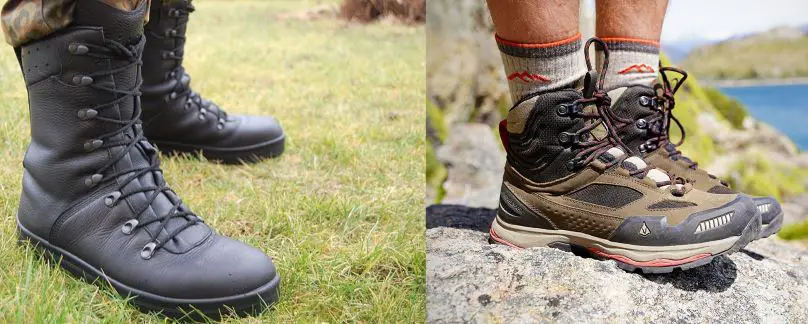 What's the Difference Between Hiking Boots and Combat Boots?
It's important to note that both kinds of boots can be worn for hiking, but there are considerable differences in terms of safety and durability.
Combat boots are designed to place a premium on safety while hiking boots will focus on flexibility and comfort. Both boot styles can protect feet for walking and hiking or trekking depending on the trails involved.
| | Combat Boots | Hiking Boots |
| --- | --- | --- |
| Comfort | Arch support, Breathability, Cushioning, Lightweight, Moisture-wicking, Shock absorption | Arch support, Breathability, Cushioned footbeds, Gusseted tongue, Moisture-wicking linings, Padding, Shock absorption |
| Convenience | Speed Lacing system, Side zippers | Speed lacing system |
| Durability | Wear-resistant outer soles chemical resistance, Waterproof, High-quality leather and nylon components | Leather, Waterproof |
| Flexibility | Flexible outsoles, Lightweight construction and materials | Lightweight, Impact absorption, High level of energy return |
| Safety | Ankle support, Anti-slip resistance in outsoles, Chemical resistance, Flame resistance, Heat resistance, Impact protection with safety toes, Puncture resistance | Ankle support, Heel break outsole, Multidirectional tread lugs, Slip-resistant outsoles, Shock absorption |
Boot Features Compared
Here we compare the principal features of combat and hiking boots when placed side by side.
1. Comfort: Combat Boots vs. Hiking Boots
Combat boots must address keeping feet comfortable during long days and strenuous missions. Both military and law enforcement professionals must often walk long distances, with military men often carrying heavy backpacks. Combat boot designs will include these typical comfort features:
Arch support
Breathability
Cushioning
Lightweight
Moisture-wicking
Shock absorption
Waterproofing
Hiking boots will afford even more comfort because they are designed for covering long distances for extended periods. Among their primary comfort features are:
Arch support
Breathability
Cushioned footbeds
Gusseted tongue
Moisture-wicking linings
Padding
Shock absorption
Stability
Waterproof
Water-repellent boot exteriors
2. Convenience: Combat Boots vs. Hiking Boots
Most combat boots will feature a design that includes a speed lacing system as well as zippers located on the sides of the boots.  This allows those wearing them to put them on or remove them rapidly in case of necessity.
Hiking boots may also feature a speed lacing design but will not come with side zippers. Removing or putting on a hiking boot quickly is generally not a priority when hiking.
3. Durability: Combat Boots vs. Hiking Boots
Durability is where combat boots really shine. These boots are built to be both sturdy and durable when facing the most rigorous of challenges due to terrain, weather, or battle conditions.
They also must support carrying heavy backpacks over long distances. Important features that contribute to durability include wear-resistant outer soles, chemical resistance, and high-quality leather and nylon construction components.
Hiking boots need to last while trekking over long distances in various weather conditions and variable terrain. Most will be constructed with leather featuring outer soles in rubber for increased traction.
4. Flexibility: Combat Boots vs. Hiking Boots
When considering the amount of flexibility potentially offered by combat boots, a certain degree will be guaranteed because these boots are meant to be worn on battlefields.
To facilitate quick movement and afford agility for military or law enforcement personnel, combat boots will include:
Flexible outsoles
Lightweight construction and materials
Heavy-load capabilities
Speed-lacing systems
Although combat boots do guarantee flexibility to cover unusual surfaces and terrain, the boots will also feature a certain amount of stiffness for increased leg support and leg and foot protection.
In contrast to combat boots, hiking boots are produced for walking long distances and their design gives them an advantage over combat boots.
Like combat boots, they are lightweight to avoid weighing down feet during movement. The other characteristics that define a hiking boot's flexibility are exceptional impact absorption and a high level of energy return to fight foot fatigue.
5. Safety: Combat Boots vs. Hiking Boots
Combat boots are intended for military, law enforcement, and security personnel. This type of footwear is intended to provide unrivaled safety through the integration of specific features in its design and production such as:
Ankle support
Anti-slip resistance in outsoles
Chemical resistance
Flame resistance
Heat resistance
Impact protection with safety toes
Puncture resistance
Stability
Hiking boots are designed for use on trails and tough terrain in potentially extreme weather conditions. Some are specifically manufactured for navigating technical hiking trails. For safety purposes they will feature:
Ankle support
Heel break outsole
Multidirectional tread lugs
Slip-resistant outsoles
Padded collars
Shock absorption
Waterproofing
All Things Considered
The Combat Boot
Combat boots are designed and constructed to protect feet when in extremely stressful conditions. They can weather long-distance hikes and are particularly appropriate for rocky or rough terrain land landscapes.
The combat or tactical boot are often manufactured with polyurethane or EVA – Ethylene Vinyl Acetate contributing to its lightweight fit. These boots offer waterproofing and shock absorption, as well as resistance to puncture wounds.
Polyurethane is a bit sturdier and resistant and thus will cost a bit more than EVA boot components.  Outsoles will usually be produced in rubber, while the best quality option is the Italian Vibram sole for traction purposes.
Vibram outer soles resist chemicals, oil, and slipping, and they offer phenomenal durability. Combat boots also offer increased impact protection with safety toes.
The Hiking Boot
Even though you automatically think "hiking" when you hear hiking boots named, these boot designs are a bit more versatile than the name lets on.
You may prefer a hiking boot if you like a low-cut boot and are a light packer when adventuring out into the wilderness.
They also offer great flexibility and generally do not require breaking in. For lengthy trekking with heavier backpacks, you may prefer a higher boot with increased ankle support and midsoles that offer increased foot support.
A hiking boot may be a better choice because of its built-in shock absorption and midsole cushioning that also guarantee flexibility.
Hiking boots often come with a heel break meaning there is a difference in the tread on the heel when compared to the forefoot and arch zone.
This type of outer sole will function as a kind of braking system to aid in avoiding slipping on uneven surfaces.
Tongues will be padded to protect laces cutting into your feet after lengthy wear, and higher hiking boots will feature padded collars to prevent rubbing and chafing.
Which Boot Should I Choose?
Much will depend on your activities. If you like heavy-duty trekking in mountains or like to wander off trails, you probably will be happier with a combat boot.
Combat boots are made to survive the worst conditions including temperature, weather, environmental challenges, and substances. They are ideal for protecting feet that are ensconced in the worst possible conditions.
If you are a light hiker who likes to adventure on well-traveled paths and trails for several hours, a hiking boot may be a better choice as these boots will weigh a bit less than the combat boot and are fine for normal climates and environments, even if there is a little rain.
Both of these boot styles offer excellent performance, but for rougher terrain, a combat boot remains your best bet.
FAQ
Can Combat boots be used for hiking?
Yes, and they are particularly recommended for difficult terrains such as mountainous regions or off-trail hiking. They will be heavier though.
Why are Combat Boots high?
Combat boots are designed to prevent water, debris, mud, or others from entering the boot to prevent discomfort.
Are Steel-toed boots good for hiking?
Not really, while they can be worn, they are heavier and may be less comfortable on longer hikes.
In Conclusion
While both combat boots and hiking boots can be worn for hiking and trekking activities, the reverse is not so. Hiking boots are not ideal footwear for combat activities or similar.
The durability and safety features of combat boots can be put to good use when hiking, but the lightweight and exceptional flexibility and traction offered by hiking boot manufacturing may be preferable depending on where you plan on hiking and for how long.