To hike effortlessly, comfortably and safely you need boots that are light-weight, well-cushioned and have excellent grip on slippery grounds.
Though toe protection is necessary while hiking, yet it does not stand out as one of the essential features of a good hiking boot. A safety toe protection in the form of soft toe caps or composite toe caps are good to go.
But the question is, are steel toe boots an ideal choice when it comes to hiking!
And if you are someone, who is curious to find out the same, dear friend; you have landed on the right page…
As this article will give you a comprehensive detail of can you go hiking in steel toe boots or not, is it an ideal choice, if yes; why and if no; why not!
There is absolutely no problem in going hiking in your steel toe boots if you are comfortable with the weight of these boots and their stiff nature around the toes.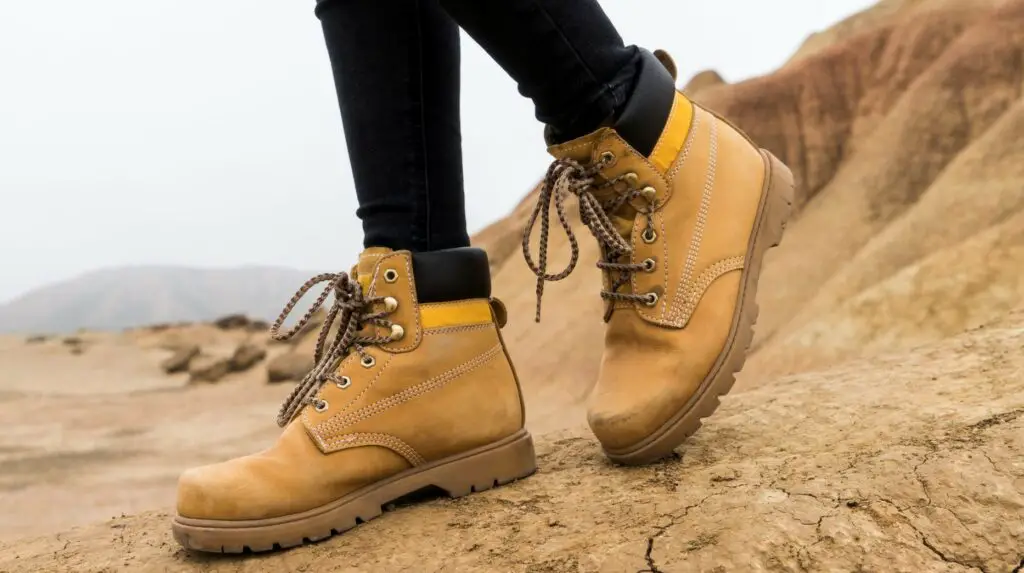 Yes, steel toe boots will not bend or flex around the toe region and that could be a discomfort while hiking.
Also, you would want to wear something to your feet that is light in weight and won't add any burden to your feet while climbing steep slopes.
Through the course of this article lets learn more about whether the features of steel toe boots compliment hiking or not
Pros of wearing steel toe boots while hiking:
When it comes to the protection of your toes none can beat the level of safety offered by steel toe boots. So, despite their weight, steel toe boots offer a variety of advantages while dangerous hikes: 
1.) Steel toe boots will protect your toes in dangerous slopes that contain heavy rock particles falling branches of trees or sharp stones etc.
2.) As steel toe boots are generally ankle high, they offer a good amount of ankle support thus saving ankle from twists while hiking on uneven terrains 
3.) Steel toe boots generally offer a good amount of traction on slippery grounds, with most of them using rubberized or Vibram outsoles 
4.) Steel toe boots also protect the toes and ankle area from snake bites in bushy terrains which is not generally not possible for normal hiking boots 
Cons of wearing steel toe boots while hiking:
While there are special hiking boots made for the purpose you would not like to wear steel toe boots while your hike because of the following reasons:
1.) The extra weight of the steel toe caps is quite disturbing and painful while climbing steep slopes as they make your steps heavier and thus difficult to climb
2.) Steel toe boot generally don't have a thick cushioning under the toe area which is a bit discomforting while hiking as it may lead to strain in the nerves of the feet 
3.) Steel toe boots are not very flexible in texture specially around the toe area which makes it hard to flex and bend your feet as is needed in hiking 
When should you choose steel toe boots while hiking?
Steel toe boots should be your best companion while hiking in the following situations:
1.) When there are chances of hurting your toes while the hike with obstacles like rocks, gravels or other similar sharp objects
2.) When you are going for short hikes and you don't have to bear the weight of the steel toe boots for long
3.) When you are a trail worker and toe protection is a must for you
4.) When your steel toe boots offer good features like well cushioned footbed, ventilated tongue, breathable uppers, comfortable fitting and a non-slip outsole
When should you not choose steel toe boots while hiking?
Steel toe boots can cause trouble for you while hiking in the following situations:
1.) When you are going for long hikes and have to cover long distances of uneven terrains, then the extra weight of the steel toe boots can be very painful
2.) If you are going for hiking in the winters, then the steel being good conductor of heat and cold, the steel toe caps will transfer the outside cold to your feet and freeze your toes and might also lower the blood flow to the feet
3.) When you already have a pair of good hiking boots with you that are solely made for the purpose
4.) If you have sweaty feet, then wearing steel toe boots will make your feet sweat profusely as the toe area is very constrained and the restricted movement of the toes cause discomfort and thus sweating.
This sweaty feet in turn can cause your feet to slip inside the boots which can ultimately lead to accidents while hiking
Are steel toe shoes good for hiking?
To answer this question, let us first look into the features of a good hiking boot:
1.) Hiking boots should be light in weight
2.) Hiking boots should have breathable mesh for air circulation so that the feet do not sweat while serious hikes
3.) Hiking boots should offer you extremely great traction in slippery or marshy terrains
4.) Hiking boots should provide good midsole and arch support
5.) Hiking boots should be very comfortable with well cushioned footbed
6.) Hiking boots should be flexible in order to enable your feet to bend in any direction while hiking
So, looking into the above features of a good hiking boot, we can come to the conclusion that though steel toe boots will have most of the essential features needed in a hiking boot, yet steel toe boots fail in points like being light in weight and being flexible.
See also: Are Hiking Boots Good for Work?
And it's a wrap!
After making a comprehensive study, I have arrived at the conclusion that steel toe boots are not a necessity while hiking because toe protection is not that essential until and unless you know that the path you are going hiking to is extremely dangerous for your toes!
So, if you have a good hiking boot, I would suggest to wear them instead of the steel toe boots.
That's all for today guys…
Do stay tuned for more exciting articles on work wears…
And till then…
Take care and have a great day ahead!