How many aspects do you consider while purchasing work boots? I guess there are a number of them but is outsole one of those? I have seen that while investing in a pair of work boots, an outsole is one of the most overlooked factors.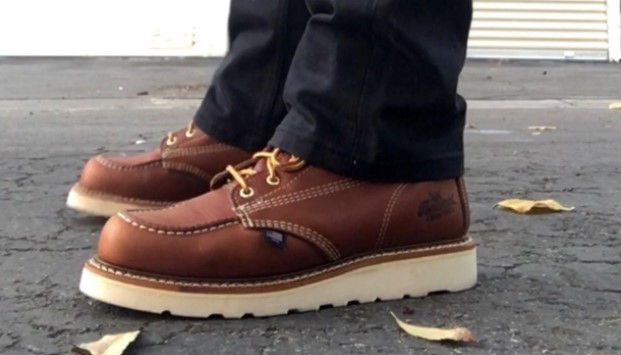 Choosing a pair which has got a good outsole can be really satisfying. In general, there are two different types of outsoles which are used in construction of work boots, a traditional heel or a classic wedge. While we all are familiar with the heel sole, is wedge sole any good?
The answer is YES! Work boots with wedge soles are actually good for workplaces because they are less bulky, lighter and more flexible. Initially worn by the iron workers, these boots have become a fashion statement. Boots with wedge soles look sleeker and are modern when compared to traditional style.
Showcasing a distinct wedge shape, the entire sole makes contact with the ground whenever you walk. Because of the absence of pressure points in the wedge outsole, there is even distribution of pressure during the impact which results in lesser fatigue and even lower discomfort.
What are the benefits, harms and specifications of these wedge sole work boots? Where all can you wear them and what are some of the best wedge sole work boots? Let's find out!
What is a Wedge Sole?
Just as the name suggests, wedge sole work boots have a wedge shaped cushioning which gets its elevations towards the heel. Due to the impressive stability provided by the flat bottoms of these boots, they were first worn by the ironworkers.
Boots with wedge soles look sleeker and are modern when compared to traditional style. Showcasing a distinct wedge shape, the entire sole makes contact with the ground whenever you walk. The boots with wedge soles are less bulky, lighter and more flexible.
Because of the absence of pressure points in this type of outsole, there is even distribution of pressure during the impact which results in lesser fatigue and even lower discomfort. The heel area of these boots is a bit thicker than its counterpart to give you some lift.
Moreover, the front part is raised and tapers down to the ball of the foot. Not just this, the wedge sole boots have got relatively simple treads which makes them very light in weight. They are much more comfortable, stable to wear and provide ample protection from tripping hazards.
These boots are best suited for relatively flat and dry terrain where they offer great traction. The boots are easier to maintain. Thanks to the presence of thick lugs which don't track dirt or mud making the outsole easier to clean.
When to use Wedge sole work boot?
Because of their design and flat sole, wedge sole work boots are highly recommended for people engaged in iron work , paving or concrete work. Since these jobs require a lot of standing and walking around, the stability is a must and I guess there is no other outsole which can offer better stability than wedge soles.
The wedge sole work boots are also ideal for places that are full of tripping hazards. The treads and large point of contact of these boots make them safe by avoiding engagement with smaller objects.
Other than that, these boots can be a great choice for construction workers, auto mechanics, factory workers, farmers, weldors and carpenters. These areas are a lot less rugged and hence wedge sole work boots can be a fantastic option for these.
How Beneficial are Wedge Sole Work Boots? (Top Features of Wedge Sole Boots)
Here are our top 5 reasons justifying why wedge sole work boots are beneficial for your feet.
1.) Provide added comfort and support
The boots are very comfortable, thanks to their sole which makes more contact with the ground through the sole extending through the entire length of the boots. The presence of tread in these boots helps in absorbing shock so that you don't have to suffer from the strained feet after a long tiring day.
The cushioned insole and EVA insole in these boots make your walking even more comfortable. The wedge sole makes sure that there is an even distribution of weight across the shoe therefore there is almost negligible amount of strain on your feet.
2.) The boots offer great traction
When the boots make extra contact with the ground they automatically offer more stability and traction compared to traditional work boots. The boots are ideal across different hard surfaces and are very useful if you are working in slippery conditions.
3.) The boots are super easy to maintain
Since these boots are completely closed off, there is no room left for the entry of dirt and gunk getting into your boots. Thanks to the flat soles, there is minimal tracking of debris, mud or other grime. This makes them super easy to clean and maintain.
4.) The boots come with great safety features
Wedge sole work boots are really a pioneer for safety. They come with a number of safety features like the presence of toe caps made from composite or steel. Not just this, other features include presence of steel shank which can save you from varieties of electrical hazards while providing adequate water proofing and slip resistance.
5.) The boots are really versatile
The boots offer versatility. The boots are suitable for those who need them. Be it construction workers, iron workers or carpenters, the boots can be a great investment for anyone who constantly works on hard and uneven surfaces.
Characteristics of a Wedge Soled Work Boot
Apart from above mentioned features, there are certain characteristics of a typical wedge soled work boots which are:
The boot has got a wedge shaped cushioned and durable slip with an oil resistant outsole.

The Goodyear Welt construction for added durability and comfort.

The safety features include

s

afety steel or composite toe, electrical hazard protection, and a steel shank.

Comfort and other protective features like insulation, waterproof insole and supportive fit.
How are they different from work boots with heels?
While wedge sole boots are used on hard surfaces, its counterpart that is heel work boots are designed to be used in uneven areas. Let's have a look at some of the major differences between wedge and heel boots.
| | | |
| --- | --- | --- |
| Features | Wedge | Heel |
| Safety Features | Present | Present |
| Cleanliness | Easy to clean | Cleaning can be a bit difficult |
| Waterproof | Waterproof | Waterproof |
| Durability | Not so durable | Durable |
| Versatile | Yes  | Yes  |
| Pain Inducing | Prevents pain | Generally pain inducing |
| Weight | Lighter in weight | Heavier  |
| Traction  | Traction provided is less | Provides more traction |
Pros and Cons of Wedge Sole Boots
 Pros 
Its larger point of contact to the ground provides more stability
Casual design which is less complicated.
Considered as a more comfortable option than work boots with heels.
Contoured design lessens the impact on pressure points
Thick soles offer more protection from a variety of hazards.
Easier to clean and maintain.
Typically made to be heat, oil, and slip resistant
Can help wearers avoid tripping hazards
Lighter in weight and more flexible.
 Cons 
Not as grippy as its heeled counterparts
Rubber sole wears out quickly
Best wedge sole work boots
Let's have a look at some of the most popular wedge sole work boots in the market:
1.) Thorogood Men's American Heritage 6″ Moc Toe MAXwear Wedge Boot 
The Thorogood Men's work boots are designed to last for ages while providing utmost comfort. The boots are constructed using the MAXWear Wedge™ so that you can give your best performance at your workplace.
Made of Tobacco Oil-Tanned 814-4355 , full grain leather, the boots have got roomy moc toe which let's your feet breathe all throughout the day. Not just this, the shock absorbing footbed and presence of cushioned insoles makes sure that your feet don't get tired no matter how long you work.
Some of the great features of these work boots are:
Tobacco oil-tanned, full-grain leather

Removable Ultimate Shock Absorption footbed

Poron® comfort cushion insole

Fiberglass shank

MAXWear Wedge slip-resistant outsole

Goodyear storm welt construction
Check Price and Reviews on Amazon
---
2.) Georgia Boot Men's Wedge Wellington Work Shoe 
Looking for a boot that is both durable and comfortable? Well, Georgia's Wellington boots are there to save your day. Constructed using the SPR™ full-grain leather, the boots are perfect for outside jobs or jobs which include dealing with harsh chemicals.
The pull loops on each side of the boot makes them easier to wear. Moreover,  the inside of these boots have a soft lining and cushion insoles which makes them more comfortable than ever.
The steel shank offers great arch support and enables a steady footing all day long. The Poly Wedge ultra outsole makes it lightweight, flexible and resistant to hazards.
Some of the major highlights of the boots are:
The Georgia Wedge is available in wider widths for every foot shape and type.

Manufactured from SPR leather with three times the strength to withstand abrasion and chemicals.

Protective features include a steel toe and electrical hazard protection.

A comfortable insole and supportive shank keep your feet stable and well supported.
Check Price and Reviews on Amazon
---
3.) Timberland PRO Men's Barstow Wedge Alloy ST Work Boot 
If your work demands you to spend long hours on your feet then Timberland Barstow Wedge boots can be a considerable option for you.
Made of 100% genuine leather, the ankle high work boots have vintage admired leather upper with an alloy safety toe to protect your feet. Presence of anti fatigue removable footbed  enables all day comfort and support.
When it comes to safety, the slip resistant wedge rubber outsole protects you from falling off at slippery surfaces.
The basic features of Timberland Barstow Wedge Alloy boots are:
Unlined, rugged full-grain leather for comfort and durability

Goodyear® Welt construction for a durable mechanical bond

Mesh tongue lining with antimicrobial treatment for odor control and comfortable fit

Constructed on TiTAN® last for superior fit

EVA midsole for lightweight cushioning

Dual-density Dynamic Anti-Fatigue Technology absorbs shock and returns energy at key zones of the foot while providing enhanced moisture management for all-day comfort

Timberland PRO® rubber outsole is slip-, oil- and abrasion-resistant

Imported
Check Price and Reviews on Amazon
How to Clean Wedge sole boots?
The wedged sole boots have ridges and lugs in their outsole which attracts a lot of settled dirt on the ridges. Therefore, while cleaning the outsoles of the wedged sole boots, you need to put in some extra effort:
Ingredients list:
Horsehair brush

Toothbrush

Liquid Dish wash 

Bowl of water

Soft lint free cloth

Leather conditioner or mink oil
Steps to follow:
Start by opening the laces and insoles of your boots

Wash them separately in a bucket of water and detergent by rubbing with your hands and dry them in the sun

Now take the horsehair brush and clean the leather upper with the horsehair brush to take off any loose dirt from the boots

Mix the dish wash in the bowl of water to make a soapy solution

Take the toothbrush and dip it in the bowl and start cleaning the outsoles by gently rubbing in the ridges and grooves of the soles

Use the toothbrush to gently rub the uppers of the boots. Be careful to be very gentle with the strokes this time or else you will end up damaging the leather fibres

Now take the soft lint free cloth and dip it in clean water. Use it to take off any soapy residue from the uppers as well as the lowers of the boots

Dry the boots naturally under the fan or use your hair dryer

Apply the conditioner all over the boots and leave it under the fan overnight

Next day, your boots are ready for work again!
Final Verdict
Honestly, wedge sole work boots are a great choice for a variety of work environments. Everytime you wear them, there is something new on the table. Safety, comfort, traction, durability, you name them and a wedge sole work boots has it all. It is truly a great all-around boot.
So if your job meets all the requirements of a wedge sole work boot then you can definitely pick one of our recommended products.