When I think of plantar fasciitis, I automatically cringe and think ouch! Anyone who has ever suffered from this condition knows exactly what pain is and how problematic it can be at work, especially if you have a job that requires physical labor.
How We Tested
We asked for help from foot specialists and professionals suffering from this condition to establish if work boots helped or hindered work and increased pain on the job.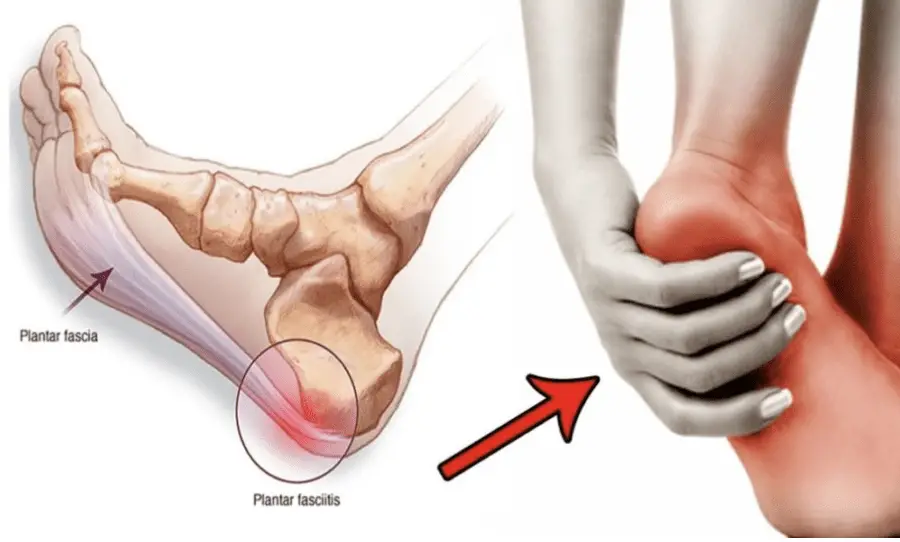 We looked for standard protective capabilities like toe protection, and anti-slip heels. Durability, materials, and boot construction were considered.
But foremost on our list was the ergonomics of the work boot, could professionals stand on their feet for eight hours or more.
Our Selection
In the end, we chose the Wolverine Overpass Men's Six-Inch Work Boot as our overall best work boot for professionals suffering from Plantar fasciitis. We liked the removable "Ortholite" footbeds and the polyurethane midsoles with superior shock absorption convinced us that these work boots would help workers with support and reduction of pain while protecting feet with composite safety toe caps.
Other work boots that merit attention for comfort are the Keen Utility Flint Low Work Boots. These are very comfortable work boots if you prefer low work boots. They feature removable metatomical EVA footbeds and dual-density midsoles EVA midsoles with improved shock absorption.
The Reviews
Best Overall Work Boots for Plantar Fasciitis
1.) Wolverine Overpass Men's Six-Inch Work Boot
This pair of work boots from Wolverine boasts some great ergonomic features to aid you in both pain control and avoiding excessive pressure to worsen your condition.
Polyurethane midsoles are impressively shock-absorbing regardless of the surface you're walking on. Ortholite footbeds do a good job of cushioning to help with pain management.
These boots also offer moisture-wicking properties in that the boot linings wick moisture away and a waterproof membrane to keep feet dry and comfortable, as well as odor-free. Composite safety toe caps keep feet safe from impact but don't weigh down boots in the process.
The outsoles are resistant to both oil and slippage making this a comfortable but protective work boot, especially for professionals suffering from Plantar fasciitis.
Pros
Composite safety toe caps

Outsoles resist oil, slippage, abrasion, and chemicals

Waterproof membrane

Ortholite removable cushioned footbed

PU midsoles that absorb shock

Moisture-wicking mesh lining
Cons
Can initially seem a bit stiff
Check Price and Reviews on Amazon
---
Best Work Boots for Plantar Fasciitis with Safety Toe Protection
2.) Timberland PRO Pit Boss Men's Six-inch Work Boots with Steel Safety Toe
For professionals requiring excellent impact injury protection, often a work boot with a steel toe is the preferred choice. These Timberland work boots from the PRO series have built-in steel safety toe caps for great toe protection.
Outsoles are manufactured in rubber and are resistant to abrasion, oil, and slippage, giving you a good grip despite Plantar fasciitis. What makes them great for this condition?
The midsoles are in PU and superbly cushioned for shock absorption, so if you work long shifts, these boots will help you out.
And they feature shock-diffusion plates for shock management and consequentially pain management as well.
Pros
Flexible Nubuck leather uppers 

Easy to keep clean

Steel toe caps

Outsoles resist oil, and slippage

Goodyear Welt construction

PU cushioned footbeds

PU shock-absorbing midsoles

Goodyear Welt

Shock diffusion plates
Cons
Sizing is somewhat narrow
Check Price and Reviews on Amazon
---
Best Waterproof Work Boots for Plantar Fasciitis
3.) Timberland PRO Rigmaster Men's Waterproof Work Boots
Ortholite footbeds fight foot fatigue in these Timberland PRO Rigmaster work boots and PU midsoles are conical support feet all day long making them particularly efficacious for those suffering from Plantar fasciitis. A breathable mesh lining works to keep ventilation functioning and feet dry and comfortable.
Extras include padded collars and finger pulls to help you get your boots on. Outsoles are produced in polyurethane and offer resistance to slippage and oils. 
Steel toe caps protect and are compliant with ASTM standards. Durability features are impressive thanks to Goodyear Welt construction and leather guards in boot areas that are exposed to more wear.
Pros
Cushioned Ortholite footbeds

Antimicrobial treated mesh linings for breathability

Conical PU midsoles

Padded collars

Pulls for easy pulling on and off

Waterproof membrane

Steel toes

PU outsoles

Goodyear Welt
Cons
A bit stiff when brand new
Check Price and Reviews on Amazon
---
Best Slip-resistant Work Boots for Plantar Fasciitis
4.) Keen Utility Flint Low Work Boots 
EVA dual-density footbeds and EVA midsoles cushion and absorb shock to assist in pain management. Uppers are made in water-resistant Nubuck leather that is flexible and helps keep feet dry.
For professionals that prefer a low-cut boot, these work boots still protect with steel toe caps. Outsoles offer substantial traction as they resist oil and slippage, and these boots offer EH protection.
Pros
Steel toe caps

EH protection compliant

Resistant to slippage and oily surfaces

Nubuck leather uppers are water-resistant

EVA midsoles and footbeds
Cons
Steel toes add to the boot weight
Check Price and Reviews on Amazon
---
Plantar Fasciitis
The term "plantar" signifies the foot bottom. Considering that your foot bottom rests completely on work boots' insoles or footbeds, the correct type of work boot can make a difference.
"Fascia" refers to the ligament in your foot that stretches from your heel to the toes, along the complete length of your foot. Its primary function is providing support for the arch of your foot. 
Plantar fasciitis is the name for the medical condition where this ligament is extremely inflamed and exceptionally painful.
It also opens the door to more serious and painful injuries, because the ligament is more susceptible to small tears that can develop into something more.
Plantar Fasciitis Symptoms
Paralyzing pain is the number one symptom. The "fascia" is right smack in the middle of various muscles and nerves, so when it is inflamed, you'll know it.
Pain can manifest itself in more than one way. These include
Stabbing heel pain

Difficulty standing or placing pressure on the foot for lengthy periods.
This pain can be terrible upon awakening in the morning because the foot is cold so to speak, and then fade some as it warms up through use. However, depending on the individual, it can be just the opposite.
Whether your pain worsens in the morning or at the end of the workday, simply said, it is awful and quite debilitating. If you suspect having Plantar fasciitis, see your doctor, and the sooner the better.
How Does One Develop Plantar Fasciitis?
Some common conditions that lead to the development of plantar fasciitis include:
1.) Being Overweight – Excess weight adds pressure to the fascia whether standing or walking. (Best Work Boots for Overweight Guys)
2.) Excessive Walking – If you walk on exceptionally hard surfaces for long periods it will strain and stress the fascia. 
3.) Flat feet – This natural condition places more stress on the fascia.
4.) High arches – This is another natural condition that will pressure the fascia over time. (Best Work Boots for High Arches)
5.) Wearing bad shoes or footwear – Bad footwear will add strain to your feet because they lack proper foot support in design and construction.
The Benefits of Good Work Boots with Plantar Fasciitis
There are many reasons for looking for a pair of work boots if you are a professional suffering from Plantar fasciitis. Here are some noteworthy reasons to consider acquiring a pair of these boots.
Pain
If nothing else, the excruciating pain associated with Plantar fasciitis is a sufficient reason for finding the right work boots.
Once more this pain is constant and unrelenting, so any footwear that can alleviate the pain is worth the investment.
By reducing the pressure on your feet, you'll reduce strain when having to stand on your feet for long periods on super hard surfaces.
See also: Can Concrete Floors Cause Plantar Fasciitis?
Increase Performance and Productivity
If you are not in constant pain, you will have more energy and better concentration while on the job. This will automatically improve work performance.
The reduction or the elimination of the pain associated with plantar fasciitis will also improve your ability to stand or work on hard surfaces for greater amounts of time.
You may also be able to prevent worsening the condition and an eventual need for surgery if you consult your medical professional, treat the condition, and wear the correct footwear.
Boot Features 
What are some of the characteristics necessary for a quality pair of work boots for professionals suffering from Plantar fasciitis? We've detected some must-have qualities for the best work boots for this condition.
Breaking In
If you suffer from Plantar Fasciitis, you will not want a pair of work boots that are stiff and require a great deal of breaking in. The pain will be unbearable. Look for boots that don't require breaking in, or at the most very little.
Construction
The more flexibility that boot construction offers the better for your feet. A good construction method will also increase the durability of your investment.
Some construction methods allow for resoling like Goodyear Welt construction, so you won't be tossing expensive wok boots anytime soon. Principal construction methods include
Cement construction

Goodyear Welt construction

Blake construction

Molded construction
Fit
Any good footwear will depend on the fit. You can have the best and most expensive pair of work boots on the planet, but if they don't fit correctly, you'll have a problem.
Fit should be secure and comfortably snug. Your feet should not move around within boots during wear.
A lace-up style can be a good option because it allows you to adjust how tight a fit is comfortable directly on your feet.
Footbeds
To relieve the pain in an inflamed ligament, contoured footbeds that are generously cushioned will take the shape of the foot and afford better support. Increased support will reduce the stress on the ligament, thus reducing inflammation and pain.
Heels
The way your heel sits within a work boot can either reduce pain or exacerbate it. Extremes such as high heel heights or flat heels should probably be avoided.
Look for a medium heel cup to limit the strain on the heel as much as possible and provide it with a comfortable position to rest in.
Materials
Quality materials correspond directly to comfort and durability. Full-grain leather, rubber, polyurethane, foam cushioning, and mesh linings are among the many quality materials you will want to look for when evaluating your investment in work boots. Spend a little more, but look for the best.
Midsoles
A primary stress factor in Plantar fasciitis is the need to stand or walk on hard surfaces for extensive periods. This will simply strain ligaments. A midsole that features shock absorption will reduce impact stress on feet ligaments.
Outsoles
Slippery surfaces will not aid you in your quest to reduce Plantar fasciitis pain. Hence outsoles that are resistant to both oil and slippage are good safety features to look for. An unfortunate foot movement while slipping can increase pain and ligament damage.
Safety
Depending on your profession, you may require work boots with safety features regardless of Plantar fasciitis.
Safety toe caps protect from impact injury in the toe area of your foot. You can find safety toes caps in 
If you are even minimally at risk for impact injury from falling debris or tools, it is highly recommended to get work boots with safety toe caps. Plus, if you suffer from Plantar fasciitis pain, you may be slower in foot movement and in avoiding any sudden impact injury risks.
In Conclusion
When push comes to shove, the first thing you need to do is consult your physician for your treatment of Plantar fasciitis. Discuss any suggestions he or she can give and what type of work boot is recommended for your condition.
A final suggestion is to consider orthotic inserts for your work boots. These footbed inserts are placed in the boot bottom for improved cushioning and support and some can even be ordered specifically for your feet.