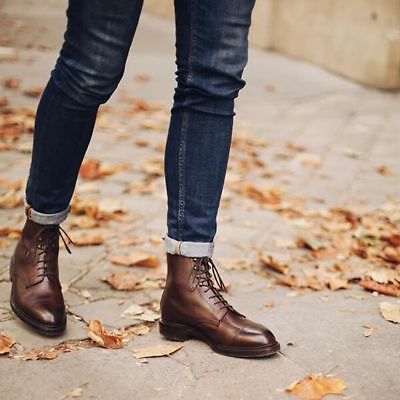 Whether you are a skilled tradesman or someone who puts a lot of time and work into home improvement or hobby projects that require proper attire, you know the importance of having a good pair of work boots.
While slip-on boots are an option and preferred by some, a good sturdy lace-up boot is statistically the most common and popular choice.
Why choose a lace-up boot?
Most people will choose a lace-up work boot because they feel it provides a better, snugger fit that can be adjusted by the wearer. 
For those working in construction, at industrial sites with lots of concrete, or on uneven terrain as in agriculture, a good fit is of primary concern.
Apart from the pain that badly fitting work boots can cause, you don't want to fall or trip because of your footwear and consequently sustain an injury that potentially could put you out of work as a result.
This is even truer for the do-it-yourselfers. There is no reason to hurt yourself while repairing your home or dedicating time to your favorite craft.
Best Lace Up Work Boots Review
Our Top Pick
Timberland Pro Direct Attach Men's Work Boots
Timberland PRO Men's Direct Attach 8″ Steel Toe Boot
Lace-up insulated Work Boot with waterproof leather upper featuring padded collar and hexagonal eyelets

Steel Safety toe. Features electrical Hazard Protection

24/7 comfort Suspension for arch support and added cushion

Thermolite insulation to ensure warmth and dry conditions

Embossed logo at counter
Prices pulled from Amazon Product Advertising API on:
Product prices and availability are accurate as of the date/time indicated and are subject to change. Any price and availability information displayed on [relevant Amazon Site(s), as applicable] at the time of purchase will apply to the purchase of this product.
The Timberland brand is one of the most popular and respected footwear brands in the business. These Timberland Pro Boots give terrific protection thanks to an optional steel safety toe guard. The leather uppers are seam-sealed and waterproof.
The boots' inner linings are made from mesh that has been treated with an antimicrobial process and the boots have 400 grams of Thermolite insulation to protect you in colder climates. The footbed has also been treated with the antimicrobial process for foot health and comfort.
The top collar offers nice padding while the outsole is made of oil-resistant rubber with lugs for traction. The Timberland build is both sturdy and durable meaning you won't be buying new boots for a long time.
Since the footbeds are polyurethane and the midsoles are lightweight, this Timberland product guarantees comfort all day long while walking. The height of the lace-up boot also provides strong ankle support.
Pros
Optional steel safety toe guard

Good insulation

Antimicrobial treatment

Oil and water-resistant outsole
Cons
Waterproof considerations reported

Some sizing issues
Check Price and Reviews on Amazon
---
Our Runner Up Pick
Thorogood American Heritage Men's Work Boots
Thorogood 804-4364 Men's American Heritage 8″
Vibram sole

Removable Ultimate Shock Absorption footbed on Poron comfort cushion insole

Fiberglass shank

MAXWear Wedge slip resistant outsole

Goodyear welt construction

TOE PROTECTION: Steel Safety Toe
Prices pulled from Amazon Product Advertising API on:
Product prices and availability are accurate as of the date/time indicated and are subject to change. Any price and availability information displayed on [relevant Amazon Site(s), as applicable] at the time of purchase will apply to the purchase of this product.
These boots may very well be the most comfortable lace-up work boots in existence. Great airflow makes them breathable and helps avoid sweaty feet in hotter climates or summer weather.
They also provide stunning protection with the optional steel toe guards that surpass ANSI/ASTM F2413-11 I/75C/75 safety standards. The boots also have electric hazard ratings which make them ideal for construction sites or industrial work. 
Made in the USA, they are constructed with the Goodyear storm welt method. A Goodyear welted boot uses a strip of leather called a "welt" that is sewn around the work boot to the upper and rib glued onto the insole. Then the outsole is stitched onto the welt.
Storm welt construction uses a welt that is even wider allowing it to be folded upwards creating a type of seal between the upper and the midsole. It is considered the top in moisture protection.
Pros
EH rating

Metal hooks and eyelets

Steel safety toe that exceeds security standards

Midsole in rubber

The outsole is oil and slip-resistant

Goodyear Storm Welt used in construction

American manufactured
Cons
Some sizing concerns

Not Waterproof
Check Price and Reviews on Amazon
---
Noteworthy Lace Up Work Boots
These Keen boots are built with high-quality materials and offer great on the job protection thanks to right and left foot steel toe guards that are asymmetrical.
These steel toe guards respect ASTM F2412 and F2413-11 I/75 C/75 safety standards and electrical hazard requirements.
Here Keen also offers Welt construction in the manufacturing of this boot. Traction is guaranteed thanks to a rubber outsole that is both oil and slip-resistant as well as non-marking. Keen also boasts a metatomical dual-density EVA footbed that is removable.
This footbed gives fantastic arch support and helps keep your feet comfortable all day long. These boots also feature a stability shank in the build, so you're less at risk for falls.
Pros
Asymmetrical steel-toe guards

Waterproof dry membrane

Rubber outsole

Metal hooks are locking

Removable footbed
Cons
Not waterproof

Need breaking in
---
Georgia Boot Loggers Men's G7313 Work Boots
Georgia Men's 8″ Loggers G7313
Waterproof work boot featuring protective steel toe and lace-up closure

Logo patch at tongue

Rear pull loop

Abrasion-resistant rubber outsole

8 Inches in height and Weightis 6.1 pounds per pair for a size 10
Prices pulled from Amazon Product Advertising API on:
Product prices and availability are accurate as of the date/time indicated and are subject to change. Any price and availability information displayed on [relevant Amazon Site(s), as applicable] at the time of purchase will apply to the purchase of this product.
Long-lasting, durable, loggers' boots with safety toe and electrical hazard protection. High-quality leather and the use of the Goodyear Welt construction contributes to their durability.
These logger boots are incredibly comfortable thanks to great stud hooks and eyelets in steel that allow you to adjust for a snug fit so that your feet aren't constantly moving around inside.
Pros
Steel shank

Stud hooks are set on steel washers

Cushioned insole

Leather Upper

The heels of two inches

Goodyear Welt Construction

Eight-inch Boot
Cons
Sizing issues medium or wide

Lace hooks are weak
Check Price and Reviews on Amazon
---
Danner Vicious 8-inch NMT Men's Work Boots
Prices pulled from Amazon Product Advertising API on:
Product prices and availability are accurate as of the date/time indicated and are subject to change. Any price and availability information displayed on [relevant Amazon Site(s), as applicable] at the time of purchase will apply to the purchase of this product.
Made from full-grain supple leather, Danner boots are constructed with top quality materials. These boots are particularly appealing for electricians and workers dealing with any type of electrical hazard.
They offer EH protection together with safety toe guards made of a composite which are not conductors of electrical current.
The outsoles are resistant to slippage and the boots are waterproof to keep your feet dry if you are in an area with water or inclement weather.
While they offer a nice snug fit, they are comfortable, and your toes will not be squeezed together. A speed lace system facilitates workers in a hurry.
Pros
Optional composite safety toe that is non-metallic

Ample space in the toe box

Leather Upper

100% Waterproof

Breathable Gore-tex liners

EH rating

Lightweight
Cons
Leather reported as not resistant
Check Price and Reviews on Amazon
---
Lots of Lace up Boots Available in the Market
With so many choices available, selecting the best lace-up work boot can be quite challenging. Should they be waterproof? Should they have a safety toe guard?
Should the toe box be made of steel, alloy, or composite? Should my boots be heat resistant, waterproof, or water repellent?
Is a six-inch work boot better than an eight-inch work boot? You almost need a college degree just to select a pair of good work boots. 
That's where we come in. To help you navigate the lace-up work boot market, we have researched, tested, and put together our list of best lace up work boots to make things easier.
We asked our team of experienced tradesmen to literally spend a week on the job in "our" shoes and give us the low down on what works, what doesn't, and why. 
We even convinced two of our team who usually wear slip-on boots to try out the lace-ups even if they would have preferred not to.
Surprise! At the end of our trial period, these two gentlemen actually admitted that they may alternate between their slip-on and lace-up work boots from now on. It's really important to try the boots on and walk a bit before deciding.
Criteria To Consider While Buying Lace up Boots
Once upon a time, work boots were a combination of wooden clogs and leather. They probably weren't very comfortable by today's standards, but they served a purpose: to protect workers from hazards at the worksite while on the job. Comfort was less of a consideration. 
Progress has allowed us to move on from wooden clogs at work. It's pretty standard nowadays that any work boot is designed with comfort as a priority.
Thanks to advancements in technology and in new materials, today's work boots offer flexibility and at the same time good foot support.
Most work boots will now offer uppers in soft leather or a synthetic mix and good traction soles in rubber or a synthetic. You can find work boots with:
Arch support

Ankle support

Tongue padding

Collar padding

Insulation

Removable liners

Memory foam footbeds

Cushioned insoles
and much more. One of the principal advantages of a lace-up boot is that the laces allow for a more personalized fit by just adjusting them.
Boot safety options may include:
Heat resistant

Water repellent

Waterproof

Chemical resistant

Abrasion resistant

Toe guards made of steel, alloys, or composites

Electric hazard ratings and electrical shock resistance

Plate protection in the midsoles to protect from puncture wounds

Solid construction of the footwear
with ongoing research in safety features by manufacturers. No one boot is perfect for all safety requirements, so you will initially need to decide which safety features are absolutely necessary for your job.
Quality materials, good design, together with great construction of the boots will guarantee durability. You won't want to buy a new pair of work boots every several months.
Then there is the question of style. Yes, style is important, particularly if your industrial or construction site profession takes you in and out of the office, or to meet with clients at the workplace.
While safety and comfort undoubtedly take precedence over style, if you can have style while you are safe and comfortable, why not?
See also: Boot Lace Length Guide
How do I choose the best lace-up boots for me?
A lot will depend on your requirements for where you intend to wear them and what type of activity you will be engaged in.
If you work in construction, you may prefer a steel toe guard to avoid compression damage from falling objects or materials.
If you are an electrician, you'll definitely look for electrical hazard safety ratings and perhaps a flexible sole if you are up and down ladders. Flexibility and traction will also be a consideration if you are a roofing specialist.
While farmers and agriculture workers will want waterproof boots and not just water-resistant footwear.
Some of the principal workplace hazards include:
Terrain that is uneven

Falling objects, materials, or debris

Electrical shock 

Sharp nails, glass, metal shards, or objects on the ground

Chemicals

Fire hazards or explosives

Extreme weather both cold or hot
Does your work expose you to one or several of these risks? Knowing will help you decide what safety features you should be looking for.
Once you have prioritized your necessary safety features, comfort should be your top consideration.
How comfortable your feet are will impact your workday as well as how well you work. Consider these hints when selecting:
Do your toes touch the toe cap? This may lead to blisters or sores.
Do the boots feel tight? If you stand all day for your job, your feet will expand, so a boot with a bit more room may be necessary.
Do you have feet that are wider than average? Choose a work boot that offers wide sizing.
Do you want a snug fit that isn't too tight? This is your best reason for selecting lace-up work boots.
Size. Choose the correct size. Don't just buy a larger size because you'd like a bit more room. Select a boot that will give you enough room but in your size.
Socks. Socks are often overlooked when choosing the correct footwear. When you try on the work boots before purchasing, wear the socks that you wear at work so that you can evaluate the actual fit of the boots.
The Bottom Line
Work boots are a must for construction, industrial and agricultural professions. Work-related injuries can mean health bills well into the hundreds of thousands of dollars along with trauma, job loss, permanent health problems, or long periods of physical recovery.
By wearing the correct attire for your job, you can substantially decrease your risks on the job. An investment in a good quality pair of work boots becomes essential and lace-up work boots can really guarantee a good, snug, comfortable fit.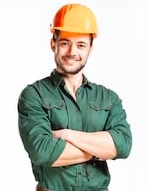 I have 12+ years of experience in construction, inspections, handy work, and currently working as a Construction Site Manager. In today's day we spent a significant part of our time at workplace and a right work gear can have significant impact not only on your safety but also work quality.