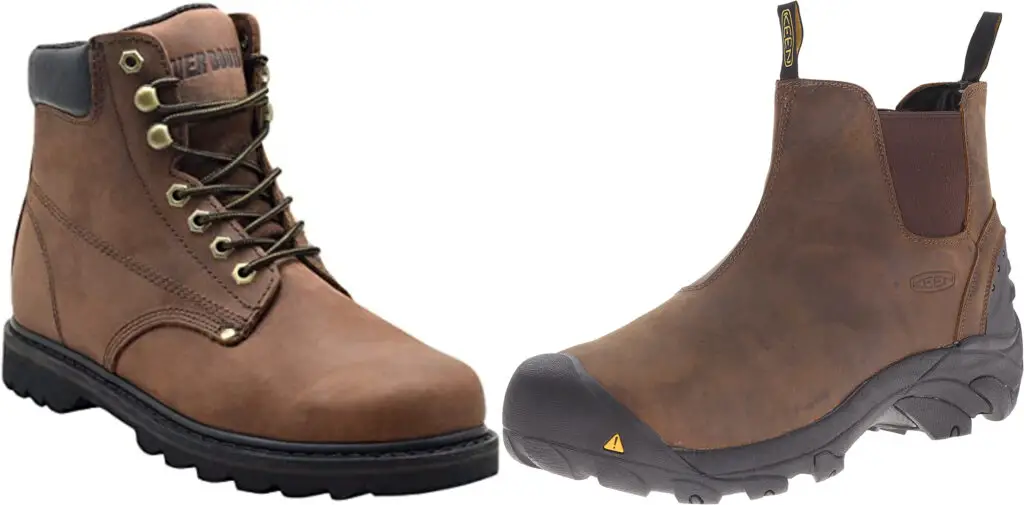 Getting a job is ideal and also good, however getting the best and safer work boot is of great importance!
No one likes to sustain injuries at work: of course, you don't right? Great
There is a time when lace-up boots are the hot cake work boots every hard worker must put in their gears because it holds firmly and allows them to work at ease.
However, there's a probability that not all preferences are the best options.
Lace-up boots are safe in some work areas and are the top preferred boots when thinking of the best work boots. On the other hand, slip-on boots are safer for oil rig workers. Apart from the differences that lace-up boots use lace for grip, while the slip-on boots don't have laces, I would say that slip-on boots are safer, as a result of the quality materials, features, and ease of use.
Lace-up boots and slip-on boots are quality working boots; without a doubt. However, there are some differences between these two boots. Ranging from design and company to features and affordability, there are further characteristics of these boots.
Today in this write-up, I'll show you the features, differences between the boots, and much more!
So stay tuned…
Choosing between Lace up Boots or Slip on Boots
| | | |
| --- | --- | --- |
| FEATURES | LACE UP BOOTS | SLIP ON BOOTS |
| Material | Full-grain leather | Nubuck leather |
| Cost | Moderate | Lesser |
| Laces | Yes and high-class | No Laces |
| Anti-Heat | No | Yes |
| Anti-Chemical | Yes | Yes |
| Comfy | Yes | Yes |
| Solidity | Less | More |
| Shock absorption | Yes | Yes |
| Grip | Perfect | Superior |
| Waterproof | Yes | Yes |
| Long lasting | Somehow | Yes |
 Difference between Lace up boot and Slip on boot
Lace up boots:
The fitting of a lace up boot can be easily manipulated by adjusting its laces. The more snugness you get is determined by the tightness of the boot and loosening them gives you more room as you can imagine.
As the boots start to lose shape and wear over time, you're still capable of maintaining your desired snugness by fastening the laces. This gives you a durable fit with your lace-up work boot.
Slip-on boot:
Workboot producers regularly attempt to enhance the quality of their products and to make sure they appear with the perfect designs that would fit you.
However, they are not for one person unless you go for a custom-made design. Therefore, it's safe to say that the general foot shape instead of a specific foot shape is utilized in the design of slip on work boots.
Without laces, your slip-on boots give you a memorable easy to wear experience, with perfect support and cushion. Even though they get old, there are still ways to get around the clock.
Check out the comparison between lace and pull on boots>>
What are the Qualities of Lace-up Boots
In my detailed research, I discovered the following smart features of Lace-up boots:
Materials and Manufacturing of Lace up boots
Lace up boots from companies like Lace-up firm has been the most sought-after type of boot, not only for work but for corporate days too.
Thanks to the sustainable materials and contemporary craftsmanship. In less than no time, the production of lace-up boots started spreading out. It was not only for work, it became the best hiking shoes, Oxford shoes, and much more.
The technologies and production procedures used for making lace-up boots include the Urethane Sole Tech (later called the SuperSole), "Welt Construction", defensive steel toe, Sweat-proof insoles, ComfortForce system, etc.
When it comes to versatility, count lace-up boots in. The high numbers of lace-up boots are produced in the US using materials from America. This guarantees solidity and longevity. Notwithstanding, when it comes to fitting, lace-up boots are typically perfect in most cases.
Also, most lace-up boots are manufactured and assembled in the US with foreign components and materials. Furthermore, they are sometimes manufactured in Asia (China, Vietnam, and Cambodia).
Prices and Value of Lace up boots
The prices of Lace-up boots range from medium to high. It's ideal for those wishing to save little on buying boots. Thanks to its longevity and quality materials.
On average, lace-up boots cost up to $250. Sometimes, they can go beyond $300, based on the model. The magnificence of these boots is everlasting, which is why they are worth their prices.
In my opinion, the high cost is also justified by the superiority of the raw materials used to make such durable, special, and unique models.
What are the characteristics of Slip on Boots?
Materials and manufacture of slip on boots
What differentiates slip on boots from other kinds is their materials. The Goodyear welt is included in the manufacture of these kinds of work boots. The end products are synonymous with high-quality resistance, craftsmanship, and durability.
The construction techniques of handcrafted work boots are passed on from one generation to the other, following the "early ways" even though they need more time for the production of the final merchandise.
This has put slip on boots on the list of the safest work boot made in the US. In the course of their production, the company makes use of high-quality leathers, following the same technique that has been, to produce an imperishable slip on boot.
Slip on boots are sturdy, comfy, and last up to 20% to 30% longer than any other kind. Occasionally, the materials used for these boots are from other regions of the world based on their attributes, for instance, the Italian eyelets or Spanish outsoles for safe feet and toes.
In most cases, slip on boots fit as expected and run true to size. Of course, this is based on the kind of foot you have, as well as the boot model. For instance, I have found people saying that they run a ½ size smaller. Also, since their break-in time is long, you chose whether to wear them with thick soft socks.
Costs and Value of Slip on boots
The costs of slip on work boot models range from medium to high. The minimum cost is $200; however, it can rise to $300 in several cases, for instance. Most meticulous models of slip on boots come with a design that lets you guard the mildest parts of the foot.
Looking at their process of production and the world-class materials, the producers of slip on boots have the ideal prices that let you buy affordably and still get what you're looking for in the boots. These products are worth their costs.
Slip on boots are Versatile
These kinds of boots are versatile, whereby they are not just for hard work. They can be worn on several events since they're comfy and safe.
How does a lace up boot look like?
Any boot with laces that let you tighten them to your leg is lace up boots. They are boots with a solid outsole, quality leather, cushioned insole, and toe protector features.
They are comfy and rugged. Their iconic design and longevity help you save money rather than buying shoes regularly.
Furthermore, some lace up boots comes with leather insoles with a cork midsole to provide comfort. The Puritan triple-stitch structure provides longevity and saves your boots.
What's an example of a slip on boot?
An example of a slip on boot is a boot without a lace. They are easy to put on and take off. They are comfy, versatile, and affordable.
Top 10 Best Slip on Work Boots
They come with a rugged outsole, ankle support, and cushioned insole. A slip on boot can be used for work or any casual events. The Taupe Boot with Mossy Oak Bottomlands Camo is a typical example of a slip on boot.
What are the things I must consider before buying a lace up boot?
The first thing is the potential risks. Whether you have a specific reason for getting safety shoes and boots, it's important to map out the risks you could experience at work. Some possible risks include:
Electric Shock
Sharp items that could pierce the foot
Items that may tumble you
Hazardous or electrostatic release
Exposure to water, warmth, or cold
Exposure to welding shower, liquid metal, or destructive fluids
The second thing to consider is style or comfort. Comfort is good and it is achieved by the boot style. With so numerous safety footwear makers, safety shoes come in the athletic, full boot, and dress alternatives. It is ideal to choose a boot that won't be uncomfortable as you could work with it for hours.
Note these:
The shoes must not squeeze your feet.
You must not feel the toe covers against your toes.
Shoes that are either too tight or too wide will cause inconvenience over the long haul.
If your feet might sweat, search for dampness wicking or calfskin.
Put safety first, comfort second, and afterward take a gander at style.
Remember to wear quality socks to help in your solace.
The third thing you must consider is the quality and price, as well. Always make sure that the boots you want to buy worth their prices.
Maybe you've heard the saying, you get what you pay for. With regards to safety shoes, based on the risks you're exposed to, this can truly be needed.
Calfskin can be more breathable than synthetic materials, the external sole strength can guarantee a long life expectancy of the footwear. Getting the best work boot depends on your budget. So if you're wealthy, you can get anyone at any price.
What must I consider before buying a slip on boot?
The first thing is the price. They are cheaper yet super! Another this is the safety features. Whether you are a hard worker or not, it's important to go for your safety first. Slip on boots protects you from:
Sharp items
Electric Shock
Slipping
The third thing to consider is comfort. Comfort is ideal. Slip on boots does not:
Squeeze your feet.
Press against your toes.
Hold your legs tight over the long haul.
How do I know my lace up or slip on boots should be replaced?
As soon as your boot breaks in, you need to change it. Furthermore, here are the signs you must see before changing or replacing your boots:
Mileage: When you notice a shifty segment starting to appear on the other side, be it a built-up toe, steel padded sole, steel shank, or metatarsal gatekeeper, you ought to supplant your boots immediately. Safety first!
Gouged Toe: Your steel toe will scratch and stop to spring back, while composite is less inclined to show actual harm, so try to give careful concern as your boots are tried by significant effect or penetrate.
A detachment of Parts or Creases: If your boots are made with elastic or PVC materials, any noticeable division should disclose to you it's an ideal opportunity to purchase new shoes. Self-destructing sets don't look proficient, correct?
Worn Outside: a similar consideration ought to be paid to the shoe's track also since whenever it has been worn smooth, they'll at this point don't be slip-safe. You wouldn't drive a truck with uncovered tires, correct?
Spillage: If your work includes soggy conditions or openness to risky synthetic substances or other destructive materials, any indication of spillage should provoke you to search for another pair. It's not just about solace – it's your wellbeing!
Before We Wrap It Up!
We value our purchases. That way, they'll not result in ruins very quickly. But at the same time, we must be cautious too on product selection to maintain the boots.
Not all you like appears to be the best thing that will suit your needs. If you buy an item because you like it, it might not give you what you want.
However, I believe this article has given you an insight into most of the mind-striking questions you had on which boots are the safest (lace up or slip on). What's more? You've known which is best for your kind of work environment.
Come back tomorrow for another set of answers to your queries. We've got your back on this. Tag along for another exciting article!
Whilst…
Stay safe, work carefully, and have a great day!