Looking for a pair of work boots? While looking you'll undoubtedly run into both Carolina Boots and Georgia Boots during your search. 
If you've already owned a pair of either of these brands, you may be thinking about buying the same brand because you really liked the boots you had, or you may be curious about either or both of these manufacturers because you've heard good things about their footwear. 
So, is there a better brand better between the two? Does one offer higher quality? How do their prices compare? Are they committed to eco-sustainability? Most importantly, which brand best fulfills your footwear needs?
We're going to consider all this and more, so, let's get started.
Carolina and Georgia Boots Comparison Table
| | Georgia Boots | Carolina Boots |
| --- | --- | --- |
| Styles | Work boots, Farm & Ranch boots, Loggers, lace-up or slip-on | Work boots, Loggers, Hiking boots, Engineer boot |
| Safety features | ASTM safety compliant, Protective toe caps, in steel or composite, Electrical hazard construction, Oil, chemical slip, and heat resistant, Static dissipative, Puncture resistant, Metatarsal guards | ASTM safety compliant, Steel safety caps, Composite safety caps, Electrical hazard rated, Steel shanks, Oil and slip resistant, Metatarsal Guards, Puncture resistant |
| Construction | Goodyear Welt, Cement | Welt construction, Cement construction |
| Outer soles | Proprietary wedge, Vibram  | Meramec Raptor PU, Rubber Lug |
| Inner soles | Advanced memory foam in polyurethane | Dual-density foam, EVA footbed |
| Boot Uppers | Full-grain leather | Genuine leather, Horse leather |
| Foot Support | EVA midsoles, Steel shank | Steel shank, Triple-ribbed steel shank, Non-metallic shank |
| Linings | Mesh  | Mesh, Taibrelle lined |
| Sizing | Men's 2 to 18 | Men's 7 to 14, Standard, D, 2E |
| Waterproof and Insulation | Georgia Waterproof system, Gore-Tex, 3M Thinsulate  | Waterproof Scubaliner™, 3M Thinsulate |
| Price | Approximately $100 to $300 | Approximately $70 to $280 |
The Carolina Shoe Company
The Carolina Shoe Company was established in 1963. It was a newly created division of the company known as H. H. Brown. This happened when H. H. Brown reached its popularity peak in the 1970s when it produced a cowboy western style boot equipped with a steel protective toe. 
The beginnings of this company saw Carolina producing safety work boots for the H H Brown name, but as the demand for quality safety work footwear increased, Carolina became a brand in its own right and continued to produce work boots for both men and women involved in heavy duty laboring professions.
The Carolina® Built for Work brand is still owned by H. H. Brown who is a member of the Berkshire Hathaway group of companies for over 25 years.

A new facility for manufacturing was created in Morgantown, North Carolina and the company's manufacturing production was kept there until 2000. From 2000, manufacturing was divided up among a number of factories in the United States and overseas.
Carolina Shoe Company eventually began hiring its own people, enlarged and increased its manufacturing facilities. It located its customer service department to Martinsburg, Pennsylvania in 2016.
Carolina Shoes produces several kinds of boots including work boots, engineer boots, loggers, and hiking boots. Tall logger boots and engineer boots are still produced in the United States while other boot styles are manufactured overseas and more specifically in China.
The boots are machine produced and not hand made. They use moderate to good quality leathers and materials in the construction process.
The Georgia Boot Company
Georgia Boots have been manufacturing work footgear for approximately 85 years. So, this company has definitely played a role in boot making history. Established as the Georgia Shoe Manufacturing Company in 1937, this brand came into being during the Great Depression. 
Depression-era manual labor needed durable work footwear for laborers with a limited budget. The Georgia Shoe Company was founded with this premise front and center.
The company began its productive life in Atlanta, but it rapidly outgrew its home in Atlanta and relocated to a much larger production facility in Flowery Branch.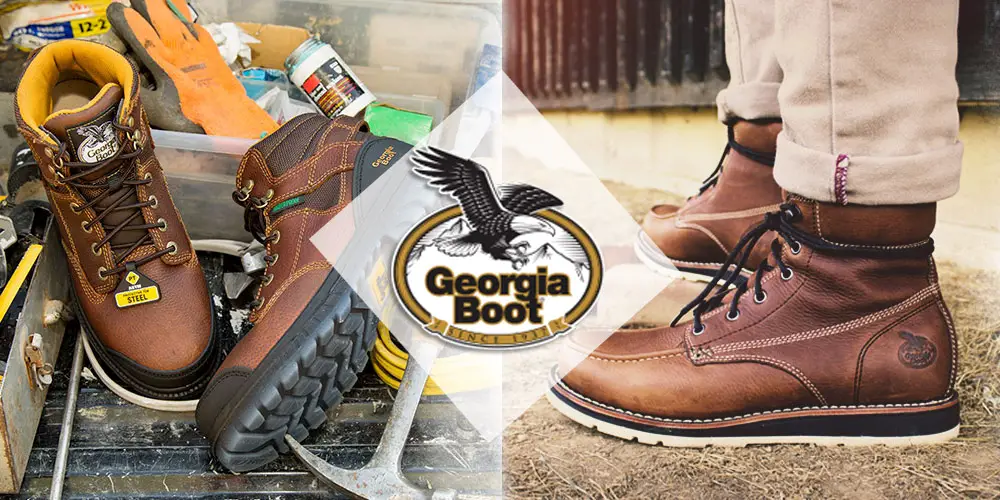 The Georgia Boot Company's product line also expanded with the company's factory size. New product lines went beyond work boots right to athletic footgear and lots in between. 
Now, Georgia Boots manufacturers footwear for men, women, and children. They have invested heavily in health and comfort in footwear including and integrating technology such as Memory foam, shock absorption and resistance, and ergonomic designs, all with a focus on keeping feet comfortable while on the job. 
The company headquarters are currently located in Nelsonville, Ohio. The Georgia Boot Company team continues to invest in research and innovation to manufacture quality shoes and boots while keeping their cost in check and still affordable for working men and women.
They have two manufacturing plants. One is located in the Dominican Republic. A second facility is found in Puerto Rico.
EJ Footwear based in Nashville purchased The Georgia Boot Company, and when Rocky Brands purchased EJ Footwear the Georgia Boot Company entered the Rocky Brands manufacturing family.
Rocky Brands includes the licensed brands of John Deere and Dickies, as well as Rocky, Gates, Durango, Lehigh in its manufacturing portfolio.
Carolina Boots
Carolina Boots are well-known reputable work boots. They are produced by experienced leather craftsmen. The company sources materials globally to provide durability, comfort, and above all safety in any climate and in all types of work environments.
Their uniqueness lies in the many features the various styles of boots offer, Carolina Boots also consider both the size and shape of feet when producing boots to provide a good but comfortable fit.
Carolina Boots prioritizes traction and stability equally in their designs. Rubber outer soles are fitted with lugs to grip all kinds of surfaces and terrain. Protection and security in the workplace are crucial and the reason you purchase work boots.
Boots need to offer full protection when you are on the job, so Carolina Boots use quality materials and integrate steel toes to this end.
Overall boot construction meets and surpasses industry standards and guarantees excellent durability. Waterproofing as well as well-designed heel and toe alignment for comfort distinguish these work boots and give the brand a loyal customer base.
Carolina offers affordable boots providing excellent value, and because of their renowned durability they will save you money in the long-term.
Carolina Boots have a variety of product lines
Matterhorn for miners, metals, minerals, gas, and oil industries

Corcoran for military and security professionals

Double-H western style boots

Born Artisan crafted footwear
Cost
The prices of Carolina Boots will vary depending on the style you select. They are priced in a range of approximately $70 to $280. Many work boot styles are more affordable than competitive brands.
While known for their durability, comfort, and safety features, the boots made in the USA may cost a bit more but can also be worn for activities away from the workplace. The Carolina boots offer good value for the price.
Georgia Boots
Georgia Boots enjoy a reputation for dependability, durability, and for exceptional comfort, making them very popular. Georgia work boots are acclaimed for their light weight which helps fight fatigue during long workdays.
Like Carolina boots, Georgia boots are produced using machine technology manufacturing meaning that the cost can be contained. Georgia work boots are affordable for this reason together with the comfort they provide, they are exceptionally popular as work boots.
Georgia Boots are renowned for durability and for safety in the workplace. They are constructed with Vibram outer soles that offer slip resistance.
Impact resistance and an integrated waterproofing system combine to make them very competitive work footwear. Thanks to these features, your safety in the workplace is ensured.
Cost
Many safety work boots available in the workplace are high-priced and expensive.  When you look for a pair, you want durability, comfort, and above all safety, at a price that your budget can manage.
The Georgia Boot Company, true to its founding principles rooted in the Great Depression, are committed to work footgear that is affordable for laborers and tradesmen. This principle has remained throughout its 85-year history.  
Georgia Boots can be found priced from approximately $100 to roughly $300. Georgia Boot prices are competitive for the product that they offer thanks to competitive features. Other brands may offer the same features on work boots but at costlier prices.
Georgia Boots often enjoy seasonal discounts so you might purchase them at even lower costs thanks to sales and product promotions. Keep an eye on the Georgia Boots website for promotional offers and sales to obtain extra savings.
When on a limited budget but in need of quality safety work boots, do consider Georgia work boots because the quality affords great value for the price.
How Do I Choose? Carolina or Georgia?
Both boot companies have good reputations for producing quality footwear for work environments especially those that expose workers to professional hazards daily.
Styles are available with treaded outer soles to navigate all types of terrain, impact protection steel toe caps, and cushioned comfort for tradesmen and laborers that work on their feet for extended periods.
Both Georgia Boots and Carolina Boots are in a similar price range, and both have a loyal customer following.
So, your choice will most likely depend on a particular style or combination of safety features that you prefer. Both Georgia boots and Carolina boots merit your consideration.
See also: Georgia Vs Red Wing Boots
In Conclusion
You can find everything you need for workplace safety in a Carolina Boot or a Georgia boot at a more affordable price than many competitors. Choose according to your professional workplace needs and your personal style.