If you've decided to acquire your first pair of work boots, or looking to replace an old pair, among the many brands respected for manufacturing quality work boots, the names of Georgia Boots and Red Wing Boots will appear. 
If you've already owned one or both of these brands, you may be considering repurchasing or you may just want to consider one of these two manufacturers because you've heard or read good things.
So, which brand should you choose? Does one offer more quality than the other? Are they in the same price range? Is company manufacturing sustainable? Most importantly, which brand best caters to your needs?
Let's have a look.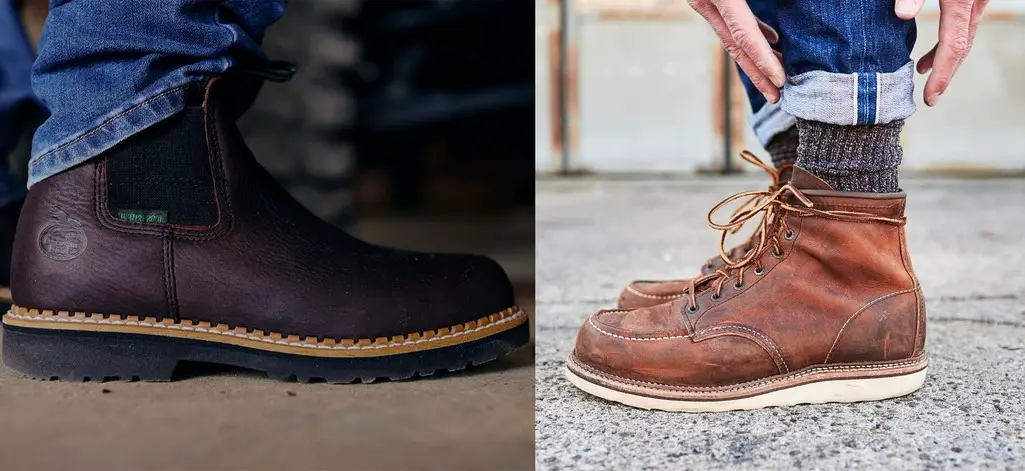 The Georgia Boot Company
Georgia Boots, believe or not have been producing work footwear for roughly 85 years. That's quite a bit of boot making history. The brand was founded as the Georgia Shoe Manufacturing Company in 1937 smack in the middle of the Great Depression. 
Depression-era manual labor required dependable, yet affordable footwear and the Georgia Shoe Company answered the call.
Initially established in Atlanta, the company quickly outgrew its home base and relocated to Flowery Branch and a much larger facility. The company expanded its product line from work boots all the way to athletic footgear. 
Now, Georgia Boots offers men's, women's and children's footwear. They include comfort and foot health trends from the use of Memory foam and shock resistance to ergonomic designs with lots of emphasis on comfort.
With headquarters currently located in Nelsonville, Ohio, the Georgia Boot Company continues in its quest to provide quality shoes and boots at affordable prices. They have two facilities where they manufacture their footwear: Puerto Rico and the Dominican Republic.
Nashville-based EJ Footwear acquired The Georgia Boot Company, and when Rocky Brands acquired EJ Footwear it welcomed the Georgia Boot Company into its manufacturing family: Rocky Brands also owns Rocky, Gates, Durango, Lehigh, and the licensed brands of John Deere and Dickies.
The Red Wing Company
Founded in Minnesota in February 1905, Red Wing has been around for over a century. Charles Beckman together with 14 other investors funded the Red Wing Shoe Company. At the time shoes were pegged and nailed.
Four years later Red Wing introduced the welt construction with uppers and shoes soles stitched together. In 1914, the company hired JR Sweasy as administrator and when 1919 rolled around he became the first generation of four to own and run the company. In 1923, ed Wing opened its first branch in Dallas, Texas.
In 1949, the second Sweasy generation operates Red Wing with WD Sweasy, son of JR, as the new company president. 1952 saw the first retail store open in Salt Lake City and a decade later the company owns an international division.
In 1985, WJ Sweasy becomes company President and re-soled boots are introduced to prolong boot life. A year after the Red Wing Company acquires a leather supply company to meet its needs.
In the years that followed, Red Wing continued to invest in research and innovation developing many new technologies to improve quality, durability, and comfort.
Georgia Boots
Georgia Boots are highly popular with a reputation for being dependable, durable, and exceptionally comfortable. Their boots are also appreciated for being lightweight.
Work boots are manufactured using machine technology meaning that Georgia can keep prices contained. Along with the affordable price tag, they are popular for the comfort they offer on the job.
Georgia Boots also boast an excellent reputation not only for their durability but for their safety. They feature Vibram outer soles, an integrated waterproofing system and impact resistance. The Vibram sole is designed with slip resistance as well, increasing workplace safety.
Cost
Most work boots are relatively expensive, and looking for a pair that offer safety, durability, and comfort without breaking the bank is challenging. This is where the Georgia Boot Company really shines.
Born in the Great Depression, their commitment to affordable work footwear on a laborer's salary has not waned in 85 years. 
Georgia Boots can generally be found in a price range that starts at about $100 and reaches approximately $300. The prices are highly competitive because they offer competitive features that other brands include on work boots at higher prices.
Another good thing about Georgia Boots is that seasonally you may be able to purchase them at lower prices because they have sales or offer promotions. It might be worth your while to check their website occasionally to view extra potential savings.
If you are on a limited budget but need good safety footgear, check out Georgia work boots without reservation because the quality is very good for the price and manufacturing.
Red Wing Boots
Red Wing is one of the work boot industry's leading brands. Their boots are known for their longevity and performance on the most challenging of surfaces or terrain. 
A distinguishing characteristic of the Red Wing boot production is that many boot styles are still stitched by hand to this day. Red Wing maintains that technological stitching does not yet match the quality offered by manual stitching.
Wow… 120 years later, they still have master craftsmen that manually stitch some of their footwear. This company has very high standards, and these standards require the involvement of numerous workers to achieve the final product or each pair of work boots.
Material sourcing is equally impressive as Red Wing has its own leather supply and tanning company. The company tans, stretches, and rolls the highest quality durable leather for each pair of boots that they manufacture.
The outer soles use on red Wing work boots are equally impressive. The company uses Vibram outer soles also known as "lug" soles. The impressive things about Red Wing's lug soles is that they feature holes which line the edges.
The disposition of the holes increases traction accounting for the exceptional grip that Red Wing boots offer. The soles known as "Traction Tred" are also non-marking and distinguish their level of quality from a marketplace filled with options.
Vibram Soles
The Vibram sole was invented from tragedy. Inventor Vitale Bramani belonged to the Italian Alpine Club when on September 15th, 1935, six friends lost their lives in an accident in the Italian Alps.
Bad footwear was indicated as an aspect which was fundamental in the dynamics of the accident. This inspired Vitale Bramani to invent a new outsole.
In 1937, Bramani patented his outsole with rubber lugs. The outsoles had a new vulcanized rubber design named "Carrarmato" or "Tank". Bramani had financial backing from the Pirelli Tire Company in the person of Leopoldo Pirelli.
When investing in a pair of quality work boots, you expect durability above all and for them to last. Red Wing Boots have been known to last for a decade with the occasional re-soling.
This is another guarantee that Red Wing offers as many of their boots can be re-soled saving you money in the long term. You won't need to toss the boots because the outer soles wear down.
More recently there has been some criticism regarding their well-known longevity. This may be due to their manufacturing location. Check the Red Wing style you prefer for country of origin.
Many of the complaints are tied to styles that are not manufactured in the United States but in China. An American made pair may cost more but they appear to offer more longevity.
Cost
Price is fundamentally the difference when selecting between a red wing boot and a Georgia boot. Red Wings can be found at prices starting at a hundred dollars and cost as much as four hundred.
So, some Red Wing models will be more costly than a Georgia Boot. The higher priced Red Wing models offer premium craftsmanship and materials as well as comfort and all-day performance.
Red wing and Georgia Boot Comparison Table
| Boots | Red Wing | Georgia |
| --- | --- | --- |
| Styles | Soft Toe, Steel Toe, Logger, Athletic, Hiker, Work | Farm & Ranch, Loggers, Work boots, Slip-on or lace-up |
| Safety features | CSA, ASTM, EN compliant, Protective steel or composite toe caps, Electrical hazard protection, Oil, gas, chemical slip, and abrasion resistant, Puncture resistant, Metatarsal guards | ASTM safety compliant, Protective toe caps in steel or composite, Electrical hazard construction, Oil, chemical slip, and heat resistant, Static dissipative, Puncture resistant, Metatarsal guards |
| Construction | Welt construction, Direct Attach | Goodyear Welt, Cement |
| Outer soles | Vibram, Lug soles | Proprietary wedge, Vibram  |
| Inner soles | Swen-Flex, Dual density urethane, Removeable with air perforations | Advanced memory foam in polyurethane |
| Boot Uppers | Leather from U.S. raised cattle | Full-grain leather |
| Foot Support | King Toe for extra toe room | EVA midsoles, Steel shank |
| Linings | Gore-Tex available | Mesh  |
| Sizing | Men's 4 to 18, Narrow, Regular, Wide | Men's 2 to 18 |
| Waterproof and Insulation | Red Wing Waterproofing, CosmoComfort | Georgia Waterproof system, Gore-Tex, 3M Thinsulate  |
| Price | Approximately $100 to $400 | Approximately $100 to $300 |
How Do I Choose? Georgia or Red Wing?
Both boot companies are reputable and offer quality footwear for the workplace. Styles are available with Vibram outer soles, steel toe caps for impact protection, and exceptional comfort for pros working on their feet all day.
For longevity and durability, Red Wing rates higher thanks to the premium materials used and possibility of re-soling. 
However, if you are on a more limited budget and price is a consideration, the Georgia Boot Company offers an excellent product with good safety features.
In Conclusion
If your budget allows you more to invest, Red Wing is an optimal choice. If on the other hand, you need to watch expenses, know that you'll find everything you need for safety on the job in a Georgia boot.