Depending on what activity you wear boots for, or what your profession is, it may be stated that a man is only as good as his boots especially when navigating challenging terrain or working in a hazardous environment.
You don't want an easily worn-down boot, a leaky boot, or footwear that does not adequately protect your feet from risks and injury. Some might say you want a solid pair of Georgia boots.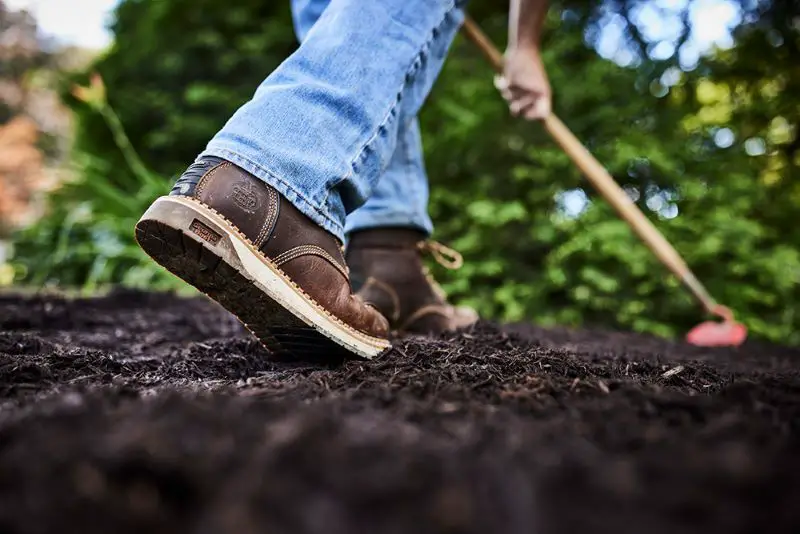 The Georgia Boot Company History
Georgia Boots enjoy a long history of boot making. They have been designing and manufacturing work boots for roughly 85 years or so.
So, it's not enough to say this company has a history in the manufacturing of boots. The Georgia Boot company had a leading role in making boot history. 
This brand was born during America's Great Depression and that, in itself, says a lot about the company and its boots. The Georgia Shoe Manufacturing Company was born in 1937.
How many companies were founded smack in the middle of an economic blowout like few have experienced and how many survived? Established in the Depression era only a few years before WWII.
For those fortunate enough to find manual labor during the Depression-era, these men, whether skilled tradesmen or simple laborers needed durable work boots to keep those jobs once they got them. They need their feet protected and they had to buy work boots on a very limited, if barely existent budget. 
The Georgia Shoe Company was founded to cater to these men, their need for tough, durable footwear and their limited resources for purchasing.
The company started its manufacturing activities in the south, in Atlanta, Georgia. But true to its goals and to its customers, the company quickly outgrew its Atlanta home. A much larger production facility in Flowery Branch was found and production was relocated. 
The Georgia Boot Company also expanded its footwear product line along with the company's manufacturing capabilities and factory size.
Entirely new products were added that went well beyond their manufacturing of work boots. Athletic footgear was highlighted as well as other types of footwear for multiple purposes. 
Georgia Boots Today
Now, Georgia Boots manufacturers footwear product lines for men, women, and even kids. They have invested substantially in research to offer innovation that guarantees foot health and comfort while wearing their boots. The company has integrated new technology and new materials that include:
Memory foam

Shock absorption 

Boot durability and resistance capabilities

Ergonomic designs 

and comfort as a priority. 
The company now has its headquarters located in America's "rust belt", or the heart of America where industrial manufacturing had its golden era and where pride in manufacturing still counts even today. The company is located in Nelsonville, Ohio. 
The Georgia Boot Company management team continues its quest for excellence in manufacturing by investing in research and introducing innovation for the sole purpose of manufacturing high-quality shoes and boots.
They have not forgotten their origins and work hard to maintain their products affordable for working men and women and their families.
They have also answered the call of globalization and have established two manufacturing plants outside of the continental United States. One can be found located in the Dominican Republic while a second factory has been established in Puerto Rico.
Eventually Nashville's EJ Footwear acquired The Georgia Boot Company. When EJ Footwear was purchased by Rocky Brands, the Georgia Boot Company became a full-fledged and prized member of the Rocky Brands manufacturing family.
Rocky Brands includes numerous well-regarded licensed brands in its manufacturing portfolio such as:
John Deere 

Dickies 

The original Muck Boot Company 

Gates

Xtratuf

Neos Overshoe

Ranger

Slipgrips

Shoe Angel

Servus

Lehigh.
Are Georgia Boots Good?
Georgia Boots enjoy an excellent reputation for their footwear. Time-tested designs are produced with innovative materials and thanks to quality manufacturing processes, these boots are recognized as dependable, durable, and as exceptionally comfortable.
As a result, they have a loyal customer following and can boast their undying popularity after 85 years in the business.
Are Georgia boots good? You bet! No company can last more than 85 years without a solid product. Generations of American and foreign workers have continued to place their trust for on-the-job comfort and safety in this company's products.
Georgia work boots are especially appreciated and acclaimed for their impressive light weight.
When wearing a boot all day long in a physically exhausting setting, you don't want a boot that weighs you down, tiring lower back muscles, leg muscles, and feet. These boots place a priority on footwear weight and fight foot fatigue by doing so. 
Machine technology is used to manufacture Georgia boots. This kind of manufacturing process enables cost containment with lower prices that handcrafted boots are unable to match. Georgia work boots are synonymous with affordability, protection, and comfort.
Renowned for their durability and for the safety features they bring into the workplace, Georgia boots' popularity has never faltered. 
How Much Do Georgia Boots Cost?
Many of today's work boots come with high price tags. They are expensive.  
Professionals not only want durability, comfort, and protective features, they want footwear that they are able to afford and that they don't need to replace after a relatively short period of wear. 
The Georgia Boot Company, has remained faithful true to the company's founding principles that were rooted in the uncertainty and the poverty of the Great Depression. 
To this day, the company maintains its commitment to producing affordable boots that are high quality. This principal has never wavered in 85 years of boot making.  
You can find a pair of Georgia Boots priced from approximately $100 to $300. These are competitive process for the product offered. Several competitors' boots will offer similar work boot features at higher prices
Fortunately, Georgia Boots offers seasonal sales and promotions, so by checking their website you may be able to find one of your favorite boot styles at a lower price.
Georgia Boot Types
The company produces an ample selection of boots for work, hunting, fishing, hiking, outdoor activities, logging, farm and ranch, and casual wear. 
1.) Work Boots with Safety Features
Traditional protective footwear is worn in a variety of industrial and agricultural settings. Many of these work environments require safety toe cap protection to contrast impact risks such as falling tools, materials, or debris.
Georgia boots offers various options including alloy toes, composite non-conductive toes, and steel toes depending on the kind of hazards you face on the job or outdoors. Several styles also feature metatarsal guards for enhanced safety.
2.) Soft Toe Boots
For pros that do not require toe protection, Georgia also manufactures soft toe work boots. If you do not work in an environment at risk for impact injury, Soft toe boots are an ideal alternative.
Best for the pros in low to medium risk jobs, soft toe boots weigh less, placing less stress on feet during the day. They also tend to be a bit roomier without a toe cap.
3.) Georgia's Farm and Ranch Boots
Manufacturer Georgia boots offer a generous selection of choices for pros out on the farm or ranch. These classically styled farm boots have never gone out of style and will keep feet dry and comfortable all day long.
Several boot models will feature safety toe caps. There are many pull-on styles as well as waterproof wellingtons for those that are in and out of muck throughout the workday. Many have slip and oil resistant outer soles for slippery terrain.
4.) Georgia's Loggers
Loggers are designed for pros in the logging industry, but they are also great for numerous outdoor jobs and activities. Georgia produces a variety of logger styles with protective features in environments where your footing may be at risk.
They are specifically designed to offer exceptional arch support and ankle protection. The increased stability makes them a great alternative for linemen. Georgia loggers also feature a unique toe to lace style.
Many if these styles feature waterproofing, insulation, protective toe caps, and are ASTM compliant.
See also: Georgia Vs Red Wing Boots
Georgia Boot Features
Georgia boots come with lots of features for everyone's needs. 
1.) Construction
Most Georgia boots integrate Goodyear Welt construction in their designs. Goodyear Welt will prolong the life of a work boot because these boots can be re-soled once the outsoles are consumed. It won't be necessary that you purchase new boots because the heel or outsole is worn out.
2.) Uppers

Boot uppers are produced in full-grain leather or SPR full-grain leather.
3.) Insulation
Georgia boots feature different thicknesses and weights of 3M Thinsulate insulation.
4.) Mid Soles
Available in EVA or polyurethane.
5.) Outer Soles
Wedge sole work boots are available as well as logger boots that feature both higher and lower heels. Vibram oil and slip resistant soles are featured on some styles as well as in polyurethane or abrasion resistant lug rubber.
6.) Protective Toe Caps
Georgia manufactures boots with steel, non-conductive composite, alloy, of soft toes depending on where you will be wearing your boots and what activities you will be involved in.
7.) Safety 
Georgia boots not only feature safety toe caps, shanks, metatarsal guards, slip and oil resistant outer soles, but come with electrical hazard protection, and safety features are ASTM compliant or better. Static dissipative and puncture resistance are also available in specific boot designs.
8.) Shafts
Most Georgia boot styles are available in 4-inch, 6-inch, 8-inch, and 9-inch shaft heights.
9.) Shanks
Shanks are available in protective steel with extra arch support.
10.) Inner Soles
Georgia features proprietary Comfort Core or AMP insoles with Memory Foam for exceptional comfort on the job. Georgia also uses its TOC or Technology Driven Comfort insoles in polyurethane.
11.) Waterproofing
Breathable GORE-TEX is integrated into design and construction to keep feet dry in the worst possible conditions.
Conclusion
Are Georgia boots good? No, they are great! These boots are well worth the time you will invest to look for an appropriate pair and well worth the money you will spend to purchase them.