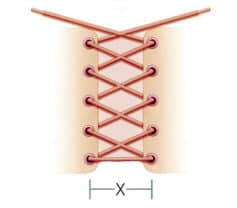 This is a complete guide on boot lace length.
In this detailed guide you'll learn:
Boot lace sizes chart

How to measure boot laces

Eyelets shoelace length

Lots more
Let's get started.
How to Determine Bootlace Length
1.) Take Measurement of Your Bootlaces Before It Breaks
Do not wait for your laces to break to take its measurement, otherwise, you will have to do a lot more calculation in your head to get an idea about the original length; and if mathematics is not your strong suit, then get ready to get humiliated by even more.
Just take the bootlaces out of your boots and take their measurements. The perfect way to do it is to measure them from one tip to another.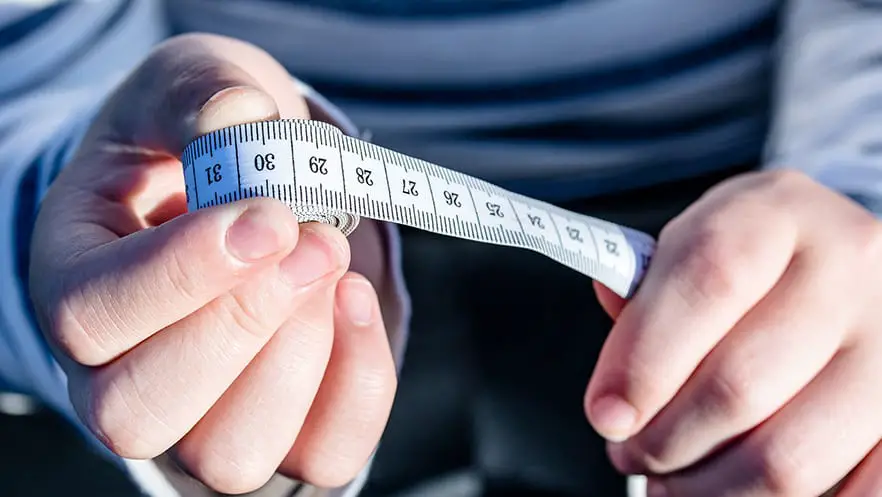 The result that you are going to get will be the length that you need to buy your next bootlaces in, or else they just won't fit your boots.
2.) Do You Know the Type of Your Shoe?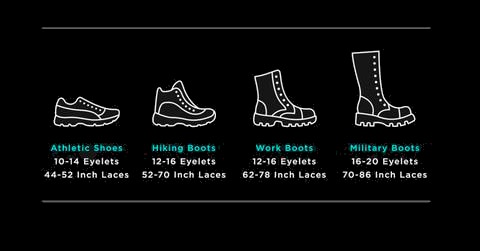 There are two types of boots that are mostly in use; one is work boots and the other is hiking boots. There are also street shoes that use bootlaces, and for all these kinds of boots and shoe bootlaces of standard length will do.
3.) But Wait! Have You Counted the Eyelets?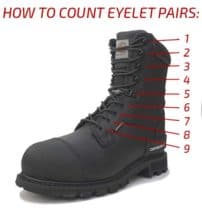 It is yet another detail that you will have to keep in mind before you go bootlace shopping.
But counting eyelets is not that difficult. You can either count the hole on one side of the boot or count all the holes and then divide the result by two.
The number that you get is the actual number of eyelets that your boot has; again, select the first process as you will get a prompt result.
Now that you have got an idea about how to count eyelets on shoes, consider the table below to find the eyelets shoelace length match.
Boot Laces Length Chart
Number of Eyelets
Length of The Bootlace (inches)
Type of Boot
From 2 to 3
27

 

Street

 

From 3 to 4
30
Street

 

From 4 to 5
36
Street

 

From 5 to 6
45
Hiking (Low top)
From 6 to 7
Up to 54
Work and Hiking
From 7 to 8
63
Hiking (tall), Work, and Sneakers (high top)
From 8 to 9
72
Work (8")
From 9 to 10
84
Tall

 

From 10 to 11
Somewhere between 96 and 108
Tall
From 11 to 12
Between 108 and 120
Tall
FAQs
How Long Shoelace length for 4 Eyelets do I need?
The boot size table shows the shoelace length for 4-5 eyelets is 36" inches or 91 cm. However you have to consider the fact that some shoes are wide with a lot of horizontal spacing, some are narrow so the range can vary from 30" inches to 40" inches.
How Long Shoelace length for 5 Eyelets do I need?
As per our research the length of hiking boot laces for 5 eyelets is from 36" to 45" inch. Below are the shoelace length results from some other websites for 5 pair eyelet
1.)  Shoelacesexpress – 36" inch
2.) Ian's Shoelace – 5 pair
| | | |
| --- | --- | --- |
| 80 cm (32″) Narrow Spacing | 100 cm (39″) Medium  | 130 cm (51″) Wide |
3.) Ironlace – 33" inch to 45" inch
What's 6 eyelets lace length?
A 6 eyelet boot lace should be around 45 inches to 54 inches. That said, the exact measurement of a 6 eyelet boot lace should be 45 inches, but a bit longer up to the length of 54 inches is manageable with proper knots. Here are results from other site
1.) Shoelacesexpress – 40" inch 
2.) Ian's Shoelace – 6 pair eyelets
80 cm (32″) Narrow Spacing

110 cm (43″)

Medium 

140 cm (55″)

Wide
3.) Ironlace – 33" inch to 45" inch
You can very well use a 5 eyelet boot lace or a 7 eyelet boot lace for your 6 eyelet boots.
What's 8 eyelet boot lace length?
Our research table shows that 8 inch boot lace length ranges from 63" to 72" inch. Check what other sites are saying
1.) Shoelacesexpress – 54" inch for 8 pair eyelets
2.) Ian's Shoelace 
90 cm (35″) Narrow Spacing

130 cm (51″)

Medium 

170 cm (67″)

Wide
3.) Ironlace – 63" inch to 72" inch
10 eyelet boot lace length:
A 10 eyelet boot lace should be more than 75 inches and less than 96 inches.
But if you want to know the perfect measurement of a 10 eyelet boot lace; then it should be of 84 inches!
So, if you already have a 9 eyelet boot lace or a 11 eyelet boot lace that falls under the aforesaid measurement, you can easily use it for your 10 eyelet boots.
Why These Information Matters?
Armed with this information, you will be easily able to buy the bootlace you need. You can even buy them from online stores as you do not need the help of store employees to determine the laces that are best for your boots.
Even if you are thinking of gifting someone brand new shoelaces, you can take help from the above list and determine what lace will be best for their boots.
Just consult the list and get an idea of what lace goes with which shoe and then choose the lace of best quality and nice color as a gift for your friend after you determine the type of boot that they own and the number of eyelets that is present in the boot.
Now to Conclude
You might not have thought much about the bootlace and the eyelets of your boot, but now, after reading this article, we expect that you are much wiser and will make the right decision when you face the trouble of broken lace.
Do not panic, when your bootlace does break, remember about this boot lace length and make your purchase with confidence.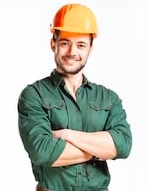 I have 12+ years of experience in construction, inspections, handy work, and currently working as a Construction Site Manager. In today's day we spent a significant part of our time at workplace and a right work gear can have significant impact not only on your safety but also work quality.