For many professionals involved in construction, industry, or agricultural work, good work boots are a necessity if not required by employers. But professional or even part-time painters are equally in need of good footwear when on the job.
Good work boots will not only protect from the occasional paint drippings, but are more important for navigating slippery surfaces, climbing ladders, and whatever is necessary to get to all those nooks and crannies when painting.
We asked several professional painting companies to have their employees test a list of work boots for painters that we compiled based on manufacturing features and client feedback.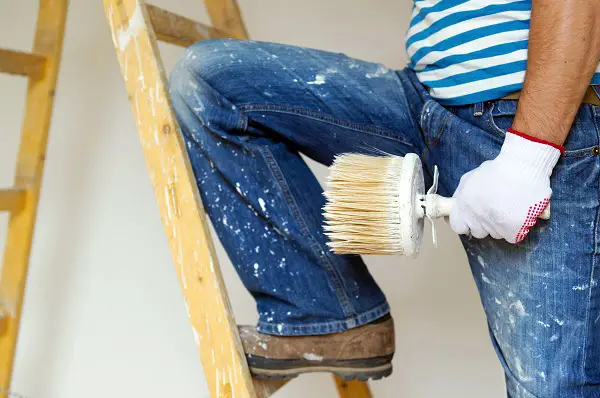 Our professional painters opted for the Carhartt Six-inch Wedge Sole Work Boots as the overall best work boots for painters because they are waterproof, breathable, comfortable, and are made in quality leather and rubber with Goodyear Welt construction.
Timberland Boondock Pro Work Boots and Thorogood American Heritage Moc Toe Men's Work Boot With Wedge Sole also made our top three choices if you are in the market for soft or safety toe boots.
| Work Boot | Uppers | Outsoles | Safety | Features |
| --- | --- | --- | --- | --- |
| Carhartt Six-inch Wedge Sole | 100% leather | Rubber | ASTM F2892-18 EH compliant | Removable insole, Polyurethane foam cushioning, Waterproofed, Standard and wide sizes, Goodyear Welt |
| Timberland Boondock Pro | 100% leather | TPU outsole | ASTM F2892-11 EH | Insulated, Waterproof, Goodyear welt and cement construction |
| Thorogood American Heritage Moc Toe | 100% leather | Polyurethane | ASTM F3445-21, slip-resistance; MAXWEAR wedge meets ASTM F2413-18; ASTM F2892-18 EH  | Fiberglass shank, Goodyear Welt |
Why Wear Work Boots at all?
Good work boots are useful for a variety of reasons. The foremost reason is undoubtedly comfort. If you need to stand on your feet most of the day to paint, your feet need to be comfortable despite long work hours and uncomfortable positions.
This means comfortable, well-constructed work boots can contribute to preventing muscle aches and pains as well as foot fatigue. Several important benefits that come with wearing good work boots are:
1.) Reduce stress on your feet.
Regardless of whether you are climbing a ladder, lifting equipment, or actually painting, by working on your feet all day, feet and legs are bound to bear the brunt of physical stress and fatigue. A proper pair of quality work boots can make quite the difference.
2.) Weight Dispersal
Well-designed work boots will disperse your body weight avoiding concentrating all the pressure on specific spots. Shock absorption capabilities can also assist in protecting feet from impact injury.
3.) Anatomical Support
Really good support for arches and ankles will also fight physical fatigue. Consider all the bending, kneeling, stretching, and unusual movements involved in painting. Good work boots will help with balance and stability to avoid slips and falls. 
With quality work boots, you'll protect your feet, fight physical fatigue, lower your risk for injury, work longer, and perform better.
Why Painters Need Work Boots
While painting may appear to be a safer, more secure job than many professions connected with construction or industrial work, it is not totally free of hazards on the job.
Any professional painter will be able to relate numerous close calls experienced while painting. Incidents that could have easily caused life-changing injuries.
The physical labor involved in painting as well as the long hours of being on your feet required by this profession can lead to constant aches and pains, that will not only be limited to feet and legs and can lead to a state of general exhaustion.
Some of the principal professional risks that painters face include:
1.) Painting in unusual positions that include lots of flexing, bending, and kneeling
2.) Falling equipment and tools risk falling on multiple points of the body including feet
3.) Heavy lifting when you need to move ladders, or equipment in general
4.) Exposure to chemicals included in paints and solvents
5.) Falling from a ladder since you'll be climbing one most of the day
6.) Electrical hazards if you are painting near sources and electrical power lines
7.) Tripping, falling, and slipping at your worksite
These are the main reasons for investing in a good pair of protective work boots for painters to reduce as much as possible the typical hazards faced daily on the job. 
Key Factors When Selecting Protective Boots for Painters
When looking for your best work boots for painters, several features can make a decisive difference in your performance for comfort, support, and protection.
1.) Arch and Foot Support
Good arch support, as well as cushioned insoles, can make quite an impact on foot fatigue and discomfort.
2.) Chemical Resistance
Painters deal continually with chemicals, many of which are toxic. Solvents, turpentine, and paint can all corrode footwear particularly when exposure is repeated or constant. 
3.) Durability
Considering that you will be involved in painting and plastering daily, your work boots will probably last a year if they are of good quality with chemical resistance and excellent traction.
4.) Flexibility
Many work boots are not specifically flexible because they are designed and constructed for heavy-duty physical labor. Flexibility is important for movement and climbing up and down ladders.
5.) Toe Cap Protection
Protective toe caps come in a variety of materials. You will be able to choose among aluminum, steel, and composite safety toe caps.
Protecting your toes from impact is important because you never know when a ladder, can of paint, or other equipment can accidentally fall on your foot. Toe protection can avoid injury and pain as well as long-term damage.
6.) Traction
A very important attribute for painters' work boots is how well they grip the surface where you are working. Slipping is one of the major risks painters face daily, so how well outsoles perform becomes fundamental to the worth of the work boots.
The Reviews
Best Overall Work Boots for Painters
1.) Carhartt Six-inch Wedge Sole Work Boot
Prices pulled from the Amazon Product Advertising API on:
Product prices and availability are accurate as of the date/time indicated and are subject to change. Any price and availability information displayed on [relevant Amazon Site(s), as applicable] at the time of purchase will apply to the purchase of this product.
Industry powerhouse Carhartt makes lots of work gear for a variety of professions with footwear known for ruggedness and durability.
These Carhartt Work boots come with rubber wedge outsoles and quality 100% oil-tanned leather uppers. Characterized by incredible breathability, not only are they waterproof but offer electrical hazard protection and comply with ASTM F2892-18 requirements.
Multilayered polyurethane and foam cushioning absorb shock and Good Year Welt construction increases durability, giving you the possibility to re-sole rather than buy a new pair of boots. Sold in five colors and in sizes from 7 to 15, both standard and wide.
Pros
100% oil-tanned leather

Rubber soles

ASTM F2892-18 EH compliant

Polyurethane foam cushioning

Waterproofed

Standard and wide sizes

Goodyear Welt
Cons
No safety toe

Some complaints about waterproofing
Check Price and Reviews on Amazon
---
Best Safety Toe Work Boots for Painters
2.) Timberland Boondock Pro Work Boots
Timberland PRO Men's Boondock 6 Inch Composite Safety Toe Waterproof Industrial Work Boot
RELIABLE DURABILITY: We reinforce our Boondock mens waterproof work boots with Ever-Guard leather and rubber toe protectors for abrasion-resistant performance.

ANTI-FATIGUE TECHNOLOGY: A comfort system designed with shock-absorbing, geometrical technology that returns energy back to the foot to deliver all-day support and comfort.

A SOURCE OF PRIDE: We know you take pride in your work, so our soft-toed shoes and boots and steel-toe boots and shoes are designed to provide you with enhanced job performance day in and day out.
Prices pulled from the Amazon Product Advertising API on:
Product prices and availability are accurate as of the date/time indicated and are subject to change. Any price and availability information displayed on [relevant Amazon Site(s), as applicable] at the time of purchase will apply to the purchase of this product.
Great resistance regardless of the work environment is what characterizes this boot. Affording oil and slippage resistance, they provide electrical as well as thermal insulation.
And they are also waterproof. An anti-fatigue design keeps feet and leg muscles comfortable during long workdays.
The boot design boasts a padded top collar, thermal plastic polyurethane outsoles with traction lugs for a great surface grip, and an appealing look. Boondock Pro Boots meet ASTM F2892-11 EH requirements. 
The design is antifatigue with integrated inverted cones for increased support. Fully waterproofed, treated boot uppers are in leather with a waterproof membrane. Available in six-inch and eight-inch options.
Pros
Composite Safety toe

EH rated

Slippage Resistance 

Comfortable

Waterproofed with membrane

Insulated

Accommodate wide feet
Cons
Insole durability is short-lived

Weigh more than other boots
Check Price and Reviews on Amazon
---
Best Work Boots with Soft Toe for Painters
3.) Thorogood American Heritage Men's Work Boot With Moc Toe and Wedge Sole
Thorogood American Heritage 6" Moc Toe Work Boots For Men
REMOVABLE ULTIMATE SHOCK ABSORPTION FOOTBED uses dual-density polyurethane concentrated under heel and ball strike zones to absorb impacts and wick away moisture for the most comfortable out-of-the-box work boot out there.

GOODYEAR STORM WELT CONSTRUCTION provides superior wear resistance and moisture seal between upper and midsole making these extremely dependable and long-lasting mens work boots.

FIBERGLASS SHANK CONSTRUCTION gives these mens work boots the flex and strength needed to maintain their shape under heavy duress, and 6-inch flexible ankle support keeps you secure up top.
Prices pulled from the Amazon Product Advertising API on:
Product prices and availability are accurate as of the date/time indicated and are subject to change. Any price and availability information displayed on [relevant Amazon Site(s), as applicable] at the time of purchase will apply to the purchase of this product.
Footwear industry giant Thorogood makes these Moc-toe-styled work boots featuring a shock-resisting polyurethane wedge sole. The uppers are produced in 100% genuine leather and come in a few colors.
The innovative feature is the MAXWear outsole. This Thorogood outsole in polyurethane resists slippage making it a good choice for painters. 
Goodyear storm welt construction is used for boot construction increases durability. Fiberglass shanks increase protection and support.
Removable footbeds are shock-absorbing. Clamshell lacing features metal eyelets. EH protection can resist electric shock up to 18,000 volts.
Pros
100% Leather Uppers

Removable Poron insole

Fiberglass Shank 

Outsole is Slip-resistant 

Goodyear Storm Welt 
Cons
No waterproofing

A bit squeaky

Need some breaking in
Check Price and Reviews on Amazon
---
Buying Your Work Boots
When finally selecting boots, check out these ten specific features and evaluate their utility in your working environment before making a definitive choice.
1.) Breathability
This is an important quality as you don't want to be sitting in damp sweaty socks all day. Excess perspiration can cause blisters, infections, and odors.
See also: 6 Best Breathable Work Boots
2.) Comfort
If you spend eight hours a day on your feet all week long then you already know how important comfort is. Get the most comfortable pair of boots you can find because those are a lot of hours spent on a pair of boots.
3.) Construction
There are two major techniques used in joining the boot uppers to the boot soles: 
Cement construction where boot components are glued together with an industrial-grade glue. These boots cannot be re-soled.
Goodyear Welt construction where a welt is created in leather, rubber, or plastic and then stitched or glued between uppers and soles. These boots can be re-soled. 

4.) Correct Fit
Work boots that are too tight or too loose, open the way for the creation of blisters, corns, and even ingrown toenails. Both extremes will inevitably lead to discomfort, so try on your boots with a pair of your regular work socks to get the right fit.
5.) Electric Hazard Protection
If your work puts you near electrical power sources, switches, or electrical wires, EH protection can grant you a bit more serenity. The boots integrate materials that are not conductive protecting you from shocks, surges, and static buildup.
6.) Insulation
Depending on the climate you work in, you may want insulation. Your feet are not cold if you work in cold climate temperatures.
7.) Outsole
The most important feature for painters will be slip-resistant outsoles. A slip-resistant sole with lots of traction is ideal. Some of these soles will also resist corrosives and acids, which is optimal for professional painters.
8.) Safety Toes
If you feel that you need safety toe protection from an impact injury, you actually have quite a few options:
Steel toes are probably the strongest in impact protection, but they conduct both hot and cold temperatures and can be a bit clunky.
Composite toes, normally produced in plastics or carbon fiber comply with safety ratings, but are lighter, and will not transfer heat or cold. They are also non-conductive.
Alloy safety toes like aluminum resemble steel toes but weigh much less.
Soft toe work boots do not offer safety protection but are a credible alternative if you are not at risk for impact injury.
9.) Waterproofing
If you risk walking in water or fluids in general, waterproof boots that keep feet dry are a plus. Wet feet can lead to sickness as well as itching, blisters, infections, and discomfort.
10.) Weight
If you are on your feet all day or up and down ladders, lightweight boots are preferable to help fight foot and leg fatigue.
A Final Thought
When it comes to your feet, safety and comfort are not luxuries, but rather necessities.
Good quality boots that offer excellent protection are worth the monetary investment because you'll be wearing them daily most likely for at least a year.
Spend the time to find the best pair and then spend the money to protect your feet while on the job.