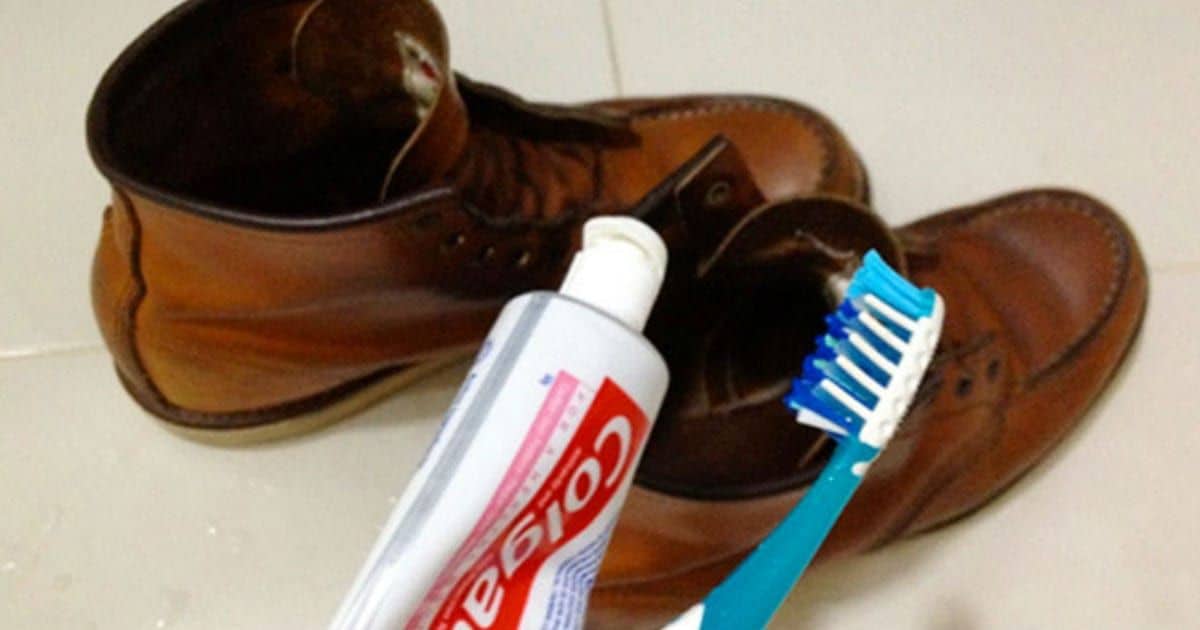 Scuffs on leather boots can be very menacing as they create a gateway for dirt and grime on the surface. Furthermore, it ruins the quality of leather in the long run. There are many ways to fix scuffs and scratches on leather boots, which you can do on your own using household products and specific products created for it, instead of giving them to a cobbler. 
Toothpaste is one such household product that works for leather boots scuff. It works on leather, patent leather, synthetic leather, as well as on rubber shoes. All you need is a toothbrush or a cloth to apply toothpaste on the scuffs of the boots. 
Steps to Apply Toothpaste on Leather Boots Scuff
1.) First and foremost, clean the leather boots thoroughly to get rid of any accumulated dirt. Remove the laces if any. 
2.) You will need the generic plain white toothpaste for it to work on repairing scuff marks. 
3.) Apply some of it directly on the scuffs of the boots, then using a soft, clean cloth or old toothbrush, rub it gently to cover all the affected areas. 
4.) A little water can be used to create some foam to help with the process of scrubbing the scuffed parts.
5.) Do make sure to let the toothpaste reach every part of the scuffed leather.
6.) Once the above steps are done. Wipe off the toothpaste residue with a soft, clean cloth. And let the boots dry naturally at room temperature. 
7.) After they dry, they are ready to be worn again, and you did not have to shell out a big sum of money in fixing them up. 
Why does toothpaste work on leather boots scuff?
Toothpaste works because of the corrosives present in it. The same reason why it works on keeping our teeth clean and white. Furthermore, it aids in protecting the leather without damaging them. Apart from leather it also does a wonderful job on canvas shoes. 
What are the other ways of fixing leather boots scuff?
If you are wondering about the other ways or other household products that you can use on leather boots for repairing scuffs, you have come to the right place. Below I have listed out the various other products and methods that can be applied. 
1.) Baking Soda for scuffs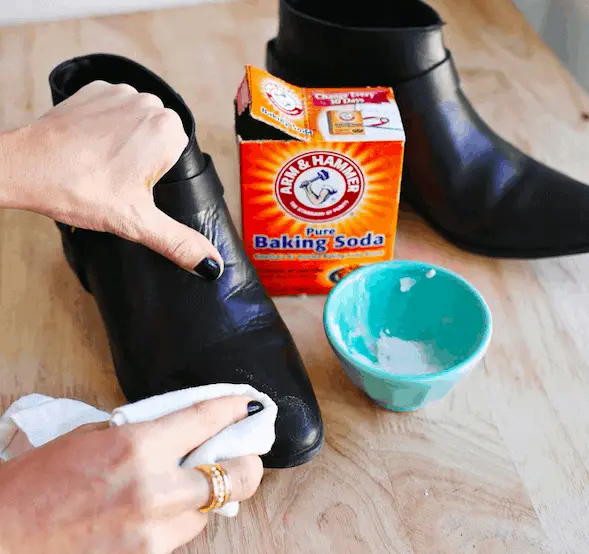 Leather boot scuffs and marks can be fixed with baking soda as well.
You will need some lukewarm water and a clean cloth.

Take a couple of tablespoons of baking soda and mix it with the water.

Depending on the area that needs fixing, you can use more baking soda.

Make a moderately runny paste of the two, then use the cloth to dab in the solution. Rub it gently all over the scuffed areas until you have covered it all.

Once done, remove any excess paste and wipe the leather with a damp cloth or a paper towel.

Leave the boots to dry naturally at room temperature. Your boots will then be ready to be worn again. 
2.) Vaseline or Petroleum Jelly for scuffs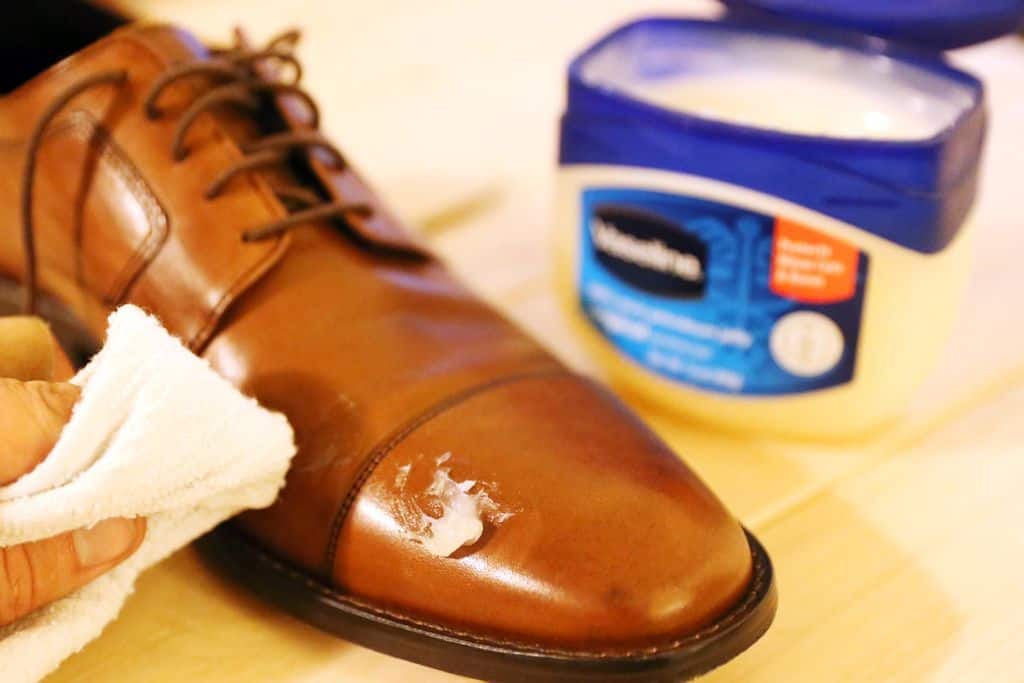 Another easily available and useful household product is Vaseline or any other petroleum jelly for removing scuff marks from leather boots.
First, you need to clean your boots if they are dirty.

Then rub some Vaseline on the boots using your fingers or a cloth.

Once you have covered all the scuffed marks, use a clean paper towel or cloth to smoothen it up.

Lastly, leave the boots to air dry. 
3.) White Vinegar for scuffs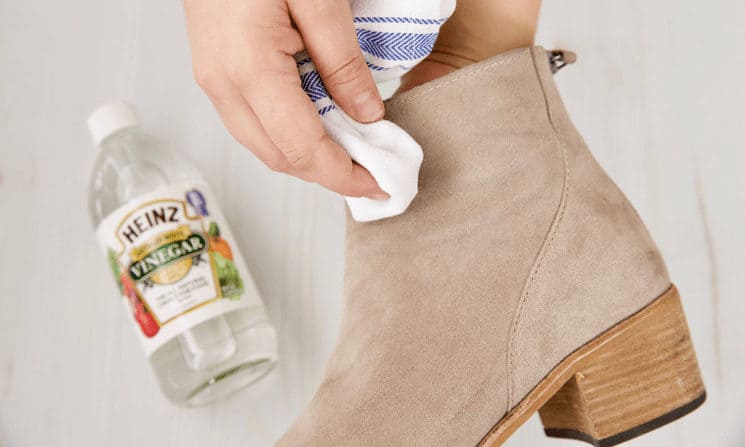 White Vinegar is one of the most common items found in every household. Apart from being a useful ingredient in a variety of dishes, it helps remove salt stains and scuffs from leather due to its acidic nature.
Dilute the vinegar in some water, then use a cotton cloth or paper towel to dab the solution with and apply it throughout the boots.

Once done, use a paper towel to dab the moisture out from the leather.

Leave it to dry overnight before wearing them again.
4.) Nail Polish Remover for scuffs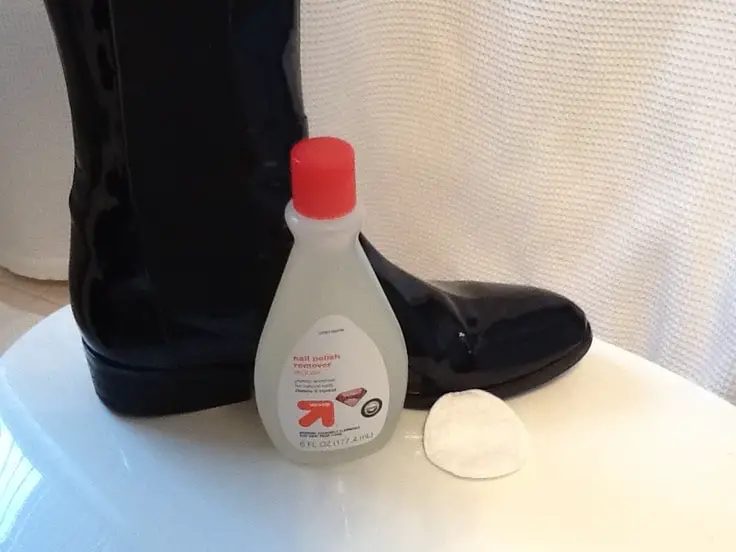 Almost every woman answered yes when asked if they own a nail polish remover. Hence, it made it to the list of household items that are good for removing scuffs from leather boots.
Take a cotton ball and dip it in the bowl of nail polish remover.

Now, gently smear it all over the marks in a circular motion, it is like polishing.

This is good for synthetic, real, and patent leather boots.

Point to note before using nail polish remover, it should be a non-acetone one, otherwise, it can ruin the leather. 
5.) Eraser for scuffs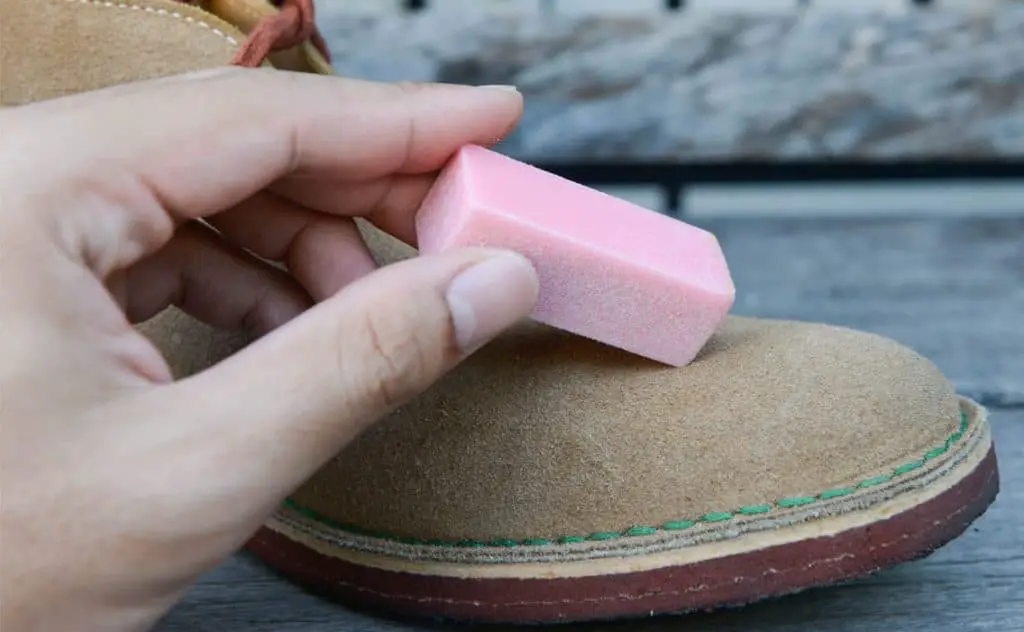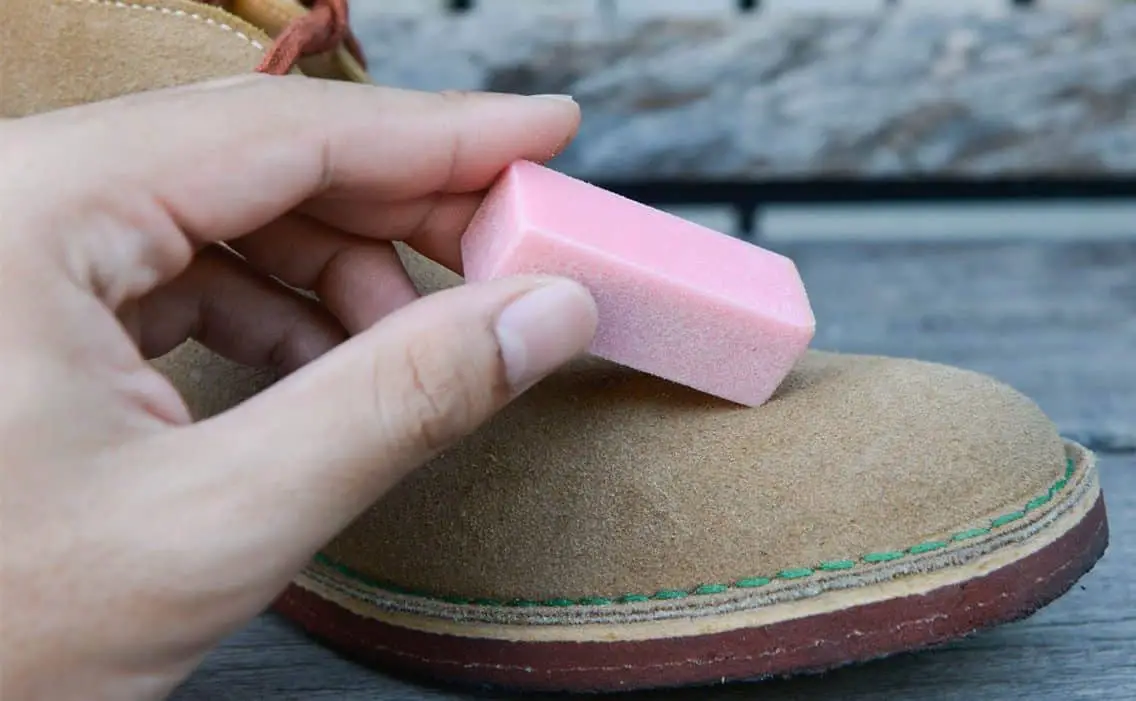 A regular pencil eraser is what you need to clean off scuffs from leather boots. It particularly works wonders on suede and patent leather.
Take the eraser and rub it gently over the dry scuffs until they start reducing.

With suede, you should be a little cautious while cleaning as it is one of the more delicate leathers, and being rough can damage them.

Use a clean, dry cloth to brush off the residue. 
Apart from the above-mentioned household products, leather scuffs can be fixed with commercial products as well which will serve the purpose better. 
1.) Shoe or boot scuff products can be found online or at shoe stores that are particularly fashioned for removing scuff marks from footwear. For each type of leather there will be a different type of shoe scuff product available, therefore, make it a point to read the label carefully. Using the wrong product can damage the material for good.
2.) Shoe or boot polish is a smart way to remove scuff marks on boots. Make sure that the color of the polish matches your boots. While polishing the boots, pay more heed to the scuffed parts to cover it evenly. 
3.) Shoe or boot wipes are an on the go solution to getting rid of scuffs and stains. They can be easily found at stores and online. Keeping them with you while wearing leather boots is very useful as you can instantly rub it on new scuffs if any. In turn, saving you the time and energy from treating them at a later stage.
4.) Magic erasers as they are called work perfectly on leather scuffs and marks. You will need to dampen them slightly before rubbing it on the required area. They can be used on suede and canvas as well. 
Things you can do to avoid getting scuffs on leather boots
It is quite impossible to completely prevent your leather boots from getting scuffs and marks. However, there are a few simple steps you can follow to reduce its chances. 
1.) Make it a habit to polish leather boots often with the appropriate color. Cover the entire surface of the boots evenly. 
2.) Invest in a protective spray that you can buy at shoe stores or on e-commerce sites. One thing to keep in mind while buying them is that it should be for the specific type of leather your boots are made of.
3.) Avoid wearing leather boots while going to places where you must walk on uneven or dirty surfaces. Instead, keep a pair for rough daily use. 
Wrapping up
Scuffs and stains on leather boots spoil the look to the extent of not wanting to them altogether or worst-case scenario you pitch them out. As winters are approaching, it is wise to take out those leather boots now and start treating them. Especially for people living in places with abundant snow, leather boots become the staple footwear. Chances are they have already been scuffed from the previous year.
Apply any of the above methods as they have been tried and tested by me. Always be sure to learn about the type of leather your boots are made of before sitting down to treat them. Using the wrong product will lead to ruining them in the long run.