Suede boots are a great addition to your collection of boots and shoes. They are smart, stylish, and comfortable, but quite high maintenance to keep. Some people often avoid buying them altogether because they can be difficult to clean.
If you ever tried cleaning your suede boots with hand soap, then you probably ruined them already. So to clear your confusion – you CANNOT clean suede boots with hand soap, because they will be damaged and you will have to throw them out.
Suede as a material is made from the bottom part of an animal's skin and is a type of leather with a napped finish. It is not as durable as leather but is more supple. 
Now that you've learned the con of using hand soap on suede boots, I am going to help you with tips and products that you should use to clean them with by yourself, instead of giving them to a professional. 
How to Care for Suede Boots?
Before I get into how to clean suede boots, it is beneficial to learn how you can take care of them. 
1.) The first thing you need to know about suede is that you need to keep it away from water, as they don't go hand in hand. (How to Waterproof Suede Cowboy Boots?)
2.) If suede boots get wet, you should let them dry naturally instead of throwing them into a dryer or using a hairdryer. Doing so will damage the material. 
3.) They also don't do well when kept in an enclosed space, as fungus starts to grow on them due to moisture. This material needs to be exposed to air.
4.) Do not wash or clean your suede boots in a washing machine, they are not meant for it. 
5.) Never clean suede boots with plain water as it will leave stains and result in discoloration of the boots.
6.) Suede boots should not be packed in plastic bags as they are not breathable. Always use materials like cotton bags to pack them in, in a case where you need to transport them from one place to another.
7.) You should never polish suede boots as you would normally do with other types of boots or shoes, as it will ruin the material further. 
8.) Avoid giving suede boots to a boot polisher even if they claim to use the appropriate tools to clean them with.  
Steps to Clean Dirty Suede Boots
One of the simplest ways to clean suede boots is by investing in a suede cleaning kit that is available online and at stores too. The kit comprises of a brush, and an eraser, making the cleaning process quite easy.
1.) Brush the Suede Boots: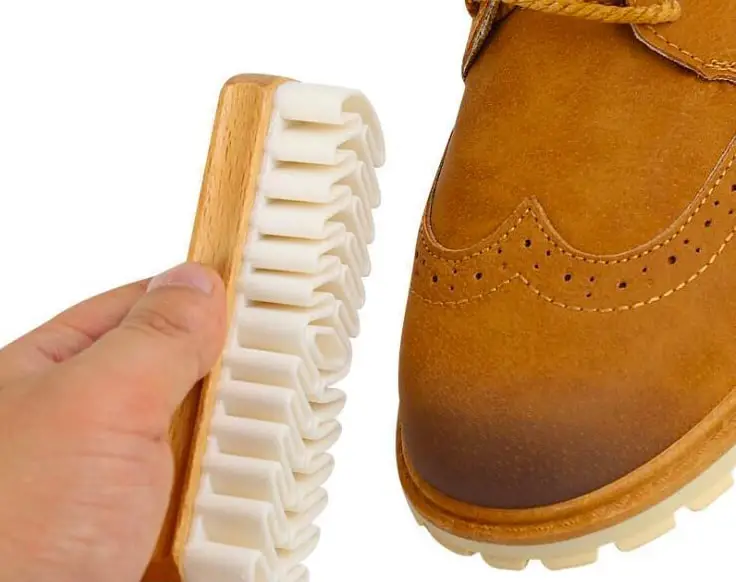 To start with, you need to make sure that your suede boots are completely dry. Then use the suede brush to gently rub off the dirt from the boot, in the natural direction of the fiber instead of against it. This helps in keeping the smooth appearance of suede boots or shoes intact.
An alternative to suede brush is a regular toothbrush.
If you've got only some mud on the boots, it is best to let them dry first. Post which you can easily clean them with the suede brush. 
2.) Use the Eraser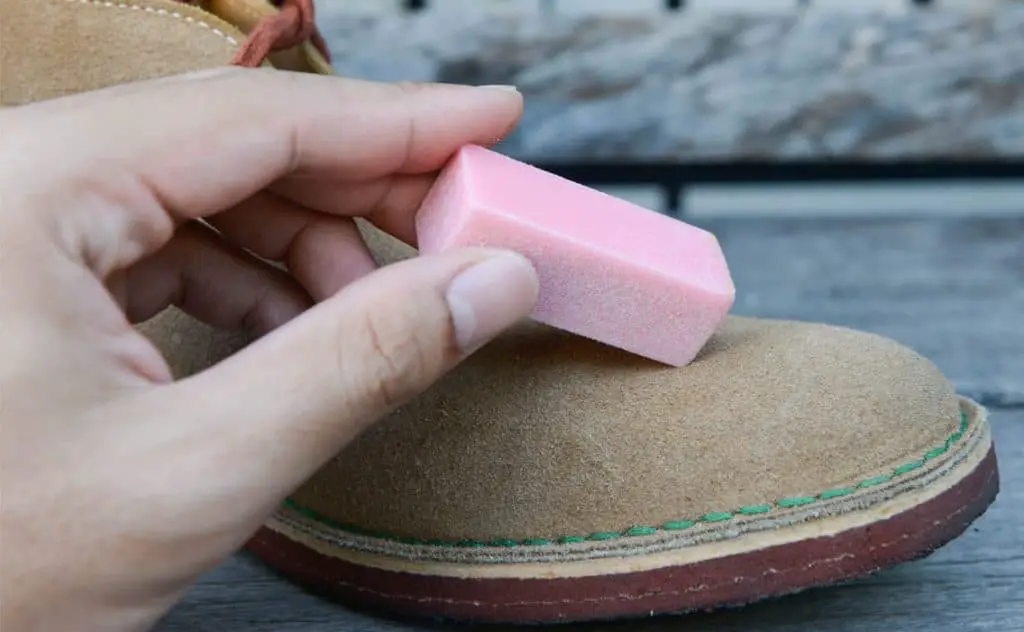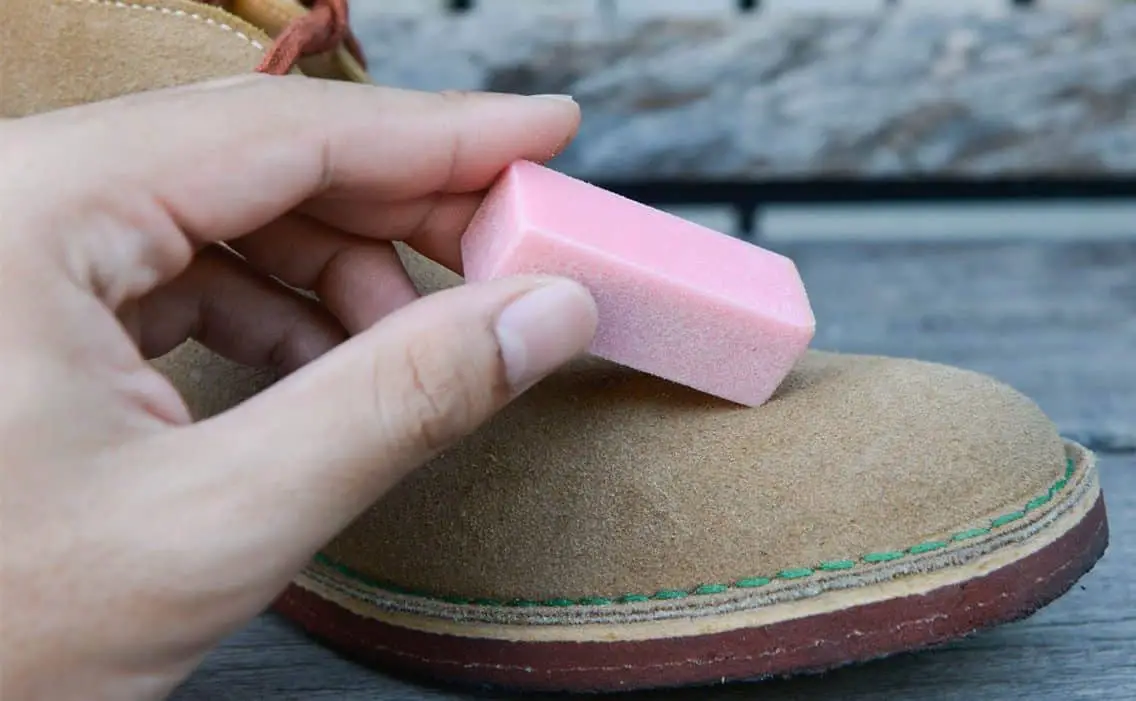 While the suede brush does a great job removing dry dirt from boots; the suede eraser helps in removing stains from the fabric. Rub it on the stained part by applying some pressure. If there are no stains on your boots, then this step isn't necessary. 
3.) White Vinegar: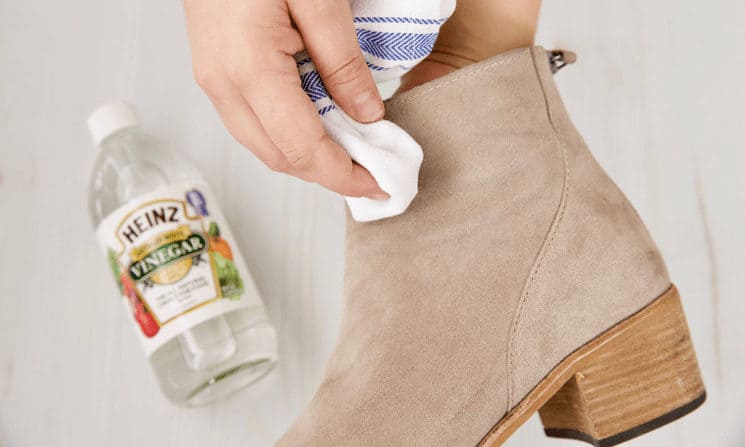 If there are tough stains on your boots, then a suede eraser might not be enough. In this case, you can use white vinegar to remove them. Take a dry cloth or towel and dip it in some vinegar, then apply it to the stained area.
You will notice the stain disappearing slowly. Once done, let it sit to dry, after which you can use the brush one more time to fuzz the suede boots back up. You can even dab a dry towel on the boots to remove any excess vinegar.
See also: Can You OIL Suede Boots?
4.) Suede protector spray: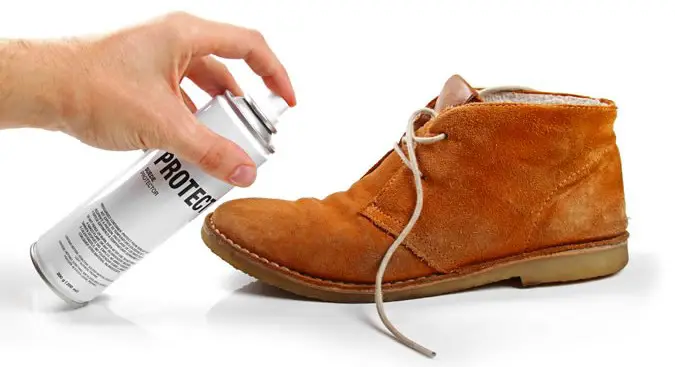 The final step would be to spray the suede protector on the boots to seal the fibers. Doing this will help prevent them from getting stained again and make it easier to clean the next time around. One pro-tip is to spray the protector on the boots when they are still new.
5.) Before you start cleaning your boots, insert some paper or a shoe tree (if you have one) into them. This will help maintain its shape. Due to the pressure, while cleaning them, it is normal for them to lose shape. Now we don't want that to happen!
Below is a list of recommended suede care products that you can buy on Amazon.
1.) Sof Sole Suede and Nubuck Cleaning Brush Kit
It helps in getting rid of greasy spots, and stains from suede and nubuck footwear.

It cleans and restores without the use of liquid.

The package contains a brush and an eraser. 
2.) Suede and Nubuck Cleaning Kit By Care Guys
It thoroughly removes stains and soil from suede and nubuck.

Does no harm to the color.

Helps in bringing back the original texture of the suede and nubuck leather.
3.) Liquiproof LABS Premium Protector Spray
The protective coating prevents damage from everyday spills and stains.

Safe and suitable for suede, leather, nubuck, and sheepskin.

It is water and oil resistant.

It is breathable, odorless, non-aerosol, and long-lasting.
4.) Moneysworth & Best Suede & Nubuck Protector
It can repel water, soil, and stains.

Works perfectly on suede and nubuck boots and shoes.

Protects from rain, and humidity.

Prevents fading of color.
5.) Kiwi Nubuck Stain and Suede Cleaner Kit
It can clean tough oil stains.

It is long-lasting that can clean up to 50 pairs of shoes.
6.) Jason Markk 3691 Suede Shoe Cleaner
7.) Bickmore Suede and Nubuck Cleaner
Works on suede and nubuck.

It softens and conditions the material.

Does not leave any chemical residue after use.
8.) Angelus Suede Shoe Cleaner Kit
A very versatile product that is perfect for suede, leather, nubuck, rubber, etc. 

The package contains a premium microfiber towel, a cleaning brush, and an easy cleaner bottle.
9.) Pedag Suede Shoe Cleaner Kit
It helps in restoring and brightening the color of suede

Repels dirt and water

Also restores the leather nap
10.) Reshoevnr8r Brush Shoe Cleaning Kit
It is a highly concentrated solution, which makes it long-lasting.

Apart from suede, it also works on canvas, mesh, and several other materials

Package contains 3 types of brushes  
Wrapping up
Please note that the above list is not in any order of preference or rank. They are my recommendation solely based on the reviews, pros, and cons. For more details, you can check the product description on the website. 
Whenever you decide on cleaning your suede boots, do remember to check the manufacturer's label for care instructions, because each pair is made from the skin of a different type of animal. Although caring for this material will be mostly similar, it is wise to take note of the special instructions.