While there are many shoe cleaning kits available on the market, these are not necessarily the best choice when it comes to cleaning work boots. Most work boots are manufactures in leather which will require specific products, while shoes come in all types of materials and combinations of material.
Maintenance is an important part of getting the most worth out of your investment in a pair of work boots. We decided to investigate and test cleaning kits for the care and maintenance of work boots.
Here is what our team of professional plumbers, electricians, farmers, industrial machinists, and construction workers discovered when trying out a generous selection of work boot cleaning kits.
Our top choice fell to the Bickmore Boot Care kit. This cleaning kit really hit the mark because of the excellent products and the fact that they came in 8 fl. ounce sizes. This means you won't have to repurchase products after every boot cleaning.
We also like the FootFitter Sued Revitalizing Boot Cleaning kit because both suede and Nubuck work boots have maintenance needs and this kit seems to have covered all the bases.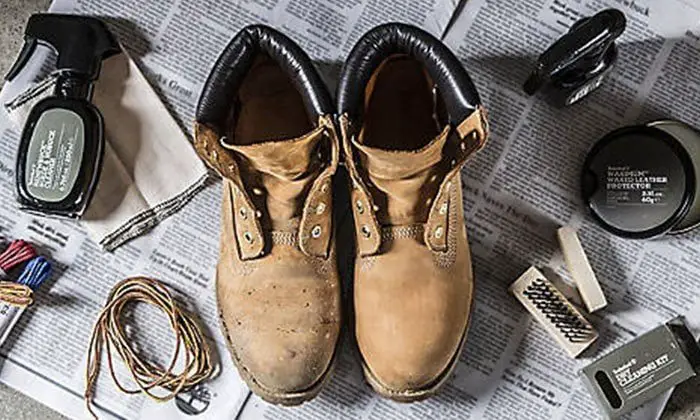 Top Boot Cleaning Kit Reviews
Best Work Boot Cleaning Kit
1. Bickmore Boot Care Kit
Bickmore Boot Care Kit
Contains Bickmore Bick 1 to clean, Bick 4 to condition, and Gard-More to protect.

Bick 1: Remove surface dirt, grime, sweat, and salt stains from smooth finished leathers.

Bick 4: Follow up Bick 1 with Bick 4 to rehydrate, soften, and polish, without darkening your leather!

GARD-MORE: After cleaning and conditioning, use Gard-More to protect against water and stains while minimizing rub off and scuffing.
Prices pulled from the Amazon Product Advertising API on:
Product prices and availability are accurate as of the date/time indicated and are subject to change. Any price and availability information displayed on [relevant Amazon Site(s), as applicable] at the time of purchase will apply to the purchase of this product.
While the Bickmore Boot Cleaning Kit may not include fancy brushes, it does offer three excellent care products in a transparent case.
The Bickmore Bick 1 is an aggressive cleaning solution that can be used to remove dirt, salt, grime, and even perspiration stains from boots. It should be sparingly on a dampened cloth for deep cleaning.  
Bickmore Bick 4 is a leather conditioner that follows cleaning to rehydrate, polish, and soften the leather to help your boots maintain that appealing worn leather appearance.
Also included is the Bickmore Gard-More Solution which is meant to protect against stains and water through a light barrier that still permits breathability.
While this kit is ideal for leather work boots, it can be used on purses, briefcases, jackets, motorcycle, and car seats, as well as saddles and tack for equestrian needs. It can also be employed for exotic leather products.
Pros
Deep cleaning solution

Softening conditioner

Stain and water guard

Good sized products in 8 fl. ounce bottles 

Great for a multitude of leather products

Cleaning cloth

Leather care instructions
Cons
Some reports of aggressive boot dye removal

Reservations about the waterproofing spray 

Some reports of can leakage
Check Price and Reviews on Amazon
---
Best Leather Work Boot Cleaning Kit  
2. Cobbler's Choice Essential Leather Kit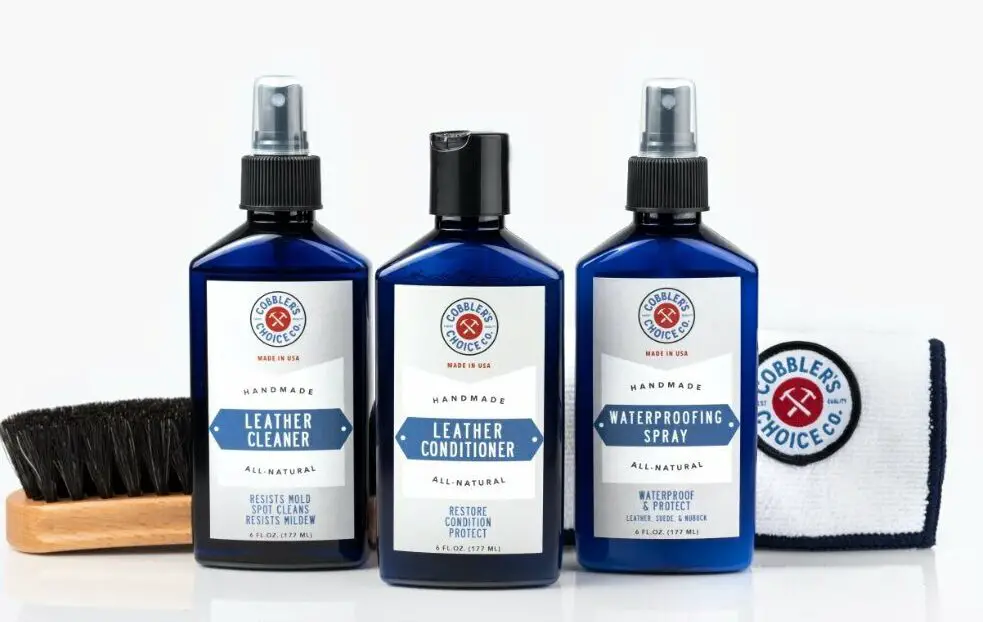 This kit by Cobbler's Choice includes all the essentials for keeping leather work boots in tip-top shape. It is more expensive than other options.
This kit includes a leather cleaner, a leather conditioner, a waterproofing spray, a microfiber cloth, and a shoe brush. Cobbler's choice has an excellent well-earned reputation for its products.
Easy-to-follow instructions are also on all product labels, making their 3-step care routine quick and easy.
The leather cleaner is a natural formula that is phosphate-free used for removing stains and dirt build-up. The conditioner is in a propellant-free form with 100% natural ingredients.
Likewise, the waterproofing spray is propellant-free and all-natural designed to protect from water and other elements.
The Cobbler's Choice German made brush features bristles made from 100% horsehair. A microfiber cloth that is 12 x 12 inches is included for use with the cleaner and conditioner.
Pros
Top quality all-natural products

Propellent-free waterproofing spray and conditioner

German-made 100% horsehair bristle shoe brush

Microfiber cloth included for easy cleaning and conditioning
Cons
---
Best Suede Leather Work Boot Cleaning Kit 
3. FootFitter Suede Revitalizing and Boot Cleaning Set
Prices pulled from the Amazon Product Advertising API on:
Product prices and availability are accurate as of the date/time indicated and are subject to change. Any price and availability information displayed on [relevant Amazon Site(s), as applicable] at the time of purchase will apply to the purchase of this product.
Manufacturer FootFitter has filled its suede boot cleaning kit box with lots of goodies. It can be used for the care of boots in either suede or Nubuck leather.
A hardwood handle rubber bristle brush is included for removing deep stains and grimes from your boot. Along with this is a plastic handled brush 4-in-1 suede cleaning brush with bristles in a mix of compounds including silicone, nylon-brass, and rubber to not only clean but to restore suede uppers.
Another neat thing included in this care kit is a triangle brush intended specifically for the care of suede leather that is a version of the larger two brushes together with a suede eraser tool for deep stains, making it ideal for travel or to keep on hand in your toolbox or briefcase.
Two mini brushes are included, one with brass bristles for really tough stains, and the other with nylon bristles for reviving the look of your suede boot uppers. The entire set of specifically designed brushes comes in a nifty tin container for easy storage.
Pros
Ample selection of brushes for all suede care needs

Travel-sized brushes included 

Nice tin carrying box for storage or transport

Affordable

4-in-1 suede brush

Triangular 3-in-1 brush
Cons
Could include products for boot parts that are not produced in suede
Check Price and Reviews on Amazon
---
Best Nubuck Leather Work Boot Cleaning Kit 
4. TBL® Nubuck Leather Boot Kit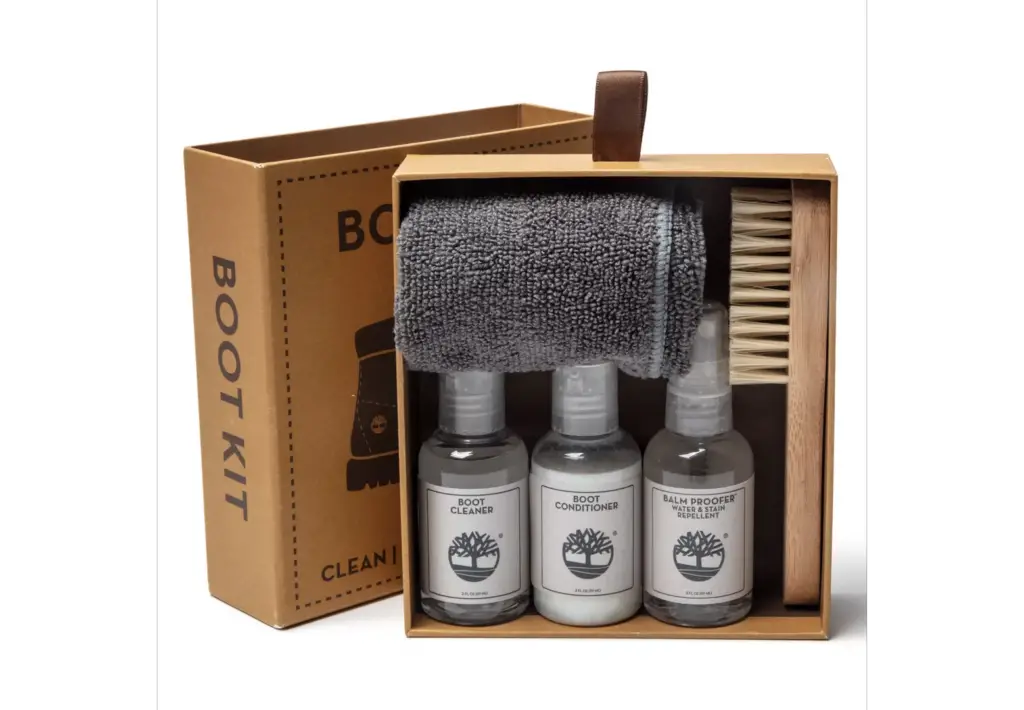 This particular boot care kit has been formulated by Timberland specifically for use on Nubuck leather only.
Created to keep leather work boots manufactured with Nubuck leather in the best possible condition, the kit comes with a brush and a towel together with three essential maintenance products in a 2 fl. Oz size.
These products include a boot cleaner, a boot conditioner, a repellent for water and stains, and instructions written in French, German and English. The idea is to clean, condition, and protect your Nubuck work boots.
Produced in the USA, the kit comes in a reusable box.
Pros
Timberland produced for their work boots

Specific products for Nubuck leather

Clearly written instruction booklet

Cleaner, conditioner, and water repellent in one kit

Brush, towel, and box are reusable
Cons
Exceptionally small bottles of product
---
Best Oil-Tanned Leather Boot Cleaning Kit
5. Red Wing Shoes Care Product Kit for Oil-Tanned leather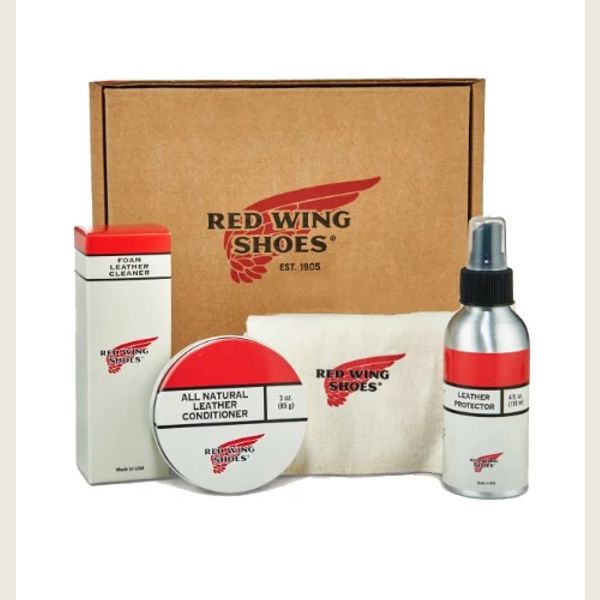 Manufacturer Red Wing has created a special leather care kit just for oil-tanned boots. It includes products designed to maintain and care for the unique qualities of oil-tanned leather. 
The kit contains a leather cleaner that is a foam cleaner, a leather conditioner that is produced with natural ingredients, a leather protector product, and cloths specifically for the care of oil-tanned boots.
Red Wing created these products specifically to prolong the lifespan of their oil-tanned boots, meaning they will last longer, and you get more for your money. The Leather Care kit is manufactured in the U.S.A.
Pros
Protects and lengthens boot lifespan

Perfect for cleaning and polishing work boots

Cleaning towels included

Foam cleaner, natural conditioner, and leather protector 

Specifically for oil-tanned leather boots
Cons
Conditioner may darken leather a bit
Taking Care of Your Work Boots
It does really matter which brand of work boots you have purchased. They require care to last. If you have just purchased a new pair of work boots, here are a few tips to begin your care routine as soon as your boots come out of the box.
1. Breaking Your Boots In
Some boots may not require breaking in or very little. Nonetheless, you should wear your boots around the house for several days before wearing them for a full workday.
During these breaking-in days, apply a good leather boot conditioner to speed up the process. It is best to leave waterproofing after your boots have been broken in.
2. Waterproofing
Most leather boots are not waterproofed although there are exceptions. Many will be water-resistant, but that doesn't mean you can stand in a stream of water in them. If your boots have no waterproofing or water-resistance treatment, you will want to waterproof them.
Clean your boots before waterproofing them with a cleaning product that is water-based. Clean your boots using a nylon brush. Once you have finished cleaning, you can apply a waterproofing product to your boots.
It should be water-based. After a couple of weeks, apply a new coating of waterproofing product, and several weeks after that apply a third and final coating for the best protection.
3. Cleaning Maintenance
If you want your boots to last and remain in good condition, clean them occasionally, or when they need it depending on your job.
A good water-based cleaning product with a cleaning brush with nylon bristles is ideal. Brush the boot seams thoroughly to remove dirt and grime completely.
Also, apply a good leather conditioning product to keep those boots supple and flexible during wear.
Should you need to clean the insides of your work boots, this can be done with common shampoo that is low in pH. If you choose to do the inside, make sure to rinse well to avoid any soap residue. 
Water-based products are great options when caring for your boots, and there are several very important reasons why. First off water-based products can be applied both to dry boots and wet boots and do not require any heat for product penetration as heat can potentially damage leather.
A water-based product will not attract dust, dirt, or grime onto the boot surface. Also, if you happen to use a lot of products, excess amounts will not harm the boot.
Breathability is an important consideration in any work boot. For those professionals involved in physical labor, a lot of foot sweating can go on.
By using a water-based product you do not impede the leather's natural breathability by clogging leather pores and impeding the evaporation of foot perspiration. 
Considerations for the Maintenance of Older Boots
Your initial consideration should be how clean your boots are. Dirt, wax, oiling, or waterproofing residue all need to be cleaned off thoroughly.
If you have old dirt or product residue, you may have to repeat the cleaning process a few times, again paying attention to the seam area of the boot.
A leather conditioner is really a must with older leather. As leather ages, it will stiffen and dry out. If leather dries out totally, it may crack where you bend your foot or leg. A leather conditioner can help prevent this.
Cleaning the inside of an older work boot is equally important as cleaning the outside. A gentle shampoo with low pH can be used to help remove dirt, odor, dead skin, and salt buildup from perspiration that has remained on the inside of the boot. A good odor-eating spray can help if odor is a problem.
Once the older work boots have been cleaned both inside and out, you can waterproof the boots anew. 
Conclusion
Regardless of how dirty or how badly beat up your work boots get; quick and easy maintenance can not only save the day but prolong considerably the lifespan of your work boots.
With regular cleaning, conditioning, and waterproofing, your boots will last longer meaning you're receiving more value for the money you invested when purchased.
And when selecting your maintenance products, remember ingredients matter. Know what you are putting on your dependable work boots when cleaning and caring for them.