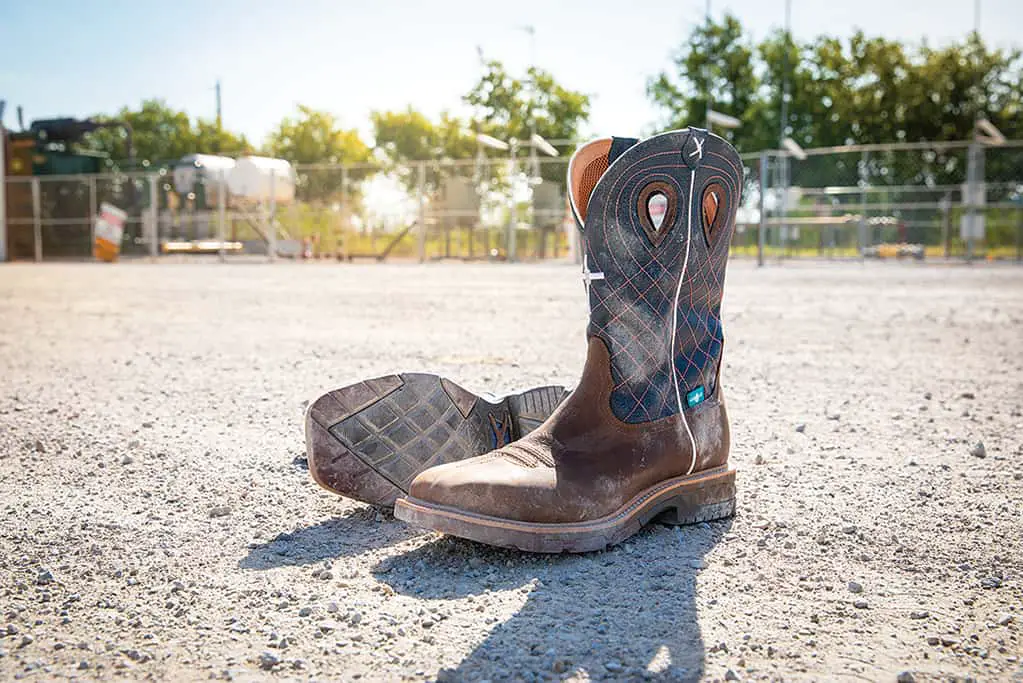 Cowboy's boots, the name says it all! Seen as a style statement these days, the cowboy boots are owned by people of almost all age groups. However, these sturdy varieties of boots are age-old and appeared in the late 18th and early 19th century. So why the name cowboy?
If you are thinking that the boot has derived its name from the cowboys then you got it right! Most cowboys of the western United States needed a boot that can protect their feet and can easily help them maintain balance while riding a horse. And that's when these tough boots were born. No doubt cowboy boots are one of the toughest boots available in the market but are they really comfortable?
Yes, Cowboy boots are comfortable to wear for work as they are easy to put on and off, are made of slip and oil resistant outsole, and comes with a cushioning and steel shank which offer you the much needed comfort and stability required to work all day long.
Not just this, the cowboy boots are not labeled for riding only but you can actually use them at various work sites. I agree that pulling off these boots is a bit of a challenge but with many designs and styles available in the market you have plenty of options to choose the best pair for you.
We all know that aesthetically these boots are on top of the list but the build of these boots is also highly appreciated for its comfort and durability.
Top 10 Best Cowboy Work Boots for Men and Women
So, read this guide till the end to discover the variety of cowboy boots and other related information to them. We will also introduce ourselves to some of the best cowboy work boots which you can wear at your workplace in style. So let's get started!
Where Can You Wear Cowboy Work Boots?
All hardworking people out there, you can easily keep up with any job you want with these durable cowboy work boots. The boots are performance driven with a true Western look.  So where can you wear these boots?
Well, the cowboy work boots are meant for ranching, forestry, agriculture, at various construction sites, plumbing or other tough works.
The boots of some brands showcase a high level of craftsmanship and advanced technologies that are supportive almost all day long with a breathable and stabilizing design to minimize stress load on your feet.
The boots are also well-suited for people working in oil factories as the boots are oil and slip resisting.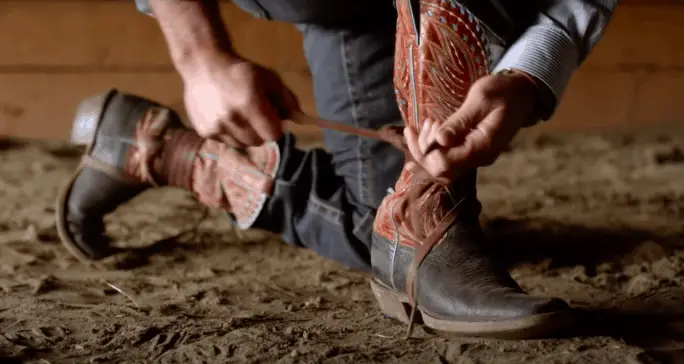 I know if you are buying cowboy style work boots, chances are you might wear them in extreme weather conditions. But don't worry some cowboy work boots give top of the line protection from wet conditions and foot injuries.
These boots are meant to keep your feet safe from heavy falling objects, piercing accidents and other on-the job hazards. In short, these boots are suitable for almost all work sites. You just need to choose accordingly! 
Design of the Cowboy Work Boots
All cowboy work boots have got some essential parts and features which make them different from other class of work boots. I have summarized the design of cowboy boots so as to make it easier for you to have a clear understanding about the construction. We will further look into detail of each part.
Boot part/ Boot type
Characteristic

Toe shaft

Pointed toe/ Snip toe

Sole

The outsole is mainly made of leather

Heel

High: 2" or more

Tilt 60 degrees to 70 degrees above the ground

Shaft

Height from 11" to 14"

Vamp 

There are many motifs
The Shaft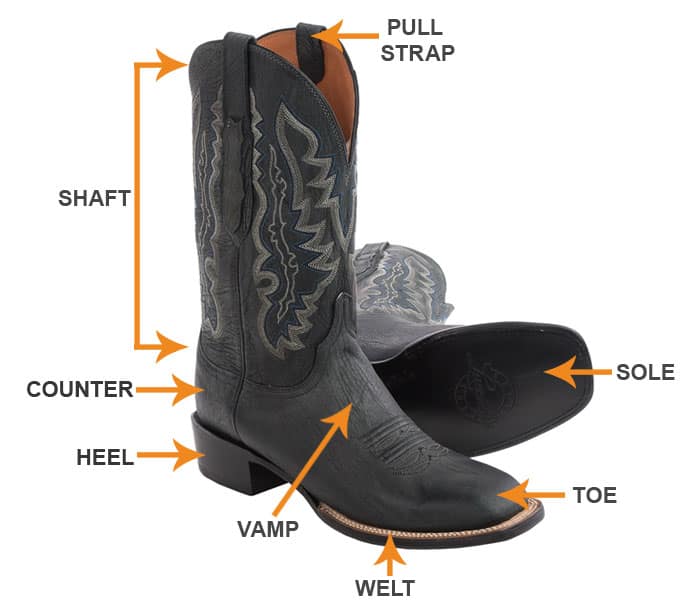 The shaft is the top part of the boot which protects your ankle and lower leg. If we take a look at the traditional cowboy boots then they come with very sophisticated and detailed shafts. And yes, the height of the shaft is higher compared to other work boots ranging from 11" to over 14".
Boot Vamp
This is the topmost area of the foot and withstands the bending and should be comfortable enough so that your fingers don't hurt. It's the vamp which is the biggest highlight to distinguish traditional cowboy boots from all other types of boots and is made keeping resilience in mind to overcome bending and stress so that it doesn't break.
Boot Heel
The heels of these boots are quite high and often focus on balancing, unlike western work boots which prioritize walking comfort. The cowboy boots are inclined so that they can easily be hooked into stirrups and balanced on worksites.
Sole
The outsole is not very thick instead it is a bit thinner and made of leather or sanded leather. If we talk about muck or hiking boots that have rubber outsoles so they work as shock absorbers and are different from cowboy work boots. However, the outsoles of cowboy boots are designed for treading through heavy dirt on hard floors.
How to Choose Cowboy Boots?
Let's look at some of the selecting features that should be kept in mind while selecting a preferred cowboy boot so that you can have a better understanding about the boot that will have quality, resilience and style.
How To Fit Cowboy Boots - Ariat Presents
Insoles
I would suggest you to read the specifications before purchasing cowboy boots as they may look tempting from outside but outer appearance will not tell you inside information.
If you want to feel relaxed then always choose the boot which has an EVA- cushioned footbed. The boot which features cushioned insoles are worthy for continuous wear.
Material
We have already read that these boots are made of traditional leather which is extremely robust and tough so that you can wear cowboy boots at work.
Sometimes artificial materials are used in constructing these boots but these are not as tough as the conventional ones. So always make sure that if your work requires sturdy work wear then always go for the traditional leather cowboy boots.
Size
When it comes to size you have to consider two points. First is the time of the year when you are purchasing them and second is your occupation. If you have long working hours or if you are purchasing in winter then I would suggest you to buy a half size bigger. But if you are purchasing in summer, you can get actual size since you'll be wearing thinner socks.
Besides the above mentioned points, if you are really into cowboy boots and looking for the most comfortable pair then make sure you find a boot that goes with your lifestyle. Also, don't forget your wardrobe as it plays a major role in deciding how you are able to pull off these boots.
Best Cowboy Boots Available in Market
Now let us look at the top three cowboy work boots in the market which have made it to our list of the best 
1.) Ariat Men's Hybrid Rancher H2O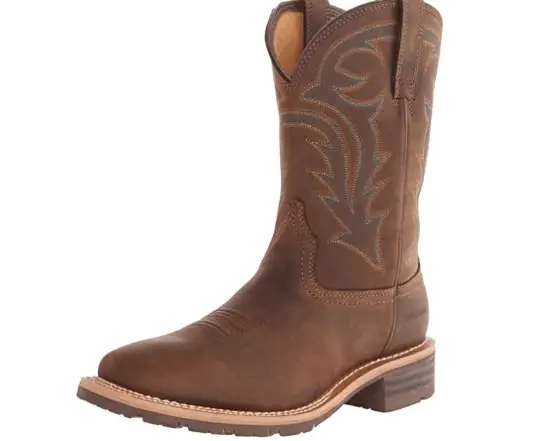 Wear these Hybrid Rancher boots which are stylish, comfortable and promise to make you look outstanding. Made of 100% leather, these boots are meant to last longer without disappointing you.
The robust construction of these boots comes from the mesh lining around it. But don't worry the solidness doesn't affect the comfort. In fact, these boots are pleasant and soft on your feet. The shaft measures 11.5" and the opening around the boot is 14". 
Designed keeping your safety in mind, these Ariat boots are not only long lasting but also act as a shield in harsh environments or in case of an accident. Moreover, the boots are waterproof and come with rubber outsoles which apart from keeping your feet toasty protects you from electrical hazards. Additionally, the dual-loop pulls designed on the sides makes it easy to wear these boots quickly. 
Pros:
Great traction on all terrains, 

Very comfortable

The waterproof lining which provides excellent safety.

Wide square toe profile
Cons:
The sole is not very durable
Check Price and Reviews on Amazon

---
2.) Durango Men's Rebel Boot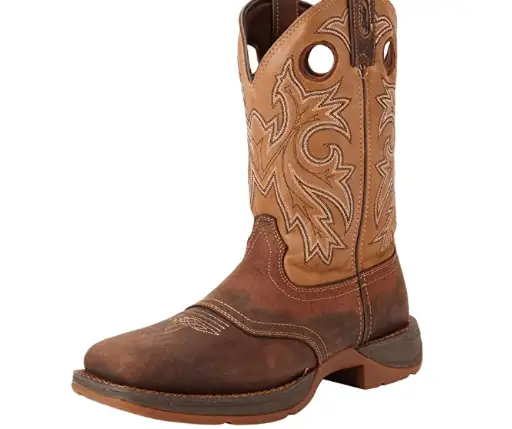 These are the boots that you can pull off in style. The boots are made up of traditional leather which makes them sturdy and tough looking. The boots don't break or wear out in rough conditions and can withstand extreme pressures.
These boots are perfect if you are working on wet and slippery surfaces as the boots are designed to avoid slippage. The rubber abrasion sole with dual density gives you a firmer grip so that you keep solid on the ground and are protected from fatal falls.
One thing I like the most is the weight of these boots because you don't feel a thing after wearing them. These cowboy boots have cushion flex sole that feels silky soft on your skin and scratched or marked by rough materials.
Pros:
Two-layer inner sole

Shock absorbant
Cons:
The users often have sizing issues. 
Check Price and Reviews on Amazon

---
3.) Ariat Men's Rambler Western Boot
Top 5 - Ariat Rambler Boot
Ariat has a reputation of rolling out cowboy work boots. The boots are durable and are designed to shield you in every situation. Designed for people with long working hours, they are made of pure leather to be able to stand the stress.
The durated outsole is to give you resistance and safety and a soft insole doesn't cut your skin or go rough on it. The cushioning gel protects you from stresses and strains. The shank of these boots is lightweight and absorbs abrupt jerks and allows you to move around effortlessly without any extra weight.
Looking at the specifications, the shaft measures approximately 10.5" from arch and boot opening measures approximately 16" around. And yes, these have a pre-worn look.
Pros:
Full-grain leather, 

Flexible

The moisture-wicking footbed, 

Gel cushioned
Cons:
Not very suitable as a work boot
Check Price and Reviews on Amazon
Final Thoughts
Cowboy boots look stunning on almost everybody no matter whether you are a man, woman or kid (Check our guide on how to break in cowboy boots). From invading treacherous lands, riding horses or top gunslinging the boots overall an amazing commodity.
You can pair them up with almost anything and still look good. And when it comes to work, you can wear them freely and without having any issues. So it's time to get the cowboy work boots which can be worn at work to meet your work demands in style.