When searching for a pair of dependable, durable boots, much will depend on exactly what you plan on wearing them for.
Are you looking for boots for professional activities such as the armed forces or security, or for boots that offer appropriate safety features and certifications in hazardous work environments?
In a very crowded marketplace, looking and finding the right pair of boots can prove to be challenging to say the least.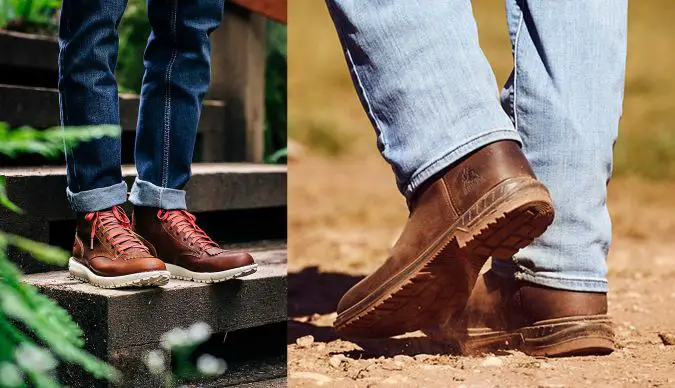 Rocky Boots offer impressive features and workplace protection. Danner Boots also come with impressive credentials and a loyal customer following.
So, if these two brands are on your list of boots to consider, how do you choose?  Let's examine at what both companies can offer.
Rocky Vs Danner Boot Comparison
Rocky Boots
Danner Boots
Styles
Outdoor Boots, Casual Boots, Work Boots, Public Service Boots, Military Boots
Hiking, Work, Lifestyle, Hunting
Safety features
EH rated, ASTM compliant, Oil resistant, Slip resistant, Abrasion resistant
ASTM Compliant, Electric Hazard Certified, EH rated, Pathogen resistant, Metatarsal Guards, Electrostatic Dissipative, Alloy, composite, steel, aluminum toes, Oil and slip resistant
Construction
Goodyear Welt, Cement Direct Attach 
Goodyear Welt, Stitchdown construction,Triple s titched
Outer soles
Rubber, Polyurethane
Danner® Wedge, Vibram®, Danner® Crafter, Rubber
Inner soles
Cushioning
Removable ortholite, polyurethane, molded thermoplastic PU cup
Boot Uppers
Full-grain leather
Full-grain leather, Leather and cordura 
Foot Support
PU or EVA midsoles Composite, steel, or fiberglass shank
Steel, fiberglass, or nylon shanks
Linings
Various
Gore-tex, mesh, Danner® Dry, unlined
Sizing
Men's sizes 7 to 14, Medium and Wide
Men's Sizes 3 to 16, Narrow, Regular, Wide, Extra-wide
Waterproof
Insulation
Gore-Tex, Waterproof, 3M Thinsulate
Waterproof and non-waterproof available, 3M Thinsulate
Price
Approximately $100 to $400
Approximately $130 to $500
The Rocky Boot Company
Two brothers, William and F. Michael Brooks decided in 1932 to create a shoe factory in Nelsonville, Ohio, with all the risks present.
After all, 1932 was still reeling from the crash of 1929 and America's Great Depression. They were able to begin their business thanks to a rent-free building. They borrowed equipment and thus, the William Brooks Shoe Company was born. 
Mike Brooks decided to leave Nelsonville in 1946. However, his ties to the company were not completely severed as his son John stayed on and continued working for the company.
Older brother William decided to sell the company as of the late 1950s. The Brooks Shoe Company was sold to the Irving Drew Shoe Company. The Drew Company had its headquarters in Lancaster, Ohio. 
Despite the sale, John Brooks remained under the new management. Footwear production languished. In the 1960s. The original William Brooks Shoe Company factory was an outdated manufacturing facility with little hope for a future. The Drew Company decided to close the factory or sell it by 1975.
John Brooks, who had stayed with the company through thick and thin and under new management bought back the original Brooks company. He brought his son Mike back to Ohio from his job in a Milwaukee tannery. 
Thus, the Rocky brand saw its birth in 1979. The company continued prospering into the 1980s. It is currently a global manufacturer of footgear. The company still has its base in Ohio.
It has continued to grow its production line and currently includes work and outdoor apparel together with footgear for the military, public service, work environments, the outdoors, and western styles.
Danner Shoe Company
Charles Danner founded the Danner Shoe Manufacturing Company in 1932 in Chippewa Falls, Wisconsin a logging town. He set out to make the best boots available with durability and affordability as his goals.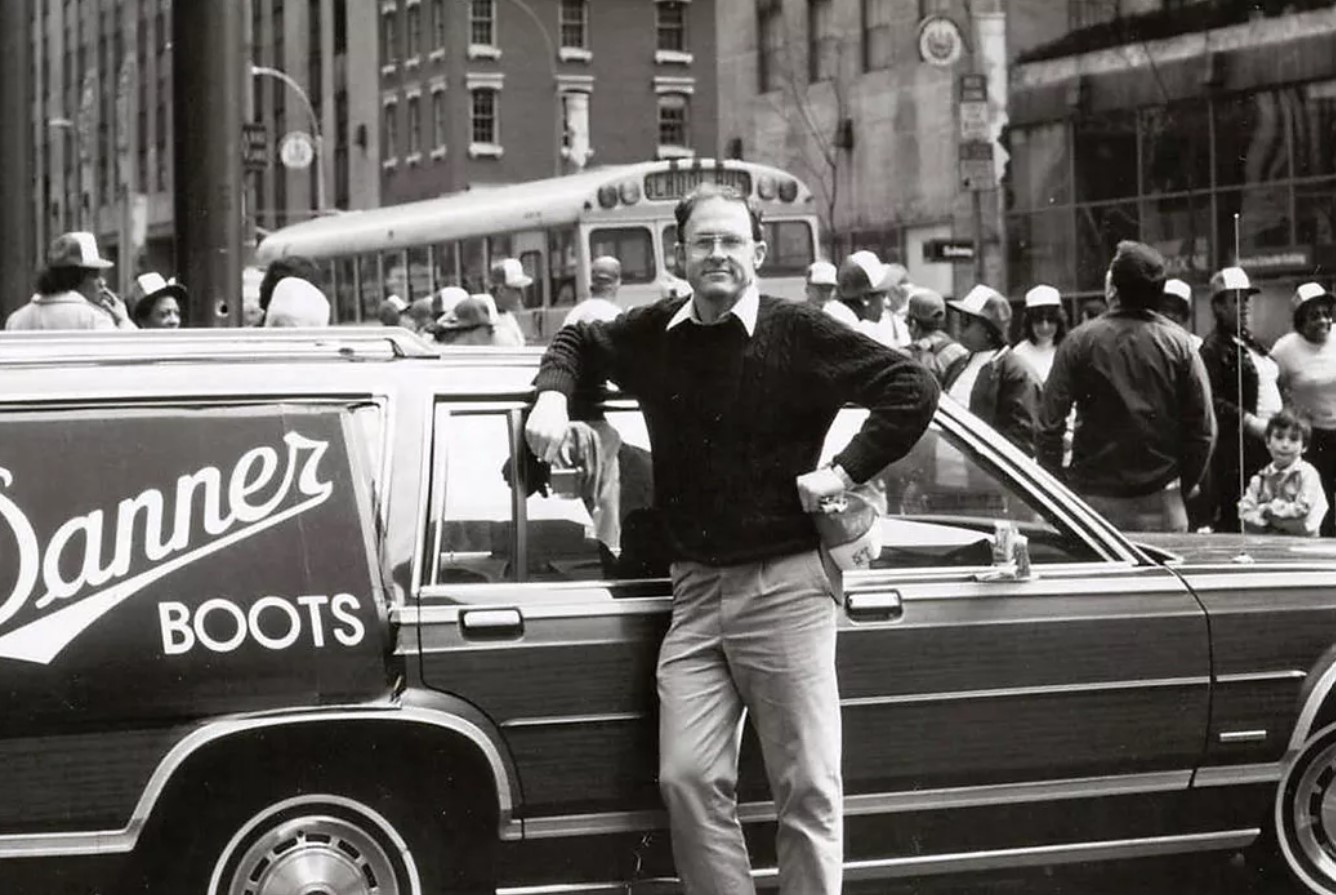 He soon felt the pull of the pacific Northwest's timber boom. Shortly after in 1936, he transferred the  company to Oregon's Portland. He was soon one of the premier manufacturers of the calked or spiked-sole logger. They sold for a whopping $20 in that era.
By 1939, his two sons John and Bill had joined the business. Despite the Great Depression, Danner saw prosperity. Come WWII, Danner expanded his product line to include work boots for the U.S. government.
This enabled the company in building a larger manufacturing site in North Portland to increase their production. Both Danner sons served in WWII and returned home safely.
Bill returned to the Danner Company while John went to law school. In the 1950s, John returned to the family business to aid in product line expansion. Lines for camping, hiking, and the great outdoors followed.
Come 1979, Danner joined forces with the W. L. Gore & Associates (Gore-Tex), to invent a hiking boot that was totally waterproof. The Danner Light boot was born. It was revolutionary in design and a sensation.
Danner further became a sensation when they manufactured boots sized 150 for an elephant with cracked feet at the Washington Park Zoo. In 1983, Bill and John sold the Danner Company to Eric Merk.
The company merged with LaCrosse Footwear Inc. in 1994. Danner is still part of LaCrosse Footwear. Its parent company is the Japanese owned ABC-Mart and now manufacturers in a 59,000 square foot facility. Much of Danner's current production still takes place in the United States.
Rocky Boots
Craftsmanship
The Rocky brand is known and popular for its dependable craftsmanship and innovative design. Rocky makes many boots styles featuring specific details for professionals in the armed forces.
These boots are offer durability and performance on the most difficult terrains and in extremely challenging environmental conditions. 
Boot Types
The company manufactures boots for the outdoors including hunting, work environments with safety necessities, military, and casual footwear. The boot line offers a generous selection of boot styles to choose among.
1.) Men's Footwear
Aside from producing boots for the armed forces, work environments, and outdoor challenges, the company also manufactures western-style boots and boots footwear for those involved in public service.
You'll find waterproofed styles, insulated boots, and boot options with protective toe caps.
2.) Outdoor Boots
Created for the most challenging of weather conditions and rugged terrain, Rocky offers boot styles that feature waterproofing and insulation, often both.
This product line includes a selection of rugged footwear, hiking boots, and hunting boots appropriate for numerous outdoor activities.
3.) Work Boots 
Rocky produces an array of protective work boots for construction, industrial, and workplace environments. You can find insulated and waterproof options complete with protective features including steel or composite safety toe caps.
Certain styles will come with oil resistance capabilities, electrical hazard ratings and certifications, and slip resistance.
The Rocky Boot Company has also created a proprietary Workknit LX lightweight work boot line that offers the best in protection without weighing down feet and legs while on the job.
4.) Military Boots
Rocky boots have designed boots with specific features for the men and women in uniform, serving our country. Waterproof and insulated choices are available with protective toe boxes if desired.
The company manufactures tactical boots that have been designed for the professional needs of members of the U.S. Navy, Army, and Air Force.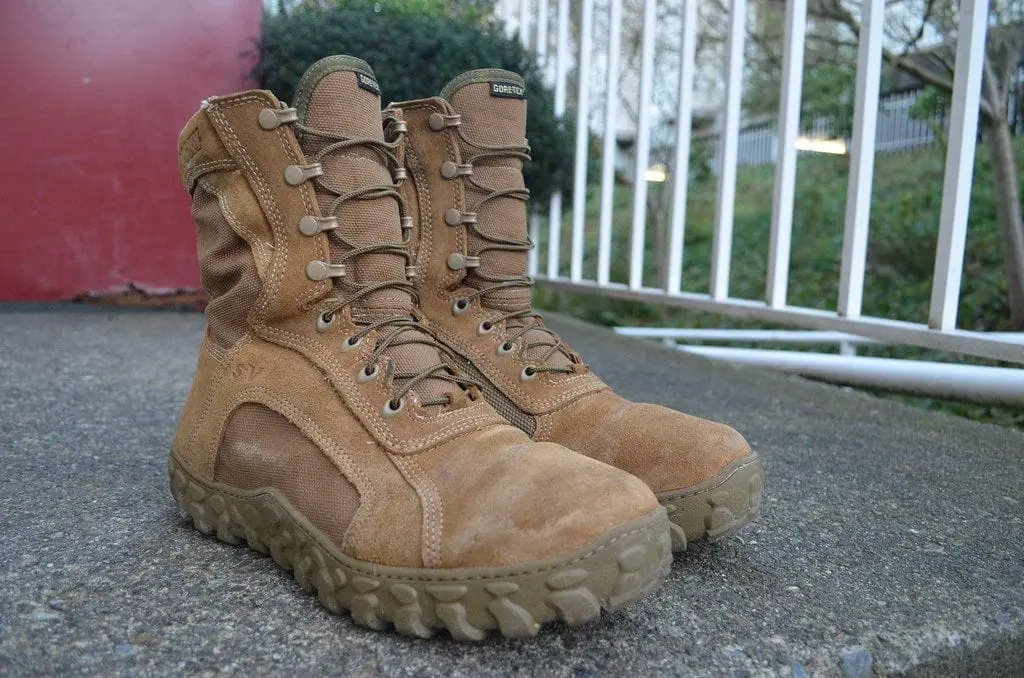 Rocky Features
Rocky boots produce an ample variety of boot choices, each with varying features. 
1.) Construction
Rocky boots produce boots with Goodyear welt construction as well as a cement construction using direct attach PU. Some boot models are made with double row welt stitching. Others features all-around welt construction in attaching uppers to outer soles.
2.) Inner Soles
Rocky offers some interesting inner soles options depending on your preferences. These can be acquired separately for insertion in their boots. You'll be able to choose from
• The Terra Suspension footbed made in advanced cushioned polymer specifically for improved shock absorption.
• The EnergyBed footbed produced in memory foam and 40 density PU. These footbeds also come equipped with ports for channeling air and ventilation as well as flex grooves.
• The Air-Port footbed is produced in 40 density polyurethane. This particular design features a heel cup for comfort and stability. It also boasts shock absorption qualities.
3.) Footwear Linings
Multiple footwear linings are available and answer the various needs for those who want insulation. 600 gr of 3M Thinsulate for snow to ComforTemp liners for controlling foot temperature are offered. Some models feature 3-ply liners of Gore-Tex for waterproofing that are also removable.
4.) Midsoles
Midsoles are manufactured in EVA or polyurethane. A few boot models will feature thermal polyurethane.
5.) Outer Soles
Outer soles are produced in rubber and are slip-resistant. Rocky also offers Vibram soles on some models. 
6.) Protective Toe Caps 
Rocky provides steel and composite options to choose from. The Rocky brand claims to have the widest oblique toe boxes available in the marketplace.
7.) Shafts
Boot shaft lengths are available in 6 inches, 8 inches, 11 inches, and some models offer 16-inch shafts.
8.) Shanks
Shanks are produced in nylon, fiberglass, and steel.
9.) Prices
Rocky Boots are priced in a range of $100 to $400. If you catch a sale, you may find a pair for less than $100.
Danner Boots
Craftsmanship
Danner is committed to unrelenting standards; hence it offers a 365-day warranty for its entire footwear product lines. Many of the boot styles are re-craftable to extend the life of boot. Danner offers recrafting services.
Boot Types
The company manufactures boots for hunting, work environments, lifestyle, and hiking.
1.) Hiking
Danner produces enduring, comfortable boots specifically crafted for hiking. They are fantastic on the trail. Their Mountain Light Boots is a best-seller thanks to durability on rugged and challenging terrain.
2.) Work Boots
Some work boots have an attractive look to them like the Danner Steel Yard. In general Danner work boots offer great stability, excellent boot construction, and great value for the price.  They will require some time for breaking in.
3.) Lifestyle
Danner Lifestyle selections can include boots for hiking as well as casual wear in urban settings. Depending on your needs and use for boots, Danner offers an ample selection in its Lifestyle product line for every kind of surface.
4.) Hunting Boots
Made with full-grain leather or a combination of leather and Cordura fabric, most hunting boots feature self-cleaning outsoles such as the Danner Bob® outsole on their Elk Hunter Boot. Waterproof, yet breathable, stitch down platforms will keep you stable on any terrain.
5.) Military and Tactical
Danner designs boots with features for the men and women in uniform for the armed forces, as well as for security personnel and law enforcement. You can select waterproof and insulated with protective toes.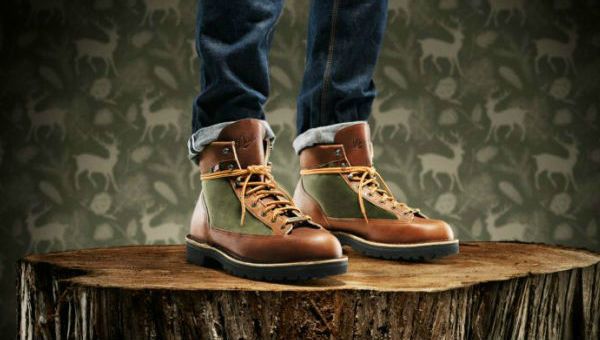 Danner Features
1.) Construction
Most Danner boots will use stitch down construction with Goodyear welt. The most rugged offer triple stitching to weather wear and tear.
2.) Inner Soles
The various models of Danner boots can be found in polyurethane. Some feature removable Ortholite soles. 
3.) Footwear Linings
Liners are available in Gore-tex for complete waterproofing, mesh, or the Danner® Dry. Some models feature air vents for increased breathability.
4.) Midsoles
Midsoles can prove to be a bit more rigid depending on the model you choose but they provide excellent stability.
5.) Outer Soles
Outer soles are generally made in aggressively treaded rubber. Danner has a selection of proprietary outsole designs for every type of terrain and use.
6.) Protective Toe Caps 
While Danner produces soft-toe boots, they also offer boot models with alloy, composite, steel, and aluminum toes.
7.) Shafts
Shafts are available in heights of 3", 4.5", 5", 6", 8", 10", and 11-inches.
8.) Shanks
Shanks are available in steel, fiberglass, and nylon.
9.) Prices
Danners can run as low as $130 to as much as $500 or so depending on the style. The Danner web store does offer sales, so you can occasionally find a pair priced at less than $100 on sale.
See also: Ariat vs Rocky Boots
In Conclusion
These are two boot manufacturers whose products merit consideration. Danner is a bit more expensive but is known for durability and for the possibility of recrafting boots to extend the lifespan.
Rocky offers a wealth of choices at slightly more affordable prices, but both companies offer excellent footwear products. It will come down to your style, specific footwear needs, and wallet. Good shopping!