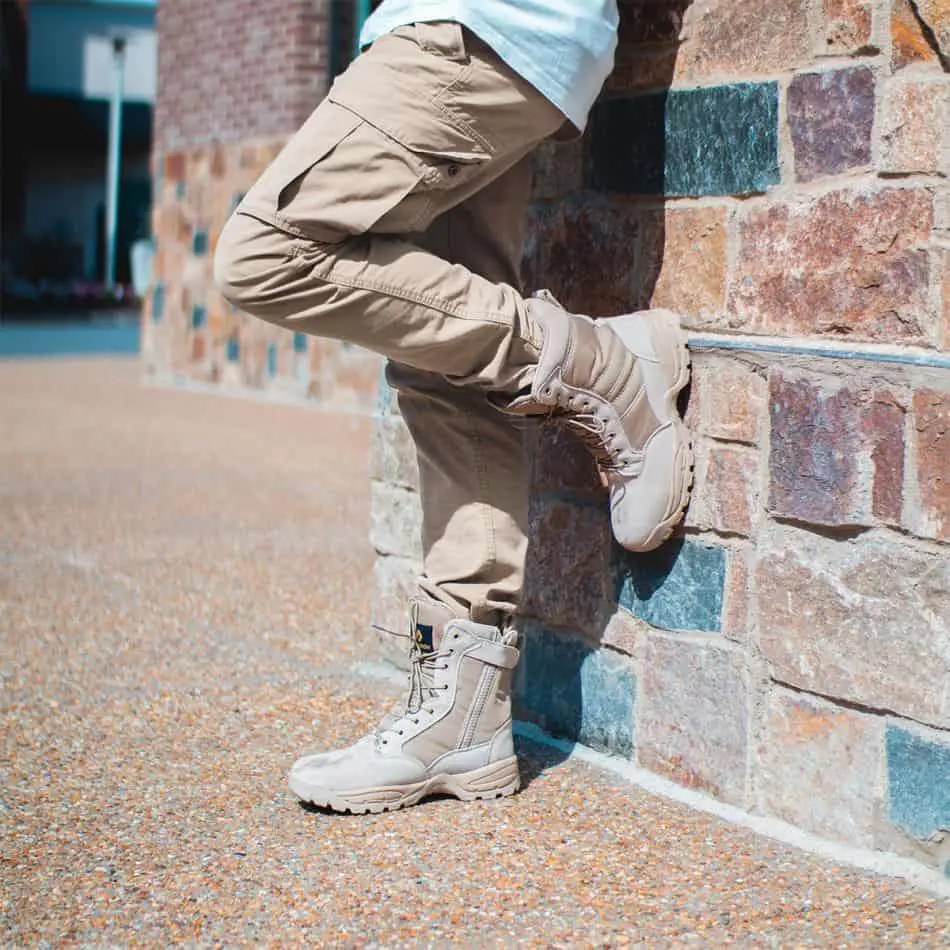 Do you also get fascinated by the military personnel and actors in movies when they pull off life-threatening stunts like shooting down a helicopter or kicking the enemies with trusty tactical boots? Me too! The tactical boots used by them or any other personnel are especially- equipped so that you can work confidently throughout the duty calls. But the question here is are these boots as good in real life work as they look?
I would definitely say YES! If we look at the traditional tactical boots, the main use of them was for army men. However, over the years, the advancements in these boots have made them to become a mainstay for the everyday worker as well. 
How? The tactical boots now, apart from providing incredible support and insane durability even in the roughest environments keep your feet comfortable and pain-free all throughout the day and that too without any negotiations. The boots have got all those features that make them safe, supportive, reliable and appropriate for work. What else do you need?
In other words, I am going to share everything I know about the amazing tactical work boots so that you are left with no room for confusion. Let's get started!
Who all Should wear Tactical boots?
From ages, these boots are being used by armed forces and law agencies around the world as these tough jobs require a boot that is both comfortable and heavy-duty and can help to withstand long days on patrol.
But with certain advancements, these boots are now available for people beyond the military. A large part of society such as mail carriers, UPS drivers, first responders, hikers, motorcyclists, survivalists can wear these tactical boots to keep their feet safe.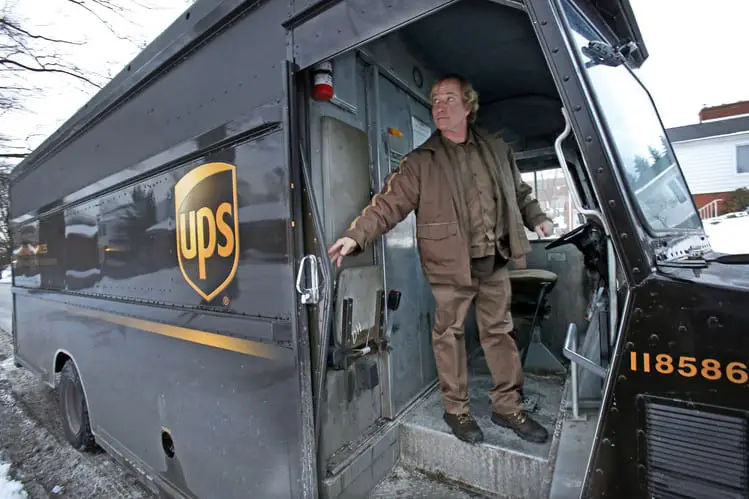 In fact, the boot provides you stability especially on the uneven job site terrains and the combination of steel shank adds a layer of protection from various work hazards. That is why many of the construction crew members, lineman, electricians, etc also prefer these boots over normal work boots.
So, does your daily life revolve around any of these jobs? If yes, then it's time for you to invest in a good pair of tactical boots as well!
Key Features to Look for in a Good Tactical Boot
With so many options available in the market, there are very high chances of you getting confused. That is why I am going to help narrow down the field by telling you some of the key features so that you can choose the best tactical boots for you.
1.) Designed Use
Not all tactical boots are suitable for your job so before purchasing them make sure you always ask, " for whom these boots are designed?"  For example, a breathable desert boot will not keep your feet toasty and warm if you are working in a snowy swamp. Similarly, if you are working in a desert wasteland then insulated boots will definitely make you uncomfortable.
So, it's essential that you choose the right workwear for your job. Don't worry there are tactical boots available in the market for both women and men. There are also high sturdy boots to keep your feet stable vs. low flexible ones for agility.
2.) Weight
"An ounce off your feet is like a pound off your back."  
The overall weight of the boot is amongst the most important things that you should always keep in mind. If your work requires you to be energetic, and active all day long then I would advise you to go for lightweight boots. 
3.) Sole Material
The traction boots have got both the midsole and the outsole. To check the comfort level of your tactical boots always check for the cushioned midsole. It is the primary feature that determines how comfortable you are while you wear these boots. Most of the boots use either EVA or polyurethane foam inside the midsole. The EVA foam is lighter and bounces back after each step while polyurethane foam is denser which makes it more stiffer.
If we talk about outsoles, most tactical boots use either natural or synthetic rubber for construction. This rubber composition can be adjusted for different needs.
4.) Size
If you want your tactical boots to work well, choose the ones which fit like they are part of your body. These boots have different toe box models and have proper lacing which tie up the boot properly to your ankle. But make sure that the boots aren't so tight that you feel uneasy in moving your forefoot freely.
5.) Other Features
Some of the best tactical boots come with a combination of impressive features like water resistance, safety toe, Goodyear welt construction, heel and oil resistance etc which you can select according to your work environment.
What Makes Tactical Boots Special?
Let me tell you some of the best characteristics of these boots which not only make them perfect for a tough military career but also for your everyday work.
→ These boots are fast, responsive and lightweight. Most importantly, they feel like an extension of your own feet so that you can always move freely.
→ The full-grain leather or Nubuck leather used for the construction of these boots scores high in durability. So you can expect these boots to be with you throughout your journey. And yes, with durability the Nubuck leather also provides flexibility to your foot.
→ These are perfect amalgamation of support, agility and performance.
→ The boots are constructed keeping military personnel in mind hence they have quiet soles which I think is one quirky aspect.
→ Tactical boots have seam sealed leather  and with that you also get Gore-Tex lining so that your feet can breathe without getting wet.
Top 3 Best Tactical Work Boots
I have sorted out the best tactical boots which give you true value for money. Let's see the best of the best
1,) Under Armour Men's Stellar Tactical Boots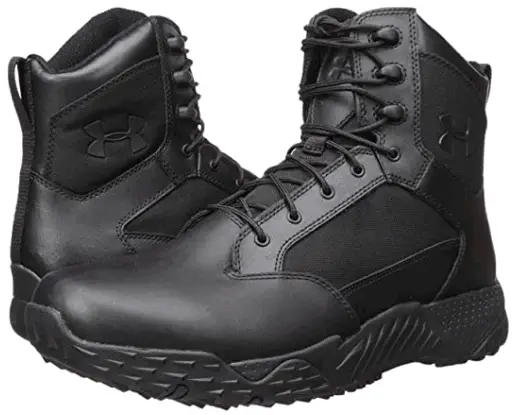 These high quality tactical boots have inbuilt Durable Water Repellent (DWR) which will keep your foot crispier than ever by resisting the outside water to seep inside your boot. But this will not affect the breathability of your boot and will still wick away sweat and moisture.
So what makes these boots special? Well,  these work boots have been constructed in such a way that they can deal with almost any situation. Designed using DWR treated leather, the upper of these boots is made of 900D nylon textile which allows you to walk freely in rain, snow or sleet as the boots dry so quickly that you don't have to worry about your performance while you are on duty.
Moreover, the OrthoLite™ sock liner has got antimicrobial properties to keep your feet healthy and comfortable. These sturdy boots despite being robust do not compromise with comfort at all. Additionally, the EVA midsole and TPU shank enables shock absorption along with providing you adequate reinforcement and support.
Despite being used on tactical duties the boot will offer maximum reliability and will definitely serve you for years to come.
Pros:
Extremely durable and tough

The leather sole of these boots grips the ground firmly so that you can remain steady.

These boots enable a clean and sanitary environment with its Ortholite sock liner.
Cons:
The boots might have tightening issues as per some users.
Check Price and Reviews on Amazon
---
2.) Smith & Wesson Men's Breach 2.0 Side Zip Boot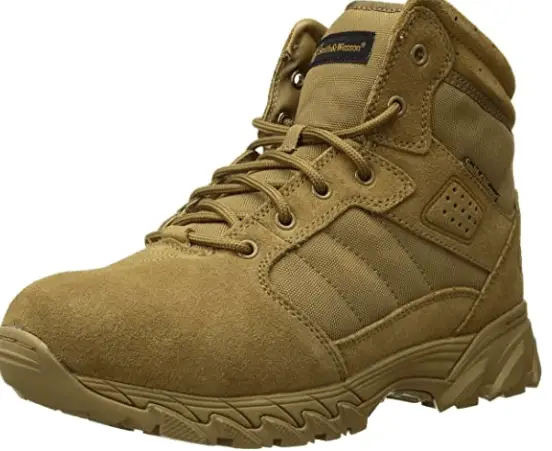 These Side Zip Boot are designed to get all your attention with their outstanding details and impressive build quality. Their construction, durability and affordability have set new standards in the market. The boots are designed using very high quality leather and nylon. And you know very well how tough these materials are.
A very interesting feature is the presence of a gusseted tongue that will help you keep dirt and debris at bay. Additionally, the EVA midsole not only acts as a shield against shock but also does not allow any foot fatigue. The boots are perfect for people with long working hours, thanks to their torsional rigidity.
And yes, these boots are extremely comfortable and are light in weight which makes the mobility in these boots quite easy. Another great feature is the design that can reduce the traction loss to a minimum so that you can grip waxed surfaces, dirt and other harsh surfaces with ease.
Lastly we will discuss what these boots are known for. Yes, it's the YKK side zipper for on and off fit and hook and loop closure for an amazing fit.
Pros:
The perfect combination of durability and comfort.

Breathable with moisture wicking properties.

Convenient to wear.
Cons:
Users often complain that work boots squeak while walking.

Can be overly warm due to padding in uppers.
Check Price and Reviews on Amazon
---
3.) Danner Men's Lookout Side-Zip Tactical Boot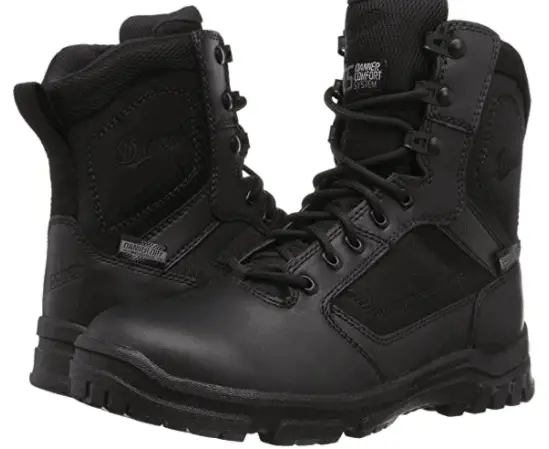 How often have you seen a solidity built side-zip boot that is super comfortable? With these tactical boots from Danner you can find both durability and comfort.
With its inbuilt proprietary comfort system the boot manages to give you all the snug fit you have always wanted. The system features characters like dual-density footbed and innovatively placed material that maintains a proper circulation in these boots.
The boots are made of full grain leather and tear-resistant ballistic nylon upper which makes boots super sturdy. You can also get a good measure of slip resistance with the rubber sole and can go across any type of surface you want.
Technically, the shaft measures approximately 8" from arch and delivers best in class quality so that your boots last forever.
Pros:
Superior airflow, 

Lightweight

Full grain leather/ Ballistic Nylon upper

Dual density footbed, 

Slip resistant rubber sole
Cons:
Lightly insulated

Zippers need improvement
Check Price and Reviews on Amazon
Final Thoughts
Still having doubt if tactical boots are good for you or not? Just look around and you will find a lot of people wearing them. A good pair of tactical boots will just make you happy after you return back home at the end of the day. And yes, will act as your safe guard in disaster. Don't think too much and start searching for your ideal pair. I hope after reading this article you won't have to be searching for ages. Trust me they will never hold you back!