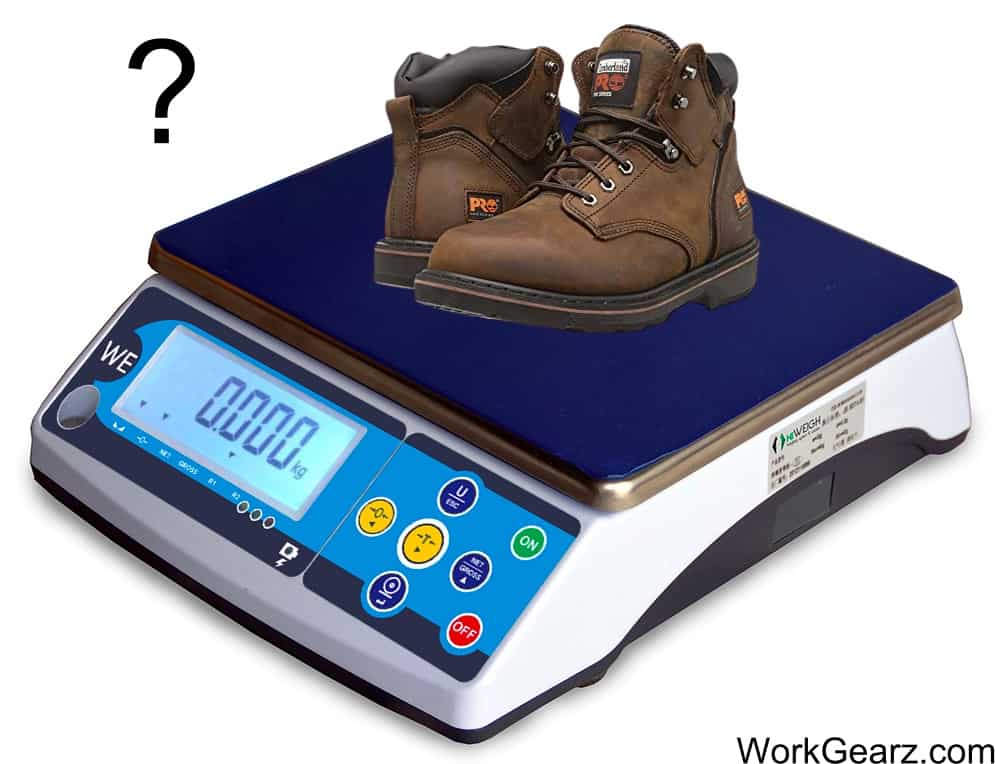 On average work boots weigh around 2 to 3 pounds whereas a steel-toe boot weighs up to 4.0 to 4.5 lbs (1.8 kg), and that of an alloy toe is nearly 1.5 pounds lesser. A composite-toe boot weighs up from 1.75 to 4 pounds.
You can expect a little increase or decrease in the weight of the boots depending on the build material and several other features in the work boots that I will explain in detail in this article. 
In general, while smaller boots will weigh up to 3 to 4 pounds, larger boots will weigh up to 6 pounds. Alloy toes are 30% to 50% lighter than the steel toe boots while the composite boots are 30 % lighter.
Does Material Affect the Weight of the Boots?
Obviously, the materials with which the boots are made have an immense effect on the weight of the boots. Let's see how:
1.) Leather Boots Weight: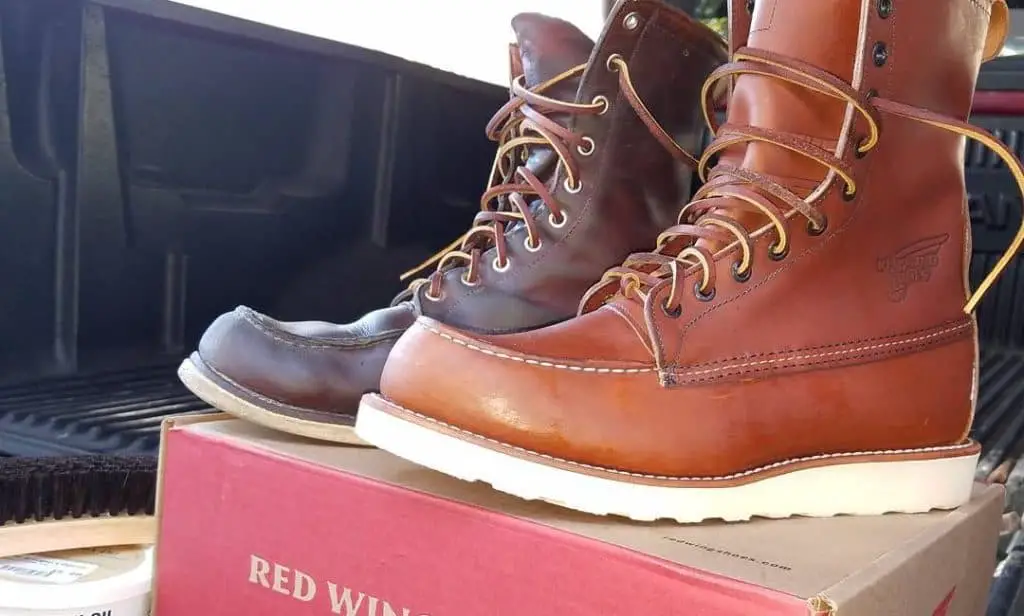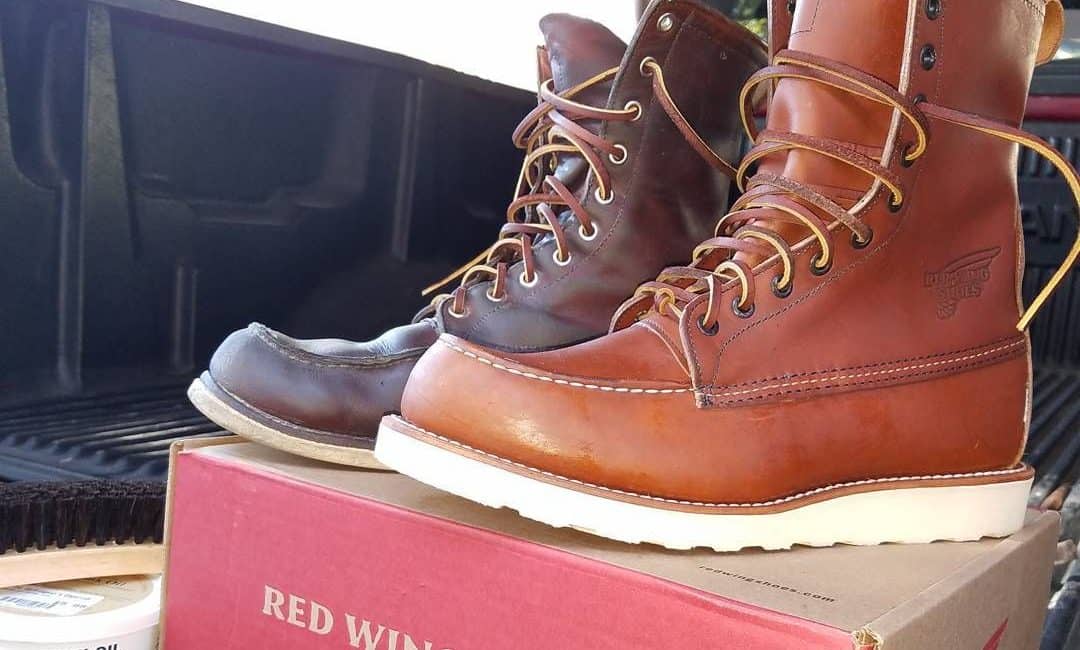 Leather is the most durable of all the materials used in the making of the boots. But as leather is nothing but dead animal skin, it has to undergo a tannery process to prevent putrefaction.
I personally prefer leather boots over any other material, but the durability comes with a price and that is weight. Leather obviously makes the boots heavier and sturdy.
Leather boots are heavier than any boots made of other materials. In general, a normal leather boot will weigh up to 4 pounds. 
2.) Suede Boots Weight: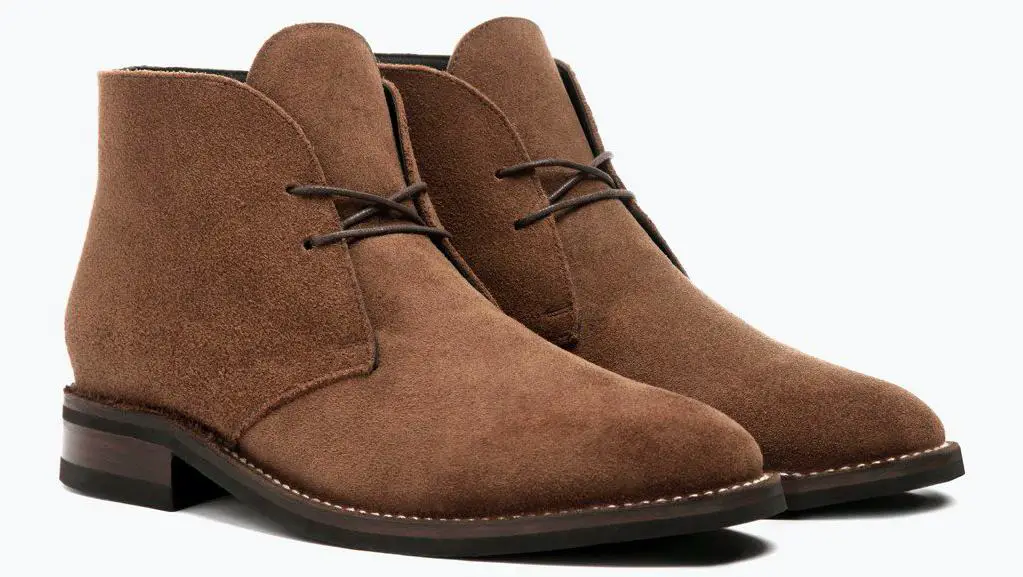 Though suede is still a form of leather, but the process of preservation and the type of tissue in the suede keeps the material of suede much lighter and softer than tanned leather. Therefore, boots made of suede are lesser in weight as compared to that of leather boots.
The average weight of suede boots is 1.5 to 2 kg.
3.) Fabric Boots Weight: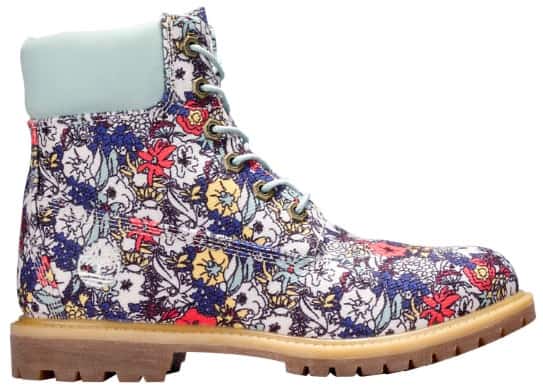 Fabric is man-made and uses synthetic substances in its making. The fact that leather boots were too heavy to walk in during the past decades, led to the invention of fabric boots which are lighter and even durable.
With technological advancement, the weight of the fabric boots have gone down while the experiences of hiking, travelling and walking in them have gained speed. Not only they are light in weight but also very comfortable, which have accounted for their popularity and demand in the modern world.
On an average a good pair of fabric boots will weigh up to 1 kg.
4.) Plastic Boots Weight: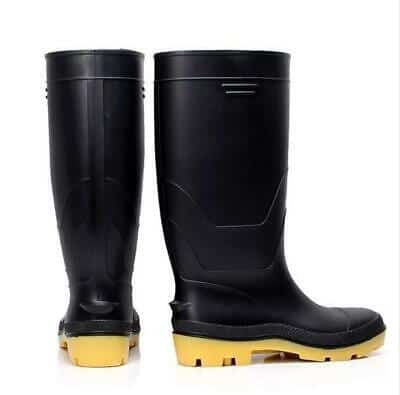 No doubt plastic is the lightest material used in the making of the boots. Plastic is durable as well, but might not be that comfortable because of the fact that there is not much room for stretching or breaking-in in plastic boots.
On an average a plastic boot will weigh less than a pound and are mostly used as rain boots.
How much do steel toe boots weigh?
On an average, any steel toe boot will weigh between 3.5 lbs. to 4.5 lbs. that is around 1 kg to 1.8 kg. 
The spike in weight in steel toe boots is obviously due to the built-in steel toe caps in them. Steel is no doubt heavier than the composite toe caps or the alloy toe caps.
But, with the weight comes the safety that no other safety boots can offer better than the steel toe boots.
Steel toe boots have been the age-old choice for decades amongst workers of various fields including construction, brick-layers, pipe-liners, iron workers, wood cutters, etc.
Boots weight according to the styles:
| | |
| --- | --- |
| Styles of boots | Weight  |
| Ski boots | 2 kg |
| Hunter boots | 4 pounds |
| Army boots  | 1.2 to 2.4 lbs |
| Hiking boots | 2 to 3 pounds |
| Cowboy boots  | 3 to 4 lbs |
| Snowboard boots | 6 to 8 lbs |
Other Features Affecting the Weight of the Boots
1.) Padding: The padding is the extra cushion above the insole. Obviously the less is the padding, the lesser will be the weight of the boots.
If the footbed is incorporated with technologies such as anti-fatigue or shock absorption, they are going to add on the weight of the boots.
2.) Outsoles: This is one factor that affects the weight of the boots to the greatest extent. Let us understand how:
3.) Leather outsoles: Leather outsoles are durable in fact, very durable, but add on to the weight of the boots obviously.
4.) Rubber outsoles: Rubber outsoles are a good alternative to leather in terms of price, but they are hardwearing and thicker as compared to their leather counterparts and therefore are heavier than the former as well.
5.) Commando outsoles: Commando outsoles are in fact the most popular ones when it comes to hiking and traversing rough terrains. But their rugged profile, weather resistance and thick lugs make them quite heavy, in fact, to say it rightly the heaviest of all.
6.) Ridgeway outsoles: These are yet another variety of hardwearing rubber soles and are characterized by their thick protruding lugs and large ridge channels. These are lighter than the commando soles, but not that light in terms of adding weight to the boots.
7.) Cork nitrile outsoles: These soles are a mixture of rubber and cork and are very lightweight as they are without lines or lugs for traction.
8.) Wedge outsoles: Also known as Christy soles, these types of soles are very light in weight and are used by popular brands like Redwing, Danner, Thorogood, etc. these soles are characterized by a spongy feel and a wedge that tappers down to the toes instead of having heels. So, they are the lightest in terms of weight.
9.) Crepe outsoles: These are characterized by the distinct squiggly pattern at the bottom and have sponge like characteristics which make them very comfortable and lightweight. They are generally used in Clarks Desert Boots.
10.) Shank: The material of the shank also affects the weight of the boots. While steel shanks will weigh more, fiberglass shank will weigh much less.
11.) Insulation: The insulated boots are obviously going to weigh more for the extra properties it is built with like thermal linings.
Popular Boots with their Weights
What effects do heavy boots have on your feet?
Getting up with the alarm clock you know that you need to be ready for at least 10,000 to 30,000 steps for the day at work. All you need to do is fight fatigue from the first to the last step and that becomes even more difficult with heavy boots.
Not only this, but there are several other ill effects of heavy boots on your feet:
Knee and joint pains result from wearing heavy boots because your feet have to carry the load of the boots and send the pressure to the ankle knee and the subsequent joints.

Corns are also caused by wearing heavy and stiff boots.

Heavy boots also weaken the muscles and tendon of the legs.

You will simply feel restless in those heavy boots.

Heavy boots even hurt your back and may damage your spine in the long run.
Top 10 Best Lightweight Work Boots
It's time to bid Adieu:
I hope the article was helpful to you. Now you can decide what's right for your feet!
Remember, more weight does not mean more durability or toughness, it simply means more fatigue. But obviously a steel toe boot is meant for a different purpose of offering protection from heavy impacts and that's where the extra weight can be given a chance.
That's all for today! 
Have a great day ahead! 
And…
Happy walking!