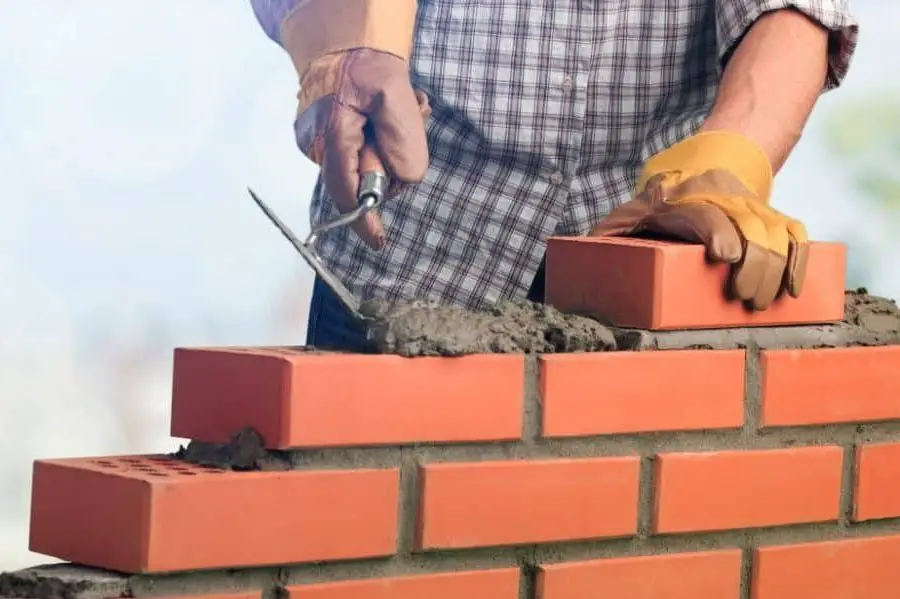 Working with cement, water and bricks is all it takes for the job of a bricklayer. And the part of your body that gets most effected in this is your feet which have to endure all the cement dust, water, and brick debris. I understand your pain and hard labor and care for you. 
That's why in order to protect your feet from all the harsh elements of working with bricks for constructing buildings, I have come up with a list of the 5 best work boots for bricklayers available on the market today.
During our intensive study regarding the bricklayer boot, we concluded that the Servus PVC Steel Toe Work Boots is most suitable for bricklaying job. It will keep not only your feet but your calf covered too and protect from cement and dust.
They are made of PVC material so no worries about working with cement and water during the laying of bricks as your feet would remain completely dry in them. Besides, the insoles are very comfortable and have anti-slip and EH protective outsoles.
Now let's delve deep into the study of our best work boots for brick layers, but before that let's have a quick look at the comparison table:
1.) Servus Comfort Technology 14″ PVC Steel Toe Men's Work Boots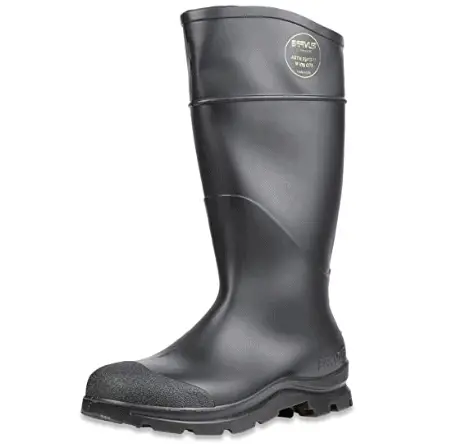 Why it's Perfect: PVC poly-blend fabric and boot length measures 14"!
These Servus steel toe boots for bricklayer have two important things that would come to your consideration, are cover from cement and brick dust and protection of toes from falling of bricks and these boots are just apt for the purposes.
This 14" high boots would cover your calf portion too and the steel toe caps would definitely prevent your toes from any injuries. 
Features:
Meets ASTM F2413-11 M 1/75 C/75 EH standards

Waterproof, 

Steel toe caps

Anti-slip and EH protective outsoles

FOOT FORM contour cushion insoles
Build Quality:
I was really impressed with the build quality as being a bricklayer, working with water is what your job would demand and in that note these boots are made of PVC poly-blend fabric that is 100% waterproof.
The material is even resistant to degradation from harsh chemicals of cement and other chemicals used for setting up bricklayers for buildings.
You will absolutely feel comfortable in these boots all day long because of the presence of FOOT FORM contour cushion insoles.
One unique feature which caught my eyes was the comfort technology which offers the unique scalloped top-line which allows easy flexing.
Protection:
Another important thing from which you need protection as a bricklayer is falling or slipping in slippery surfaces and the deep angle cleated outsoles do just the perfect job for it and the contoured heel cups too reduces heel slippage.
Another thing that surprised me is that the outsole offers EH protection. And then there are the steel toe caps to save you from incidents of falling of bricks and hurting your toes.
Check Price and Reviews on Amazon
---
2.) Timberland Men's Chocorua Trail Mid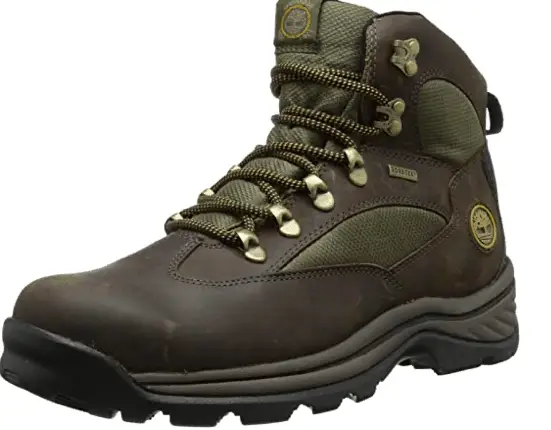 Why it's Perfect: GORE-TEX bootie construction and the rust proof hardware!
Timberland boots need no introduction when it comes to craftsmanship, protection and durability. Being a bricklayer you are bound to love these boots for their timber dry eco-conscious waterproof membrane which will save your feet from water no matter if you work in water for the whole day.
Features:
Waterproof, 

Outsole with lugs

EVA midsoles, 

Shock absorbing insoles
Build Quality:
These Timberland boots are made of premium waterproof leather that comes from LWG Silver-rated tannery an also have breathable mesh. They are manufactured in USA. The GORE-TEX bootie construction and the rust proof hardware assures of the toughness of the boots.
Something which is unique to these boots is the anti-fatigue technology which absorbs shock and returns the energy back to your feet so that you won't feel tired in them. The EVA midsoles too add to the comfort and gives support.
Protection:
The rubber outsoles are provided with lugs for superior traction on any slippery terrain that is much needed while working with bricks and cement.
Check Price and Reviews on Amazon
---
3.) Caterpillar Men's Threshold Waterproof Industrial Boot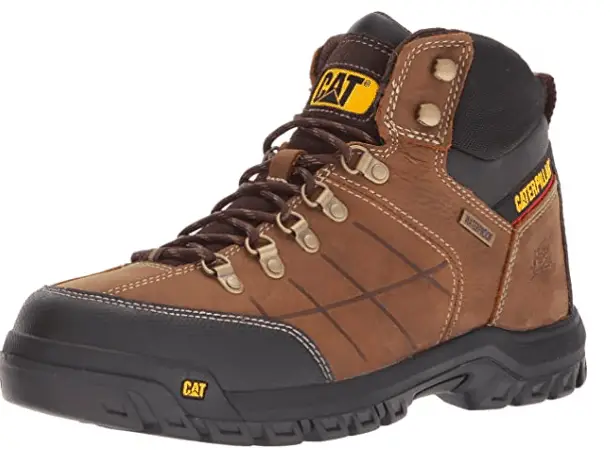 Why it's Perfect: value for money with all the essential features for bricklayers!
These Caterpillar boots are a perfect combo of all the features that is required for bricklayers in a very good price range. They are comfortable, waterproof and hold the foot in place in slippery surfaces.
Build Quality:
These boots are made of 100% breathable leather uppers and have waterproof membranes so that water does not sip inside the boots while you are laying the bricks and thus your feet would be dry all day long.
Protection:
The slip resistant outsoles provide great traction while you are working on watery or muddy surfaces.
Features:
Waterproof, 

Slip-resistant outsoles

Breathable leather upper
Check Price and Reviews on Amazon
---
4.) Sperry Top-Sider Men's Avenue Duck Boot Chukka Boot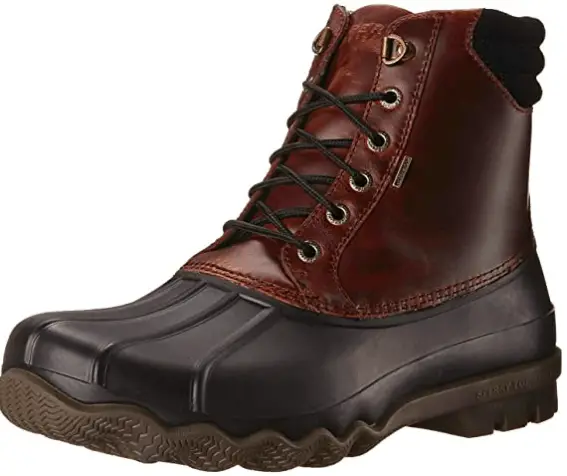 Why it's Perfect: Stain proof and wave-siping outsoles!
If you live in cold weather countries or in the parts where it rains heavily and frequently, you are going to love these Sperry Boots. They provide all-weather protection with seam-sealed waterproof construction and warm thermal lining.
Features:
Waterproof, 

Stain-proof

Wave-siping design outsoles

Thermal lining to keep feet warm
Build Quality:
These boots are made of stain and water resistant leather which is a much needed feature for boots bricklayers as stains are something with which you need to deal with all day dipping your feet in the cement mixtures. The memory foam footbed is very unique to these boots which gives extra comfort to your feet.
Protection:
Despite the rain, ice and slippery cement mixtures, you can be sure to hold your feet tight to the ground with the non-marking, lugged rubber outsoles that come with molded wave-siping. 
Check Price and Reviews on Amazon
---
5.) WOLVERINE Men's Overpass 6″ Composite Toe Waterproof Work Boot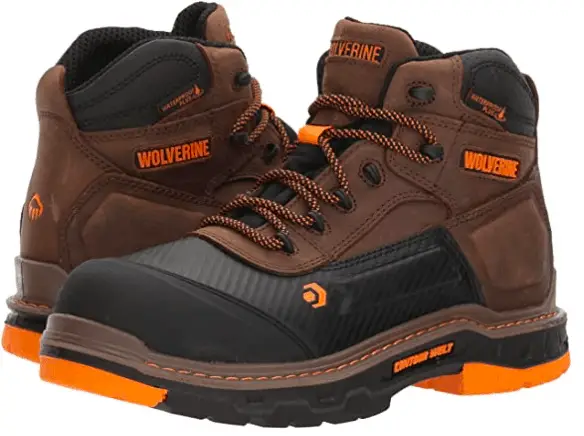 Why it's Perfect: composite toe and EH protection!
Wolverine boots are built to last and are known for their unique features and styles. If you are someone who likes to style without compromising on the quality, you are bound to like these Wolverine boots. They offer safety along with comfort.
Features:
Meets ASTM F2413-11 M1/75 C/75 EH standards

Waterproof, 

Electrical hazard protection

Anti-slip outsoles, 

Ortholite insoles
Build Quality:
These boots are made of 100% leather and textile with the athletic Contour welt construction that ensures durability. You are sure to feel comfortable in them throughout the day because of the Ortholite cushioned footbed. 
Protection:
I am thoroughly mesmerized with the unique features that this boot contains such as the outsole is not only resistant to slip, oil, and water and abrasion but also to chemicals in the construction sites.
The best part though is the presence of the composite toe that would save your toes from injuries from falling of bricks and electric hazards and are lighter than steel toe caps. And yes, the leather upper is waterproof too.
Check Price and Reviews on Amazon
---
Things to consider while buying work boots for bricklayers
Here are a few things you need to consider while buying work boots for bricklaying to save your feet from the water and the cement:
The boots need to have longer shaft area so that it covers larger portion of your leg and prevents contact with the cement.

The boots should be waterproof.
The boots should have wedged soles so that the heel does not get stuck in the cement.
The boots should have safety toes (preferably steel toes) so that it protects your toes from the impact of heavy bricks falling on them.
The boots should have cushioned insoles and better if they have shock absorption technology.
The boots should have the option of self-cleaning debris on the outsoles so that the cement does not get stuck on the soles.
Why wear separate boots for bricklaying?
Bricklaying is not only a tedious job where you have to be on your feet all day long but also it includes standing in wet surfaces and dealing with concrete which when gets stuck to your boots, isn't an easy task at all to take off!
The boots that are designed for especially for bricklaying have all the above mentioned features such as they are waterproof, have larger shaft area, have wedged soles, have safety toes and are very comfortable to wear with cushioned insoles!
Each boot is designed for a specific purpose and when you have them separately for particular needs, why compromise with the ones that do not have the essential features for your safety and comfort?
Before we say Good Bye:
If you ask me to choose among these 5 boots, I would definitely prefer the SERVUS and the WOLVERINE boots because these two boots meets the exact features required in a boot for bricklayers.
But everyone has their own preferences and choices and so I made for you the detailed review of the best 5 boots so that you can choose what meets your needs!
That's all for today's article. 
Have a good day ahead! Stay safe and…
Work safely!