Wolverine, which works with the motto of "Strong Soles for Sturdy Shoulders" is known to be the masters in work boots all across the globe.
You will be glad to know that their name has been in the market for the past 137 years and strive to manufacture a premium range of work boots. So, can Wolverine be your next go-to brand?
Wolverine work boots promise to withstand the harshest of settings with their out-and-out combination of innovative technologies and highly skilled craftsmanship. The boots are engineered for both men and women and are generally both comfortable and durable. But will they fit in your budget? Well, definitely!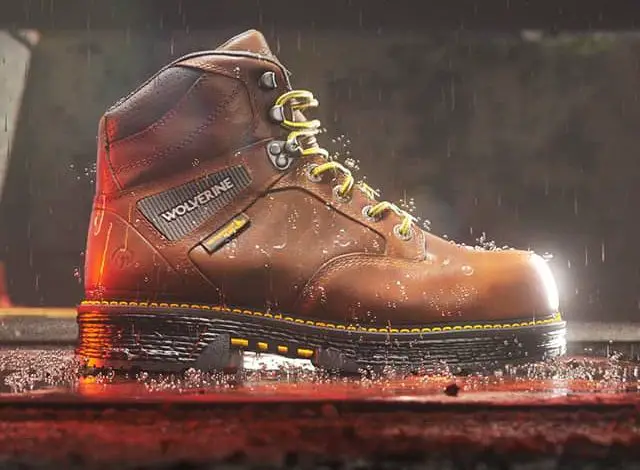 So dwell deep in the coming paragraphs to know about the different kinds of Wolverine work boots with their key features.
I will also introduce you to some of the best boots of Wolverine which will help you to decide whether this brand could be your next choice or not! 
What are the Different Varieties of Wolverine Boots Available in the Market?
Wolverine understands that each person has different requirements and that is why it comes with different kinds of work boots that compliment their style and job requirements. Following are the boots with 135 year old trademark:
1.) Steel toe Wolverine work boots

This type is well suited for the industries which come with many hazards. The steel toe boots give the worker safety against dangerous elements and situations at the work setting.
These boots have some very interesting features like a 6 to 8 inch lined shaft that very well protects the ankle. 
2.) Soft toe work boots by Wolverine
If you work in an environment where you are not exposed to harmful threats then you can always choose boots from this variety.
These come with a soft toe and are generally fit for low to medium intensity jobs. Check out the comparison guide between soft and steel toe.
Although, these boots are lightweight but can be a bit uncomfortable for the people with wide feet as they do not have a toe cap which I think is their only disadvantage.
3.) Wolverine work boots with CarbonMax technology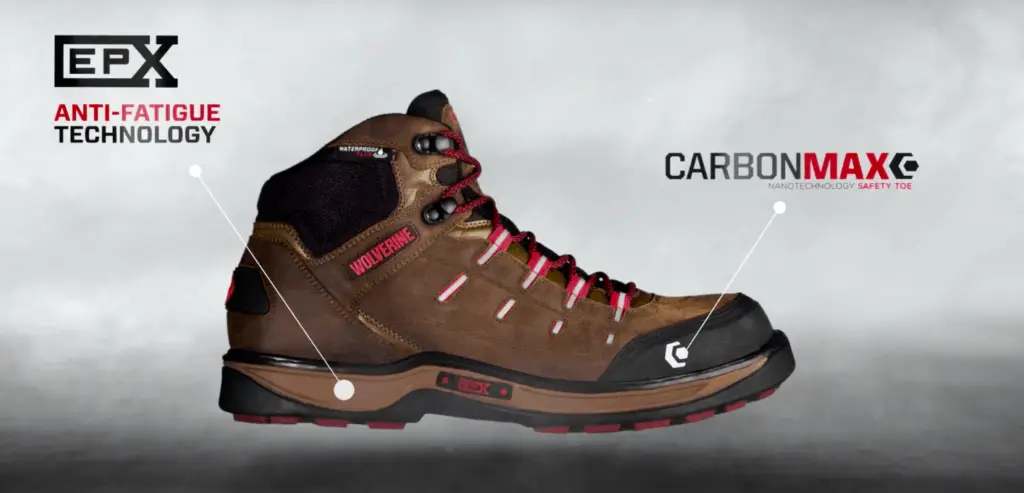 If you are tired of wearing stones on your feet to your workplace to ensure safety then you can definitely opt for these boots.
Proving themselves as a great substitute for traditional steel toe boots, these work boots are designed with nanotechnology which makes them extremely light-weighted.
The thinner diameter of these boots helps in providing better traction with flexibility and optimal safety without compromising with the performance.
Top Features of Wolverine Work Boots
Let's have a look at some of the differentiating features of Wolverine work boots which make them stand out from all the other boots in the market.
1.) 6 inch/ 8- inch shaft which is exclusively made for protective purposes. This feature lets the protective layer of the boot to cover the user's ankle and the part of the shin.
2.) Nylon/Fiberglass or laddar shank which is ideal for people working in a tough working environment. These shanks are very comfortable and soft and let you stand on your feet for as long as you want without giving any strain.
3.) Removable Ortholite footbed and PU midsole which gives the worker proper arch support.
4.) Another great feature is the presence of moisture-wicking lining that saves your feet from bacteria and other allergens by absorbing all the moisture. It also helps in maintaining a snug environment.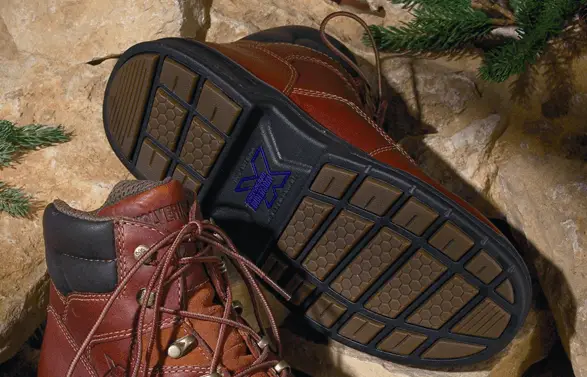 5.) These boots also come with a multishox outer sole with lugs. This is very amazing and so far the best characteristic which provides ample shock absorption. The multishox technology can transform the shock into energy ultimately improving your gait. Isn't it amazing?
6.) Last but not the least is the Wolverine Contourwelt construction which ensures the durability and long life of your boots. 
What are the advantages of getting wolverine boots?
Wolverine strives to provide high- quality products to its users and beyond! If you are investing in these boots, one thing is guaranteed, that is their longevity.
Each different model is designed to keep up with the different work challenges along with giving you all the comfort you need. Moreover, the intensive sizing system lets you find a perfect boot for your feet. Isn't that great?
Best Wolverine Work Boots Review
Keeping all the features in mind, we have put together some of the best wolverine work boots which have made it to our list of the best. 
1.) Wolverine Steel Toe Raider Boot
These boots totally disagree with the myth that solace and shielding cannot be found together. The steel toe protection withstands the jeopardy in a highly industrialized work setting.
Furthermore, the lightweight cement construction acts as an adhesive holding each component of the boot giving the impression of a single unit.
Moreover, the supporting inner sole and the durashock outsole relieves the stress and absorbs the shock respectively so that you don't feel any strain on your knee or feet. These boots are good for those who have long-standing hours.
Pros
The Dri-Lex lining in the boots helps to keep your feet dry for a longer duration.

The boots are made up of genuine leather upper with pigskin to maintain the optimal temperature within the boots.

The padded collar ensures a snug-fitting.
Cons
The boots lack superior grip and traction because of the absence of deep chiseled lugs in the outer sole.
Check Price and Reviews on Amazon
---
2.) Wolverine Legend Comp Toe Work Shoe
The tech savvy features of these boots enhance comfort by deducting the stress on your limbs. The H-plate suspension installed in these boots helps to absorb the shock and convert it into energy. 
The boots are fit for the people working in power stations or the harsh environments as the non metallic toe caps do not conduct heat, cold or electricity hence providing optimal safety. 
Pros
The moisture-wicking properties of these boots fight against the sweaty feet.

The energy used in your tread can be utilized from the shock absorbed by these boots.

The lugs of the outer sole are chieseld to have a superior grip.
Cons
The midsole of these boots is not separate thus lacking comfort and support as seen by many users.
Check Price and Reviews on Amazon
---
3.) Wolverine Men's Raider Work Boot
The top of the line sturdy features in these boots make them different from the traditional work boots available in the market.
These boots are extremely comfortable and are designed to work both in cold and warm seasons. The MutiSox rubber lug outer sole of these boots saves its users from slipping over oil or watery surfaces.
Other features like ContourWelt mechanism gives you the flexibility you have been looking to match your gait. And yes, these are built to last for a lifetime!
Pros
The stability of the boots is really impressive.

You will get a high level of moisture-wicking properties without compromising on it's waterproof properties.

The boots are highly flexible and provide better comfort and traction.
Cons
The most common problem with these boots is that their bootlace is not very durable.
Check Price and Reviews on Amazon
---
4.) Wolverine Drillbit Oil Rigger Boa Steel-Toe Boot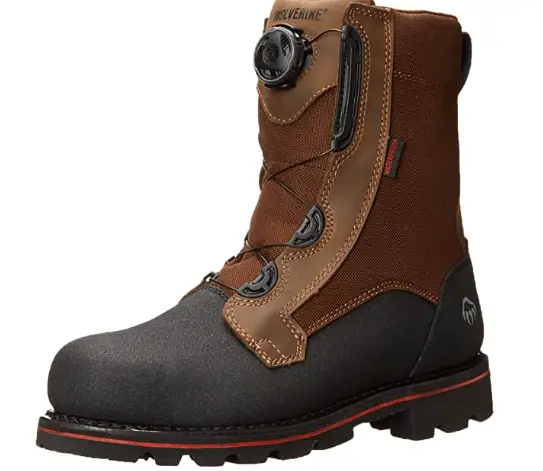 With the Ortholite footbed, rubber midsole and great waterproof properties, these are every industrial worker's dream boots!
The upper of the boots is modified with a heavy-duty waterproof leather which is further built up with almost 1000 denier nylon and ArmorTek Guard.
And yes, these boots ensure comfort at its best! The Boa lacing system in these boots allows you to tighten or loosen your boots even with bold gloved hands.
Pros
Cons
Some users complain about the narrow profile of the boots which makes it extremely uncomfortable for the people with wide foot profiles.
Check Price and Reviews on Amazon
Final Thoughts
Wolverine for the past 135 years, is designed to withstand the test of time. The trademark is seen as one of the most trusted brands in the industry manufacturing boots as per everybody's needs.
From recreational activities like trekking or hiking to working in highly industrialized fields you can surely trust this brand understanding their flaws. After all, not everything is perfect, isn't it?