While we mainly focus on the brand, size or design of cowboy boots, we miss a very important factor -the material of the cowboy boots.
This one factor can make or break the boot. The best material keeps you comfortable and stays durable, while the wrong one can lead to a huge disappointment. 
If you're having a tough time deciding which material cowboy boots to buy, then keep reading as this ultimate guide takes you through 11 different materials of cowboy boots.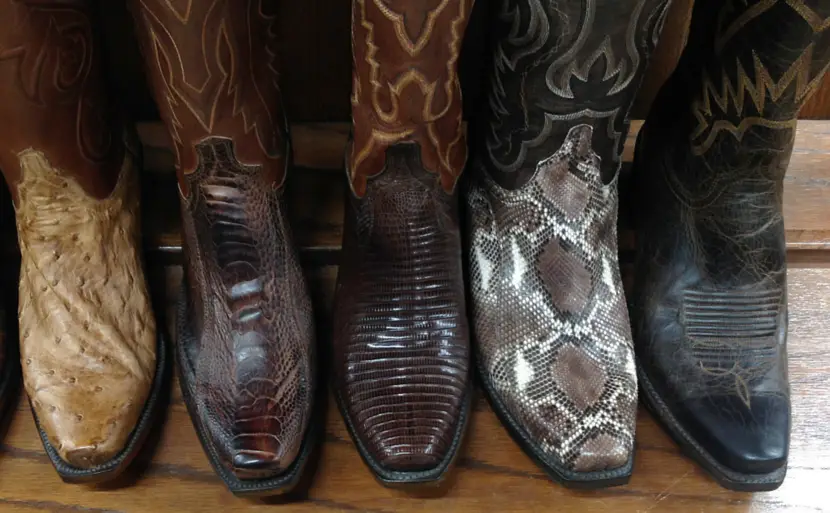 Best Materials For Cowboy Boots
Cowboy boots were invented in the late 18th century to serve the needs of farmers in the wild west of America for affordable, sturdy and safe horseback riding.
The primary material used to make these boots were cowhide as it was easily available and made durable boots. But with centuries of evolution, experimenting, and changing needs of people, cowboy boots are now made with several types of leather materials. 
Types of Leather Material Used for Cowboy Boots
1.) Cowhide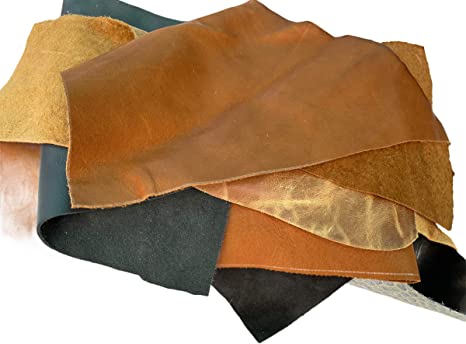 Cowhide was the first material used to make cowboy boots since it was easily available in the western United States during the 18th century.
This material is durable, sturdy and affordable, making it one of the best choices for cowboy boots. Hence, even after centuries of evolution, cowhide still stands as one of the main raw materials for cowboy boots.
Cowboy boots made from cowhide are affordable and make a good choice for daily wear and outdoor activities. While these boots are highly durable, it is still essential to maintain them properly to make them last longer in their best conditions and original colour.
2.) Crocodile Leather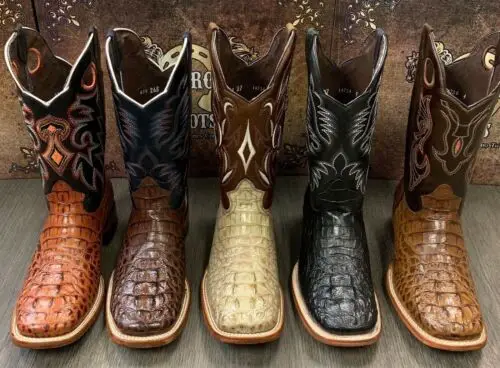 Crocodile cowboy boots are handcrafted and mainly made from caiman crocodile leather. Due to their limited availability and labour costs, these boots are considered exotic and can be expensive.
Crocodile boots have a dark colour and prominent look that makes these boots appear manly and luxurious. 
3.) Snakeskin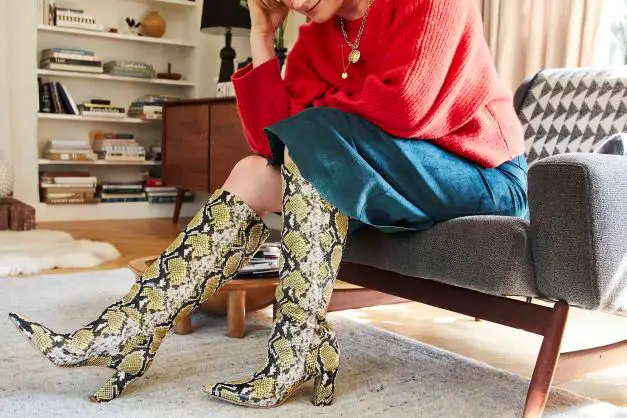 Snakeskin boots have become increasingly popular in recent years. They are primarily made from pythons and rattlesnakes and have distinct and unique textures.
This leather is considered exotic, and the boots made from snakeskin need high maintenance. It takes a lot of effort and care practices to maintain snakeskin boots in their best conditions and make them last longer.  
4.) Goat Leather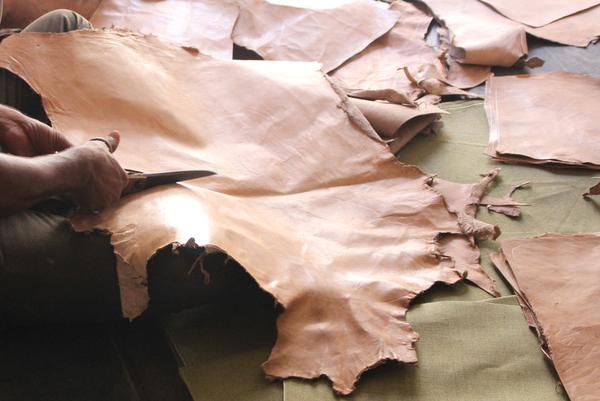 Goat leather boots have a luxurious appeal but are pretty affordable. This leather is super easy to work with, making it the best choice for bootmakers.
Goat leather boots are comfortable and breathable as it has larger pores that help avoid trapping heat and keep your feet cool. Because of its larger pores, boots made from goat leather are also incredibly flexible and durable.
On the other hand, the soft and breathable characteristics of these boots make them a disappointing choice if you're looking for cowboy boots for heavy-duty jobs. 
5.) Shark Leather

Shark leather is an exotic and unusual choice for cowboy boots. Unlike goat leather, shark leather is rough and can easily resist scratches. One of the distinct qualities of this leather is that it is waterproof.
However, it may not be a great feature as it makes them unbreathable and can be uncomfortable when worn for a longer duration. 
6.) Ostrich Leather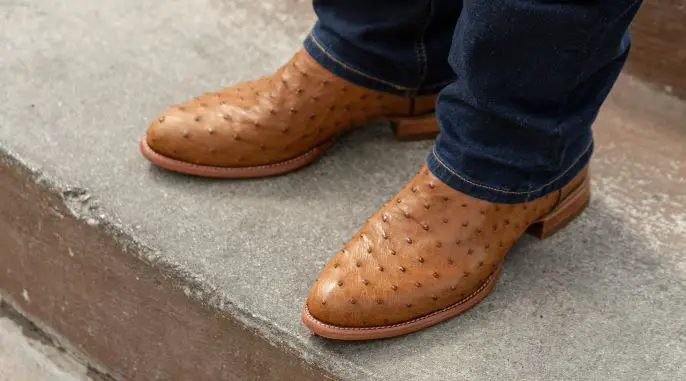 Ostrich leather is the second most commonly used leather for cowboy boots after cowhide. These boots have an elegant appeal and can be distinguished easily due to their bumpy leather and unique looks.
Ostrich leather boots are soft, comfortable and breathable, making them the best choice for summers. These boots are also highly durable and easy to maintain.
However, some cowboy boots are not made entirely from ostrich leather and may have cowhide at the shaft. Cowboy boots made only from ostrich leather cost more than cowhide boots.
7.) Lizard Leather
Lizard leather boots are made mainly from iguanas and ringtails. The stomach areas of these lizards have beautiful smooth patterns and are used to make boots.
Lizard leather boots are also limited and expensive, making them a luxury, much like crocodile leather boots. These boots require careful maintenance and must be cleaned, conditioned and polished after certain intervals to make them stay in their best conditions. 
8.) Elephant Leather 
Elephant leather is a rare type of leather which makes it extremely valuable. Elephants are preserved animals, and there are strict laws around using this leather.
This leather is acquired only from elephants that die of natural causes, making elephant leather boots one of the most expensive types of cowboy boots. These boots are also highly durable, scratch-resistant and sturdy, which makes them worth the money. 
9.) Stingray Leather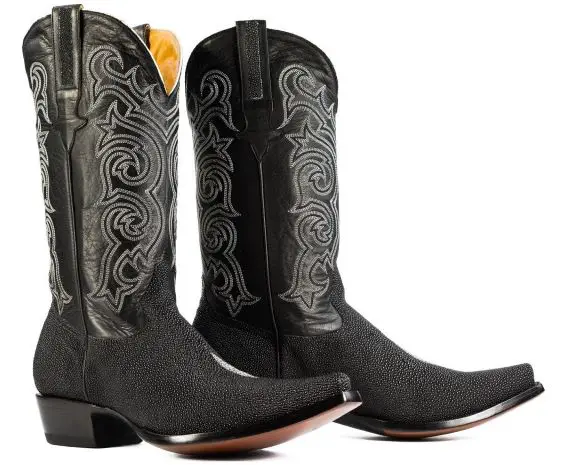 Stingray leather is commonly used to make western work boots. The cowboy boots made from this leather are highly durable, water-resistant and scratch-resistant.
However, this leather is much tougher to process and not favoured by bootmakers. That is why there are only limited options for stingray leather boots available on market. 
10.) Kangaroo Leather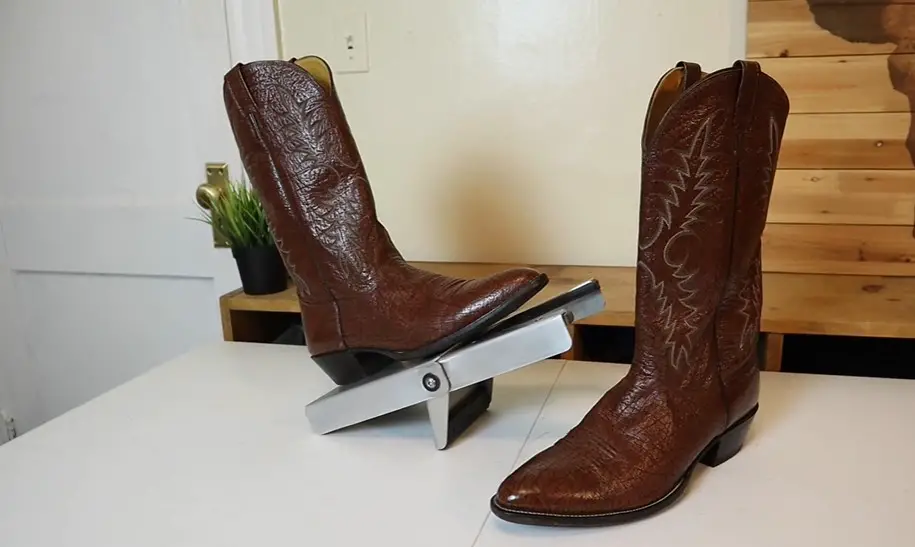 Kangaroo leather is lighter than cowhide and makes exceptionally durable and flexible cowboy boots. Due to their extreme durability, athletes wear kangaroo leather boots to enhance their performance.
However, these boots still require regular maintenance and care to keep them in good condition and make them last longer. 
11.) Horse Leather 
Horsehide is another popular choice of leather for cowboy boots. Horse leather boots are flexible, durable and require less maintenance.
This leather is stiffer than cowhide, and unlike cowhide, horsehide boots are a good choice for heavy-duty jobs. These boots are more expensive than cowhide boots but still come in an affordable range.
Deciding The Best Leather Material For Cowboy Boots
Each leather used for cowboy boots has its pros and cons. It may not be possible to decide on one type of leather as the best one for cowboy boots. But the best leather for you is the one that serves your purpose.
If you're looking for fashionable and luxurious boots, you can go for exotic leathers like snakeskin, lizard leather, crocodile, etc. However, if you need an affordable pair of cowboy boots for regular use, you may want to go for cowhide boots.
If you need boots for tougher purposes, you can go for elephant leather or kangaroo leather. And if you're looking for boots that can stay strong in the rain, you can choose shark or stingray leather boots.
However, there are three main qualities that people look for when deciding on the best cowboy boots for them:
Durability

Flexibility 

Stretchability
1.) Durability
Durability is a highly considered factor when deciding on the best type of cowboy boots for you. All kinds of leather are more or less durable, but kangaroo leather makes the most durable cowboy boots. Kangaroo leather has a distinct texture that promotes durability and toughness. 
2.) Flexibility
Flexibility is directly related to comfort and lasting. Highly flexible leathers can easily bend without creasing and don't form cracks.
Lizard leather is a significant choice if your concern is flexibility with luxury. Other than that, goat leather and horse leather are also quite flexible.
3.) Stretchability
The way leather stretches determines how easily the cowboy boots break-in. Some types of leather can stretch easily, while others may take time to feel comfortable.
Cowhide is a considerable option if you're looking for affordable and stretchable boots for regular wear. But if you need luxury boots with great stretchability, then snakeskin may be your best option. 
Summing Up
Choosing the best cowboy boots depends entirely on your needs. if you need boots for aesthetics and luxury, you can go for exotic leather such as crocodile leather, snakeskin, etc.
Kangaroo leather is the best option for athletic purposes, and cowhide is the most affordable option for regular use. There is no one type of leather suitable for all purposes.
To make the best decision, you should consider the characteristics of each leather and determine if they serve your purpose.