A plumber's job is to make your life easier by fixing, repairing, and maintaining broken pipes, leakages, and everything else that is directly related to water supply into your homes and offices.
They work with tools and instruments that require a special skill set and knowledge on the know-how of plumbing.
It is not an easy job and demands a lot from them physically, which can be dangerous on certain levels. They have their own set of occupational hazards, so a plumber must wear proper gear while working.
However, does a plumber need to wear a steel-toe boot to work?
The answer is NO. A plumber does not necessarily have to wear steel toe boots but they must wear work boots that come with a safety toe cap.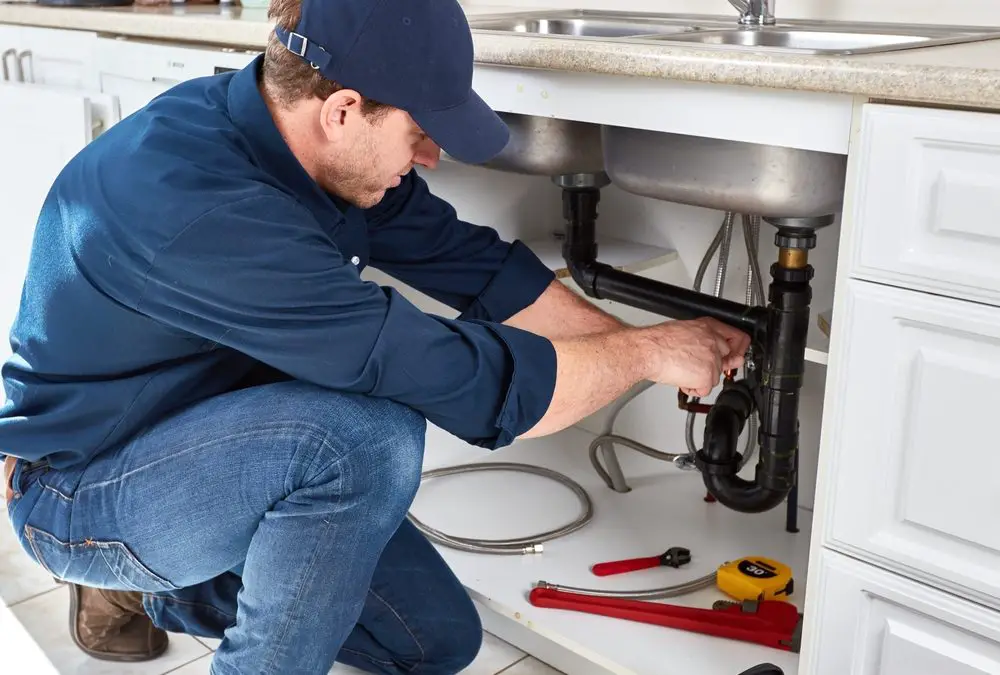 Most plumbers do not work with heavy-duty machinery and tools. The safety toe cap can be any one of the three – steel, aluminum, or composite, as they all serve the same purpose of protecting the feet from any safety hazards at the plumbing job site.
The difference between each of these safety toe caps is that they provide a different level of protection and are made from different materials. It depends on the kind of dangers you will be exposed to at your job site.
Many plumbers prefer wearing steel toe boots because they have been around in the market longer than the other kinds of safety toe boots, but it is not mandatory. I have discussed more on this point further in the article.
Day in and day out a plumber works with water-related systems and appliances, which means they are bound to come in contact with water. Therefore, the more important features that a plumber should look for in a work boot are – waterproof, anti-slip sole, dirt-resistant sole, and durability.
All of the chief features and advantages of the right work boots for a plumber have been discussed thoroughly in this article.  
Features to look for when buying work boots that are suitable for a plumber
1.) Waterproof
It goes without saying that a plumber encounters a messy water situation almost every day at their job site. This reason makes it absolutely essential for a plumber to wear boots that are waterproof to keep their feet safe and dry when working.
Apart from water, there are possible chances of any other forms of liquid entering your boots, like mud and chemicals.
Therefore, if your boots are not waterproof then you will end up with wet socks and feet, which will leave you uncomfortable throughout the day while working.
It can also lead to foot infections caused by bacteria that grow when your feet are wet for long hours.  
2.) Durable
It is very important to buy work boots that are made from good and reliable elements so they can last you a long time to come and take a good beating every day at work.
As a plumber, your boots will be exposed to a lot of mud, dirt, grime, and other nasty liquids, plus rough surfaces, which will put your boots to the test of how strong and durable they are.
Therefore, even if you have to spend a little more do not compromise on its durability feature. Ideally, work boots made of full-grain leather are your best bet.
3.) Comfort
When you have to wear your work boots for several hours at a stretch, which is usually the case with a plumber, you need to make sure that the boots are comfortable.
A plumber has to be on their feet all day when working because most of the job requires a lot of physical labor. Hence, the work boots should provide an adequate amount of ankle support, back support, and arch support.
Your work boots must-have features like a cushioned footbed, and a padded collar. These features will aid in preventing foot fatigue, aches, and add support to your ankles, all of which should not be overlooked for your well-being and productivity at work.
Without comfortable work boots, you will find it extremely difficult to concentrate during work and end up experiencing a painful day.
4.) Good fit
Always buy work boots that fit you well because if they are not the right size, you will end up being uncomfortable when working.
If your work boots are too loose, they will continuously keep coming off when walking or working, which can be menacing. And if your work boots are too tight, you will find it difficult to move around easily and quickly.
Your work boots should fit you just snugly enough that allow you to work freely without having to worry about them when in the middle of work.
5.) Slip-resistant sole
As a plumber, one of your biggest occupational hazards is walking on slippery surfaces. There is an end number of chances of you falling time and again. This can sometimes lead to serious injuries.
In order to avoid this from happening, you need to look for work boots that come with a good outsole that is slip-resistant and provides you with an excellent grip.
6.) Dirt-resistant sole
Similarly, a lot of many times as a plumber you will be working on muddy or dirty surfaces that can get your work boots really messy. Hence, it is best to wear work boots with an outsole that is resistant to dirt.  
7.) Safety toe
Being safe at work is crucial, therefore you need to wear work boots that come with a safety toe cap. Even for a plumber, there are several occupational hazards.
There is the risk of something heavy falling or rolling on the foot, and a safety toe cap can protect your feet from severe injuries caused by such accidents.
Work boots come with different types of safety toes, such as steel-toe, aluminum toe, and composite toe. Wearing either of them will serve the purpose well and prevent you from getting seriously hurt.
Traditionally, steel toe boots are more popular as they are the oldest kinds of safety toe boots. However, composite toe and aluminum toe boots have caught up over the recent years due to their lighter weight compared to steel toe boots. Each of these safety toes is approved by OSHA that meets the ASTM requirements.
8.) Breathable
The work boots you choose to wear for your plumbing job should be made of breathable materials so that you can be comfortable when working in hot temperatures.
It should have moisture-wicking features, which is an added bonus for any plumber working in warm or hot environments.
9.) Construction
Every tiny detail of a work boot counts so does its construction. As a plumber, you should not compromise on the quality of your work boots.
They should be constructed with high-end materials and techniques that will give you value for every buck you have spent on the boots. If the construction of the boots is good, they are sure to last you for several years. 
If you are a plumber then you need to keep all of these points in mind the next time you need to buy a new pair of work boots.
What are the advantages of wearing the right work boot for a plumber?
We cannot stress enough how important it is to wear the right work boot for the kind of job you do. Your safety and health come before everything else if you want to have a productive day at work.
So let's take a look at some of the advantages of wearing the right work boot if you are a plumber. 
1.) You will be able to avoid several serious foot injuries that can be caused by heavy items falling or rolling on your feet by wearing work boots that have a protective safety toe cap.
2.) By wearing work boots with anti-slip soles, you can prevent yourself from falling and getting hurt while walking or working on slick surfaces.
3.) Your feet will remain dry and warm throughout the day by wearing proper waterproof work boots.
4.) You will have healthy feet by avoiding them coming in contact with dirt, grime, and harmful chemicals.
5.) There will be no infectious bacteria growing in your feet caused due to wet work boots throughout the day.
6.) The chances of getting unbearably fatigued by the end of the day will be reduced by wearing comfortable work boots.
7.) Your productivity will increase by manifolds when wearing the ideal work boots for work.
See also: What Color Hard Hat do Plumbers Wear?
Wrapping
Another bonus tip to help you figure out your next pair of good plumbing work boots is that if the work boots cost less, they are more likely to have a poor build quality.
It is never a good idea to compromise on your safety by trying to save money on a pair of work boots that are built with cheap materials and components.
Do your research well before deciding on one single pair. You can take a look at our article where we have reviewed the best work boots for a plumber if you are confused about which one to buy for yourself.