There are tens of dozens of work boots available for construction workers, but you may wonder which type of boot is appropriate for a project engineer or construction project manager.
Much will depend on the kind of construction company you are working for, and consequentially, the types of hazards you will face and if your employer has specific requirements. 
Dressy or not?
You may also want to consider if you need to be "dressed up" on the job and precisely how much. 
This will influence if you prefer a lace-up or pull-on style. Pull-on boots tend to look dressier and can easily work if you have a dinner or lunch meeting with clients.
Often a construction manager will be required to be working on site, meeting with company directors, and eventually consulting with a client all on the same day. In these situations, versatility becomes a priority in the selection of work boots.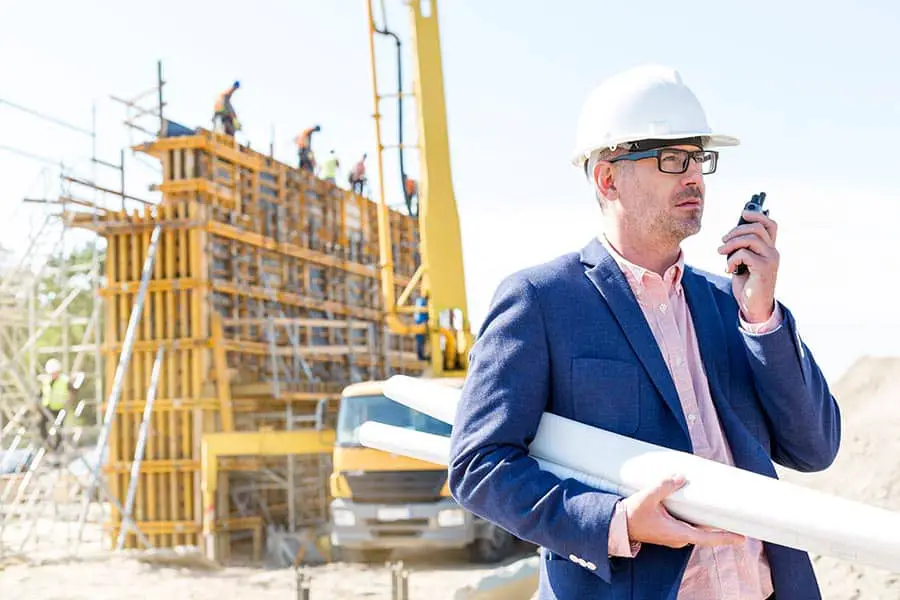 There Can Never Be Too Much Comfort
Comfort is no less important. Exceptional comfort is required if you end up spending most of the day on your feet or climbing twenty or more flights of stairs because of a broken elevator on site. 
When selecting your boots, also keep in mind how much time you may need to break in a pair of new work boots. Patience can be a virtue if you need to break in footwear.
Often boots require a month to break in completely, so, during the first days of wear your feet may bother you. Eventually, however, they'll probably become the most comfortable footgear your own.
Whatever you do, don't arrive the first day at a site in a new pair of work boots.
Do Construction Managers Need Steel Toe Work Boots?
This will depend on your duties as a manager and if your company has specific safety procedures and protocols.
If you think you will be spending most of your time at the job site, you should wear similar boots to what site superintendents are wearing. Some sites may require steel toes on site while others may only require heavy leather boots.
Nonetheless, when working at a construction site, waterproof boots are always an advantage as are boots that cover the ankle area because you will most likely encounter uneven terrain.
Are There Specific Legal Safety Requirements for Construction Boots?
Construction work does not require a specific boot or a specific type of boot. There are however required features. The style or brand of work boot is an individual choice.
If your employer does not state specific requirements for the construction site, consider what the U.S. Occupational Safety and health Administration deems necessary for working footwear.
The OSHA states in its 1910.136 requirement that the employer must ensure that employees wear protective boots if there is risk of foot injury.
Any type of risk to the foot, including falling materials, rolling objects, or thing that can puncture a foot must be considered when selecting protective footwear. The OSHA also requires protection if you will be exposed to an electrical hazard on site. 
Basically, the boot itself is not required but these safety features are. So, a lot will depend on exactly what kind of construction you will be involved with.
If you are not at risk on site for heavy falling or rolling materials, then you will not need boots with a safety toe. If these risks are present at the site, you will.
The same can be true for EH rated work boots. If you will not be near electricity during your work, you won't need this safety feature. 
Puncture resistant outsoles will also not be necessary if there aren't screw, nails, metal shards, or glass on surfaces that risk puncturing your feet.
Government regulations only require footwear to be protective against specific safety risks that any worker might face at a construction site.
What About Employer Requirements?
Employers are required legally to guarantee you wear work boots that protect you from specific risks at the work site. Nonetheless, they may ask you to wear steel toe work boots anyway.
You may be asked to have boots with outer soles that are lugged or Vibram to guarantee slip-resistance and reduce the risk of falling. In this regard, your employer may prefer lace-up boots as opposed to pull-on boots for the same reason.
Before selecting a pair of work boots for your role as a construction manager, ask if your employer has foot gear requirements at the work site.
What Kind of Boot Can Go from a Muddy or Dusty Construction Site to a Meeting?
Brown pull-on boots may be a better choice if you have to jostle appearances on site with the board room. They tend to hide dirt a little better.
Black is fine for formal meetings but will show more dust. You can always keep a second pair of boots, perhaps less expensive, in your vehicle if you think you'll be walking in the mud.
How Long Will Boots Last for Construction Managers?
This will depend on the quality of work boot that you purchase and exactly what you are expected to do during your job. For managers, a good pair of boots should last at least a year.
The boot construction of some quality brands allows for resoling. In these cases, you may get a half dozen years, if not longer from your pair of work boots. Cleaning boots along with the application of a good leather conditioner will contribute to the durability of your boots.
The Bottom Line
Invest in quality work boots that offer both support and comfort together with adequate protection. You also need to select the right size for a proper fit.
There are numerous styles available in the marketplace from western to loggers to thick-soled pull-ons. Regardless of the style you prefer and any specific safety features required, consider these characteristics when selecting:
1. Foot support and shock absorption
A boot that absorbs shock, especially if you will be working on hard surfaces, can make a big difference come the end of the day.
2. Traction 
There are lots of options, but a good grip and traction are crucial to avoiding slips and falls.
3. Arch Support
If your arch, regardless of the type, will need adequate support. If your arch does not have enough support, your feet will be sore, and sore feet can lead to leg and lower back pain.
4. Toe Room
Never underestimate the amount of room necessary to keep your forefoot comfortable. A narrow foot box will pinch your toes and make you uncomfortable. 
Finally, choose a well-constructed pair of boots made with quality materials, so you get good value for your money.