Are you using knee high boots as your 'go-to' accessory in your day to day lives but are in a dilemma whether these tall boots are off limits to wear to the workplace or not? Are you using these boots in fall and keep them aside as soon as summer arrives?  Well, this article is all about clearing your doubts.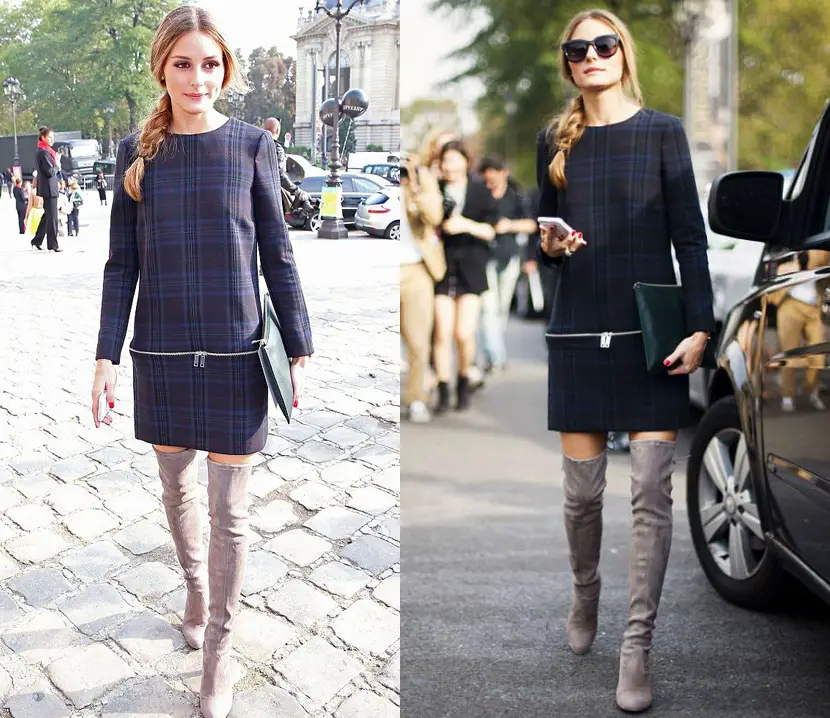 Trendy in the fashion world since the 1950s, knee high boots are one of the most favored options. The boots come with a classic styling approach that gives you a perfect look when you pair them up with a dress or skirt.
Knee high boots allow our legs to move with ease making us work even more comfortably. Generally constructed using pliable suede, supple or stretch leather materials the boots increase the flexibility.
Knee high boots rise comfortably to the knees or slightly thereunder or over and provide traction even on slippery surfaces. In my opinion, these boots are apt for you to work freely with a professional look.
So dwell deep into this article to know about do's and don'ts of knee high boots and how you can pull them off in just the right way without hindering your work. So let's get started.
What is the basic difference between knee-high, over the knee and thigh high boots?
When it comes to styling, you just can't miss the key contrasts between three basic long length boots.
Knee high boots as the name suggests, go upto your knees but don't cover them entirely. That being sad, they may or may not have heels which you might like adding according to your need. The boots are an example of a perfect trans-seasonal retrofit.  Whether the sunshine is trying to peek from behind the clouds or its fog all around, these knee high boots are the answer to all your conundrums.
Now let's scrutinize the pretty infamous over the knee boots which originated as riding boots for men in the 15th century. They fully or partly cover your knees are the cuissardes which were redefined as a fashion statement in the 20th century. Over the knee boots are also used by the workers working in circumstances which require additional protection for the legs. The boots have got different varieties like waders or hip boots which are typically made of rubber keeping your feet warm in autumn and winters.
And so we come to the Thigh highs which you might see as cuffed, pirate boots. The length of these boots vary from reaching your thighs to almost to the crotch. Made from a variety of materials like leathers, vinyl, polyurethane or latex, thigh high boots flatter those with longer legs.
How can you wear knee high boots to work?
Wearing of knee high boots depends totally on your workplace. That is, the more conservative the workplace, the less likely your tall boots are appropriate. Mostly, formal workplaces don't accept knee high boots but if you are settled in a place where the environment is less buttoned up then these boots can look quite polished.
Let me tell you some of the basic tactics which will help you pair up the knee high boots in just the right way.
1.) Always look for a classic knee boot
Trust me, a decent and sophisticated boot which doesn't go into too much of gimmicky details and hardwares is the one which looks quite professional. Detailing might look tacky when it comes to working in an office environment.
2.) Keep the conservative colors rule in your mind.
If you really want to command authority with your boots then colors like black, brown and taupe are just perfect. While these colors look classy, bright colors might end up looking tawdry.
Not just color, even the print, and material of your knee high boots make them suitable for work. I would suggest you keep shiny leather or snake print boots for after work as they might look too edgy for the workplace. In short, the more subtle your boots, the more comfortable and exclusive you look in your office.
3.) Choose the boots with low to medium heel
Thinking which heel size is appropriate? To my mind heels upto 3 ¼" can enhance your work look. Moreover, the higher and skinnier your heels, the more uneasy and self conscious you might look which can directly affect your performance at the workplace. So try keeping the heel as chunkier as you can.
Flat boots are fine but they sometimes look way more casual than boots with a heel. So, in case you are opting for flat boots make sure that they are very polished looking.
4.) Your attire should go with your boots
Can your pair up your knee high boots with almost everything? Well, the answer is no! For instance if you are thinking of putting up lightweight, spandex leggings then you might need to think twice as they aren't appropriate for business casual.
Just like that, avoid wearing regular dress pants with your knee high boots as tucking them in can give you that baggy unprofessional knee look.
Do's and Don'ts of wearing knee-high boots
In the world of boots, knee high boots can sometimes turn out as bizarre. Between knowing what hemlines to wear with them, where and how to wear these knee highs it's enough to make someone just avoid the style. But you don't have to do that as here are some do's and don'ts which you must keep in mind.
DO
Try combining your boots with clothing that is covered up in at least one way, for example high neckline, maxi hemline or sleeves.   

Pick a hemline that goes on top of the boots for an alternative to the peek of the skin.

If you really want to pull off that professional look, just top your look with a coat and play down the bold looks of the knee offs.     
DON'T
 Don't expose the skin between the boots and your hemline more than five inches.

Don't let the boots overpower the rest of your outfit.

Never forget about the fit. The boots shouldn't be overly tight or too loose.                        
Final Verdict
Knee high boots have been in fashion the past few decades as they have such staying power. Knee highs are accessible to a variety of body types and budgets. Styling them in a fresh way can really help you walk with confidence in your office and might boost your performance. So what are you waiting for? Buy your knee highs and pull them off in style!