What does it mean to be a cowboy? What does it mean to dream? Of course, these seemingly rhetorical questions lead to numerous individual, open-ended answers.
However, if you dream of being a cowboy, can you even dream of one without the ideally fitting, bold, and stylish cowboy shoes to match?
So, what exactly is so catchy about the cowboy shoes that makes them so different from others? The answer is… heels. Yes, this seemingly indistinct part of your favorite cowboy boots makes them so different from others of their kind.
The heels of the cowboy boots are not merely to enhance their appeal but are made specially to allow you to grip perfectly into the stirrups to ease your horse-riding experience.
In this article, you will understand how heels contribute to the purpose, background, and personality of various types of cowboy boots. With that, you will easily learn to pick and choose the perfect cowboy shoes.
Fashion Versus Function
Now depending on the height of the heels and the design of the cowboy boots, there are numerous ways to categorize them.
However, instead of using complicated measures, let us classify cowboy boots based on their purpose. The purpose here simply means the idea with which your favorite cowboy boots were crafted.
Were they made to allow your soles to feel a spiritual comfort while walking and working or were they made to help you redefine yourself with the charm of traditional western fashion?
Boots With a Twist of Fashion: The Traditional Fashion Statement
So first, let's appreciate the fashionable side of the cowboy boots, the appeal of a bold and traditional lifestyle, of confident and responsible cowboys who work hard for their family and community.
The heels of these fashionable boots are more often than not slanted or pitched and while these slanted heels undoubtedly add points to your charisma, their primary purpose is to improve your grip while horse-riding.
Most of these fashionable boots also have heels more than 1.5 inches in height, effortlessly helping you stand out from the crowd.
Now let's look at the different types of fashionable cowboy boots:
1.) The Spiked Heel
With a narrow heel, around 3-4 inches in height, the spiked heel cowboy boots are your best bet to accentuate your movements and height.
At the same time, the spurs on these boots help cowboys in relaying commands to their horses, giving this unique cowboy boot a practical use as well.
2.) High Heels for the High Life
As the French fashion designer, Sonia Rykiel once said, "How can you live the high life if you do not wear the high heels?". Now the context might be a little different but the sentiment remains the same.
To put on high-heel cowboy shoes is to make a bold statement. These high-heeled boots, often more than 2 inches in height, are associated with the true cowboys because these fashionable boots allow maximum stability on the stirrups and great adaptability while horse-riding.
Depending on their appearance, function, and height of the heels, high-heel cowboy shoes can also be put under two major categories-
Fashion Heels
With heels more than 3 inches in height, fashion heels are generally more associated with cowgirls than cowboys, for they accentuate the feminine charm and gait of the girls.
At the same time, however, these boots might not be suited for working on ranches, walking, or even horse-riding.
Riding Heels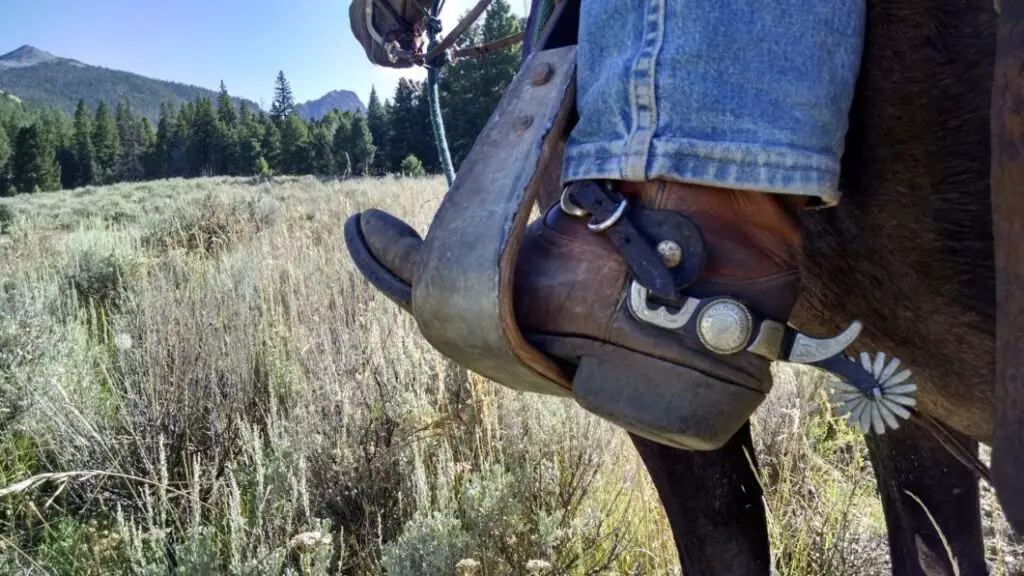 These boots feature a pleasing design and a slanted heel that is just high enough to allow you easily slip into the stirrup while offering you freedom and equilibrium while riding horses.
While riding heels might also not be the best choice to walk or work, these boots bring out the pride of the real cowboy fans.
3.) The Slanted Fowler Heels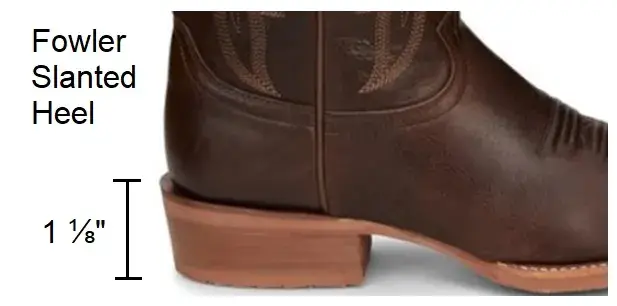 As with most of the other cowboy boots leaning towards the fashion end of the spectrum, the fowler heel boots with a slanted heel are geared towards providing control and balance after hooking into stirrups.
Featuring a formal and high-end design, these boots were worn by cowboys to attend public gatherings instead of working on farms or ranches. As a true cowboy fan, what would you choose?
See also: 8 Different Types of Heels on Cowboy Boots
Resilient Boots for a Hardworking Hero: The Firm and Practical Boots
Now coming to the cowboy boots made for real tireless and confident cowboys, the following types of boots are more oriented towards supporting your soles and helping you swaggeringly connect with the mid-western tradition.
As usual, the height of the heels proves to be an important factor for distinguishing the practical and the fashion boots as the former would generally have heels less than 2 inches in height.
Standard Boots: Standard for Excellence
So, in case you don't care about how your boots look and instead are just looking for something that makes you feel comfortable, the standard boots are for you.
These boots are wide and flat at the bottom and have a heel height of around 1.5 inches. These boots are optimized so that you are at ease while riding, working, or even walking long distances.
Even if you are choosing a standard boot though, make sure that:
1.) The Straight Fowler Heels, unlike the slanted fowler heel boots, are great for walking normally, wearing outdoors, and most importantly, for hooking into the stirrups.
2.) The Walking Heels might not be as fitting as the fowler heels when riding but they are definitely the comfiest choice out there for riding!
3.) Boots That Work With You to Lower your Workload. The Low Roper Heel Boots: The Roper heel boots have the lowest heel height. They are known for their elegance, lightness, and ease.
They are the first choice of people who work outdoors a lot. At the same time, working-class people, whether they be working on the ranches or in offices, love these the most.
5 Things to Keep in Mind to Simplify Your Choice
Now choosing the perfect pair of cowboy boots is generally dependent on a lot of factors. But it doesn't have to be that complicated. Simply put, your perfect pair of western boots should:
1.) They Should Mean Something to You
Cowboy boots are one of the most versatile, fashionable, and durable shoes to choose from. But the world of cowboy shoes seems pretty messy at first glance, simply because there is so much to choose from.
So, instead of picking something based on others' advice, why don't you find your own why? Why are you drawn toward a specific pair of boots?
Find out what your ideal cowboy shoes should mean to you.
2.) They Should Reflect your Personality
Your boots should show who you are in person. Are you approachable and warm? Are you hard-working and proud?
At the same time, they should display your lifestyle and preferences. Do you usually work more than you walk in town? Do you love riding horses in the wild? Or are you someone who hangs out with your friends more often than working on ranches?
3.) They Should Suit Your Style
Your ideal boots should be in tune with your style. With your looks and preferences. With your attitude and manners. With your identity and status. With the way you usually dress and express yourself.
They should complement your character and enhance the aspects of your personality that generally remain hidden.
4.) They Should Arouse Interest
Your perfect pair of boots shouldn't just make you feel at ease. They should attract you, and draw you towards them instead. At the same time, they should also make you feel more confident and reveal your inner swagger and wild western charm.
Only if you are interested in your boots, only if you have that swag, would you catch others' interest as well.
5.) They should represent something greater
Before choosing your favorite pair of boots, you should keep in mind that you shouldn't buy cowboy shoes just because of what they are. They should stand for something bigger, something greater than just shoes.
Like an idea that you connect with. Such as the iconic midwestern style or the true American tradition. An idea that makes you sure about yourself. An idea that makes your boots a piece of art.
In conclusion, whether you choose the high heel, standard heel, or low heel boots, they should echo with your boldness and personality as well.
So, without further ado, let's giddy up and get ourselves a perfect pair of iconic western boots.