Not much has been written about Rigger boots and the similarities they share with Wellington. Although they look quite similar, as both are slip-on boots made with similar materials, what distinguishes them from each other is their initial history.  
In this article, we will be looking at Rigger Vs Wellington and which one you should go for. 
Rigger boots are the type of footwear that fall somewhere between a wellington and a lace-up safety boot. They fit more loosely than traditional work boots, and the new waterproofing feature they've added makes them an ideal option for work.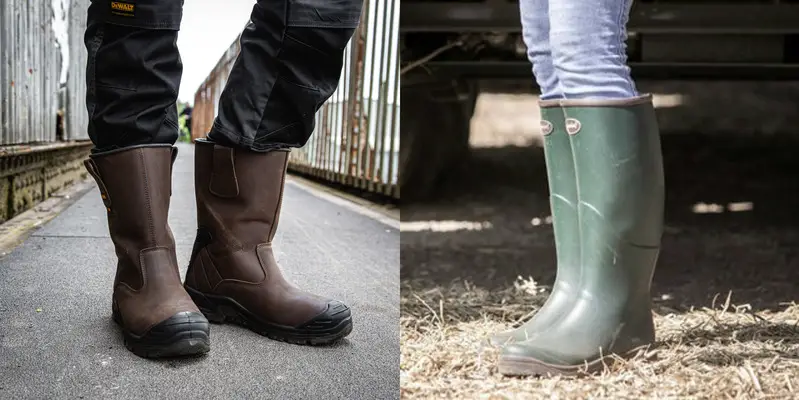 Rigger boots are a specific type of pull-on boots, and a good example would be a leather wellington. They were initially known as safety boots until many other types of boots gained more popularity. 
And talking about Wellington or as it is most commonly called wellies, you could benefit from having a good pair of these boots, whether you work on a ranch, in a mine, or producing steel and iron. 
History of Rigger Boots
The history of Rigger boot is actually intriguing. Workers on the offshore rigs in the North Sea were in constant danger of falling into water and so they required a safety boot that could be easily taken off in an emergency. 
Today, the majority of manual workers wear rigger safety boots, with advancement in its features and technology, as their everyday work footwear. Their useful pull-on system and other ease factors are contributing to their rising popularity. 
History of Wellington boots
Soldiers stationed in hot climates during the French wars required lighter, breathable footwear to help keep their feet from overheating while also maintaining the look. 
The First Duke of Wellington, a British nobleman by the name of Arthur Wellesley, commissioned his shoemaker to create a pair of comfortable and cozy riding boots. 
Throughout the war, Wellesley's was known for his victories, and when Europe noticed his distinctive boots, a major fashion trend, the Wellington boot was born.
Rigger Boots in detail
Rigger is a specific style of pull-on safety boot. Rigger boots have reportedly received criticism for their lack of ankle support and have even been outlawed on some construction sites.
General industry workers started wearing the boots as a result of their comfort, but the Rigger boot's most commendable quality is the fact that they are pretty affordable. 
The main advantage, in addition to protecting the toes, is that they are simple to put on and take off without the use of laces. 
Benefits of Rigger boots-
1.) They are simple to put on and take off, they require no tying up all the time, and prevent tripping accidents because of the absence of laces. 
2.) Many rigger boots are entirely metal free, which makes them lightweight in nature. 
3.) They are waterproof, so they wouldn't get dirty due to water spillage. 
4.) They come with cutting-edge features like being lightweight, waterproof, thermal, and tactical as well as a variety of styles for added support and safety. 
Disadvantages of Rigger boots-
1.) Lack of ankle support.
2.) In accordance with their risk assessments and health and safety requirements, they are frequently prohibited on particular construction sites or by particular construction companies.
3.) They provide no protection against ankle injuries, therefore, falling debris can get inside the boots, and the midsole has no penetration resistance, which can lead to injuries from stepping on nails at worksite.
Wellington Boots in detail
The Wellington boots are available in a variety of styles and features. They are a great option for a variety of jobs and work settings. 
This kind of footwear has a lot of advantages. Since the majority of them are waterproof, they can withstand muddy and wet conditions.
Additionally, they offer defense against contaminants in agricultural settings and chemicals in chemical plants. 
In addition, many Wellington boots have a reinforced toe for additional safety. They are perfect for linemen because many of them also have safety features against electrical hazards.
They are sometimes referred to as rain boots because they are most frequently worn on muddy, wet, or snowy surfaces. Usually, rubber, polyvinyl chloride, or halogenated polymers are used to create them.
Benefits of Wellington Boots-
1.) Wellingtons for work clothing offer the added benefit of toe protection. This protects your toes and front of foot from any heavy machinery, materials, or sharp blades you may be working with. 
2.) They are grease, water, and oil-resistant. 
3.) Some wellies have kick-off spurs that make it simple to take them off and give you the chance to keep your hands clean.
4.) Even with frequent use, they are incredibly strong and resilient and will last for years.
Disadvantages of Wellington Boots-
1.) They can be quite rigid and leave a lot of space for airflow and friction, wellies aren't always the most comfortable shoes.
2.) Since most Wellies are made of rubber, your feet can get quite hot and cause sweat and odor. 
Similarities between Rigger and Wellington boots
1.) In muddy or wet conditions, wellingtons and riggers are excellent for keeping feet warm and dry. Your workforce will be protected by these safety boots from a variety of risks, including slips, falls, and impact injuries. 
2.) Work in outdoor environments like agriculture, construction, roadwork, and offshore is ideal for wellington and rigger boots. These boots also provide a variety of extra safeguards, including steel reinforcement and anti-slip protection. 
Differences between Rigger and Wellington boots
Although Rigger Boots are a general-purpose and affordable work boot, they fall short in terms of safety because of lack of adequate ankle support. Whereas, Wellington boots come with ankle support. 
Are Rigger boots legally banned while working on construction sites or any other workplace? 
For oil rig workers, riggers were initially intended as safety footwear. These boots are popular among workers on oil rigs and in the North Sea because they are easy to put on and are crucial in emergency situations. Especially for chilly days, they might also have an internal fur lining for warmth. 
Rigger boots have gained popularity recently among other types of workers who frequently compare them to wellington boots but with more structure. To keep their workers safe, however, a lot of construction companies have decided to forbid rigger boots.
These boots are not legally prohibited by any significant governing body, but they might be by specific construction firms or sites. To find out about specific safety policies, it is always best to check with an employer. 
Larger companies have prohibited rigger boots on the construction site even though there hasn't been a change in the regulations.
Recommended Rigger boots for you
1.) Wolverine Rigger Composite-Toe Mid Wedge Construction Boot
These boots feature an anti-fatigue technology, which brings comfort closer to the foot. Every component functions as a unit to offer unmatched comfort and support.
Feet stay dry all day thanks to a waterproof full-grain leather upper and a waterproof plus breathable membrane.
---
2.) Portwest Total Safety PVC Boot
These boots feature a steel toe cap, an energy-absorbing seat area, a fuel and oil resistant outsole, and a slip-resistant outsole to prevent slips and trips on ceramic and steel surfaces.
---
Recommended Wellington Boots
1.) Muck Boot Classic Rubber Work Boots
These Muck Boot chore classic men's rubber boots are perfect for landscaping and other outdoor tasks in general because they keep feet dry and comfortable all day.
Additionally, it retains heat and is adaptable to the natural contours of the foot for excellent support. 
---
2.) Wolverine Floorhand Waterproof Steel-Toe Wellington Boot
This waterproof work boot is made with a removable full-cushioned footbed and a rubber midsole to keep your feet comfortable despite the demanding conditions you encounter on the job.
---
Conclusion
Both Rigger and Wellington boots are so similar in so many ways, like they look so similar. Both come with slip-on features and other similarities. Many don't consider them different. However, there are minute differences between them which we have discussed in this article. 
But if you have to choose between the both, go for wellington boots as they have more to offer in terms of features and safety.