Red Wing and Irish Setter are two of the most well-known work boots. Not only because of their traditional craftsmanship, but also because they have been around for decades and have shown their effectiveness and functionality as heavy-duty work boots.
Despite the fact that they both come from the same parent firm, they are fairly different in terms of features.
In this article, I'll go through the differences between the two boots based on my own experience with them.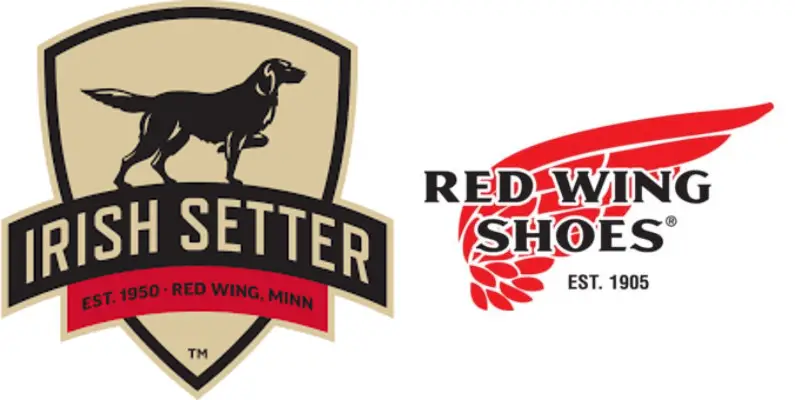 The Primary Difference
When there's a growing demand for industrial type boots among the workers, it was Charles Beckman who manufactured the red wing shoes which holds to be known to the high-grade, durable, comfortable, and heavy-duty work boots. 
Later, the company introduced a new work boot line along with its heritage boots, red wing boots, in response to the rising demand of industrial type boots and popularity of the red wing shoes.
Titled as Irish Setter Boots, this new boot product line was manufactured using fine Red Russet leather in the colour of an Irish Setter hunting dog. 
There are many parallels and distinctions between the two boots. With their traditional legacy the Red Wing boots have a traditional craftsmanship dating back to 1905, whilst the Irish Setter boots with its modern cutting-edge footwear technology are famous for its more functional capabilities which is perfect for hunting and other heavy-duty tasks involving industrial or mining working conditions.
Some people want time-tested quality, such as the Red Wing heritage boots, while others, such as the Irish Setter, prefer a more modern design with updated materials and technology.
One of the biggest distinctions between the two brands of boots is that Red Wing heritage boots are still produced in the United States, whereas all Irish Setter boots are made in other countries. 
The users of both the boots vary in terms of quality and function, the red wing users wanted to stick with its time-tested quality, while Irish Setter users, seeks for a more modern design with updated materials and technology. 
The Difference Between Irish Setter and Red Wing
The Red wing and Irish Setter Boots stems from the same parent company, however there's quite difference between them from their craftsmanship to the materials it used.
Buying a high – quality work boots which is highly durable and effective is always a necessary given the nature of the heavy duty works. 
So, in this session I'll be detailing about major differences between an Irish Setter and Red Wing boots
1.) Functionality
Red Wing Shoes began with the goal of providing high-quality, handcrafted classic boots. As a result, they concentrate their efforts on producing classic, durable, and elegant leather boots.
Irish Setter, on the other hand, focuses on inventing new features that allow for hard and rigorous use while maintaining maximum safety.
2.) Manufacturing Method
The Red Wing follows their history of employing traditional manufacturing techniques, Whereas the Irish Setter use cutting-edge technology.
Irish Setter features a modern technology called UltraDry moisture management technology that maintains your feet dry and assures durability. 
3.) Quality 
All of the Red wing boots are made in the United States, providing the greatest level of craftsmanship. They still use the older techniques in creating the boots with utmost quality.
All Irish Setter shoes, on the other hand, are made in another countries. They are not bound to follow the traditional methods but is actively incorporating newer footwear technology. So, in terms of manufacturing quality, remains on the top.
4.) Design 
The classic leather footbed in Red Wing boots is tough to break in. The benefit of an extended break-in period, on the other hand, is that the boots will be fit perfectly to your feet. Another advantage is that even if leather footbeds get damaged after extended usage, they can be repaired or replaced.
A replaceable and padded polyurethane footbed and wedge outsole is attached in Irish Setter boots. This benefit is capable of providing immediate comfort to the wearer. They also do not require any break-in period. However, the footbed are not repairable.
5.) Safety Measures
ExoFlex and ArmTec technologies are added by Irish Setter to increase the life of their boots and maximise their utilisation. Some also have heat and slip resistance to ensure a durable and demanding performance. The ASTM F2413-11 safety criteria are also met by these boots.
The Red Wing boots, on the other hand, do not meet such specific requirements  
6.) Stitching Methods
With simple leather panelling, Red Wing uses sturdy and thick thread stitching. Irish Setter, on the other hand, uses thin thread triple line stitching on a larger amount of leather panelling.
7.) Comfort and Fit
Even while the padded footbed in Irish Setter Boots provides immediate comfort, the fitting and comfort still dependent on the style and construction of the specific model you are purchasing and the need for using it.
It is always advised to read the size instructions to determine if you should order your current size or down the size.
Red wing recommends ordering a half size smaller than your normal size for the best comfort, this is mainly due to break–in period. Initially it may not bring immediate comfort, but once the break-in period is over, it will definitely help in the long run.  
Irish Setter Vs Red Wing
| | |
| --- | --- |
| Red Wing | Irish Setter |
| Handcrafted classic boots | Not-handcrafted boots |
| Incorporating newer footwear technology | Follow only the traditional techniques  |
| Manufactured in US and Overseas | Manufactured Overseas |
| Top in manufacturing quality | Second to manufacturing quality compared to Red wing |
| Tough to break in | There's no break – in period |
| Have tougher leather footbeds | Have polyurethane footbed  |
| They are heavier than Irish Setter  | They are lightweight boots |
| Damaged footbeds can be repaired and replaced | Damaged footbeds can only be replaced |
| Do not have UltraDry moisture management technology | Have UltraDry moisture management technology |
| They do not have these technologies | ExoFlex and ArmTec technologies are added |
| Use simple leather panelling | Use larger amount of leather panelling |
| Uses sturdy and thick thread stitching  | Uses thin thread triple line stitching |
| Costlier than Irish Setter | Less Costlier than Red Wing |
Similarity Between Irish Setter and Red Wing
Despite the fact that they have a lot of differences, they also have a lot of similarities. The following are some of the parallels that are observed.
1.) Both Irish Setter and Red Wing boots are made of the same type of leather.
2.) Despite the differences in production procedures, both brands use Goodyear welt construction for their distinctive Moc Toe boots.
3.) Outsoles for both brands' boot lines are likewise similar. They're available with a rubber wedge outsole or a hill.
4.) The christy wedge rubber soles are found on some types of Irish Setter boots and the Red Wing work boots. There exist a deep and broad lug on the sole make it simpler to remove dirt, trash and mud. both outsoles are also good at providing excellent traction while working in industrial or mining settings. 
5.) Both offer a 100% quality guarantee on the materials used in their production. However, they differ in price mainly due to their difference in construction techniques. Red Wing is costlier than Irish Setter
To Conclude
You should now have a better understanding of the similarities and differences between the two pairs of footwear. This article will assist you in selecting the best work boots for your requirements. Even if you're well-versed on the differences, you must be certain of why you're buying it.
If you want protection and functionality, the tough and durable Irish Setter Boots are the way to go. In whatever working conditions you're in, this protective footwear will keep your feet safe.
On the other hand, if you want a long-lasting and stylish work boot, a traditional pair of Red Wing boots is the way to go. These handcrafted vintage boots are expensive than the Irish Setter, but they are worth for the price.