With the weather in western side, its always mandatory to have boots that is capable of making you warm enough to walk around outside as well as to delve with outdoor activities.
The two most common boots used these times are snow boot and ski boots. The snow boots are commonly used for casual purposes like walking while ski boots are used for skiing. Also snow boots are softer than ski boots given their difference in purposes. 
There's a lot of differences between them starting from its purposes to size or fitting. In this article you'll be getting a broader understanding of their differences.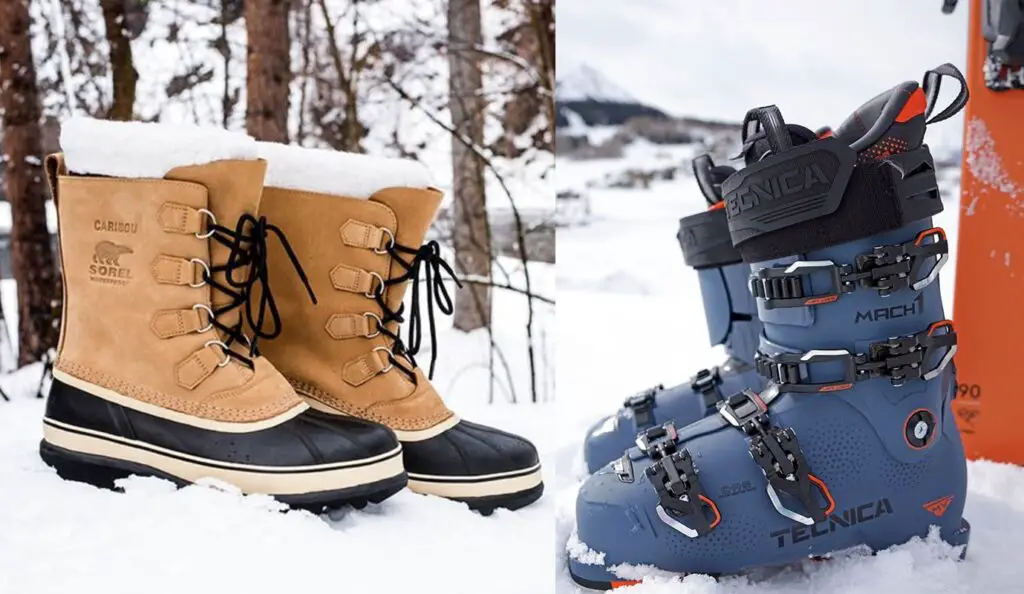 Difference in Purpose Snow and Ski Boots
The primary purpose of wearing snow boots is to provide adequate warmth when going outside. Snow boots are designed to keep your feet from the extreme weather conditions during winter times.
You can casually use your snow boots while taking a normal walk to the nearby store or even for playing in the snow, whether its wet or snowy you can wear your snow boots without worrying about getting wet or frostbite. 
Along with this casual usage they are also good for ski trip, however they will not be a good option for skiing as it required more advanced features than snow boots.
Whether it's to provide warmth or to be waterproof, these snow boots are excellent at keeping your feet dry and cozy no matter what the weather throws at them. 
Ski boots are the most significant component required for your ski setup since they provide the best grip, warmth, and comfort while you were out there skiing.
They are designed to protect and support your lower legs, feet and ankles while skiing by restricting as well as transferring your movement into you skis. 
Difference in Features of Snow Boots and Ski Boots
You must need to know that both the snow boots and ski boots have a great difference in their feature as they were designed for fulfilling different purposes. Following are some of the key features that make both of them unique for their particular usage. 
1.) Features of Snow Boots. 
One of the most distinguishing features of snow boots is that they have a high side, which is designed to keep snow out, and a rubber sole, in order to keep the water out.
The taller the boot, the more snow protection you'll have. A tall boot is ideal for snow hiking since it keeps your lower leg areas and feet completely warm.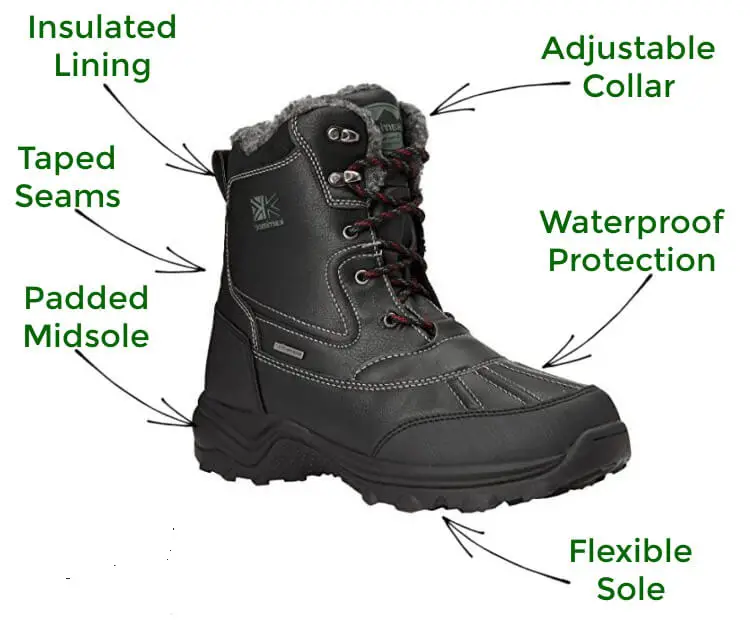 They also have an upper made of materials like as padded or quilted nylon, suede, and leather. They're also taped at the seams. They also have an adjustable collar that allows you to tighten the boot's top around your leg.
The midsoles and the soles in snow boots adhere to provide specific qualities. Shock absorption and increased cushioning are provided by the padded midsoles. The soles, on the other hand, provide the flexibility, grip, and stability needed to walk in deep snow. 
Soft fleece linings, thermoguard padding, and Xerotherm technology are among the various types of insulation used to design snow boots to keep you warm. They are also incredibly water-resistant, having a permeable Isotex fabric that disperses rain and snow to keep feet dry both inside and out. 
2.) Features of Ski Boots 
Given the demands of skiing, ski boots have a number of features that improves the boot's performance over other boots, its comfort, and convenience of use when compared with snow boots.
Many of these characteristics aim to customise the boot's fit and function, however they differ from model to model. Down below are some of the features you need to know while looking for an effective ski boot.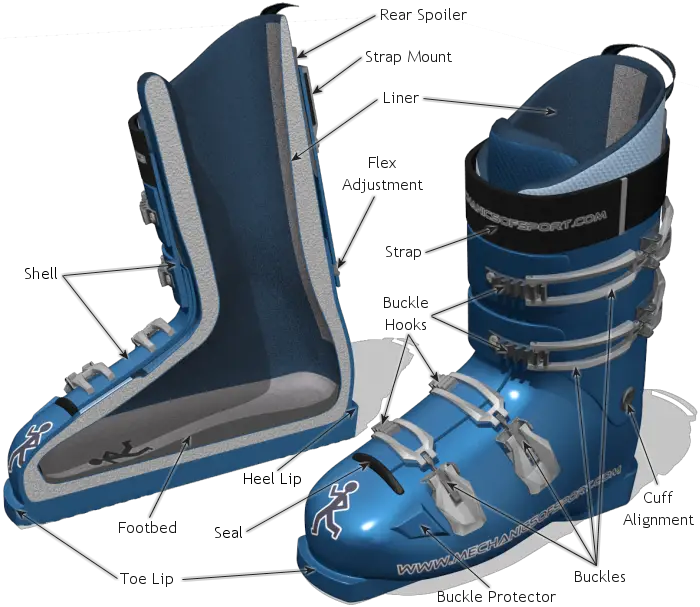 Ski boots consists of a rigid outer shell which provides stability, while a soft liner provides with the comfort and warmth.
The liner, which is a removable, soft inner boot that covers and insulates the foot from the hard outer shell, is one of the most distinguishing features of ski boots. There are three varieties of liner to choose from: non-moldable, thermoformable, and custom moldable. 
They also have adjustable flex. Cuff hardware present in these boots allows you to alter the front the flex of your boots by letting you to swap tongues of varied stiffness to customise the flex to your preferences or according to the weather conditions.
Cuff alignments and power staps are also included, allowing the user to alter, regulate, and tighten the boots to their desired fit. 
They have traction soles, which are grippy rubber soles that make walking and hiking on rocks, ice, and pavement easier. Also, the interchangeable soles help the user to swap from one type of sole to another according to their use. 
Some ski boots are also designed to provide the users with micro–adjustable buckles, rear spoiler, bootboards and shock absorbers. They also have ski boot footbeds inside the liner which act as the base on which the skier's foot rests. 
Snow Boots Vs Ski Boots
When winter arrives, most of us wonder whether to fetch for the comfortable snow boots or a rigid ski boot to indulge in winter activities.
However, no matter what the weather is, appropriate high-quality footwear is always vital, but in the potentially hazardous condition of snow and ice, it may be even more to consider.
Below is a table of differences between snow and ski boots.
| | |
| --- | --- |
| Snow Boots  | Ski Boots |
| They are used for casual walking through snow | They are particularly designed for skiing |
| They are soft and cushioned  | They are rigid and clunky |
| Comparatively less features that aid in hiking and touring  | Effective features that can be used for hiking, skiing and touring |
| Do not restrict your movements  | They can restrict your movements around angle area |
| Good for walking  | Not recommended for casual walking |
| Less grip compared to ski boots | designed to function better in providing grip for snowy and freezing circumstances. |
| Provide enough warmth to walk around in snow | Provide good warmth with extra insulators  |
| Have a good water–repellent finish  | Have a good water–repellent finish  |
| They have more breathability, but lesser when compared to normal walking boots.  | They have lesser breathability compared snow boots.  |
See also: Snow Boots vs Hiking Boots
Can you Wear Ski Boots for Walking?
Although you can walk in your ski boots, it is not suggested because they are designed to restrict your movements so that you don't get hurt when skiing.
Due to the rigidity, tightness, and lack of movement walking in ski boots is far more difficult than walking in snow boots. 
Recently designed ski boots, on the other hand, allow you to go from fixed ski mode to walk mode with a greater range of motion. This feature is most commonly found on crossover boots that can be used for both skiing and hiking/touring. 
Is there any difference between snow boots and winter boots?
Some tend to believe that both are same, but the fact is that both snow boots and winter boots are different.
Snow boots, unlike winter boots, are designed to be worn in the snow and are often warmer and more grippy than either winter or normal boots.
Some winter boots, on the other hand, provide beneficial properties that are similar to snow boots, although they are not as effective as snow boots.
Winter boots are more attractive and lighter than snow boots, but they do not provide weather protection and are best suited for regular winter wear. 
Snow boots also provide superior ankle support than conventional winter boots, thanks to increased padding and lacing all the way up.
Snow boots also offer superior waterproofing and traction, preventing you from falling through the ice. They are well-suited to adapting to damp conditions, particularly when snow melts.
Wrapping it up
Despite the fact that both boots are made to be used and worn in the snow, their sole purpose is radically different. Snow boots, which are superior than winter boots, are typically worn on harsh terrain such as snow and ice, whereas ski boots are suited for skiing and related activities.
Ski boots are stiff, tight, and restricting, whereas snow boots are softer and cushioned. It is always preferable to be aware of the differences before making a purchase.
I would also recommend owning both of them because they can be used according to your needs and ease of use during winter times.