The short answer is NO, as moisture, cold & salt can damage leather boots. Check the top hacks to protect your leather boots from winter damage.
My friend recently asked me, "Can you wear leather boots in the snow?." This question was something that I rather was asking myself a lot as I am a boots lover too & constantly wander in winter weather.
After constant research and some tiny personal experiments, it's rather clear that you cannot wear leather boots in the snow if you are looking for a long boots life. But it's not a period. 
With my constant search, I landed on many factors that can help your leather boots stay longer and happier in the winter season. It's just some random tips that you need to follow to enjoy the winter with the steps of boots. Let's see how!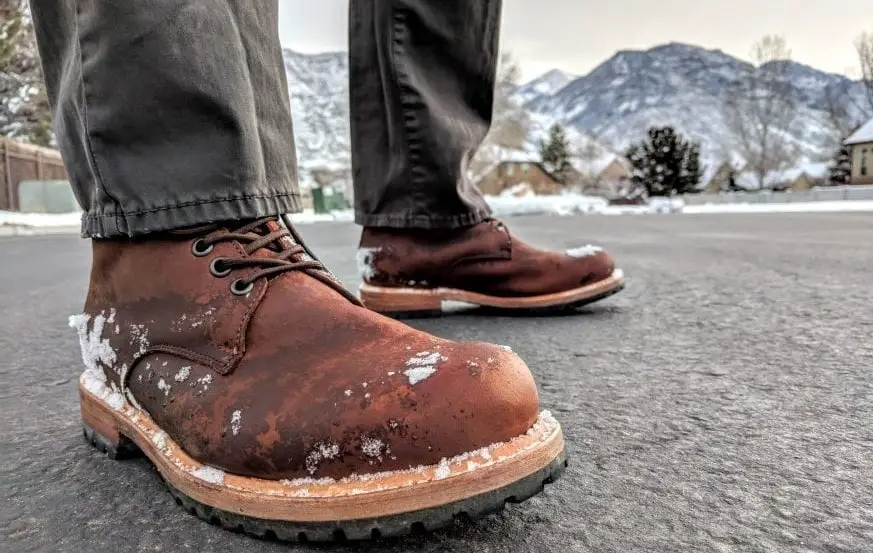 Top Reasons Why you Shouldn't Wear Leather Boots in the Snow
This is a personal story, my mom gifted me a pair of leather shoes with such admiring laces on them, and gradually lost their charm due to continuous usage in the winter climate. So here are the reasons why you shouldn't wear leather boots in the snow.
1.) Snow, Cold & Moisture
Can you wear leather boots in the rain? Those cute little bunnies will get wet! The moisture content will almost kill the charm and pride of the boots. This can gradually lead to worn-out tips. 
Snow & cold means Moist! There you go, the real damage to the leather material can happen through the uncompromising moist content penetrating through the leather. With the ice-cold weather, the chances for this increase.
You will see visibly broken leather patches in the tips initially and might gradually increase as per the exposure. This is why people will use some sort of waterproofing on the outside and inside the boot to prevent water or sweat from damaging the leather.
2.) Salt
No surprises! 
Road salt will cause problems like staining and drying which can cause long-term leather damage. So, it is very important to brush off the salt & dirt from your leather boots with proper measures.
Road salt can damage the leather material and untidy leather can cause trouble in keeping up the life span. Gradually, you will see breakages and cracking in the tips as a result of this. Watch out!
3.) Weather Matters
Guys! It's winter. Do you think it's worthy enough to be cold with the world's sexiest pair of boots on? The leather boots are not meant to make you warm and comfortable. So, there's no actual point in freezing yourself and ruining your costly leather boots.
So What's The Solution? 
80% of US citizens are in love with leather boots and only 55% of them know how to take care of their leather shoes. Here are some of the top proven tips to take care of your leather shoes and help them live longer.
4.) Waxing
Waterproofing wax can help you much in this journey. It is essential to remind yourself to wax your boots with some decent waterproofing wax or cream. Learn how to waterproof leather boots for winter.
This can help the boots build a protective layer for their skin, just like the way sunscreen works for our skin to protect us from harsh sunburn. If you are confused about which wax to rely on, here are some.
1.) Tarrago Hightech Nano Protector Spray
2.) Kiwi Unisex Shoe Waterproofer
3.) Scotchgard Suede & Nubuck Protector
4.) Atsko Sno-Seal 1330 Original Beeswax Waterproofing
5.) Water & Vinegar 
Snow Salt Stains Can Be Taken Care of with Water and Vinegar Treatment. 
Here are the steps to follow:
1.) Mix equal parts of Water and Vinegar 
2.) Dip a clean cloth in the mixture
3.) Clean your boots with the wet cloth
This procedure can be repeated, but not frequently as vinegar can cause damage in long or highly concentrated usage.
6.) Tissues 
As a great deal of damage can be caused due to the most presence, it is important to get rid of all the moisture content inside and outside the boots.
For this purpose, you can use tissues or newspapers. Stuff the boots immediately with tissues or newspaper to absorb the moisture content inside the boots.
Now the real deal is, are there any shoes or boots that are winter-friendly? Of course, the winter-friendly shoes are available with extra care to the above-mentioned winter threats
Types of Shoes or Boots to Wear in the Snow
1.) Faux Leather Shoes
Can you wear faux leather boots in the snow? What boots are good for snow?
Here are the answers to these questions.
Faux leather is synthetic leather that looks like real leather. The materials like cotton or polyester are used as base materials for the manufacture of faux leather. This can help the shoes protect themselves from moisture in the winter season.
Thus, faux leather material is suited to be worn on winter days & cold times. No more worries about the stains or the moisture, when you have faux leather by your side.
2.) Insulation or Lining
Shoes with Insulation or Lining tend to stay longer and healthier in winter. As a bonus, this helps in warming up the feet and keeps the winter day cozy. Such boots can withstand the penetrating coldness and keep up with the weather. Thus, highly recommended!
3.) Waterproofed Shoes
If it's winter, go for some waterproof materials. The coldness will create moisture and wetness in any materials out there. So, you can prefer faux leather shoes.
Faux leather shoes are made from artificial leather and are the best appropriate option to wear in the snow. If it is pure leather shoes remember to apply waterproofing spray before stepping out. 
It's Winter! Flaunt your boots without fear! Now, you know all the possible damages that can be caused to the boots as well as all the necessary measures to be taken to protect them.
Make sure to follow these tips in your boot care routine and keep your boots alive for a longer period. Keep your winter alive with your favorite pair of boots! 
FAQs
Can You Wear Faux Leather Boots in the Snow?
Yes, the faux leather boots are made of artificial material. Thus, it is suitable to be worn during the winter season. As a bonus, it gives the perfect warmth to the feel too.
Are Waterproof Shoes Good for Snow?
Waterproof shoes are frequently preferred to be worn in the winter season, as the weather can cause snow, cold, and wetness to the fine shoe material. Waterproof shoes can last longer in such a condition.
How can I Waterproof My Boots?
You can easily waterproof your leather shoes with the waxing method or application of any water-resistant creams like Tarrago Hightech Nano Protector Spray and Super Invulner.
Can I Wear Normal Shoes in The Snow?
No, normal shoes aren't fit enough to be worn in snow as they might now have the proper insulation to keep you warm and cozy.
Along with that, the lasting nature of those shoes might be low compared to water-resistant shoes. Choose shoes or boots with lining or extra insulation, waxed shoes, or waterproof shoes.