Being a lineman requires you to climb heights and do your work. Climbing up 40 foot telephone poles and 1,000 foot metal telecom towers is risky, therefore all of the equipment used by a lineman must be robust and trustworthy.
This applies not just to their general tools of the profession and their pole-climbing gear, but also to their work boots. Linemen rely on stable footing to be safe on the job.
Therefore, they need footwear that is suitable for people who are involved in the business of cable installation, service or repair of cables, tree service, or arboriculture industries. The footwear should be specifically developed for the lineman in order to give great support while working.
Lineman boots are comparatively taller than your average work boots. This is because it provides enough ankle support while also protecting your upper foot and lower leg.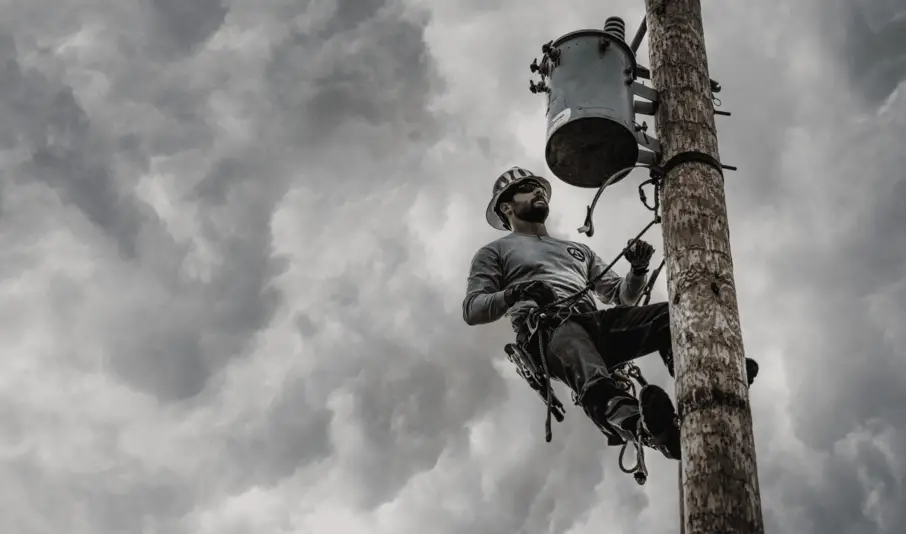 A standard lineman boot encloses and covers the calf and shin, resulting in a snug, protective fit. This provides structure and support, as well as a barrier from nature's elements, keeping legs and feet warm and dry.
The majority of work boots are 6 to 8 inches tall, whereas lineman boots are 12 inches or taller.  Some are 16 inches tall, and some manufacturers make them up to 32 inches tall. That extends all the way up to the upper thigh! 
If you're a lineman, then before purchasing a footwear, it is essential to know that it will provide safety in these areas-
1.) Protection from uncertain weather
Lineman boots must provide adequate weather protection. They may get trapped in a snowstorm or ice sleet throughout the course of a day, or they may be out fixing damaged poles during a strong, wind-driven rainfall.
They can't afford to have water flow down into their boots, where wet socks can become unstable, jeopardising the stability of their feet within their boots. Linemen must wear work boots that keep their feet dry and under control from the inside out.
Linemen use boots that include an internal waterproofing system as well as a breathable moisture-wicking liner.
This is due to the fact that wet socks and damp feet are not only a source of pain and slippage inside the boots, but the accumulation of moisture in the toe box area can also lead to extremely freezing feet. Worse, it will promote uncontrolled bacterial and fungal infections.
Choosing completely waterproof boots with a breathable moisture-wick lining keeps feet dry and healthy while also keeping footing solid. Water-proof boots are also suitable while working with electric cables as it will keep your feet dry and prevent electrocution. 
Carolina Lineman Boots are made of cork harness leather and are designed for linemen who climb. It has a reinforced toe and stirrup patch. They are designed to be lightweight and seamless.
It not only completely repels water, but it is also designed to be breathable, enabling air to flow into the boots and around the feet.
Check it out here-
Prices pulled from the Amazon Product Advertising API on:
Product prices and availability are accurate as of the date/time indicated and are subject to change. Any price and availability information displayed on [relevant Amazon Site(s), as applicable] at the time of purchase will apply to the purchase of this product.
---
2.) Strong outsoles for your foot protection
Boots with robust, resistant leather uppers that are reinforced with additional sheaths of leather over major areas such as the sides, heels, and toes are necessary for foot safety. This also adds to their durability. 
Carrying heavy wires and equipment through scorching concrete, uneven terrain, loose sand and dirt, and even slippery mud is part of the job of a lineman. It may even include tramping through dense weeds and bush to reach a utility pole or a steel tower in all weather conditions.
Boots should have aggressive outsoles that give solid footing regardless of how heavy the equipment being carried is or what sort of terrain is being walked over. And the rubber used in the outsoles must work well in all weather conditions, from scorching heat to freezing cold. 
Most essential, the outsole of a lineman's work boot should feature a raised, logger-style heel that can hook over a peg or a metal tower rung to keep the feet firm and balanced when fixing internet cables, fibre optic lines, or electrical wires.
Wesco Highliner Work Boots are specifically built for lineman because the arched steel shanks of the boots give stability and support when climbing poles and ladders.
Any lineworker may walk on slick terrain and climb poles without danger of sliding and being badly hurt thanks to their Vibram outsoles with higher heels.
Furthermore, they are made of flexible yet tough full-grain leather, which protects the foot from extreme outdoor environments. 
Check it out here-
Wesco Highliner 10″ Lineman Work Boot
Black, Lace-to-Toe 10 #100 Vibram Lug Sole

7 oz. full-grain leather, Leather side flap, Removable false tongue

Non-corrosive, ribbed, slightly arched steel shank for comfort and maximum support

Leather 10 - 10-1/2 iron (.219 thick) half-slip for added support in the arch

Recessed metal heel breastplate (offers protection from climbing spurs), Steel sideplate not available with #100 Vibram s
Prices pulled from the Amazon Product Advertising API on:
Product prices and availability are accurate as of the date/time indicated and are subject to change. Any price and availability information displayed on [relevant Amazon Site(s), as applicable] at the time of purchase will apply to the purchase of this product.
---
3.) Shank should be sturdy and strong to avoid discomfort or pain
If you've ever had to stand on a ladder while wearing soft-soled sneakers, you know how fast the bottoms of your feet become sore. And the ache will go up your legs and into your back.
This is because your entire body weight is putting pressure directly down on your delicate arches, which are sitting on a limited surface area and are vulnerable. 
Linemen who spend extended periods of time using climbing stirrups on utility poles, or standing on metal pegs or harsh metal tower rungs, would be equally as unpleasant.
To solve this, the best lineman boots will be constructed with strong shank plates that are positioned beneath the arch portions of the work boots. 
These larger, strengthened shanks may make a significant difference in job comfort. For optimal comfort and support, certain lineman boots include asymmetrically constructed shanks that follow the unique form of the left and right foot.
When it comes to durability, White's Boots Lineman Work Boots will outperform all expectations. They're not only made of high-quality full-grain leather but also a strong steel shank that provides durability and comfort during those long hours of work.  
---
4.) Safety toe for the protection of their delicate toes
Linemen may wear work boots that require ASTM safety standards for footwear protection. Climbing utility poles presents a number of obstacles, and many employees believe that having strong toe protection is essential.
Safety Toe Footwear that meets ASTM Standards will protect your feet from any impact or compression from heavy machinery that may fall onto or roll over your feet. 
Fortunately, today's lineman may select work boots with safety toe caps manufactured of contemporary lightweight alternatives that protect feet just as effectively like composite toes and alloy toes. 
Since linemen require traction when climbing, these Chippewa Steel Toe Logger Boots have vibram outsoles with deep lugs and elevated heels, allowing lineworkers to climb utility lines with confidence that their work boots will provide solid grip in these conditions.
They also come with safety steel toes and electrical danger resistance, which are features that are absolutely important for a lineman. 
Check it out here- 
Prices pulled from the Amazon Product Advertising API on:
Product prices and availability are accurate as of the date/time indicated and are subject to change. Any price and availability information displayed on [relevant Amazon Site(s), as applicable] at the time of purchase will apply to the purchase of this product.
---
Mostly, cowhide leather is used to make Lineman Boots. They are exceptionally hefty, which gives them added support and stability. To minimise slippage, a Lineman's boot heels must securely latch onto the ladder. 
However, it is believed that wearing a lineman boot in the snow or severely cold weather is prohibited. It is due to the fact that they are constructed of cowhide leather, and when exposed to temperatures below freezing, it starts to lose its flexibility and harden.
It may make walking difficult in the snow or ice, and it may increase the likelihood of sliding or other mishaps.
Strong boot heels are also required to keep a lineman stable while climbing utility poles while wearing lineman's climbing suspenders.
It is critical that the heels of their boots be powerful enough to confidently lock and keep their feet, as well as their torso, in place at all times. 
Now, let us understand what other features you should look for in your boots while purchasing- 
1.) Steel safety toes as we have discussed above for improved toe protection. 
2.) Leather lining provides additional support to the arch of the feet and prevents pain and discomfort. 
3.) Lace up to the toes or normal toes. 
4.) Heel breastplate that prevents the gaff from cutting into the leather heel.
5.) It should have an insulated inner, allowing you to wear it even in chilly conditions. 
6.) Leather side patches to prevent the toes from abrasion when climbing. It will keep your toes safe whether you are climbing on a pole or a tree.
7.) Traditional tan or black laces to keep the boots looking clean and tidy. 
8.) Height of up to 38″.
To conclude, in order to suit the high demands of this dangerous job, lineman work boots must have particularly specialised qualities. As a result, it is critical that you wear the best climbing boots that your budget allows. 
So, if you work as a lineman, it's time to arm yourself with the best lineman boots. It will make your task easier while also providing good support for your toes and feet.
Boots specifically designed for lineman, understand what the job demands and protects them from abrasion and provides extra stability.