What's the first thing which comes to your mind after hearing the word cowboy boots? We are pretty sure for most of you it's either cowboys, horse riding or ranch owners.
To your surprise, in today's world cowboy boots are not just limited to these but have become a fashion statement. With so many options available in the market it becomes confusing for the users which product to choose?
However, when it comes to Cowboy Boots, there are two brands which stand out in the market, Lucchese and Tecovas.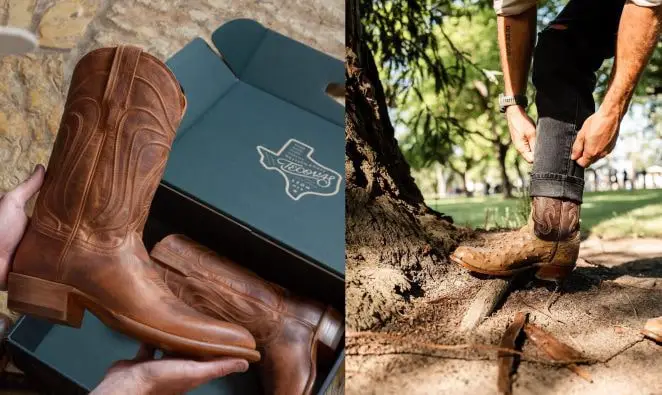 Which one wins out? Despite their many similarities, there are a number of significant distinctions to keep in mind, most notably with relation to quality, manufacturing process, price and most importantly how well they function.
To make it simpler for you, we have put together in this article the in-depth comparison of both of these brands.
Lucchese Vs Tecovas: First Glance
Before we go deep into the details, let me tell you the basic differences between the two brands.
| | | |
| --- | --- | --- |
| Features | Lucchese | Tecovas |
| Quality | Better quality than Tecovas with very high standards. | Best quality in the cost range but slightly lower standards than Lucches. |
| Price | Prices are much higher compared to Tecovas. | Cheaper than Lucchese and pocket friendly. |
| Waterproof | Yes | Yes |
| Durability | Highly Durable. | Durability is good. |
| Fit | Usually runs true to size but might differ due to construction. | Runs true to size. Same size should be ordered. |
| Material | Uses lemonwood pegs hammered into leather. | Uses custom tanned leather along with Goodyear Welt. |
1.) Quality:
Lucchese
When it comes to quality, Lucchese boots are superior. They set the bar for craftsmanship and design with the intricate features and procedures their boots undergo.
They will have something to fit your taste, whether you desire flamboyant boots for an outing or a highly decorated pair for your stage appearances.
Lucchese can make your pairs to order, but even the off-the-rack options are superb. By choosing premium materials and employing old machinery for an incredibly unique finish, they are able to maintain such high quality.
The brand focuses on details which requires more time and expertise to finally give you an impressive quality product.
Before delivering any product in the market, Lucchese often involves itself in some tedious tasks to construct a classic boot.
Lucchese Boots: The making of a boot from start to finish.
To stitch the many components together, they frequently employ vintage machinery. They have mastered the durable process, which accounts for the excellent fit of Lucchese boots.
Two crocodile skins are frequently needed for boots. For each pair of boots, up to 30 different skins may occasionally be compared side by side to ensure that they closely resemble one another.
Since they cannot be coloured or tanned once they are in the manufacturing, colours must match precisely. Lucchese's proprietary chemicals are used to burnish leather in order to create a variety of textures and tones while also serving as protective sealants.
Tecovas
The quality of Tecovas boots is well known. As a relatively new business, they entered the market promising that quality would be their defining characteristic, and they are delivering on that promise.
These classic boots were crafted by hand. They are created by seasoned artisans who are aware of the requirements for high-end footwear using premium materials and textiles.
You'll be glad to hear that third-generation technology is used to create the Tecovas boots, with at least 200 stages performed by skilled artisans.
The fact that they are currently leading the boot trend, especially when compared to companies in their price range, comes as no surprise.
Tecovas boots exclusively employ sewing machines and the skilled labour of their bootmakers. The components are stitched by these experts using traditional methods.
These boots are produced by hand using a last, which is a mould made in the same shape as the finished product.
The Goodyear Welt, in use for almost 150 years, is what they employ. This indicates that a leather strip along the footbed is stitched before the outsole is fastened. This makes it possible to resole the Tecovas boots in the future if you don't need to completely rebuild the boot.
2.) Price:
Lucchese: Lucchese is a high-end product. Their boots are expertly crafted to meet the high standards for quality and the premium price. Although you may purchase a few pairs for about $300, some types cost between $1,900 and $2,000 instead.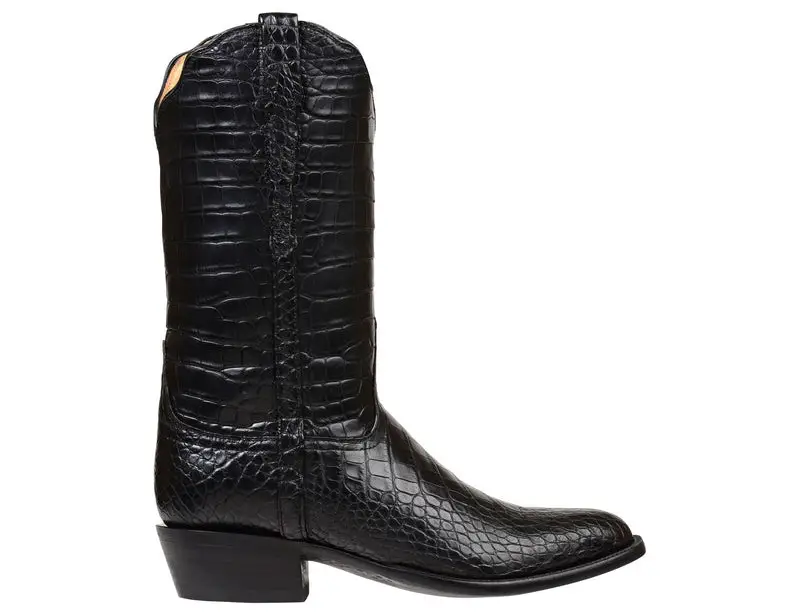 The Baron Black American Alligator Western Boot, which sells for an outrageous $12,995, is the priciest model.
Tecovas: Conversely, Tecovas boots are just more cost-effective and useful. Their calfskin and suede boots cost between $200 and $250.
Less than $700 can be spent on a pair of their most expensive, comfortable alligator boots. As a result, if you're a consumer on a tight budget, the Tecovas western boots might be a better fit.
If you'd want to test another, yet equally excellent boot type bearing the name, you may also read a review of Tecovas ostrich boots.
It's not the quality, though, as every Tecovas review demonstrates how well-known their value is. Additionally, because the business is relatively new, the cost is not increased by brand recognition.
They also solely sell online, which lowers their overhead expenses. The labour costs are lower than for US labour because they manufacture in Mexico as well. However, they have US-based customer service.
3.) Fit: 
How does Lucchese Boot Fit ?
Although Lucchese boots often fit true to size, the structure of a western boot may cause its size to be a little bit smaller than that of a formal shoe. Verifying your foot size with a boot expert is the best method to ensure a proper fit.
A distinctive support system is the Lucchese Pulsion Fit System. Two pairs of medium and wide insoles are included with each pair of boots to help you achieve a custom fit with all-day comfort and support.
The perforated insoles improve stability and shock absorption by increasing airflow and wicking away perspiration while offering a snug fit.
We advise sizing up to your typical work boot size when buying our Frontier Tech boots. The 2 sets of insoles that come with the boots can let you customize the fit.
FAQs: Lucchese
Do Lucchese Boots meet OSHA Regulations?
The greatest level of ASTM clearance for impact and compression is held by Lucchese boots, which are compliant with OSHA rules and requirements for U.S. businesses.
The boots are inspected for safety reasons, each boot (left and right) has a permanent mark with the ASTM standard on the interior upper.
What do Numbers in Lucchese Boots Indicate?
L and G are the premium Classics Line codes. Then the single letter is followed by four numerals that represent the style. The next two numbers represent the heel and toe styles, respectively. GY refers to the upscale Classics range. 
Can Lucchese Boots be Worn in the Rain?
Boots made in Italy are waterproof, yes. The Goodyear welt construction method is used to make these. Using this method, the insole's ribbing is attached to the upper, the lining, and a lengthy piece of leather called the welt. This welt is afterwards sewn to the leather or rubber sole.
The majority of Lucchese boots have waterproof properties and are typically referred to as all-weather boots thanks to this densely packed stitching technique, like the Chelsea all-weather boot.
Are Lucchese Boots Comfortable?
As we have mentioned earlier, the brand does not compromise with quality and works to serve you the best. This can be considered in case of comfort as well. For its Classics, Lucchese usually uses channelled leather insoles and soft cream cow linings, making them even more comfy.
Can Lucchese Boots Stretch?
Lucchese boots, as previously indicated, often run true to size, however some customers may have an unequal shoe fit. For instance, you might manually stretch one Lucchese boot if the size 7 1/2C boot fits your right foot snugly but leaves room for your left foot.
This requires pouring steam or applying a boot stretch spray inside the boot. In either scenario, you should wait until the boot is totally dry before wearing it to avoid dry patches.
FAQs: Tecovas
Are Tecovas Boots Durable?
The leather used in their Western boots will be resilient, hardy, yet soft and designed to break in over time. A durable heel and sole design contributes significantly to the boots' long-term durability. Tecovas employs several stacked heel styles and a 3/4 Goodyear welt construction.
Do Tecovas Boots come with Arch Support?
Although Tecovas boots aren't made expressly for people with flat feet or high arches, they do provide excellent all-around arch support thanks to its structure, which features a shank and lemonwood pegging in the foot's arch region.
Are Tecovas Good for Riding?
These are ideal for riding horses if you do wish to venture off-trail. Roper boots are more than capable of withstanding wear and tear, but Tecovas manages to improve on a design.
How Comfortable are Tecovas Boots?
They look great, are of top quality, and provide excellent comfort. However, they might not be everyone's ideal pair of work boots.
The Tecovas, for instance, do not have steel, safety, or composite toes if your job requires them. This is likely due to the fact that western boots must pass through a stirrup, and the size of a safety toe may make that challenging.
Final Verdict
Tecovas Company has established that, while being a relative newcomer to the boot business, they understand the value of top-notch craftsmanship. And in keeping with their goal, they provide high-quality boots at a significant discount to legendary boots of comparable calibre.
On the other hand, Lucchese reaps a bountiful harvest from its rich heritage. They charge a lot for their vintage collections, yet they can still draw affluent customers.
They receive more attention than other fashion statement collections. Famous people and leaders choose them not just for the comfort they provide but also to project their raw individuality.
As you can see, both brands are excellent depending on your needs. If you can afford it, Tecovas will win on both quality and price, while Lucchese will offer you an opulent appearance.