Technology enhances the performance of any object from its ancestors. A metatarsal boot is no different. Earlier, it was steel-toe boots that provided maximum safety from workplace injuries. Now, it's metatarsal guard boots that are taking over. 
There are many questions revolving around metatarsal guards: Do you need them, are steel-toe boots not useful anymore, what's the safety standard for metatarsal guard boots, and much more. 
To answer the obvious first question, YES! you do require metatarsal boots. If the hazards at your workplace extend to dangers from heat and chemicals, then, metatarsal guard boots are a must. Plus, if the work puts your entire foot at risk, not just your toes, then again, yes, you do need a metatarsal guard.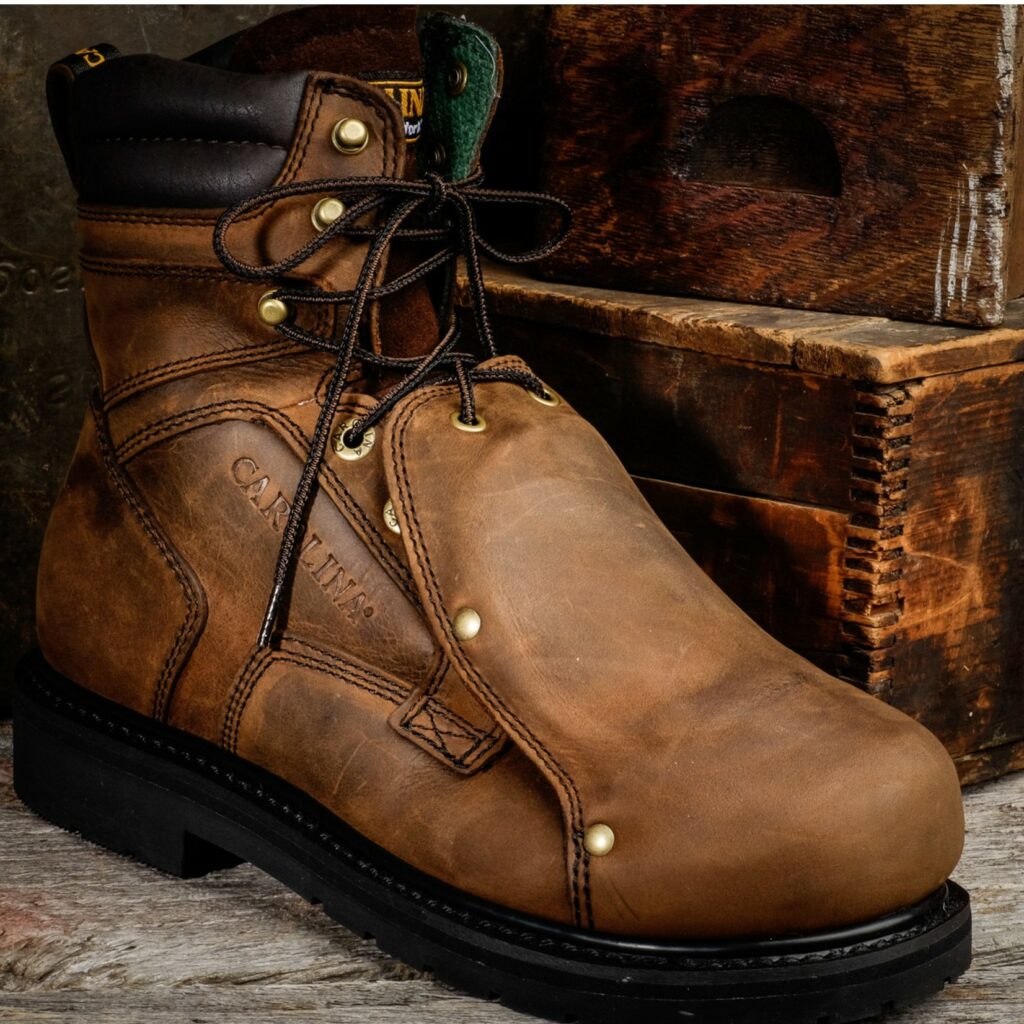 Just because you need a metatarsal guard doesn't mean you should buy any random product. Only those metatarsal boots that are ASTM F2413-11 compliant will offer the protection that's promised. 
By the end of this guide, you will know everything about a metatarsal guard: how does the ASTM F2413-11 test the metatarsal boots for safety and strength, the 3 different types of metatarsal boots, how you can pick the right metatarsal guard boots, are steel-toe boots no longer required, and much more! 
ASTM F2413-11 Test for Metatarsal Guard Boots
ASTM F2413-11 test conducted to determine whether or not a Metatarsal guard can offer protection from impact makes use of a bar that is 1-inch in diameter and 50-pounds. 
A similar bar was dropped on a wax foot that was placed inside a Metatarsal guard boot. When dropped on the feet, there was still a space of 1-inch between the foot and the area of impact. 
This particular test, when performed in a controlled environment, produced a 75 foot-pound impact when it made contact with the Metatarsal guard on the boot, and still, the feet weren't severed.
Is The ASTM F2413-11 Compliance Alone Enough For a Metatarsal Guard? 
Many studies reveal that major workplace injuries are a result of sharp objects that weigh 65 pounds, falling from a height even as low as 4 feet.
This is the reason that all metatarsal guard boots that are ASTM F2413-11 compliant are considered safe: they have been tested to withstand an impact as high as 75 pounds. 
The ASTM F2413-11 compliance is, thus, enough. It is the benchmark for safety protection now: after a sharp object makes contact with the metatarsal guard placed on (or inside) the boots, there should still be a 1-inch distance between the sharp object and the flesh on foot. 
So, the next time you read that a metatarsal guard boot is ASTM F2413-11 compliant, know that it will offer the safety that's promised. 
Is it Important to Wear Metatarsal Guard Boots?
If you want your entire feet protected from injuries, then yes. Yes, the Metatarsal Guard is very important. A Metatarsal Guard will protect not only your toes but the metatarsal bones of your feet too. 
Know that metatarsal bones are fragile and if not protected, they can easily break and crush. Anybody who has ever suffered from such injuries would know that metatarsal injuries are extremely painful. 
Metatarsal guard boots are most preferred when your work exposes your entire feet to heavy objects. If you're a heavy-duty mechanic, a road construction engineer or labor, an electrician, or you work in the wood chopping mills and industries, then a metatarsal guard boot is an ultimate protection. 
Types of Metatarsal Guard Boots
The Metatarsal Guard boots are broadly classified into three categories: External, Internal, and Hybrid (External and Internal both). 
Naturally, you would be wondering why this variety and which one should you choose! We have the answers! Have a look. 
1.) External Metatarsal Guard on boots, as the name suggests, is placed on top of the boot. It offers ultimate production. But, it doesn't look that great aesthetically. 
2.) Internal Metatarsal Guard is placed beneath the lace area of the boots. Naturally, it doesn't show at all. Hence, the boots are extremely fashionable. However, the internal metatarsal guard can be a little uncomfortable.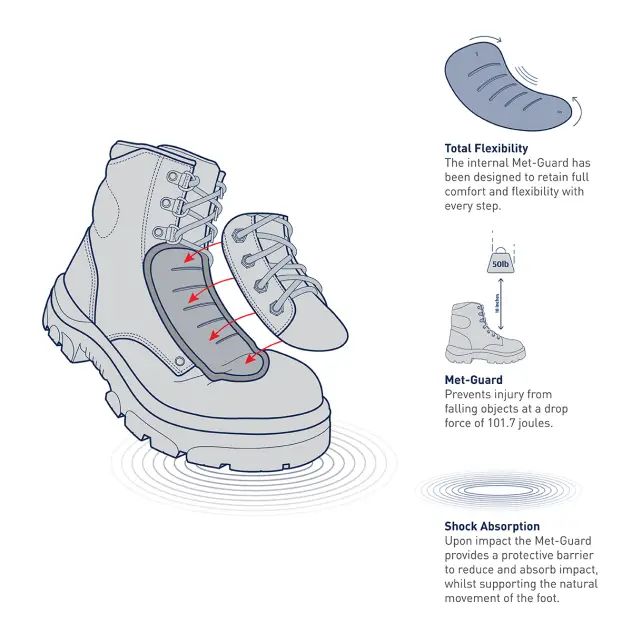 3.) The external/internal hybrid is the type that has the Metatarsal Guard on top as well as inside the boots. Clearly, the purpose of this boot is extreme protection. It almost doubles up the safety quotient that an external Metatarsal Guard or an internal Metatarsal Guard can offer alone. 
Which of the three types you pick entirely depends upon your choice, comfort, and budget. 
For example, an external Metatarsal Guard boot will generally be cheaper than the internal Metatarsal Guard boot since the latter looks more stylish.
On the other hand, the hybrid version is going to be the most expensive option. It should be chosen above the other two varieties if your work is extremely hazardous. 
One question that might be dawning in your mind now could be: are Metatarsal Guard boots uncomfortable? The answer to this question is, not anymore.
Earlier, these boots were heavy and would tire the feet easily. But, with advancements in technology, the boots have been made lighter; hence, comfortable!
Features to Look For in Metatarsal Guard Boots
Buying a Metatarsal Guard boot is a job of responsibility. Yes, the boots should be ASTM F2413-11 compliant, but that's not all. There are many other features that cannot, and should not, be overlooked. The most important ones are listed below. 
1.) They Should Be Light – Since you'll have to wear these boots for hours, they should be lightweight. Obviously, they cannot be feather-light. But, they can be made adequate.
Usually, Metatarsal Guard boots that are made of urethane or microcellular materials should be the ones you should buy since they're much lighter than other varieties. 
2.) They Should be Breathable – Since there's already the Metatarsal Guard that will be covering the boots, if the fabric isn't breathable either, your feet will get unbearably hot and sweaty inside your boots. 
3.) They Should Be Moisture-Wicking – It's important that the Metatarsal Guard boots that you're buying should wick away the beads of sweat.
If a boot cannot wick away moisture, the feet will start slipping inside the boots themselves. That might lead to blistering. Toe-nail fungus will also be a possibility. 
4.) They Should be Wider at the Biggest Part of Your Feet – One of the reasons that people find their boots too tight or too loose is because the boots are a little narrow, wherein, they should be wide. \
It's important that the balls of your feet are aligned with the arch of your boots. Only then they will be the right fit and true to their size. 
5.) They Should Be Waterproof – The entire purpose of having a protective outdoor work boot is ruined if that boot isn't waterproof. So, be very careful that the pair you buy is not water-resistant, but waterproof. 
Benefits of Wearing Metatarsal Guard Boots
Metatarsal guard boots for workplace safety are no joke. They're serious work boots for serious people who take safety seriously.
The government mandates employers to make sure their employees wear the best-quality Metatarsal Guard boots for protection from substantial risks. Some of the benefits of wearing these boots are as follows:
1.) They will protect your entire feet from getting crushed or severed. 
2.) They will protect your feet from acids and chemicals. 
3.) They will offer protection against electric shocks. They're some of the best options for protection from being electrocuted. 
4.) Once you buy the right pair, it will last for as long as you do. Boots with Metatarsal Guard are very robust and extremely resistant to abrasion.
Metatarsal Guard Boots Vs Steel-Toe Boots
This is a very obvious question to ponder upon since it's clear that Metatarsal guards make boots very robust and they offer protection to the entire foot, not just the toes.
So, does it mean that the steel-toe boots you have are of no use now? Well, in all honesty, the answer is, no. If you have a pair of steel-toe boots, you don't have to throw them away. 
Steel-toe boots offer protection from heavy-load and sharp objects. Besides, they do not pose the threat of tripping that can be one concern with Metatarsal guard boots until you get accustomed to them. 
When compared, metatarsal boots are certainly better. But, steel-toe boots perfectly serve the purpose they're designed for: protecting the toes. If it's just your toes that are at risk, steel-toe boots will still be an excellent option. 
That said, the better of the two is metatarsal boots. But, you don't have to discard your Steel-toe boots if you already own a pair. 
Best Metatarsal Guard Boots 
1.) Men's Louisville Steel Toe Internal Metatarsal Guard Boots by KEEN Utility
KEEN Utility Men's Louisville 6″ Steel Toe Internal Metatarsal Guard Waterproof Work Boot
STEEL TOE: left and right asymmetrical steel Toe design provides a roomier toe box for maximum comfort and unobtrusive fit; The Louisville 6" steel toe waterproof met. Work boot meets or exceeds ASTM F2412 and F2413 I/75 and C/75 and Mt/75 EH standards

WATERPROOF: keen.Dry is a waterproof, breathable membrane liner that lets vapor out without letting water in for keeping your feet dry and comfortable; The Louisville 6" int. Met. Boot does have a mesh liner that integrates with the waterproof membrane

TRACTION: oil- and Slip-Resistant, Non-Marking, rubber outsoles are used for improved traction that meet or exceed ASTM F1677 Mark II and astm F2913 SATRA non-slip testing standards; lug sole patterns provide grip even on slick surfaces
Prices pulled from the Amazon Product Advertising API on:
Product prices and availability are accurate as of the date/time indicated and are subject to change. Any price and availability information displayed on [relevant Amazon Site(s), as applicable] at the time of purchase will apply to the purchase of this product.
These are super stylish work boots with Metatarsal Guard placed inside the boots. The best thing is that these Metatarsal Guard boots are entirely (100%) waterproof.
1.) The rubber sole makes these boots light and comfortable. 
2.) The leather and synthetic fabric make the boots breathable. 
3.) Despite having Metatarsal Guard inside, these boots still feature a steel cap. It makes them three-folds better than many other options in the market. 
4.) They're slip-resistant and offer a solid grip on slick surfaces too. 
5.) The rubber sole offers protection from electric shocks. They're also heat resistant up to 572° F (300° C).
---
2.) Leather Chemical-Resistant Men's Metatarsal Boots by HoneyWell Ademco
Oliver 65 Series 8″ Leather Chemical-Resistant Steel Toe Lace-In Zipper Men's Metatarsal Boots, Brown (65392)
Chemical, liquid and barnyard acid-resistant SPR leather upper, with TPU SAFETYcell reinforcement for protection against cuts and abrasions, and heavy duty Kevlar stitching on critical seams

Lightweight, flexible XRD Metatarsal Guard Extreme Impact Protection creates a protective shield on impact that absorbs up to 90% of the most intense force

All-Terrain Dual Density Soling Technology combines a soft, shock-absorbing rubber midsole with high-density, durable rubber outsole; NATUREform steel toe protects against impacts
Prices pulled from the Amazon Product Advertising API on:
Product prices and availability are accurate as of the date/time indicated and are subject to change. Any price and availability information displayed on [relevant Amazon Site(s), as applicable] at the time of purchase will apply to the purchase of this product.
These are another 100% waterproof metatarsal work boots that are highly acid-resistant. The Lace-in zipper makes them easier to wear. Many other benefits of these boots include the following.
1.) The outsole offers heat protection up to 300 °C.
2.) They absorb 90% of the impact from heavy objects falling on the boots, entirely protecting the feet underneath. 
3.) Even the midsole of these boots absorbs shock from impact. 
4.) The rubber outsole has a stunning grip. It makes the boots amazingly slip-resistant. 
---
Conclusion:
It is always advisable to wear Metatarsal guard boots that are ASTM F2413-11 compliant. They offer protection to the entire feel (including the fragile metatarsal bones) from Sharp objects, heavy objects, chemicals, acids, oil, and whatnot! They're some of the best work shoes for serious protection from workplace hazards. 
When you buy them, make sure they're waterproof and they fit you perfectly so that you get just the best.