We are all jaws dropped with the very iconic Queen Victoria and her style statement inspired millions of hearts back in her era.
Why am I Talking About Her?
Well, the most loved and fashionable Chelsea boots owes its existence to her as the boot's maker claims that the queen loved wearing these ankle-length elasticated slip-on boots and in 1851 and instantly made it a fashion in Great Britain. However, these boots only came to mainstream fashion in the 1960s and the 1970s.
So, this is basically where our all-time favourite Chelsea boots owes its origin to.
But our concern for this particular post is…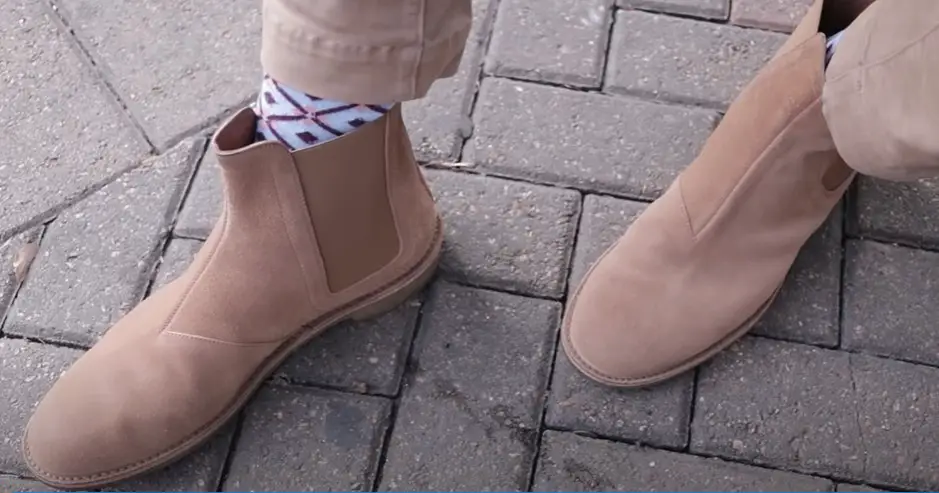 Are Chelsea Boots True to Size And How Should They Fit?
Chelsea boots are quite close-fitting boots as they offer a slip-on design so that the boots do not come out from your feet when you walk. But this does not mean that they are loose fitting boots. In fact, Chelsea boots fit snug to your feet and offer a true to size sizing.
However, there are certain things about the design and sizing of Chelsea boots that you should know about before taking the final decision of which size Chelsea boots should you buy.
So, let's proceed…
How Should Chelsea Boots Fit?
Like most other boots, your Chelsea boots should also fit snugly to your feet giving you a comfortable feel all day. 
But Chelsea boots offer a quite close fit as they have elasticated sides that clings to the feet somewhat tightly. This is also necessary to make sure that the boots do not come out of the feet because they are slip-on boots.
They should not be too tight or too loose because in both cases you will feel uncomfortable. 
The boots should grip your ankle and heel but should not become too constricting. The round toe design gives enough space to the toes to wiggle.
How Snug Should Chelsea Boots Be?
Your Chelsea boots should be snug enough to make your feet feel neither too constricted inside the boots and neither the boots should be too loose that they come off easily.
The heels and the sides of the feet should not be pressed by the boots and should not cause blisters or pain.
Also, the boots should be snug enough to let the feet slide easily inside the boots as they do not have laces to adjust the fit.
Should You Size Up Or Down In Chelsea Boots?
As I have mentioned above, Chelsea boots are true to their sizes and therefore, there is no need to size up or down in them.
A thing to keep in mind is that the Chelsea boots have pull tags at the front and the rear and elasticated sides and there are no laces to adjust your fitting.
So, do not even go for a size up in them so else they will come off easily while you walk. Also, if you feel that the true size is making it a bit loose, still go for it as you can make that gap up by wearing a thick pair of socks.
And if the boots are initially a bit tight, remember that the elastic and the leather will stretch in time.
Tips to buy the correct size of Chelsea boots:
While choosing the size for your Chelsea keep these following things in mind:
1.) Chelsea boots have round toes and there should be enough space for your toes to wiggle freely. There should half an inch to a inch gap between your longest toe and the edge of the toe box.
2.) The heel should stay put on the ball of the heel of the boots and should fit tight.
3.) The instep should be aligned with the middle of the boots so that the bones in your feet do not hurt.
4.) Always buy your actual shoe size in Chelsea boots.
5.) Wear the same pair of socks that you are going to wear regularly with the boots. I mean to see if the thickness of the socks affects the fit of the boots.
6.) Walk in the boots for a few boots to see if you are comfortable in them. However this will only be possible if you buy the boots from a store.
7.) Look if the elastic is pinching your feet too much. In that case you might want to go for a size up. This will be the case if you have a really wide feet shape.
8.) Take the insole that you always wear and match its size to the new pair of Chelsea boots.
How Can I Make My Chelsea Boots Fit Better?
If your Chelsea boots are too tight or too loose, the following tips will surely cheer you up as they can make your I'll fitted Chelsea boots comfortable:
How To Tighten Chelsea Boots?
If your Chelsea boots have become too loose for your feet after months of wearing them, or in case you have bought the wrong size, there are ways you can actually tighten them:
1.) Wear a thicker pair of socks or additional layers of socks. This will help to fill in the gaps between the feet and the boots.
2.) Dab a wet washcloth on the required areas of the boots and then allow the boots to dry completely.
3.) Use padded heel grips to secure your feet to the boots.
4.) You can also add padded cushions.
How To Loosen Chelsea Boots?
If you have mistakenly bought too tight boots, following the steps below can solve your problem:
1.) Stretch the Chelsea boots with a boots stretcher.
2.) Try the dryer trick. Putting hot air into the leather, loosens up the hair follicles of the leather.
3.) Insert wet papers or hot towels inside the boots to stretch the boots and keep overnight. Next day, dry teh boots under the fan.
4.) Oiling the boots also helps to loosen the leather.
Chelsea Boots Size Chart:
In case you are confused about the sizing of the chelsea boots, take a look at the following chart to get a better idea: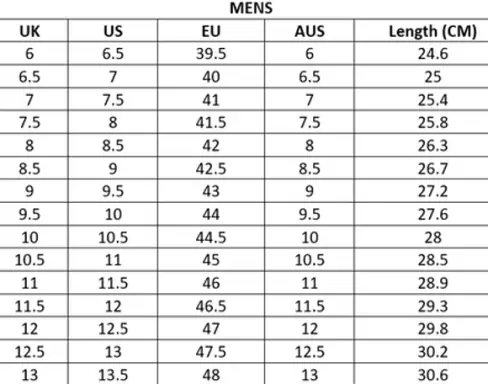 And it's a Wrap!
To conclude we can say that there is absolutely no need to choose a bigger or a smaller size in Chelsea boots because they are true to size with a snug fit.