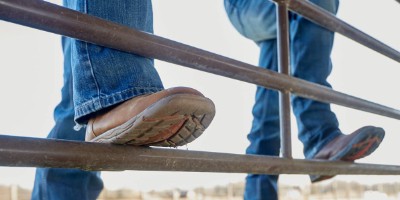 When H.J Justin, a boot repairman, built his own company at the comforts of his home, he was fully aware of the disadvantages of traditional work boots.
The co-founder knew how heavy these boots can actually be and that is why he introduced us with the revolutionary Justin Work Boots! But is the output truly valuable for buyers?
Well, when it comes to high quality, Justin is a well- known brand in the industry. In fact, it is seen as one of the toughest boots and works hard to provide you safety. Apart from being durable, Justin work boots are remarkably fashionable and are available in various classic designs.
In this article, we will know all about the Justin brand and its top products. We will also learn the different qualities these boots possess to maintain a good reputation in the industry. By gathering the information you can decide whether Justin's work boots are suitable for you or not?
What is the Speciality of Justin Original Boots?
A metatarsal injury is really bad. Along with giving you excruciating pain, it takes almost ages to heal. But don't you worry! Justin work boots have got you covered. These come with impactful absorbing technology that promises to protect your metatarsals the same as a piece of metal armor. 
These boots work according to the industrial standards and are resistant to flame. The leather used in these boots is specially treated to bear all the spark and flame so that you can work with ease.
And last and most exciting feature of the Justin boots is the presence of heat rated outsoles which gives you a mind-blowing level of both comfort and protection.
These handcrafted boots are a perfect amalgamation of all the specific attributes required for any industrial and heavy-duty job.
What are the Characteristics of Justin Original Work Boots?
You can easily identify a Justin Work boot with these traits:
Most boots come with a long shaft and follow a western style pattern focusing on intricate decorative details.

Another figurative feature is a round, square or pointed toe that can either be a soft one or can be steel capped.

The work boots have the J-flex comfort system with enhanced flexibility.

There are some models that have an additional feature of steel shank which provides protection and stability.
How do these Boots Fit?
You know the work boot fits well if it properly fits on your heel. But in the case of Justin work boots, you might need to reconsider because these boots tend to run slightly larger.
How to Fit Your Justin Cowboy Boots
The size indicated by this brand can come as its true size or is generally one-half size smaller. So whenever you buy work boots from Justin; always consider these three vital factors which are:
The ball

The heel

And the instep
How durable are Justin Work Boots?
You will be impressed to see the exceptionally good durability given by these work boots. Infact, when it comes to durability and strength, Justin is far better than any other brand in the market.
All the credits go to the best type of leather used in the boot's anatomy.  And despite being made from the finest material, it will always feel amazing on touching. 
Along with high- quality leather, the construction of the boots also makes them very tough. These boots are an extraordinary combination of simple yet excellent material and design which make them sturdy enough to last for years.
Top 3 Justin Work Boots Review
No doubt, there are various models of Justin work boots which are commercially available for everyone's needs. So, here are some of their best picks :
1.) Justin Men's J- Max Steel Work Boots
These J- Max work boots are for all those who want to work in style. The sophisticated design, rich color and matte finish of these boots add a dash of grace and professionalism to your appearance.
Not only this, their thick heel and sturdy platform give just the right amount of support to your feet.
The boots are available in various sizes. The best part is, Justin knows how difficult it is to find the perfect match for your feet.
That is why this model comes with two options in each size that have regular and wide shapes to choose from. So no matter, what your size is, you can always expect to get a size that perfectly fits you.
J Max are best suited for someone working in a hazardous environment and guard them against compression and sudden physical impacts.
The rubber outsole of these boots is resistant to oil so that you can walk on any kind of tough surface without the fear of slipping. You can also count on these boots if you are working in an electrical company.
Let's have a look at some of the interesting features of these boots:
These come with rugged construction

Have protective steel toe

The insole are removable and super comfortable

The boots have polyurethane outsoles.
Check Price and Reviews on Amazon
---
2.) Justin Original Men's Stampede Steel Square Toe Work Boot
The stampede work boots are designed with high shaft measures and as the name suggests, are indeed very tough and stable.
The leather used to make these boots is full-grain and moisture wicking that allows you to work without even thinking about the sweat.
The work boots are useful for people who have long duty hours or who work in a very unsafe environment.
As such, these are best for those workers who want to protect their legs in the shin and the calf area from any possible damage.
So, if your work requires a lot of power and boisterous weight on your feet then these boots are highly recommended. 
What are the special features of these boots?
These are completely water resistant.

The boot has got a quality and durable synthetic sole.

The opening of the boot measures 14 inches around.

It has a rubber outsole which provides marvellous grip and traction.
Check Price and Reviews on Amazon
---
3.) Justin Original Men's Pull on Square Toe Work Boot
The square toe work boots have got steel toe which provides you with the safety you need at your workplace. These are made with the Sandstorm Camp upper which is ready to bear any type of work hazard. 
The grizzly brown color of the boots look stylish and offer the performance that will surely surprise you.
These boots are not only tough but also most comfortable justin work boots as they have Ortholite® Dual Density insole and egg-crate inside them which promotes the easy movement of the air.
If your job demands too much outdoor adventures then you should definitely try out these boots. Work, haul, move with confidence and even stay comfortable while you wear the amazing yet stylish boots.
What are the special highlights of these boots?
These are highly flexible and durable

The boots have oil and slip resistant outsoles that gives excellent traction

The boots are Electric Hazard rated and are suitable while working in the power industry.
Check Price and Reviews on Amazon
---
Are Justin work boots waterproof?
Yes, Justin work boots are waterproof and can be worn in any wet conditions. If you are in search of waterproof Justin boots, here are a few recommendations from our experts:
Justin Women's Jalena Waterproof Western Work Boot Composite Toe
Justin Original Work Boots Men's Stampede Waterproof Comp Round Toe
Justin boots sizing reviews:
In our detailed research from the reviews of number customers at amazon.com, we found out that Justin boots run ½ sizes larger.
Therefore, if you wear a size 10 in other boots, you should choose size 9.5 in Justin boots.
In simple words, order a size that is ½ inches smaller than your original size.
Justin lace up work boots Review
Justin original work boots men's stampede boot
Prices pulled from the Amazon Product Advertising API on:
Product prices and availability are accurate as of the date/time indicated and are subject to change. Any price and availability information displayed on [relevant Amazon Site(s), as applicable] at the time of purchase will apply to the purchase of this product.
Build quality:
This lace up Justin boots are made of 100% leather with synthetic soles. It features scalloped topline with stitched shaft.
The premium tanned leather gives the boots a stylish look. What I liked about this boot is that there is the presence of mesh fabric lining that is taped inside the seams and this allows breathability in the boots, thus keeping your feet sweat free.
One more thing which I would like to mention is the storm welt construction that makes the boots very durable.
Comfort:
Talking of comfort, there is the orthotic footbed which is removable and therefore easy to clean. This footbed gives ample cushioning to the feet and saves from any foot pain due to all day's wearing.
The pull-on loops at the opening makes it easy wearing on and off the boots. Also, not to mention the lace up system provides perfect fit and support to the feet. 
One unique thing to mention about these boots is the rugged dual-density midsole that give adequate support to the feet.
Protection:
For the protection of your toes there is a soft toe cap inside the toe box area that is extremely lightweight while also giving adequate protection to the toes against falling and rolling objects.
Also, you can get a steel toe instead (option available) if you require so. The shaft measures 11 inches that gives excellent support to the ankle and the upper portion of the feet for better stability and comfort.
Also, the 1 ¼" stockman heel provides adequate heel support. Lastly, the outsole is oil, slip and abrasion resistant and the boots are very waterproof too.
Check Price and Reviews on Amazon
Final verdict
Justin boots understand the importance of your safety and comfort at the worksite. With a unique range for both men and women, each pair is devoted to your feet's comfort when you want to chase your dreams.
Welfare, durability shielding can be expected from the brand which stands out in the market. So, it's time to invest in Justin Work boots without giving any second thoughts.