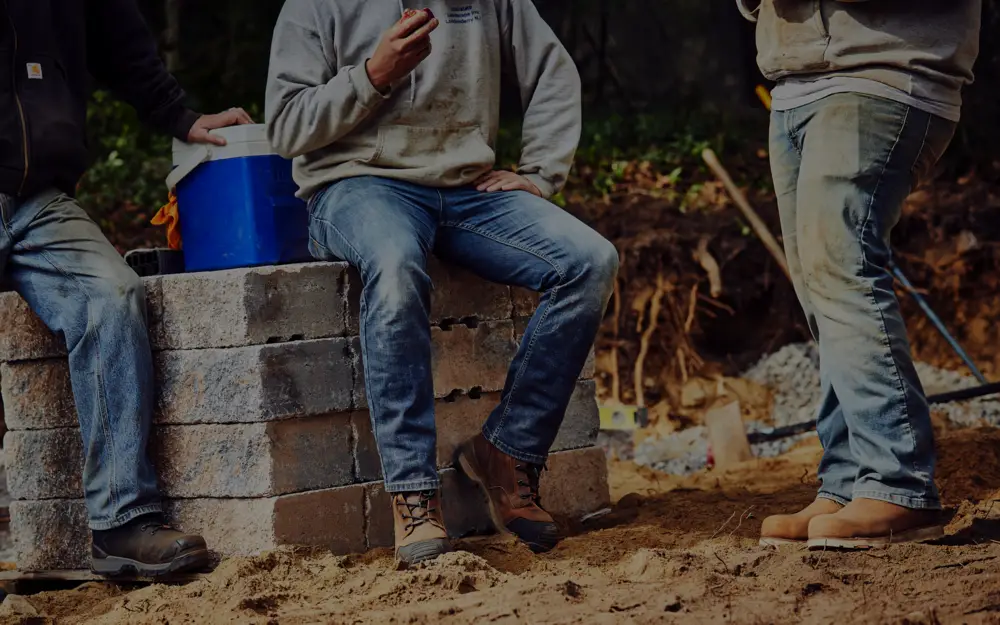 Knee pain can be utterly debilitating, but it can become more acute during work especially if you are in a profession that requires you to spend a great deal of time on your feet or moving around.
This is a very common problem. Low-quality materials together with lack of ergonomic designs only add to the problem. We get a lot of questions from our readers about good work boots for those suffering with knee pain.
So, we invited a group of medical experts and professionals from various industries to discuss what knee pain means to workers, how it affects productivity, and what kind of footwear could improve the condition.
We researched quite a few pairs of work boots, and asked pros that suffer with some degree of knee pain to test them for us. We came up with a selection of several pairs of work boots that we think can help those who deal with this condition.
Our top choice fell to Danner Vicious 440G NMT 8-inch Men's Work  Boot. This is a work boot that offers excellent traction, a composite safety toe, and innovative guard platform.
We also really liked the Wolverine Durashock High performance 8-inch Soft Toe work boot because aside from shock absorption and traction, it also offers insulation for all those pros that work outside in inclement weather.
If you suffer from any type of knee pain at work, read on because there are work boots that can help to lessen joint pain, and most assuredly help to keep it from worsening.
Features to Keep in Mind when Choosing Work Boots for Bad Knees
When selecting work boots there are any number of factors that enter into your considerations, including your particular profession. However, if you suffer from knee pain, some of these features will become both a necessity and a priority.
A long day at work that requires you to be on your feet most, if not at all day long, or a job that requires you to move quite a bit can really stress your legs, feet, and joints, especially those delicate knees. 
When considering features to protect your knees, look for the following:
1. Arch Support. That's right, good arch support is vital to knee support. Good posture and less pressure on your feet contribute to minimizing knee stress.
2. Cushioned insoles. A thickly cushioned insole or footbed can really help your feet with shock absorption. The cushioning will absorb the shock from walking on particularly hard surfaces protecting your feet right on up to the knee joint.
Another consideration may be to look for an insole that is removable. With a removable footbed you can substitute with custom orthotics that will address any specific needs of your foot's anatomy.
3. Foot flexibility. The point of the boot that sits when the toes meet the foot needs to be flexible to support pronation and natural foot movement.
4. Midsoles that absorb shock. If you work at a construction site or in an industrial environment that requires you to expose your feet and legs to high-impact movement, a midsole specifically designed to absorb shock can reduce stress to your ankle and knee joints.
5. Slip-resistant outsoles. If you already suffer knee pain, you most certainly don't want to slip and fall. Falls are one of the principal reasons for injury in the workplace. Regardless of where you work, good traction will always provide you with extra protection.
Plus, good, lugged outsoles that offer slip-resistance will help you to avoid knee and foot rotation either inward or outward, consequently stressing joints less and helping to avoid injury.
6. Stability. A good work boot should provide stability during movement particularly on unven terrain. Heels should fit snugly but comfortably.
7. Work Boot Weight. Weight can make quite a bit of difference in foot fatigue, leg pain and joint stress, particularly when considering your knees. (Do Heavy Boots Hurt Your Knees?)
If you feel like your feet are heavy or weighted down when you move, then you most likely have the wrong pair of work boots on.
Carrying extra weight can cause you to modify your gait which in turn can stress those knees. Lighter weight work boots are a better choice for those suffering with knee pain.
What We Tested for
When trying out are boots, we looked for a few specific functions:
Balance. Working and moving on uneven terrain particularly gave us insight into how good the stability provided by each brand of work boots tested proved to be.
If you work outside, uneven terrain can be a constant, so balance and the correct alignment of your knee joint during movement can either prevent pain or exacerbate it.
Shock Absorption. We particularly tested our final group of boots on specifically hard flooring such as concrete for an entire work shift. This gave us the opportunity to evaluate how our knees felt after hours of wearing the boots on extra-hard surfaces.
Weight when wearing. Did the boots feel heavy during movement on the job? Was there foot fatigue at the work shift's end?
Were legs and knees particularly tired or sore after wearing any of the boots at the end of the work shift? How heavy boots feel when worn can mean extra stress on joints.
Top Knee Pain Work Boot Reviews
The Best Overall Work Boots for Knee Pain
1. Danner Vicious 400G NMT 8-inch Men's Work Boot
Danner Men's Vicious 8″ 400G NMT Work Boot
Durable, waterproof leather upper

100% waterproof and breathable GORE-TEX lining

Superior indoor and outdoor traction with oil and slip resistance from the Vibram Vicious outsole featuring a low-profile 90-degree heel

400G of Thinsulate Ultra insulation

Lightweight and athletic performance of Danners Trailguard platform
Prices pulled from the Amazon Product Advertising API on:
Product prices and availability are accurate as of the date/time indicated and are subject to change. Any price and availability information displayed on [relevant Amazon Site(s), as applicable] at the time of purchase will apply to the purchase of this product.
These boots are designed to work in the harshest of environmental situations, yet the design has comfort in mind. Midsoles are Eva dual-density which absorb lots of shock and protect the knees during movement.
Thanks to improved comfort and reduced knee pain, overall work performance improves. Danner's "Trailguard" platform is lightweight and improves flexibility while keeping foot movement aligned.
The Vibram outsole is resistant to slippage and to oil reducing risk of falls and injury thanks to a low 90° heel that provides exceptional traction.
Safety composite toes protect those at risk for impact injuries to the feet from falling debris or objects, along with electrical hazard protection.
Finally, these boots are manufactured with 100% leather featuring a breathable and waterproof Gore-Tex lining, so your feet will be dry and comfortable for your entire work shift. Sweaty, uncomfortable feet can cause you to modify your gait and stress those knees as a result.
Both toes and heels are resistant to abrasion. These work boots afford great support, are incredibly functional, and durable for an overall great work boot for bad knees.
Pros
Durable

Composite safety toe ASTM rated

EH protection

Eva midsole absorbs shock

Vibram outsole resists slippage and oily surfaces

Waterproof

100% leather uppers

Comfortable
Cons
Durability concerns in terms of wear

A bit expensive
Check Price and Reviews on Amazon
---
Best Insulated Work Boots for Knee Pain
2. Wolverine Durashock High performance 8-inch Men's Work Boot
Prices pulled from the Amazon Product Advertising API on:
Product prices and availability are accurate as of the date/time indicated and are subject to change. Any price and availability information displayed on [relevant Amazon Site(s), as applicable] at the time of purchase will apply to the purchase of this product.
This is an impressive pair of work boots that thanks to great design and construction will limit any stress to your knees that results in joint pain.
The midsole is the first factor we noticed as it is made in polyurethane and absorbs shocks on hard surfaces from repeated movements.
The insole is also heavily cushioned with polymer that is dual density adding to the boot's shock absorption capacity.
Durashock outsoles not only increased shock absorption but offered substantial traction to prevent workplace falls and injuries.
These boots also offer EH protection, so if you work around electricity, you've got good protection. These are soft-toed boots which may be a limitation depending on your profession. 
Full-grain leather uppers with polyurethane closed-cell direct-attach construction make for a durable work boot over time. The Thinsulate Ultra Insulation sealed the deal as these boots keep feet warm even in the most inclement weather. A steel toe option is available.
Pros
Full-grain leather uppers

Thinsulate insulation

Polyurethane shock absorbing misdsole

Fiberglass shank for support

EH protection

Durashock outsole

Lightweight
Cons
No steel toe protection

Narrow sizing
Check Price and Reviews on Amazon
---
Best Work boots for Knee Pain with Steel Toe Protection
3. Thorogood Moc Toe American Heritage 6-inch Men's MAXWear Wedge Work Boot
Thorogood 804-4200 Men's American Heritage 6″ Moc Toe
Tobacco Oil-Tanned 804-4200 or Black 804-6201, full-grain leather

Removable Ultimate Shock Absorption Footbed on Poron comfort cushion insole

Fiberglass shank

MAXWear Wedge slip resistant outsole

Goodyear storm welt construction
Prices pulled from the Amazon Product Advertising API on:
Product prices and availability are accurate as of the date/time indicated and are subject to change. Any price and availability information displayed on [relevant Amazon Site(s), as applicable] at the time of purchase will apply to the purchase of this product.
Renowned manufacturer Thorogood is known for its craftsmanship when producing footwear. These attractive moc toe work boots offer a flexible MAXwear wedge outsole that is ant slippage.
The uppers are constructed in genuine full-grain oil-tanned leather and are available in two colors. The boots are manufactured with Goodyear storm welt construction for exceptional durability.
Fiberglass shanks add both protection and support. Removable footbeds are highly shock-absorbing with Poron comfort cushioning. USA made with steel toe protection.
Pros
Full-grain, oil-tanned leather Uppers

Goodyear Storm Construction

Poron comfort removable insole 

Fiberglass Shank adding support

MAXWear outsole 

Steel toe protection

Slippage resistant
Cons
No waterproofing

Sizing may be narrow

May need breaking in
Check Price and Reviews on Amazon
---
Why Should You Select the Correct Work Boots When You Have Knee Problems
If you suffer from knee pain, you already know the answer to this one. A good comfortable, supportive pair of work boots can prevent, relieve, or diminish to some extent the pain and often swelling associated with joint stress or injury.
Shock absorption is a huge consideration if you suffer from knee pain. Not only will your work boots feel more comfortable, but good absorption from shock and repeated movement on hard surfaces can guard your knee joints by reducing strain and pain. Less pressure translates into less stress on knee ligaments thanks to better built-in support.
Often work boots are higher on the leg than just a normal shoe. This adds support to your ankles as well as your lower limbs for increased stability. Good stability means you will be less at risk for sprains and injury that will affect knees.
A good boot will also be designed to support the correct movement of the leg in its entirety, again resulting in less strain on the knee.
Age is unfortunately another important consideration when considering physical pain, especially pain related to the joints. With time, muscles and ligaments age making them susceptible to weakness and to the risk of eventual injury.
A good pair of work boots will provide great foot and limb support during movement as well as safety protection. The correct distribution of pressure on feet, knees, hips, and the lower back will prevent pain on the job.
Injuries that Contribute to Knee Pain
There are any number of medical conditions that can contribute to chronic knee pain. Among these we find:
1. Tendinitis. This is when a tendon or several tendons are irritated and/or inflamed. There are the attaching fibers that keep muscles connected to the bones.
2. Bursitis. Bursitis concerning the knee is more common than imagined. When the knee bursae is inflamed it means that the little sacs containing fluid that generally cushion the knee are irritated.
3. The Meniscus. Made of rubbery cartilage to absorb shock between your thigh bone and shin bone, this body part is prone to tearing.
4. Ligament Injury. If by chance your anterior cruciate ligament tears, you'll feel it with knee pain. The thigh and shin bones are connected with this ligament.
5. Fractures. Believe it or not, you can experience even small stress fractures in the bones in your knee or in your knee cap.
Conclusion
Because both shoes and work boots can affect your knees, if you suffer from knee pain when selecting your work boots, you should keep this in mind.
Boots can change the position of your feet, especially during movement. This will increase pressure to the joints.
Also, if you are prone to rotating your foot or leg inward during walking, this can cause the knee to also point inward, stressing it. A good shock absorbing work boot can help.