When making our choices for our best work boot list, we felt one list needed to be dedicated exclusively to Keen boots because of their commitment to quality, safety, and comfort.
The Keen Pittsburgh Utility Work Boot with its Steel toe protection really got our attention for its resistance to harsh weather, multiple layers of protection, together with a waterproof membrane for hygiene and comfort. 
With all the professional ladies entering so many manual and laboring professions that also require added foot protection, we couldn't help but include the Keen Oakridge Waterproof Boot for its lightweight design but water and oil resistant outsoles in our best Keen Work Boots list.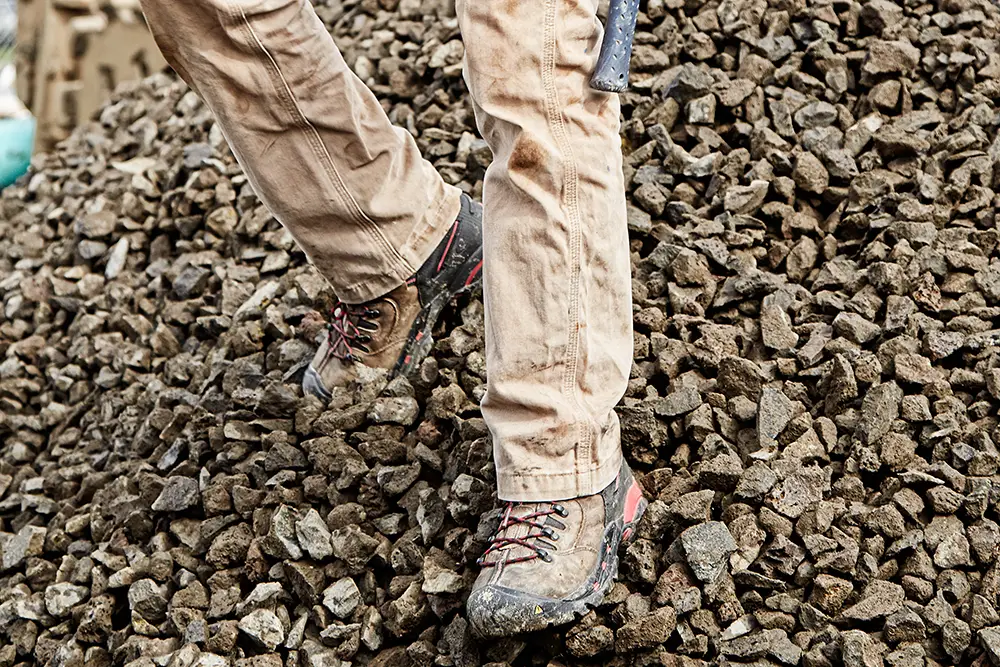 Top Keen Work Boot Reviews
Best Steel Toed Protection Boot
1. Keen Pittsburgh Utility Steel Toe Work Boot
This is one really strong and resistant work boot. With strong materials and great construction, it is a rugged, durable work boot.
It offers asymmetrical steel toes for maximum protection covered by a rubber guard for your toes. The outsole is also in rubber, meaning that your foot has various levels of protection from workplace hazards.
Exceptionally comfortable as a work boot due to great padding, your feet will remain dry all day. This work boot is waterproof and features a breathable lining.
This lining will wick out moisture due to perspiration for the entire time you wear them. The midsole is EVA for extra comfort and foot support. The boot is designed to ward off foot fatigue.
This is a six-inch work boot that meets ASTM standards F2412 and F2413, I/75, and C/75 EH.
Pros
Good for intemperate weather

Layers of protection against slippery surfaces, water, and falling debris

Breathable waterproof membrane

EVA midsole
Cons
Check Price and Reviews on Amazon
---
Best Mid Steel Toed Protection Boot
2. Keen Detroit Steel Toe Work Boot
Another very interesting Keen work boot with steel toe protection is the Detroit Work Boot. Fabricated with Nubuck leather for the uppers, the outsole is in thick high-quality rubber offering lots of grip and sturdiness.
This 4.5-inch version also offers asymmetrical toes with a 5-inch shaft for combined protection and comfort.
A waterproof membrane that guarantees breathability keeps your feet comfortable while wicking away perspiration and any odors that may result.
The rubber outsoles do not mark the pavement you work on, and the EVA footbed is removable. It adds a protective layer from impact injury.
Pros
Anatomical Steel toe protection

Eva footbed is removable

Perspiration-free odor protection

Waterproof membrane
Cons
Some clients report quality considerations

Considerations about eyelet construction
Check Price and Reviews on Amazon
---
Best Soft Toe Boot
3. Keen Targhee II Hiking Boot
Officially a hiking boot, these boots are great for certain work situations as well. Stylishly designed, they offer a waterproof membrane to shield intemperate weather making them great for outdoor professions.
Since it has been conceptualized as a hiking boot, the outsoles offer tremendous traction for slippery surfaces regardless, of if they are slopes or concrete.
An incorporated ESS shank gives added support to your ankles especially if climbing slopes or working on one.
Some clients report that if you wear this boot consistently on rugged terrain, the boot's life is prone to end at around eight months.
Pros
Low profile upper boot

Ghillie lacing

Sturdy rubber outsole

Very stylish
Cons
Some heel problems reported with continuous rugged usage
Check Price and Reviews on Amazon
---
Best Slip-on Work Boot
4. Keen Detroit Utility Slip-on Work Boot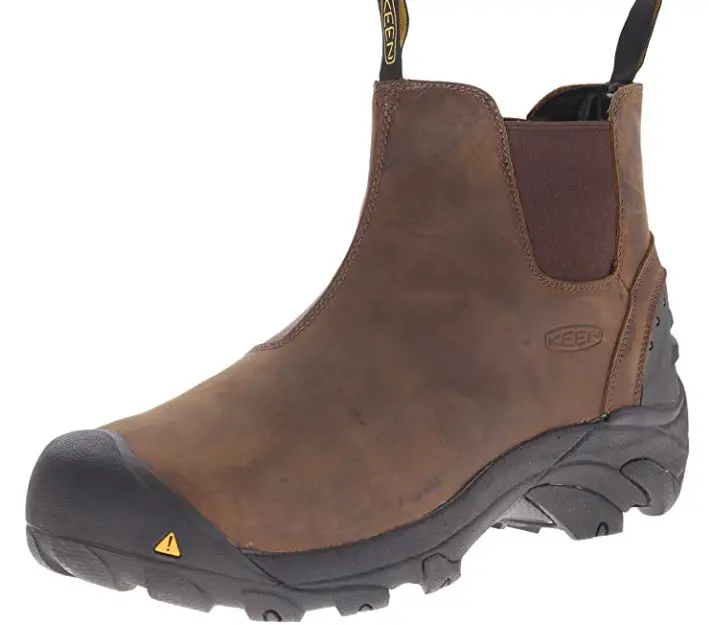 If you don't like lace-up work boots and prefer the convenience of slip-on boots, this variant of the Keen Detroit boot may be to your liking. These work boots are incredibly easy to pull on or off with loops to help you manage easily. 
Featuring an upper crafted in smooth high-quality leather, they are ideal for professionals who move between the office and a worksite.
The leather used in manufacturing is both durable and water-resistant, meaning your feet will remain warm and dry.
If you happen to spill something on them, there is no reason to worry as the leather is treated to resist spills. They are ideal for people with unusually shaped feet offering both style and comfort.
They also offer asymmetrical steel toes for great protection at both construction or industrial sites where falling debris or tools is probable. The shaft measures 4.5-inches.
Pros
Removable metatomical footbed that is dual-density

Leather uppers made in Nubuck for durability and style

Midrise work boots that slip-on
Cons
Not ideal for excessive movement in the workplace as they may slip off.
---
Best Low Soft Toe Work Shoe
5. Keen Braddock Low Utility Soft Toe Work Shoe
Ideal for handy work as opposed to a construction site, this particular Keen work boot is renowned for the comfort it offers. They do offer protection such as waterproofing, cushioning, and electrical hazards.
The shaft measures a comfortable three inches. The patented Keen toe protection has the shoe's outsole flowing up and over the toes area for increased protection. Outsoles are both slip and oil-resistant.
Outsoles are non-slip to protect from falls while on the job. The metatomical design of the footbed guarantees incredible support of your foot's arch so comfort is increased, together with a pleasing design that actually cradles your foot when worn.
It may feel a bit heavier than other models and it does not come with a steel safety toe, but if you appreciate weight in a shoe and don't need toe protection, these work boots are definitely worth a look.
Pros
Cushion comfort

Exceptional arch support

Patented Keen toe protection
Cons
A bit heavier weight wise
Check Price and Reviews on Amazon
---
Best Women's Utility Work Boot
6. Keen Oakridge Waterproof Women's Work Boot
As work boots go, this women's model is quite stylish meaning that it can be worn on occasions other than when at work. Produced with high-quality materials, these boots protect against the cold and against moisture.
They offer a breathable membrane with an EVA midsole that offers dual-density compression to give you very comfortable footwear.
Notwithstanding their style and comfort, these women's work boots meet all required ASTM standards for safety.
Available with both shark grey and dark grey accents, these boots contribute to a great professional or casual look, and they will fit smaller-sized feet.
Pros
Oil and water-resistant outsoles

Lightweight

Hydrophobic mesh lining for maintaining dryness

Stylish

EVA midsole
Cons
Not particularly suited to women with wide feet
Check Price and Reviews on Amazon
---
Portland-based Keen Work Boots is one of several major US manufacturers of work and hiking boots that strive to keep injuries related to the workplace at bay.
In 2003, this boot company was named by Footwear News' as the "Launch of the Year" and since then has continued striving to better its own excellence levels in producing work boots.
Renowned for high-quality products at reasonable prices, they continue to develop and market new styles and construction techniques.
All About Keen Boots
Keen strives to produce boots that are practical and highly practical while considering style and appeal. Whether you need a heavy-duty work boot, a flexible boot, a boot with strong traction, steel shanks, or resistant outsoles, Keen will have something to offer.
Established in 2003 by Martin Keen in California, in 2006 Kirk Richardson was named CEO after spending time working for powerhouse NIKE. 
He brought change and development to this new brand. By 2009 the company's sales were estimated at somewhere between $130 and $140 million. 
By 2011, they had reached $240 million. Sensitive to the environment, the company pairs with a number of non-profits in support of environmental conservation.
It owns a major plant in the city of Portland, Oregon with materials that are resourced from around the globe. It also has its headquarters there.
Keen Boots while primarily manufactured for working men and women, can be worn in a multitude of situations for numerous activities.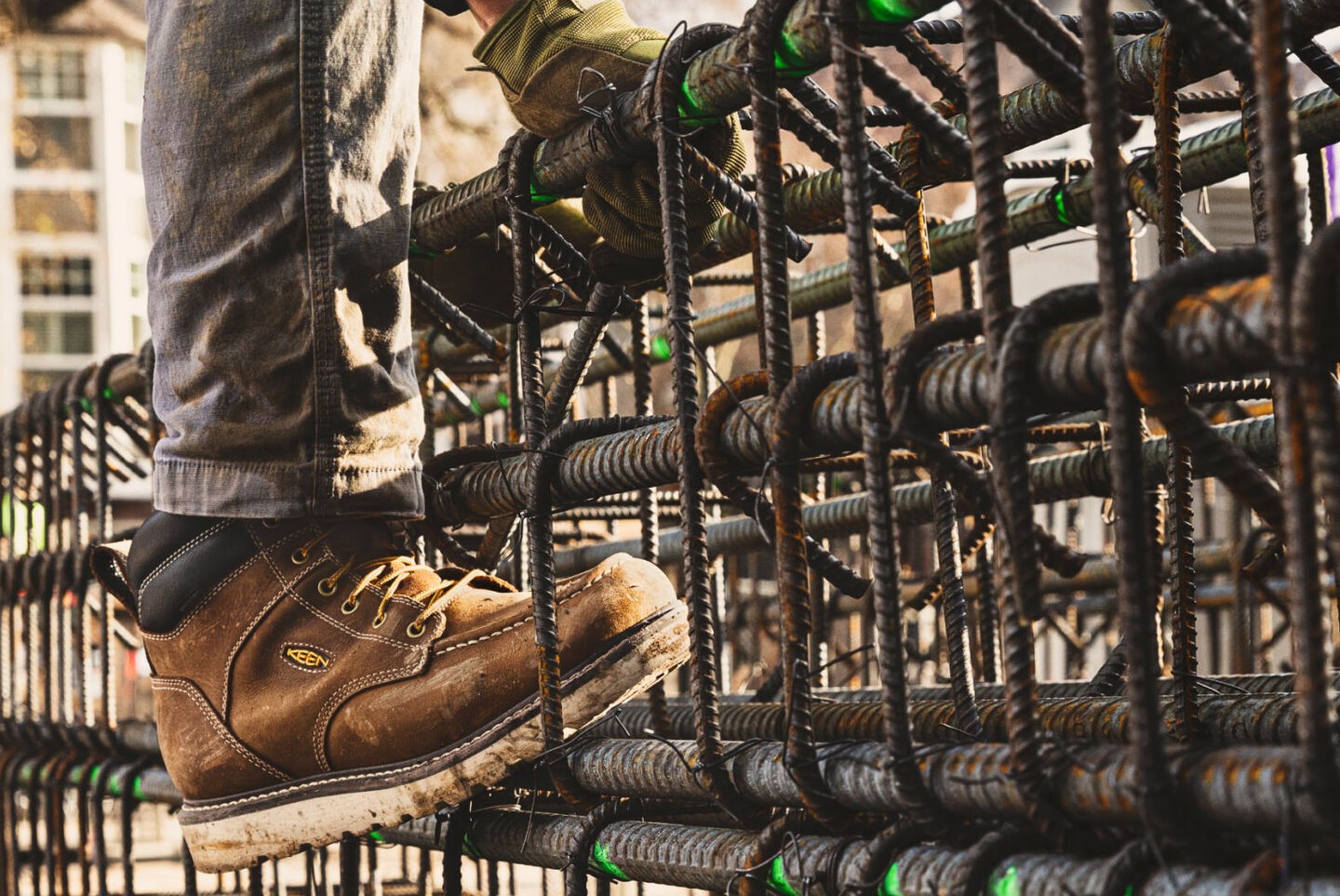 They are often found on the feet of professionals in industry, construction, agriculture, mechanical work, and even logging among others, and they protect against various potentially dangerous conditions including wet surfaces and cold climates. 
So, whether you need toe protection, slip-resistance, insulation, or impact protection, Keen offers an array of solutions to select from.
Keen Work Boot Features
Keen produces its boots with four important qualities:
Comfort. Notwithstanding safety as a priority, for the Keen brand comfort and safety go hand-in-hand. Keen boots place an emphasis on cushioning to guarantee comfort for professionals and laborers that find themselves standing during most of their work shift.
Roominess and breathability are two features that keep your feet fatigue-free from your toes to your arches all the way to your heels. Shock-absorbing insoles protect while contributing to foot comfort.
Durability. In today's market, durability is a highly prized feature. Most Keen work boots feature uppers in resistant Nubuck leather with an appearance similar to suede leather while offering breathability and waterproofing.
The material known as "Keen Dry" was invented by the company to keep those feet dry regardless of where you work.
Safety on the Job. Workplace protection is one of the principal reasons that you purchase a pair of work boots. ASTM (American Society for Testing and Materials) has compiled necessary levels of protection and PPE for just about every profession and Keen Boots keeps these standards in mind when designing and manufacturing their line of footwear.
Electrical Hazard protection, safety toes, slippage protection and so much more goes into every Keen work boot from the initial design right through the final steps of manufacturing.
Waterproofing. The majority of Keen Work Boots will be resistant to both water and perspiration. No sweaty feet! Featuring a waterproof membrane that encourages ventilation together with dryness inside their work boots even if you are still on your feet after your work shift has ended. Rain, puddles, intemperate weather? No problem!
A Final Thought
If you are one of those professionals who is on his or her feet all day long, Keen work boots are designed with the comfort of your feet in mind, coupled with high-quality materials and manufacturing, and safety from common workplace hazards.
So, if you want, comfort, style, protection, and durability in work boots, the American brand Keen is definitely worth your consideration.