Personal Protective Equipment, and particularly a quality pair of protective work boots for workers in the oil industry are a must.
Oil industry professionals may require Electrical Hazard protection, impact protection, and most definitely, good resistance to slippage when in the workplace.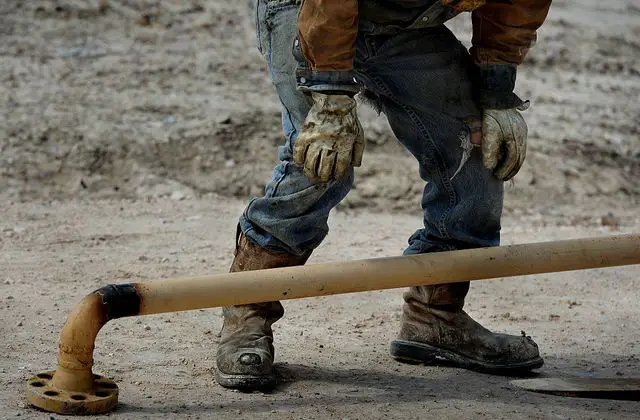 With so many work boots flooding the marketplace, we put together a team of oil industry professionals to save you some legwork when looking to buy a new pair of boots for this sector. 
They researched, selected, and tested these boots directly in the oil field to compile a list of reliable work boots for you to choose from.
Our top pick fell to the Supersole® Red Wing Work Boots. These work boots have functional, heavy-duty, yet comfortable. Another pair of boots that we really like is the Timberland PRO Rigmaster that are designed for the oil industry.
All of the boots on this list are worth your consideration, and this is how we selected, what we looked for, and in the end, what convinced us.
Top Oilfield Boots Reviews
Best Overall Oilfield Work Boots
1. Supersole® Red Wing Work Boots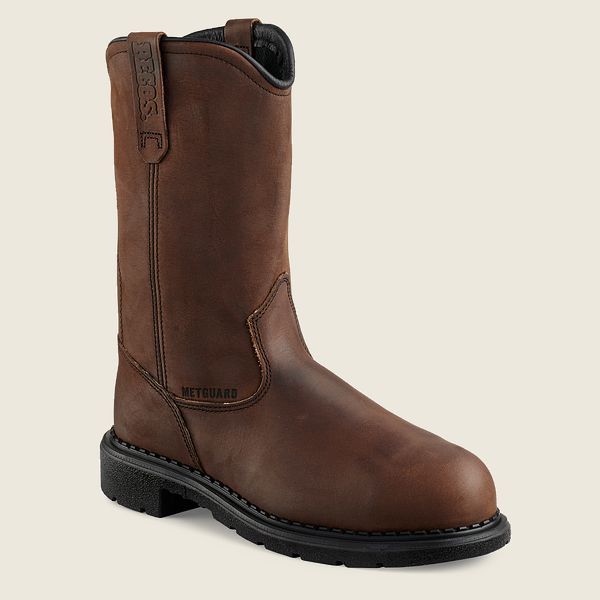 For oilfield professionals, the Red Wing Work boot is exceptionally popular as a footwear choice. They are designed for industrial outdoor work environments.
Uppers are produced in top-grain leather, while the outsole is made in rubber and the construction for joining the two, is Goodyear Welt, making for a quality well-constructed work boot.
This is a waterproof boot, and it should resist not only water but oil as well as other liquids. A steel safety toe ensures protection from falling debris, tools, and objects, as well as from heavy machinery. This Redwing may be a bit heavier than other boots, but the quality is noteworthy.
A polyurethane footbed is removable and dual grips make putting them on and pulling them off incredibly easy.
Pros
Steel safety toe

Waterproof

Attractive appearance

Great traction

Full-grain leather upper
Cons
A bit heavy

Sizing tends to run small
---
Best Waterproof Oilfield Work Boots: Muck Boot®
2. Muck Boot® Chore Safety Boots
Muck Boots Chore Classic Tall Steel Toe Men's Rubber
5 mm neoprene provides comfort and flexibility, along with excellent waterproofing, shock absorption and heat retention properties, adjusts to your foot shape to resist blisters and chafing

100% waterproof work boots, easy-to-clean high-grade rubber overlay with durable, quick-cleaning outsole, 16-inch height for added protection

Breathable Air mesh lining wicks away humidity and perspiration, and allows air to travel throughout the boot, comfort rated from subfreezing to 65 °F/18 °C

Steel shank for support; triple toe and quadruple rubber heel reinforcement for added protection and durability
Prices pulled from the Amazon Product Advertising API on:
Product prices and availability are accurate as of the date/time indicated and are subject to change. Any price and availability information displayed on [relevant Amazon Site(s), as applicable] at the time of purchase will apply to the purchase of this product.
Manufacturer Muck Boot® is a reputable footwear producer known for reliability and quality. These safety boots are noteworthy for construction, protectiveness and they are truly waterproof. 
100% synthetic uppers in a breathable material are joined with rubber soles for waterproof comfort. If you work in a wet or intemperate climate, these boots will not disappoint. 
A rubber outsole features a heel that is reinforced four times over. While the soles will not be indestructible, they can be replaced if the rest of the boot is in good shape.
The boot design offers exceptional support for ankles together with great leg and foot protection. An Airmesh lining offers breathability and wicks perspiration away for added comfort.
Pros
Outsole in rubber

Synthetic Uppers

Steel safety toe

Airmesh lining

100% waterproof

Shock absorption

Heat retention for subfreezing climates

ATSM rated, EH rated
Cons
Hot in arid climates

Durability in exceptionally rough conditions
Check Price and Reviews on Amazon
---
Best Extreme Weather Oilfield Work Boots
3. Timberland Rigmaster PRO Work Boot
Timberland PRO Men's 8 Inch Rigmaster XT
Mid-cut work boot with premium waterproof leather upper featuring PRO rubber vamp for durability and heat resistance

Goodyear welt cast-bond construction for durable mechanical and chemical bond

Fiberglass shank for structural support

Lug rubber outsole
Prices pulled from the Amazon Product Advertising API on:
Product prices and availability are accurate as of the date/time indicated and are subject to change. Any price and availability information displayed on [relevant Amazon Site(s), as applicable] at the time of purchase will apply to the purchase of this product.
Designed by Timberland for the oil and natural gas industries, this boot offers top-quality slippage resistance in the work environment.
It features traction that is industrial-grade combined with shock diffusion technology. It is designed to be anti-fatigue. Aggressive outsole tread uses triangular-shaped rubber lugs.
Produced in 100% top-quality leather with a waterproof membrane, the Rigmaster PRO is waterproofed and the boot uppers are abrasion-resistant. Goodyear Welt construction guarantees exceptional bonding between boot uppers and the outer soles.
The fiberglass midsole shank adds to support. These boots have been conceived for workers in the oilfields that deal daily with wet cold environmental conditions.
A top collar that is padded hugs your foot to prevent water penetration. Steel safety toes round out protection while guaranteeing comfort.
The Rigmaster boot is particularly comfortable for cold climates and features Ortholite footbeds. 
Pros
Anti-microbial lining

Safety toe in steel

Powerfit Comfort Technology

Rubber-lugged outsole

Waterproofing membrane

Good fit

Great for cold weather
Cons
A bit heavy

Oily surface resistance could be improved
Check Price and Reviews on Amazon
---
Best Pull-on Oilfield Work Boot
4. Ariat Groundbreaker Steel Safety Toe Pull-on Work Boot 
Ariat Men's Groundbreaker Pull-On Steel Toe Work Boot
Full grain leather with round toe and breathable mesh lining

ASTM F2413-11 M/I/75 C/75 EH rated

Extra comfort insole with higher rebound

Heavy duty oil-and-slip resistant Duratread outsole

90 degree heel. Two row stitch pattern
Prices pulled from the Amazon Product Advertising API on:
Product prices and availability are accurate as of the date/time indicated and are subject to change. Any price and availability information displayed on [relevant Amazon Site(s), as applicable] at the time of purchase will apply to the purchase of this product.
These steel-toed work boots offer great safety features. This is a well-designed, classy work boot that is comfortable. Uppers are produced in 100%  full-grain leather.
Mesh lining guarantees breathability and the "Duratread" outsole gives heavy-duty traction against oil, grease, and water, making this incredibly slip-resistant.
The Groundbreaker boot meets EH rating standards and is ASTM rated. For all the protection, this boot still weighs less than other alternatives.
Pros
Great shock absorbency technology

4-Layer Rebound technology for comfort and stability

Easy entry system for putting on

Super Slip-resistant

Outsole is robust for aggressive terrains
Cons
Check Price and Reviews on Amazon
---
Oilfield Work Boot Construction Considerations
Work boots will generally have at least six fundamental components in their construction. These include 
Boot Uppers
The upper part of the boot will cover your leg or calf partially as well as your entire foot which includes the heel backs, and boot tongues if lace-ups.
These may be produced in a single piece of leather or textile, but most often will feature varying pieces sewn together or a combination of textile and leather.
You will also notice different qualities of leather utilized such as full-grain, nubuck, or split-grain. The material used will influence water resistance, breathability and heat, maintenance requirements, and of course, the price. Uppers may also feature insulation for those working in colder climates.
Footbed or insole
The footbed is the part of the boot upon which your foot actually rests and runs the length of the entire foot from toes to heel. This part directly supports your foot.
Many will feature various types of cushioning, and some will even be treated with antimicrobial solutions to contribute to overall comfort.
Midsole
This is the material that rests between the footbed and the outsole of the boot. Softer materials will be used to endure shock absorption during movement.
Stronger, harder material midsoles are recommended for those with medical conditions like plantar fasciitis or tendinitis in the Achilles heel. 
Boot Outsole
The outsole is the boot component that touches the ground. Apart from durability, it should provide anti-slip traction and stability when walking.
Outsoles are often produced in heavy thick rubber but can also be found in polyurethane or synthetics.
Safety Toe protection
A safety toe cap is a toe box within the boot created to protect your toes from being crushed due to impact injuries from falling debris, tools, or machinery.
Protective toe caps in steel are the most common, however, advances in technology have paved the way for the creation of safety toe caps in aluminum, fiberglass, composites, plastics, and carbon fibers.
Composite toe caps, like aluminum, are lighter and therefore do not add to the overall weight of the boot. Composite toe caps also will not conduct electricity.
Shank
A shank is a plate that is positioned between the midsole and outsole of the work boot. It can be manufactured in multiple materials including fiberglass, Kevlar, plastic, or steel, and helps the outsole to stiffen.
This plate plays an important part in your stability when walking by ensuring that your boot is flexible at the toes and not in the middle of your foot's arch. Puncture-resistant plates may also be inserted for added protection.
Each of these boot components has an important role in overall safety and comfort while in a work environment.
What We Look for in a Work Boot for the Oilfield
When preparing to select and purchase a pair of work boots, there are several factors that should enter into the discussion before making your final choice.
Boot Construction
The construction method will influence overall quality and durability. The boot's weight, flexibility, and performance at work will be affected. Three construction methods used for attaching boot uppers to outsoles:
Cement. Used for its simplicity and less expensive cost during production. Boot uppers are glued to the outsoles with industrial adhesive. Durability can suffer over time as the glue deteriorates.
Goodyear Welt. Synonymous with durability, this technique is water-resistant. Using plastic, leather, or rubber, the sole is connected to the upper boot.
The overall price of the boot will increase but boots with Goodyear construction are easier to repair and for outsole replacement.
Molded. Injection is used to join the upper and sole. No stitching or adhesives are used but the binding is water-resistant. Unfortunately, they cannot be repaired.
Slip Resistant Soles
Oil and slip-resistant work boots will require good solid traction. Outsole tread will determine the efficacy of a boot's resistance to slippage through shape and design.
Tread designs may include triangles, circles, squares, and hexagons. In-between spaces in the tread design are important.
If the spacing is small, these soles may not be able to channel water or liquids toward the outermost edges. When fluids remain trapped under the outsole, hydroplaning can happen causing you to slip.
Tread thickness is just as important. When a tread wears quickly, you will have less resistance to slippage. This is the same reason we change tires on a car or even a bike.
Safety Toes
This is an incredibly important factor when buying a pair of work boots for the oilfield. A steel, composite, or alloy toe cap needs to be included if you work with heavy metal pieces, heavy machinery, or heavy tools that can fall on your feet.
Injuries due to impact can cause crushed toes and the eventual loss of your toes. Some employers are required by OSHA standards to make use of a toe cap mandatory at work. If you risk electrical hazards, choose a composite toe that does not conduct electricity and weighs less.
Comfort 
It cannot be overstated how important comfort is when selecting a work boot. Repeated discomfort during a long workday will become painful. It is inconceivable that you work all day with painful feet which will inevitably create a distraction while working.
Chafing and blisters from uncomfortable boots can become infected creating health problems and lost time on the job. Your comfort will begin by selecting the correct size. Try your boots on before purchasing.
Insulation
Insulation may not be a requirement depending on where you work. However, if you work on rigs in extreme weather conditions, you should evaluate looking for this feature.
Usually, insulation will be either in "Thinsulate" or in shearing. Shearing is a natural material of wool, whereas Thinsulate is a synthetic designed for insulation. Depending on the amount used, insulation from cold will increase.
EH Protection
Electrical dissipation can make all the difference in a work environment. Work boots with EH ratings can be found in two types:
non-conductive

static dissipating
Non-conductive boots will have an EH rating with insulated soles. Dissipating static work boots will allow the electrical current to flow so when working around combustible gases and liquid, static buildup won't spark a fire. Static electricity charges pass through the sole directly into the ground. 
Conclusion
A rugged work environment requires rugged sturdy footwear to get the job done while offering protection and all-day comfort.
So, when selecting a pair of oilfield work boots, remember to look for quality materials, quality construction, a cushioned footbed, a strong protective safety toe cap, a shock-absorbing midsole, and a slip-resistant outsole designed for superb traction.
We hope this article will help you start your search for your perfect pair of oilfield work boots. Thank you for reading.