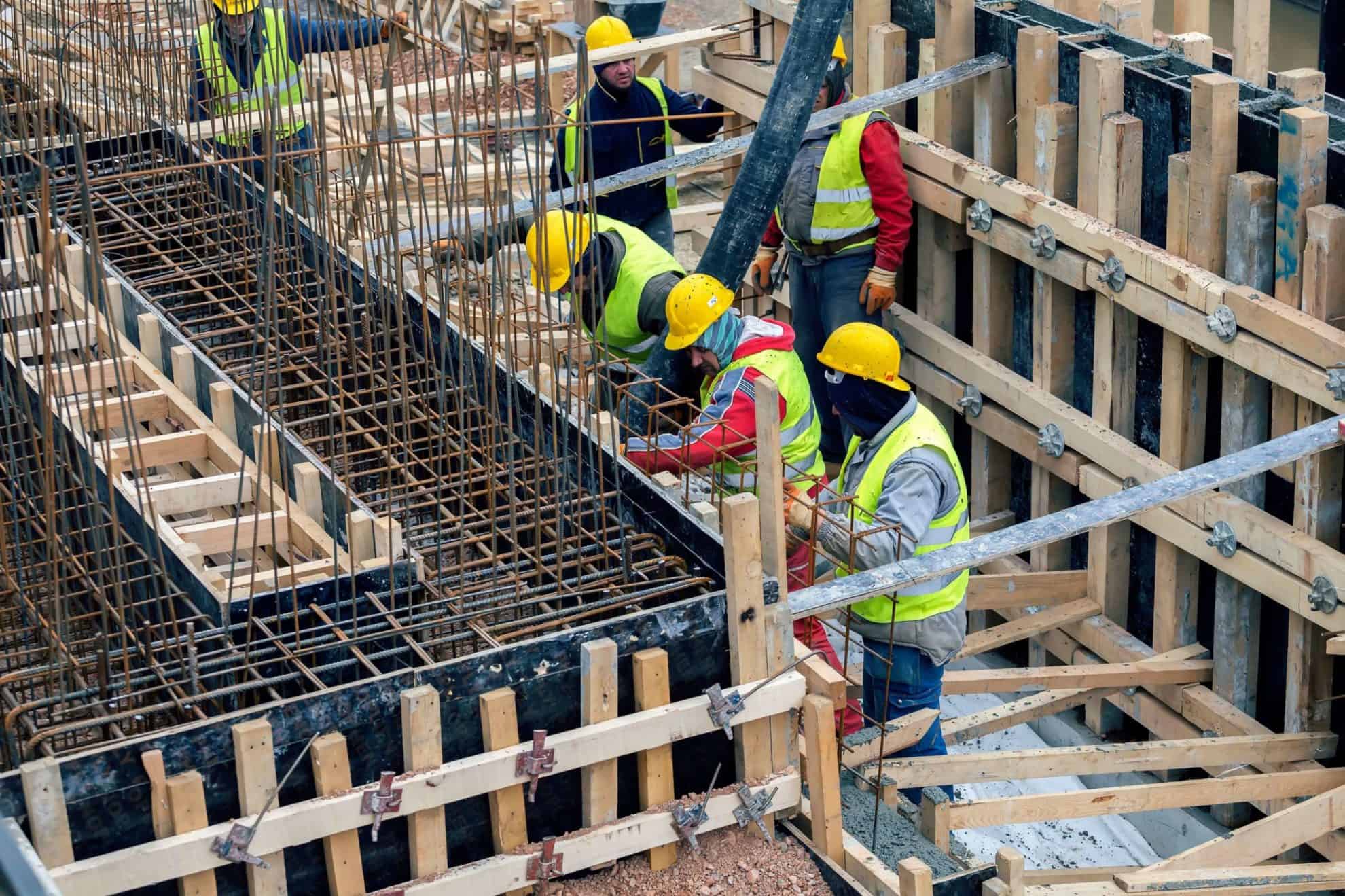 Concrete works provide livelihood to more than 300,000 workers.
But,
Besides providing livelihood, it also puts one at the risk of injuries and illness.
And the most common injury that one might suffer in the construction sites is foot injury because it deals with carrying and rolling heavy loads.
So,
In this article I am going to detail you about all the necessary safety tips that you must follow while working in the construction sites.
Hazards that Might Pose Danger in Concrete Works
Concrete works include a number of hazards from different types of activities and objects. We have listed a few for your consideration: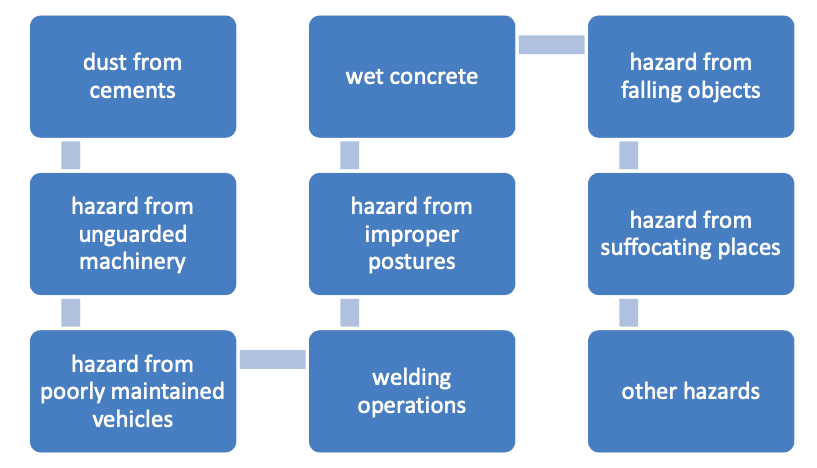 1.) Dust from Cements:
Risks:
Concrete works involve mostly the work of cements. Overexposure to cement dust can cause severe problems including:
Safety Measures:
➢ The workers should wear masks to avoid the inhalation of dust. P-, N- and R-95 are some of the commonly used masks.
➢ Wear spectacles to prevent dust in coming in contact with the dust.
➢ Wash off the eyes with cold water in case dust goes in.
➢ Wash your hands with soap after work.
➢ Eat and drink only in dust free areas to avoid the entry of dust in the digestive tracts.
➢ Wear gloves to protect your hands from the effects of cement.
---
2.) Wet Concrete:
Risks:
Wet concrete too can pose many hazards including:

Safety Measures:
➢ Wear uniform that is apt for handling chemicals.
➢  Wear gloves that are alkali-resistant.
➢ Wear spectacles designed for handling chemicals.
➢ Wear full length pants and full-sleeve shirts.
➢ Wear waterproof and slip resistant boots.
➢ Wash off the hands with distilled water if it comes in contact with the chemicals.
➢ If chemical goes into the eyes, wash of with cold water for 20 minutes then immediately rush to the hospital.
---
3.) Hazard from Falling Objects
Risks:
Falling or rolling objects can cause severe injuries of the feet and head:

Safety Measures:
➢ Wear steel toe boots designed for concrete works. 
➢ Wear head gear (helmets) especially made for construction works.
➢ While loading and unloading heavy objects be extra careful.
➢ Try not to work under elevators or conveyor belts and heavy machineries.
---
4.) Hazard from Unguarded Machinery
Risks:
Unguarded machinery can not only cause pain related injuries, but also cuts and bleeding: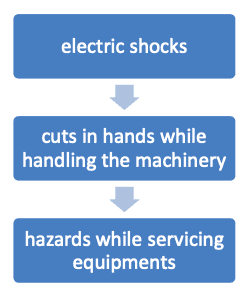 Safety Measures:
➢ While servicing machinery follow effective lockout and tag out procedures.
➢ Take care while handling block makers, cutters, mixers, cage rollers and rebar benders.
➢ Wear electrical hazard protective boots while handling electrical devices.
➢ In order to avoid jamming, maintain the conveyor belt system properly and take intense care.
---
5.) Hazard from Improper Postures
Risks:
Poor ergonomics i.e. improper postures, repeating the same motions again and again, lifting of heavy loads can lead to:
Safety Measures:
➢ Wear waist belts designed for supporting the spinal cord.
➢ Wear supportive gears in hands and ankle to avoid twists and turns of bones.
➢ Use lifting tools instead of lifting with bare hands.
➢ Wear boots that have ankle support.
➢ Always take a co-worker while lifting loads.
➢ Wear slip-resistant boots to avoid slipping and tripping on wet floors. 
➢ Take small steps while taking turns and concentrate on taking right postures.
---
6.) Hazard from Suffocating Places
Risks:
Suffocating places like poorly ventilated rooms, store rooms, ready-mix trucks, etc. can pose risks which are as follows:
Safety Measures:
➢ Wear oxygen masks whenever you enter closed rooms.
➢ Always take a co-worker along with you so that in emergency he can help.
➢ Make sure to guard against heat stress while the cleaning of truck mixer drums.
➢ Follow the established procedures set by OSHA for confined spaces.
---
7.) Hazard from Poorly Maintained Vehicles
Risks:
Ill-maintained vehicles can cause injuries to the drivers as well as the boarders:
Safety Measures:
➢ Properly lubricate all parts of the vehicles.
➢ Do not overload the cranes.
➢ Make sure the back-up alarms are properly functioning.
➢ Do not touch hot parts of the machinery of the vehicles with bare hands.
➢ Keep fire extinguishers in the trucks.
➢ Use ear protection while cement loading which might affect the ear drum due to noise explosion.
➢ Always use head protection while driving.
---
8.) Welding Operations
Risks:
The heat and fire sparks from the welding can cause the following damage:

Safety Measures:
➢ Wear protective glasses for the eyes while working with fire.
➢ Wear specially designed uniform to deal with fireworks.
➢ Wear masks to avoid respiratory problems.
➢ Visit the hospital immediately in case of burns.
Other hazards:
Some other hazards might include: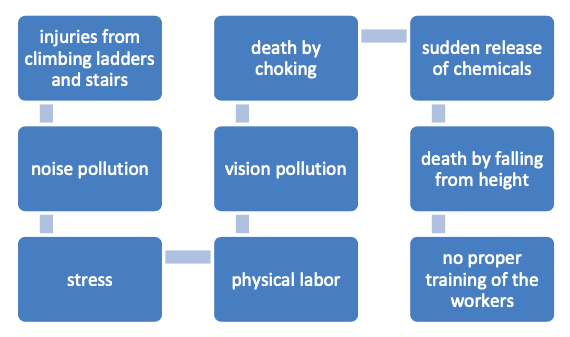 Safety measures:
➢ Ensure a comprehensive health and safety management system in the workplace.
➢ Train the workers properly in handling of loads. Intimate them about the correct postures and ways.
➢ Train the workers in proper handling of machinery with safety measures.
➢ Give them protective gears while working to ensure their safety.
➢ Conduct personal safety and protective equipment program.
➢ Write down the rules to follow in case of any emergencies.
➢ Always have a contact with a hospital to deal with emergency cases.
➢ Ensure that the machinery and tools are working properly and have them maintained regularly by experts.
➢ Decrease physical labor and supplement them with tools and machinery.
➢ Conduct stress management programs.
➢ Talk to the workers whenever they seem to be depressed or over burdened.
Before we say Good Bye:
It is always better to take precautions than to suffer the ailments.
Worker's safety should be of top most priority if you run a construction site not only because the workers would be in danger but you might also end up in trial for not maintaining proper safety measures in your workplace.
Now, when you know in details about the hazards that might affect your workers, we suggest you take immediate actions and implement the safety measures that we have made known to you.
Do let us know in the comment section below how helpful the tips were for you.
Till then…
Take care and have safe constructions!