How many of you blame your daily work boots for poor ventilation, insulation or not keeping your feet fresh?
Have you ever thought that it might be your socks that are being troublesome?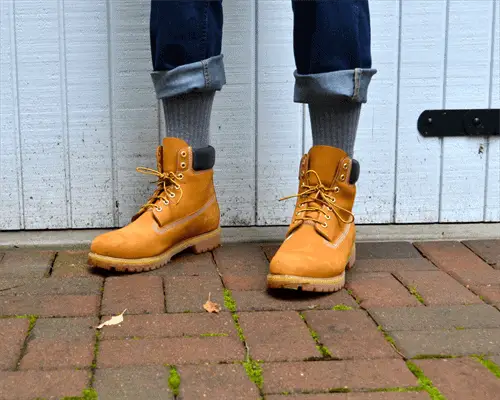 I know you haven't! But you will be surprised to know that if you wear work boots you should ideally pair them with quality boot socks. But why?
If you are going to invest in a good pair of work boots then it's necessary that you combine them with a good pair of boot socks that has a perfect fabric, perfect fit, and a bit of cushioning. And yes they should be shock absorbing too! Lastly they should be able to maintain appropriate temperatures of your feet so that you can work with ease. 
Getting confused? Don't worry it's not that complicated but it's definitely something that you should not overlook. That is why we are here to tell you everything you need to know about boot socks and why you should not settle for ordinary ones. 
What are Some Important Sock Features to Consider?
Here are some of the features that should be considered while buying boot socks
1.) Right Fit to Avoid Irritation
Your socks should be fancy but what's more important is they should fit you just right. The socks come in different heights for serving different purposes. So, when it comes to work boot socks, I would suggest you to go for a pair that can provide you protection from your boot's abrasive collar. Take a pair that is longer than your mid-calf or high-cut working footwear.
Not just sock height, the length is also an important factor to be considered. The heel to toe length should accurately fit your foot. There is a standard chart available at the shoe stores so that you can easily find your size.
Lastly, socks should fit snugly without hurting your toes. And should not produce friction or pinch up your delicate feet.
2.) Sock Weight and Thickness
Thicker socks tend to provide better cushioning. Thicker socks keep your feet warm in winter. But in summers choosing lightweight socks is always a better option.
You can also use boot socks as a fitting tool for the fit of your footwear. If your shoes have extra toe room then go for slightly thicker socks. And if your shoes are tight then find the socks that are thinner.
3.) Comfort to Wear ALL Day
You definitely can't ignore this important feature. While shoes are designed to protect your feet from harsh environments, it is the pair of socks that provide extra comfort to your feet. These are mechanically woven and come with varying thickness that promise to provide different levels of comfort.
For your knowledge, socks that have got additional padding for heels and balls are generally more soothing to your feet. Without padded socks, it sometimes becomes difficult to have a substantial amount of leg movement especially when you are wearing tough steel toe boots. But make sure you do not end up making your shoes feel too tight just because of this extra padding.
Besides this, work boot socks are also designed to provide better arch support. Thanks to the inbuilt tighter and denser weaves in the arch area. This simple feature not only prevents arch pairs but also saves you from severe heel pains caused by plantar fasciitis. 
4.) Interior Sock Construction
The best way to select a good sock is by turning it inside out. Check for cushioning loops. If the sock lacks a cushioning loop then it is unable to provide you cushioning that is quite essential to absorb the moisture and protect your feet from the material inside your boots.
Also, don't forget to check the toe seams. Look for the flat ones because if the toe seams are not flat then chances of irritation and rubbing increases which in turn can cause blisters and you surely don't want them, right?
What are the Best Work Boot Socks?
1.) Carhartt Men's All Season- All Terrain Crew Sock

Believe me, these are one of the most comfortable pairs of socks you can ever wear. The sock is well suited for workers who work all day long and suffer by wearing hardy work boots. These socks are designed exactly to overcome this problem.
The sock's lining and high heel flap have got friction-free Nanglide technology which comfortably yet firmly reinforces the arch and base and also increases the durability of the socks while reducing the friction hence saving your feet from blisters.
Furthermore, the mesh cooling panels and instep channels in these socks enhance proper airflow so that your feet feel fresh all the time. These have a snug fit and come up to as high as 12 inches to protect your feet from raw cuts and bruises.
If we talk about the material, the socks are a perfect amalgamation of 43% polyester which is long-lasting, quick-drying, and abrasion-resistant and 35% acrylic which is soft and warm.
Pros:
Heat transport technology keeps you dry and fresh.

Braced arches for added support.

Nano-glide technology that increases durability and reduces friction.

Light, warm and soft.
Cons:
A little bulkier compared to other socks.
Check Price and Reviews on Amazon
2.) Dickies Men's Dri Tech Work Crew Socks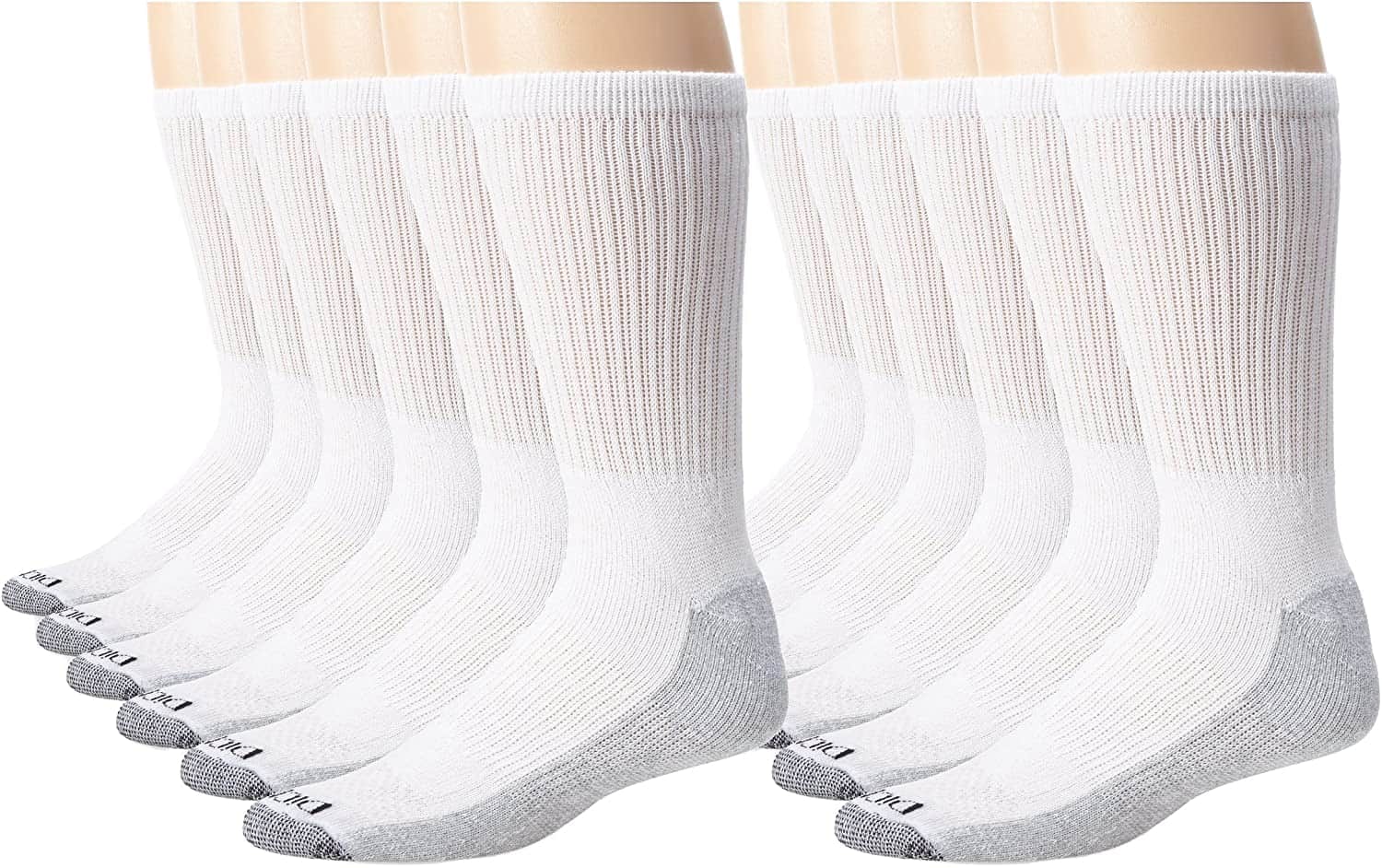 The Dri-Tech work crew socks can keep you comfortable in your boots almost all week long. Thanks to Dickie's moisture management technology that has moisture wicking fibres so that your feet stay dry no matter what season it is.
The socks have a ventilated breathing channel that evaporates moisture within seconds and gives a cooling sensation to your feet. The soft spongy cushion in these boots helps to take the pressure off your sole, toes and heels.
Additionally, the crew socks have arch compression bands that help to keep your feet reinforced all day long. And yes, these are manufactured using premium materials like 75% cotton, 19% polyester, 5% nylon and 1% lycra spandex. The lycra and nylon create extra thick lining to make the sock more shaped and the cotton makes socks more comfortable.
Pros:
Has moisture control fibres.

Less bulky design.

Durable premium material.

Wide comfort band across leg.
Cons:
Cotton tends to absorb moisture and gives you a damp feeling.
Check Price and Reviews on Amazon
3.) Fox River Steel-Toe Mid Calf Boot Work Sock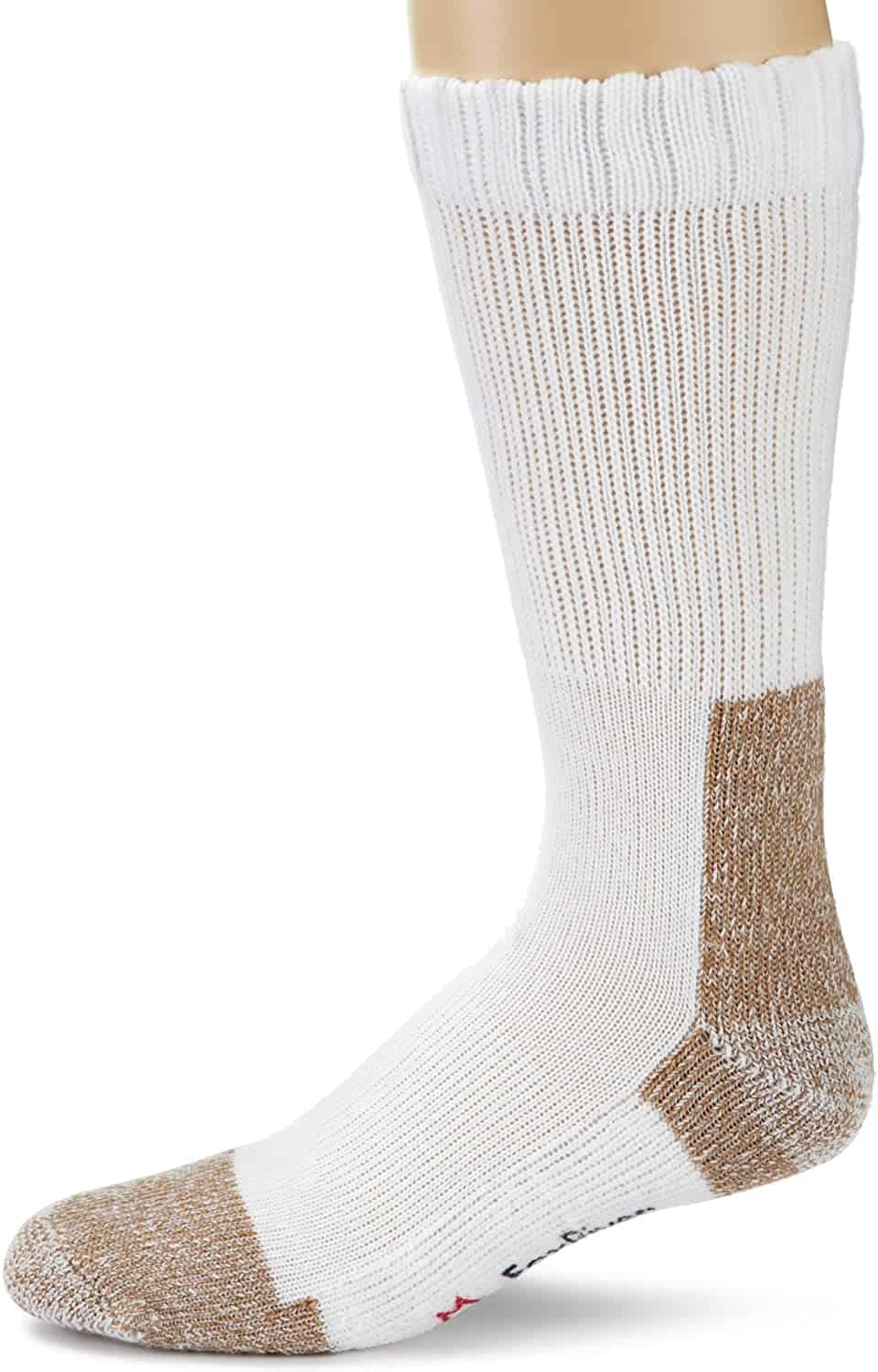 These are a perfect combination of comfort and protection. The mid calf socks are a bit heavier than other socks but they serve a reason, to give your feet an additional layer of cozy cushioning especially around your toes.
These super soft socks have got impressive men's fit. The seams of the socks keeps your toes snug and the heel and arch are supported by the sock's studied contours. Amazing, right? Moreover, the elastic cuff in these socks provides a breathable compression zone and thus reduces the unnecessary stuffy feeling.
The best part is they are machine washable and are a combination of 44% acrylic, 36% wool and 19% nylon. The soft texture of these socks promises to keep moisture and odor at bay. The high quality standards and premium fibres leaves no room for doubt and makes them perfect for your boots.
Pros:
Excellent toe protection for steel toe work boots.

Breathable compression zone

Durable
Cons:
Bulky and may be too hot under humid conditions.
Check Price and Reviews on Amazon
What are the Benefits of High-Quality Work Boots?
Have you ever given a thought about how wearing socks underneath the boots during your daily working routine is helping you? Let me remind you!
1.) Makes you feel comfortable at work
Not only your boots but even your socks are also responsible to make your feet comfortable so that you can work with ease. Wearing proper socks can make you feel more productive and responsive and can make your working routine an enjoyable experience.
2.) Helps to Protect Your Feet
You'll be surprised to know that socks add an extra layer of protection to your feet and in turn saves them from harmful injuries and accidents that can happen at the worksite, no matter active or passive.
For people working at construction industries and factories, boot socks form an essential part of workwear to keep you secured as you never know what may happen.
3.) Acts as a Helping Hand in Maintaining Hygiene
Hygiene is extremely important for you to be more productive at work. The feet sweat profusely while you stand in your boots all day long and that is why they tend to be smellier and irritating.
Wearing proper socks helps control moisture and keeps odor at bay. The inbuilt special technology of these socks keeps your feet crispy and clean by soaking up sweat and enhancing sufficient circulation of air.
What Materials Are Best Suited for a Good Boot Sock?
Not just boot socks but in general ordinary socks are made from using a wide range of materials. Cotton, wool, lycra and in fact blends of these. No material is good or bad but what matters is its pros and cons. Therefore, it is good to know what could be the right choice for you.
It is the type of fabric that plays an important role in keeping your feet dry, comfortable and warm. If you have to work all day long then cotton is not the best material for you.
Why? Mainly because it quickly absorbs the sweat and moisture but dries slowly hence making your feet feel damped and more prone to blisters.
Besides this, cotton socks don't work well in winters because they are kind of useless when wet. So if you are going to work outdoors in cold conditions then cotton is not the right material for you.
Let's move on to fabrics like wool, lycra, nylon and spandex. These have comparatively better moisture-wicking property than cotton and work well to keep your feet dry and protected. However, one major drawback of wool is it gets wickedly warm and extremely uncomfortable in hot conditions. For that, you can always choose a pair of lightweight wool socks.
If you ask me, I would suggest you try acrylic wool blends. This could be a great material to look for. It is the perfect combination of lightness and form fitting nature of acrylic with the warmth of wool. And yes, getting wet isn't a problem either!
See also: Best Moisture-Wicking Work Shirts
How Improper Socks can Affect your Feet?
Some of the ill effects of wearing wrong socks are
Overly tight socks distort the natural shape of your feet.

Wrong socks might limit movement by putting extra pressure on your toes.

Some socks often tend to shrink after washing and get tight around your feet hence ultimately makes you uncomfortable.

You could develop bunions, hammertoes, ingrown toenails, fallen arches and poor circulation.

If your socks fail to provide proper cushioning then they can eventually prevent irritation and lead to irritation.
So, what's the solution? Just go for a proper boot sock, nothing else.
Final Thoughts
Searching for the right pair of work socks is not as hard as you think. They feature intricate designs and come under the unique combination of different fabrics which offer great value.
At the end of the day your personal preference and the kind of work you do actually decide which is the right pair for you.
As long as you realize the importance of the work boot socks your work life becomes much easier. Don't believe me? Well choose a right pair of work socks and your boots will definitely thank you later!